Henry Fonda won the Golden Globe Award for Best Actor – Motion Picture Drama and the Academy Award for Best Actor in what was his final film role. Co-star Katharine Hepburn won the BAFTA Award for Best Actress in a Leading Role and the Academy Award for Best Actress as did Thompson for his script and there were a further seven Oscar nominations for the film including Jane Fonda who played the daughter. The film co-starred Dabney Coleman and Doug McKeon.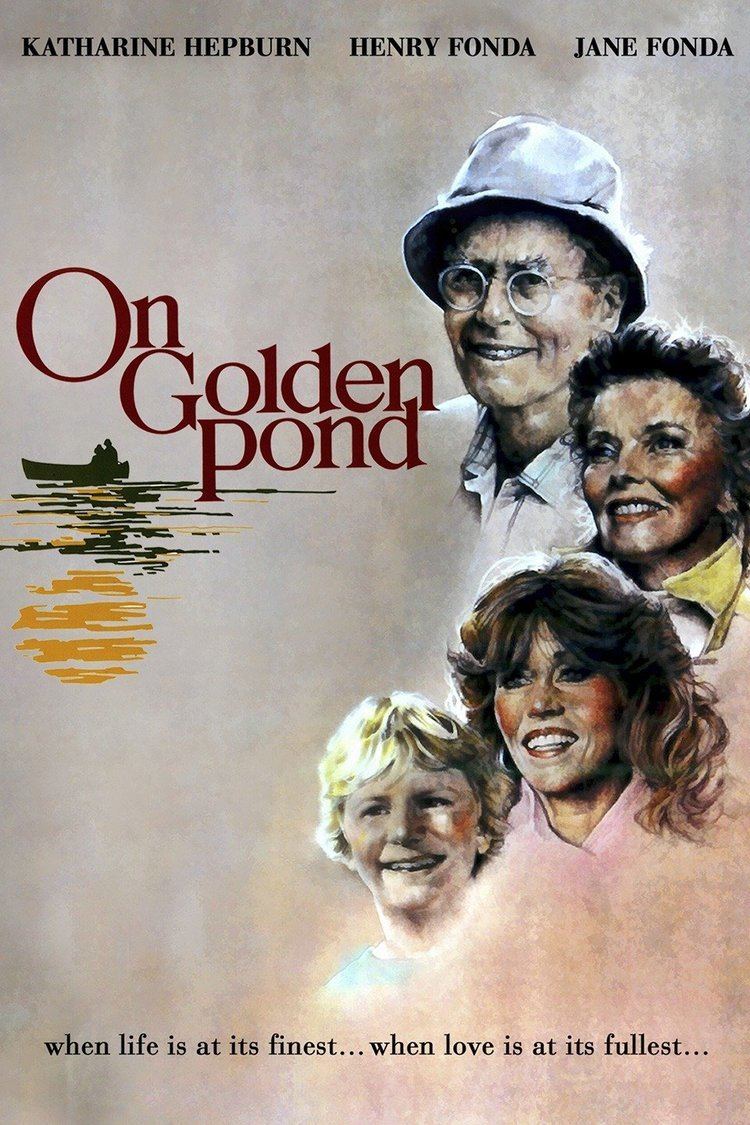 An aging couple, Ethel and Norman Thayer, continue the long tradition of spending each summer at their cottage on a lake called Golden Pond, in the far reaches of northern New England. When they first arrive, Ethel notices the loons calling on the lake "welcoming them home". As they resettle into their summer home, Norman's memory problems arise when he is unable to recognize several family photographs, which he copes with by frequently talking about death and growing old. They are visited by their only child, a daughter, Chelsea, who is somewhat estranged from her curmudgeon of a father. She introduces her parents to her fiance Bill and his thirteen-year-old son Billy. Norman tries to play mind games with Bill, an apparent pastime of his, but Bill won't hear of it, saying he can only take so much. In another conversation, Chelsea discusses with Ethel her frustration over her relationship with her overbearing father, feeling that even though she lives thousands of miles away in Los Angeles, she still feels like she's answering to him. Before they depart for a European vacation, Chelsea and Bill ask the Thayers to permit Billy to stay with them while they have some time to themselves. Norman, seeming more senile and cynical than usual due to his 80th birthday and heart palpitations, agrees to Billy's staying. Ethel tells him that he's the sweetest man in the world, but she is the only one who knows it.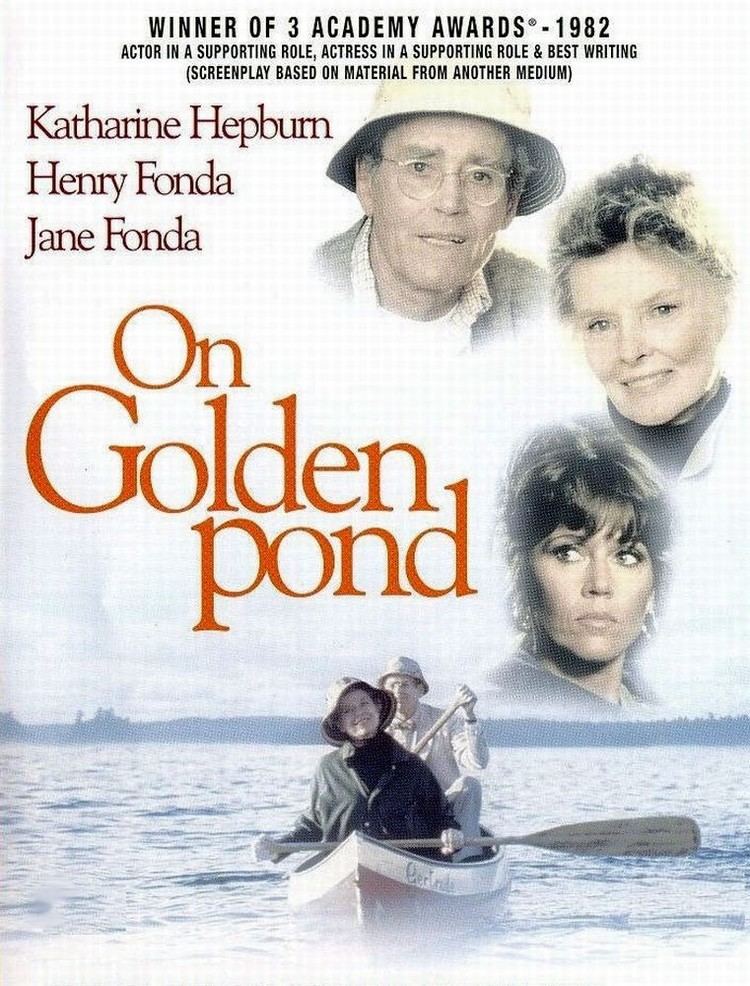 Billy is at first annoyed by being left with elderly strangers with no friends nearby and nothing to do. He resents Norman's brusque manner, but eventually comes to enjoy their Golden Pond fishing adventures together. Billy and Norman soon grow obsessed with catching Norman's fish rival, named "Walter", which leads to the accidental destruction of the Thayers' motorboat. Chelsea returns to find out her father has made good friends with her fiance's, now husband's, son. But when she sees the change in her father's demeanor, Chelsea attempts something Billy accomplished that she never could: a backflip. Chelsea successfully executes the dive in front of a cheering Norman, Billy, and Ethel. Chelsea and Norman finally fully embrace before she departs with Billy back home.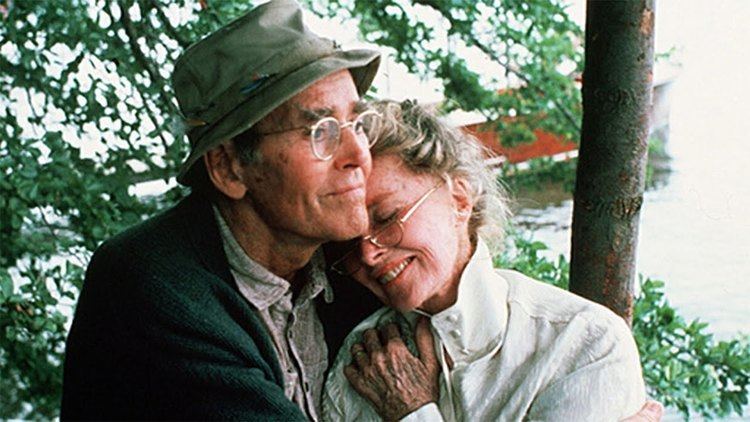 The final day on Golden Pond comes and the Thayers are loading the last of the boxes. Norman tries to move a heavy box, but starts having heart pain and collapses onto the floor of the porch. Ethel tries unsuccessfully to get the operator to phone the hospital. Norman then says the pain is gone and attempts to stand to say a final farewell to the lake. Ethel tells him she has always known about death but for the first time it felt real, thinking Norman was going to die on the spot. Ethel helps Norman to the edge of the lake where they see the loons and Norman notes how they are just like him and Ethel, that their offspring is grown and gone off on her own, and now it is just the two of them.
Katharine Hepburn – Ethel Thayer
Henry Fonda – Norman Thayer Jr.
Jane Fonda – Chelsea Thayer Wayne
Doug McKeon – Billy Ray
Dabney Coleman – Bill Ray
William Lanteau – Charlie Martin
Christopher Rydell – Sumner Todd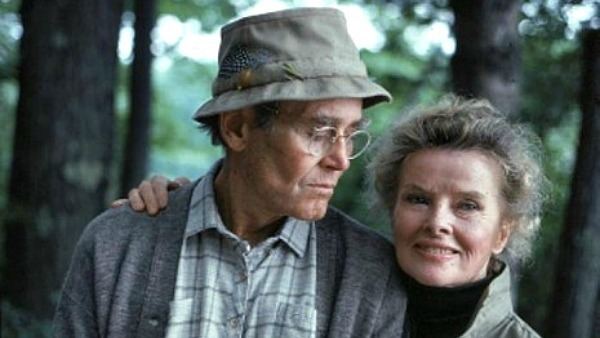 Roger Ebert of the Chicago Sun-Times said "On Golden Pond was a treasure for many reasons, but the best one, I think, is that I could believe it. I could believe in its major characters and their relationships, and in the things they felt for one another, and there were moments when the movie was witness to human growth and change. I left the theater feeling good and warm, and with a certain resolve to try to mend my own relationships and learn to start listening better . . . watching the movie, I felt I was witnessing something rare and valuable."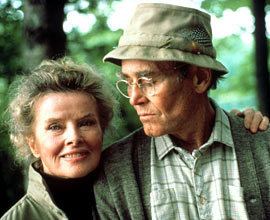 In his The New York Times review, Vincent Canby said, "As a successful Broadway play, On Golden Pond was processed American cheese, smooth, infinitely spreadable and bland, with color added by the actors . . . the movie . . . still American cheese, but its stars – Henry Fonda, Katharine Hepburn, Jane Fonda and Dabney Coleman – add more than color to this pasteurized product. On Golden Pond now has the bite of a good old cheddar . . . Mr. Fonda gives one of the great performances of his long, truly distinguished career. Here is film acting of the highest order . . . Miss Hepburn . . . is also in fine form. One of the most appealing things about her as an actress is the way she responds to – and is invigorated by – a strong co-star . . . she needs someone to support, challenge and interact with. Mr. Fonda is the best thing that's happened to her since Spencer Tracy and Humphrey Bogart . . . an added pleasure is the opportunity to see Dabney Coleman [in] a role that goes beyond the caricatures he's usually given to play . . . On Golden Pond is a mixed blessing, but it offers one performance of rare quality and three others that are very good. That's not half-bad."
TV Guide rates it 3 ½ out of a possible four stars, calling it "a beautifully photographed movie filled with poignancy, humor, and (of course) superb acting . . . there could have been no finer final curtain for [Henry Fonda] than this." Channel 4 sums up its review by stating, "Henry Fonda and Katharine Hepburn both shine in an impressively executed Hollywood drama. [It] has its mawkish moments but there's a certain pleasure in that, and writer Thompson's analysis of old age is sensitive, thought-provoking and credible."
Not all reviewers were impressed, however. David Kehr of the Chicago Reader called the film "the cinematic equivalent of shrink-wrapping, in which all of the ideas, feelings, characters, and images are neatly separated and hermetically sealed to prevent spoilage, abrasion, or any contact with the natural world . . . Mark Rydell's bright, banal visual style further sterilizes the issues. The film exudes complacency and self-congratulation; it is a very cowardly, craven piece of ersatz art." Time Out London says, "Two of Hollywood's best-loved veterans deserved a far better swan song than this sticky confection." Mad magazine satirized the film as On Olden Pond.
American Film Institute recognition
AFI's 100 Years... 100 Movies – Nominated
AFI's 100 Years... 100 Passions – No. 22
AFI's 100 Years... 100 Movie Quotes:
"Listen to me, mister. You're my knight in shining armor. Don't you forget it. You're going to get back on that horse, and I'm going to be right behind you, holding on tight, and away we're gonna go, go, go!" – #88
"Come here, Norman. Hurry up. The loons! The loons! They're welcoming us back." – Nominated
AFI's 100 Years of Film Scores – #24
AFI's 100 Years... 100 Cheers – #45
AFI's 100 Years... 100 Movies (10th Anniversary Edition) – Nominated
Others
Directors Guild of America Award for Outstanding Directorial Achievement in Motion Pictures (nominee)
Grammy Award for Best Album of Original Score Written for a Motion Picture or Television Special (nominee)
Writers Guild of America Award for Best Drama Adapted from Another Medium (winner)