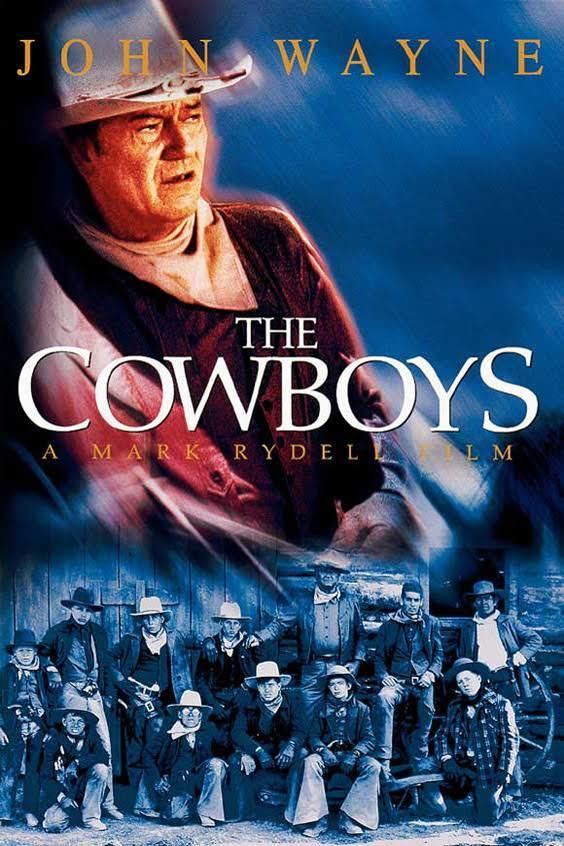 When his ranch hands abandon him to join a gold rush, aging rancher Wil Andersen (John Wayne) is forced to find replacement drovers for his upcoming 400-mile (640 km) long cattle drive. He rides into deserted Bozeman, Montana. There, Anse Peterson (Slim Pickens) suggests using local schoolboys. Andersen visits the school but departs unconvinced. The next morning, a group of the boys show up at Andersen's ranch to volunteer for the drive. Andersen tests the boys' ability to stay on a bucking horse. As the boys successfully take turns, Cimarron (A Martinez), another young man slightly older than the others, rides up. After successfully subduing and riding the test horse, Cimarron gets into a fight with Slim (Robert Carradine), the oldest of the boys. Andersen, though impressed by Cimarron's abilities, has misgivings because of his angry nature and sends him away. Andersen reluctantly decides to hire the boys.
While Andersen and the boys prepare for the cattle drive, a group of mysterious men led by "Long Hair" Asa Watts (Bruce Dern) show up asking for work. Andersen catches Watts in a lie about his past, and refuses to hire them. Jebediah "Jeb" Nightlinger (Roscoe Lee Browne), a Black camp cook arrives with a chuck wagon, making Anderson's trail crew complete.
Under Andersen's continued tutelage, the boys learn to rope, brand and herd the cattle and horses. Much to Andersen's concern, Cimarron follows the drive from afar. However, while crossing a river, Slim slips off his horse and, unable to swim, starts to drown. Although Slim is saved by Cimarron, Andersen berates one of the boys for his stuttering problem which nearly caused Slim's death. The stuttering boy swears at Andersen repeatedly, losing his stutter in the process. Satisfied, Andersen decides to let Cimarron stay. During another episode, the boys steal Nightlinger's whiskey and drink it, all of them getting severely drunk. Afterwards, one of the boys, Charlie, falls off his horse and is trampled to death by the herd. Slowly, the boys learn under Andersen's tutelage and become rather good cowhands, impressing both Andersen and Nightlinger.
Soon after, Mr. Nightlinger's chuck wagon throws a wheel. As the cowboys continue to drive the herd, Mr. Nightlinger stays behind to fix the wagon. The rustlers led by Watts begin paralleling the herd, and that night, surprise Andersen and the cowboys in their camp. Watts announces his intention to steal the herd and taunts the boys, but Andersen intervenes and tells Watts it's between the two of them. A brutal fistfight then begins between Andersen and Watts in which Andersen ultimately gains the upper hand. An infuriated Watts grabs a gun, shoots the unarmed Andersen multiple times, and steals the herd.
The following day, Nightlinger catches up to the group to find the boys tending to the dying Andersen. Before succumbing to his wounds, Andersen tells the boys how proud he is of all of them, that every man wants his children to be better than he was, and that they have become so. Following Andersen's burial and on a prearranged signal, the boys overpower and bind Nightlinger, seizing the weapons stored in his chuck wagon and vowing to re-take the herd and finish the trail drive. When the group catches up to the herd and the rustlers, Nightlinger offers to help the boys make a plan to overcome the outlaws. Using ruses, trickery, and ambush, the boys kill the rustlers to a man, including Watts, who is tangled in a horse's harness. Cimarron shoots a gun in the air that spooks the horse and carries Watts to his death.
After the boys complete the drive to Belle Fourche and sell the cattle, they use some of the proceeds to pay a stonemason to carve a marker with Andersen's name and the legend "Beloved Husband and Father," in clear reference to the position that Andersen had earned in their lives. They place the marker in the approximate location of Andersen's grave and head for home.
John Wayne as Wil Andersen
Roscoe Lee Browne as Jebediah Nightlinger
Bruce Dern as Asa Watts
Colleen Dewhurst as Kate Collingwood (traveling madam)
Slim Pickens as Anse Peterson
Lonny Chapman as Mr. Weems
Sarah Cunningham as Annie Andersen
Allyn Ann McLerie as Ellen Price (a teacher)
Alfred Barker Jr. as Clyde "Fats" Potter (Cowboy)
Nicholas Beauvy as Dan (Cowboy)
Steve Benedict as Steve (Cowboy)
Robert Carradine as Slim Honeycutt (Cowboy)
Norman Howell as Weedy (Cowboy)
Stephen R. Hudis as Charlie Schwartz (Cowboy)
Sean Kelly as Stuttering Bob (Cowboy)
A Martinez as Cimarron (Cowboy)
Clay O'Brien as Hardy Fimps (Cowboy)
Sam O'Brien as Jimmy Phillips (Cowboy)
Mike Pyeatt as Homer Weems (Cowboy)
Charles Tyner as Stonemason
Matt Clark as Smiley
Jerry Gatlin as Howdy
Walter Scott as Okay
Wallace Brooks as Red Tucker
Charise Cullin as Elizabeth
Larry Randles as Ben
Larry Finley as Jake
Jim Burk as Pete
Ralph Volkie as Ralphie (uncredited)
Lonny Chapman as Homer's Father
Maggie Costain as Phoebe
Richard Farnsworth as Henry Williams (credited as "Dick Farnsworth")
Wallace Brooks as Red Tucker
Collette Poeppel as Rosemary
Norman Howell Sr. as Jim's Father
Rita Hudis as Charlie's Mother
Margaret Kelly as Bob's Mother
Fred Brookfield as Rustler
Tap Canutt as Rustler
Chuck Courtney as Rustler
Gary Epper as Rustler
Tony Epper as Rustler
Kent Hays as Rustler
J.R. Randall as Rustler
Henry Wills as Rustler
Joe Yrigoyen as Rustler
Some critics debated the film's implication that boys become men or confirm their manhood through acts of violence and vengeance. Jay Cocks of Time Magazine and Pauline Kael of The New York Times were especially critical of these aspects of the film.
Film historian Emanuel Levy noted that Wayne frequently appears in a fatherlike role: "Aware of his repetitive screen roles as a paternal figure, [Wayne] said the movie was based on a formula that worked in Goodbye Mr. Chips and Sands of Iwo Jima. In all three films, an adult takes a group of youngsters and initiates them into manhood by instructing them the 'right' skills and values. Wayne did not hesitate to appear in The Cowboys, despite the fact that 'no actor in his right mind, would try to match the antics of eleven kids on screen,' but for him it became 'the greatest experience of my life.'"
The film won the Bronze Wrangler Award (best theatrical motion picture of the year) from the Western Heritage Awards.
The Cowboys received a 75% rating on Rotten Tomatoes.
The film is recognized by American Film Institute in these lists:
2005: AFI's 100 Years of Film Scores – Nominated
2006: AFI's 100 Years...100 Cheers – Nominated
In 1974, Warner Bros. developed The Cowboys as a television series for ABC starring Jim Davis, Diana Douglas, and Moses Gunn. David Dortort, best known for Bonanza, The High Chaparral, and The Restless Gun, produced the series. Only A Martinez, Robert Carradine, Sean Kelly and Clay O'Brien were in both the film and the television series; the first two reprised their roles from the film, but the latter two did not. At the last moment, ABC decided to change the show's format by reducing its run time from one hour to a half hour, a change which made it difficult to tell stories effectively with the show's large cast. Only 13 episodes were filmed before the series was cancelled.