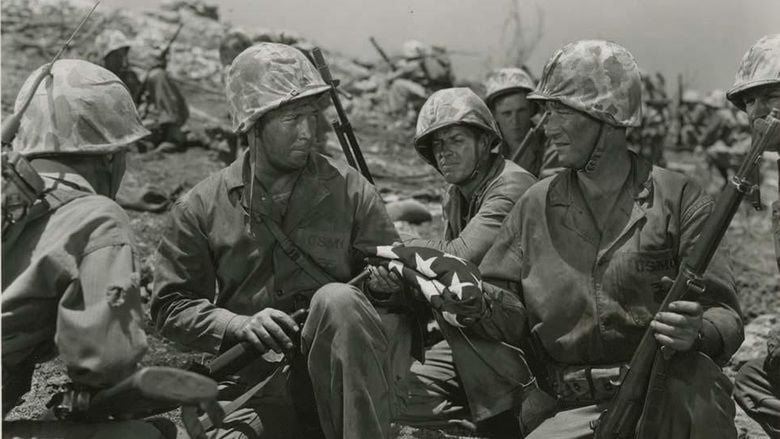 Note: the story is told from the viewpoint of Corporal Robert Dunne (Arthur Franz).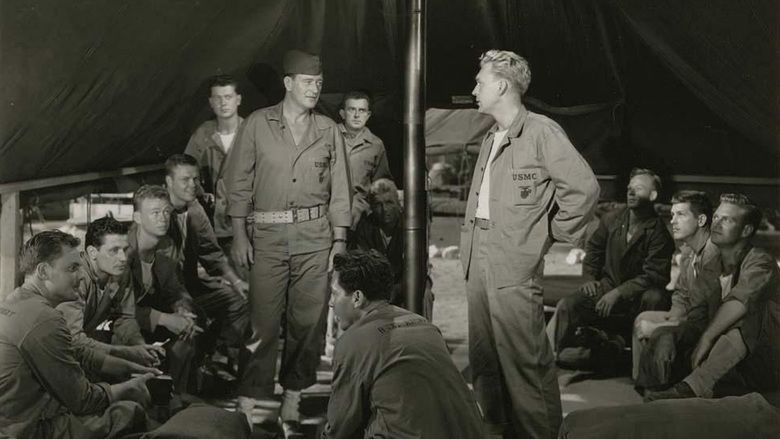 Tough-as-nails career Marine Sergeant John Stryker (John Wayne) is greatly disliked by the men of his squad, particularly the combat replacements, for the rigorous training he puts them through. He is especially despised by PFC Peter "Pete" Conway (John Agar), the arrogant, college-educated son of an officer, Colonel Sam Conway under whom Stryker served and admired, and PFC Al Thomas (Forrest Tucker), who blames him for his demotion.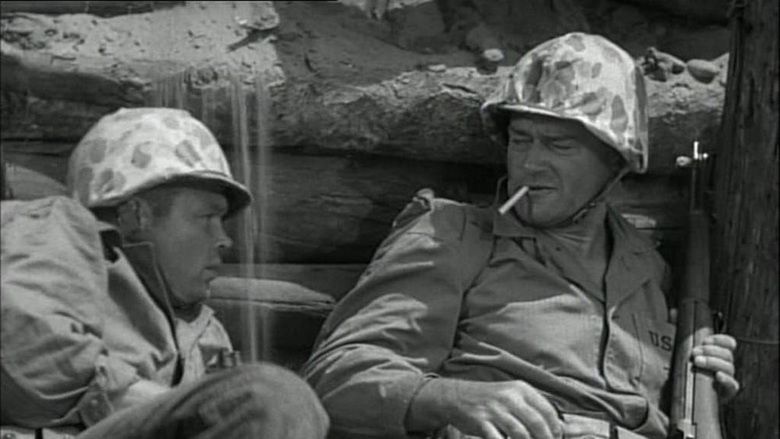 When Stryker leads his squad in the invasion of Tarawa, the men begin to appreciate his methods. Within the first couple of minutes of the battle, the platoon leader, Lt. Baker (Gil Herman), is killed only seconds after he lands on the beach, PFC "Farmer" Soames (James Holden) is wounded in the leg, and PFC Choynski (Hal Baylor) receives a head wound. The marines are aggressively pinned down by a pillbox.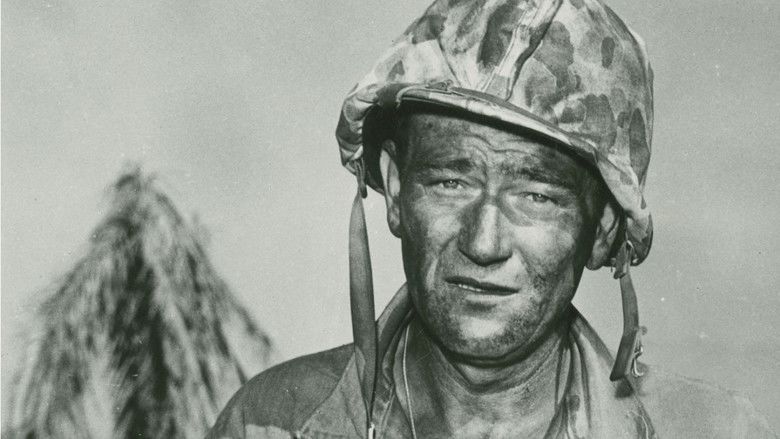 Able Company commander Captain Joyce (John McGuire) takes charge and he begins to send out marines to silence the pillbox. As a result of three unsuccessful attempts to reach the pillbox, two demolition marines and a flamethrower operator are killed and PFC Shipley (Richard Webb) is left mortally wounded in the line of fire. Sgt. Stryker takes action and demolishes the pillbox. Shipley would eventually die of his wounds in front of his best friend Regazzi (Wally Cassell).
Later on, Thomas becomes distracted from his mission, and "goofs off" when he goes to get ammunition for two comrades, stopping to savor a cup of coffee. As a result, though he brings back coffee for his squadmates, he returns too late — the two Marines, now out of ammunition, in the interim are shown being overrun; Hellenopolis (Peter Coe) is killed, Bass (James Brown) badly wounded.
On their first night, the squad is ordered to dig in and hold their positions under the cover of darkness. Bass lies wounded from a distance and begs for help. Conway considers Stryker brutal and unfeeling when he decides to apparently abandon Bass to the enemy.
After the battle, Stryker discovers the truth he forces Thomas into a fistfight. This is seen by a passing officer (Don Haggerty) but Thomas, to Stryker's surprise, deflects the officer's intention of pressing charges against Stryker for violation of military rules in striking a subordinate by claiming that he was merely being taught judo by his superior. Subsequently, ravaged by his conscience over the fate of his fellow Marines, Thomas breaks down and abjectly apologizes for his dereliction of duty.
The squad receives three new recruits: Stein (Leonard Gumley), Fowler (William Self), and McHugh (Martin Milner). Stryker reveals a softer side of his character while on leave in Honolulu. He picks up a bargirl (Julie Bishop) and returns with her to her apartment. He becomes suspicious when he hears somebody in the next room, but upon investigation, finds only a hungry baby boy that his intended paramour is supporting the best way she can. Stryker gives the woman, whose child's father was "gone," some money and departs. The woman had earlier noted that there were "worse ways to make a living than fighting a war," in reference to her current lot in life.
Later, during a training exercise, McHugh drops a live hand grenade. Everybody drops to the ground, except Conway, who is distracted reading a letter from his wife. Stryker knocks him down, saving his life, and then proceeds to bawl him out in front of the platoon.
Stryker's squad subsequently fights in the battle for Iwo Jima. The squad suffers heavily within the first couple of hours, losing Soames, McHugh, Harris (George Tyne), and Frank Flynn (Richard Jaeckel). Stryker's squad is selected to be a part of the 40 man patrol that will charge up Mount Suribachi. During the charge, Eddie Flynn (William Murphy), Stein, and Fowler are killed. While the remaining men were resting during a lull in the fighting, Stryker is killed by a Japanese soldier emerging from a spider hole. Bass quickly locates the spider hole and kills the Japanese shooter. The remaining squad members (Conway, Thomas, Dunne, Regazzi, and Bass) find and read a letter on his corpse, a missive addressed to his son and expressing things Stryker wanted to say to him, but had never actually managed to. Moments later, the squad witnesses the iconic flag raising.
John Wayne as Sgt. John M. Stryker
John Agar as PFC Peter T. "Pete" Conway
Adele Mara as Allison Bromley
Forrest Tucker as PFC Al J. Thomas
Wally Cassell as PFC Benny A. Regazzi
James Brown as PFC Charlie Bass
Richard Webb as PFC "Handsome" Dan Shipley
Arthur Franz as Corporal Robert C. Dunne/Narrator
Julie Bishop as Mary (the bargirl)
James Holden as PFC "Farmer" Soames
Peter Coe as PFC George Hellenopolis
Richard Jaeckel as PFC Frank Flynn
William Murphy as PFC Eddie Flynn
Martin Milner as Pvt Mike McHugh
George Tyne as PFC Hart S. Harris
Hal Baylor as Pvt J.E. "Ski" Choynski (credited as Hal Fieberling)
Leonard Gumley as Pvt Sid Stein
William Self as Pvt L.D. Fowler Jr.
John McGuire as Captain Joyce
Gil Herman as Lt. Baker (uncredited)
Rene Gagnon, Ira Hayes, and John Bradley, (until 2016, Bradley was incorrectly identified as being a flag-raiser) the three survivors of the five Marines and one Navy corpsman who were credited with raising the second flag on Mount Suribachi during the actual battle, appear briefly in the film just prior to the re-enactment. Hayes was also the subject of a film biography, The Outsider, and Bradley the subject of a book by his son James, Flags of Our Fathers.
Also appearing as themselves are 1st Lt. Harold Schrier, who led the flag-raising patrol up Mount Suribachi on Iwo Jima and helped raise the first flag, Col. David M. Shoup, later Commandant of the Marine Corps and recipient of the Medal of Honor at Tarawa, and Lt. Col. Henry P. "Jim" Crowe, commander of the 2nd Battalion 8th Marines at Tarawa, where he earned the U.S. Navy Cross.
Several of the actors were re-united in the 1970 western Chisum (1970): John Wayne, John Agar, Forrest Tucker, and Richard Jaeckel.
The 1982 Academy Award nominated comedy short film The Great Cognito makes an implied reference to Sands of Iwo Jima. The only character to be seen onscreen is an entertainment impersonator, who changes into the people and events he talks about in his comic patter, using Will Vinton's technique of stop-motion claymation. In the end, while talking of Iwo Jima, Cognito breaks down in tears and leaves the stage, blubbering about how "...John Wayne gets shot."
In the television show King of the Hill (1997–2010), this is the favorite film of Cotton Hill, father of main character Hank Hill. Hank recalls that, during his childhood, his father would travel around Texas searching for showings of this film.
The episode "Call of Silence" (2004) in NCIS's season 2 references the film and a documentary as shared background to Marine history and legacy. The episode shows the NCIS character Timothy McGee watching the documentary To the Shores of Iwo Jima; the character Anthony DiNozzo approaches and, in furtherance of the character's schtick as an avowed and knowledgeable movie buff, begins talking about the theatrical film Sands of Iwo Jima, some scenes of which were taken from the documentary.
The Southern rock band Drive-By Truckers have a song titled "The Sands of Iwo Jima" on their 2004 album The Dirty South. It is sung from the perspective of a young boy who has been exposed to World War 2 through old John Wayne movies. He asks his great-uncle, a World War II veteran, if The Sands of Iwo Jima represents the war properly; the old man smiles, shakes his head and responds, "I never saw John Wayne on the sands of Iwo Jima." This may be a reference to the fact that Wayne, despite his many roles as a member of the armed forces, never actually served in the military.
In the Series 6 episode of The Sopranos, ep10, Moe n' Joe, Tony and Silvio can be seen carrying (presumably stolen) boxes of the film on DVD.
The first recorded use of the phrase "lock and load" is in this film: twice as a metaphor for "get ready to fight" and once as a humorous invitation to drink alcohol (get loaded). As a period term, it similarly appears in the 1998 film Saving Private Ryan. Although the original use and implied meaning may be disputed, it typically described preparations for charging the M1 Garand semi-automatic rifle by first locking the bolt back by pulling the charging handle rearward and then loading an 8-round en bloc clip into the now open magazine.