Written by Norman Reilly Raine and Seton I. Miller, the film concerns a Saxon knight who, in King Richard's absence in the Holy Land during the Crusades, fights back as the outlaw leader of a rebel guerrilla band against Prince John and the Norman lords oppressing the Saxon commoners.
Alan Hale, Sr., who plays Little John, had played the same character in the 1922 version of the film and went on to play him again in Rogues of Sherwood Forest, released by Columbia in 1950.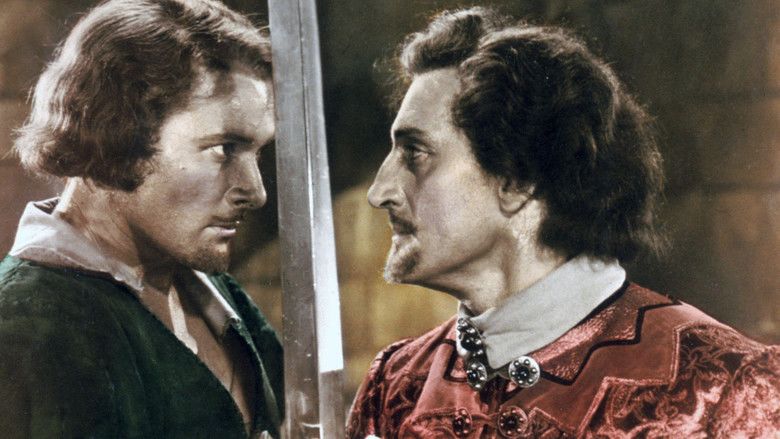 Richard the Lionheart (Ian Hunter), the King of England, is taken captive in 1191 by Leopold V, Duke of Austria while returning to England. Richard's treacherous brother Prince John (Claude Rains) usurps the throne and proceeds to oppress the Saxons, raising taxes to secure his own position.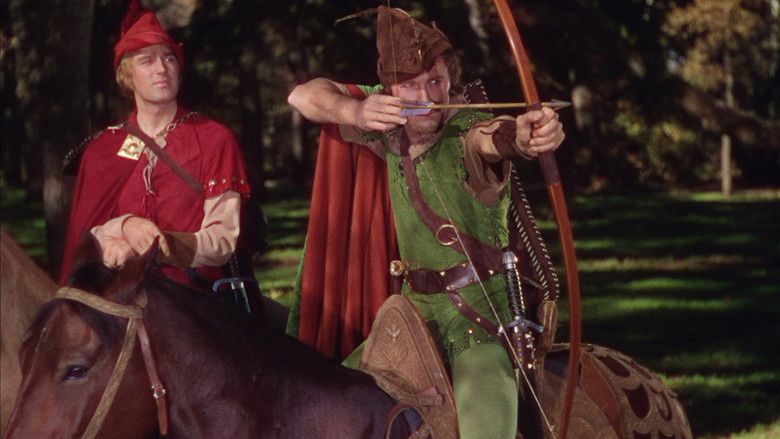 Only the Saxon nobleman Sir Robin of Locksley (Errol Flynn) opposes him. Robin acquires a loyal follower when he saves Much the Miller's Son (Herbert Mundin) from being arrested for poaching by Sir Guy of Gisbourne (Basil Rathbone). At Gisbourne's castle, Robin boldly tells Prince John and his followers and a contemptuous Lady Marian Fitzwalter (Olivia de Havilland) that he will do all in his power to restore Richard to the throne. Robin escapes, despite attempts by John's men to stop him.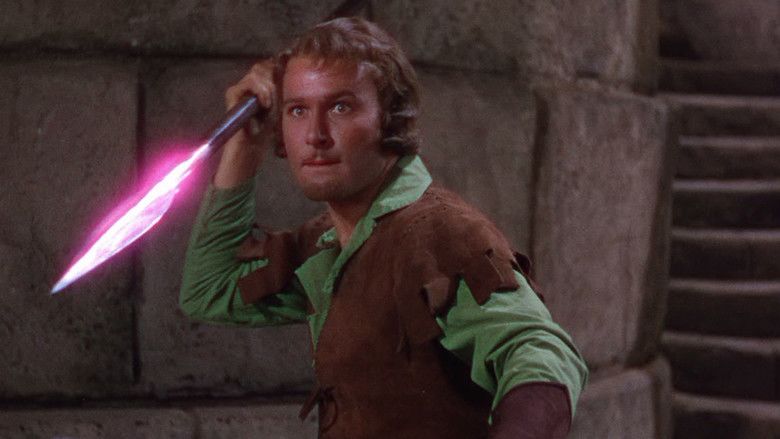 Robin, Much, and friend Will Scarlet (Patric Knowles) take refuge in Sherwood Forest and recruit Little John (Alan Hale, Sr.), while other men join their growing band, including the rotund Friar Tuck (Eugene Pallette), one of the best swordsmen in all England.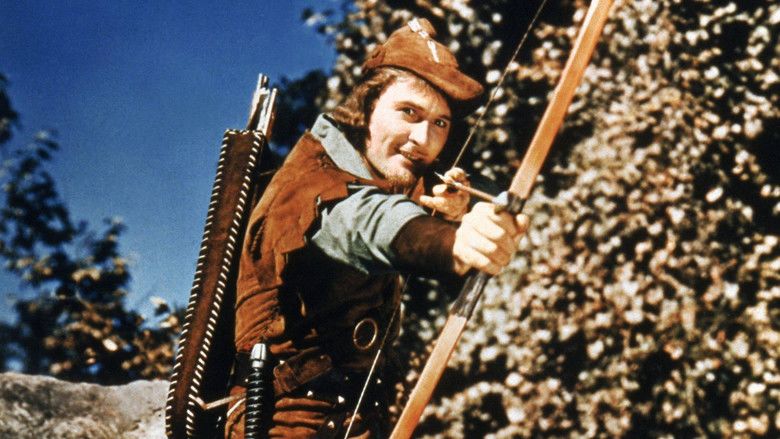 Now known as the outlaw Robin Hood, he binds his men by an oath: to fight for a free England until the return of Richard, to rob the rich and give to the poor, and treat all women with courtesy, "rich or poor, Norman or Saxon." Robin and his band immediately begin guerrilla warfare against Prince John and his minions, systematically killing the Prince's tax collectors, rapists, and any nobleman who abuses his power over the people of his lands.
Robin and his men capture a large party of Normans transporting tax money extorted from the people of England. Among Robin's "guests" are Sir Guy of Gisbourne, the cowardly Sheriff of Nottingham (Melville Cooper) and the Lady Marian. At first disdainful of Robin, Marian comes to accept his good intentions and begins to see the reality of Norman brutality. Robin allows the humiliated Sir Guy and the Sheriff to leave Sherwood, telling them that they have Marian's presence to thank for his sparing their lives.
The Sheriff comes up with a cunning scheme to capture Robin by announcing an archery tournament with the prize of a golden arrow to be presented by the Lady Marian, sure that Robin will be unable to resist the challenge. All goes as planned: Robin wins the match, is taken prisoner, and is sentenced to hang.
Marian helps Robin's men rescue him, and he later scales a castle wall to thank her. Each pledges their love for each other but Marian declines to leave, believing she can best help the rebellion as a spy by staying where she is.
King Richard and several trusted knights have returned, disguised as monks. At a roadside inn, the Bishop of the Black Canons (Montagu Love) discovers their presence and alerts Prince John and Gisbourne. Dickon Malbete (Harry Cording), a degraded former knight, is given the task of disposing of Richard in return for the restoration of his rank, with Robin's manor and estate to support it.
Marian overhears their plot and writes a note to Robin, but Sir Guy finds it and has her arrested, pending trial and execution. Marian's nurse, Bess (Una O'Connor), romantically involved with Much, sends her paramour to warn Robin. On his way, Much intercepts and kills Dickon, being wounded in the process.
King Richard and his liegemen journey through Sherwood Forest and are soon stopped by Robin and his men. Richard assures him that he is traveling on the King's business; when asked if he supports Richard, the incognito King replies, "I love no man better". He accepts Robin's invitation to eat with him and the Merry Men, and humbly accepts Robin's rebuke of the King for not staying at home to give justice to his people instead of traveling to fight in foreign lands.
Will finds the injured Much, who tells Robin of Marian's peril and that Richard is now in England. Robin orders a thorough search to find Richard and bring him to Robin for safety. Now certain of Robin's loyalty, Richard reveals himself to the outlaws.
Robin devises a plan to sneak his men into Nottingham Castle. He coerces the Bishop of the Black Canons to include his men, disguised as monks, in his entourage. During John's coronation in the great hall, Richard reveals himself to the assembled nobles to their shock, and a huge melee breaks out between the outlaws and the noblemen who support John. Robin and Sir Guy engage in a prolonged swordfight, ending with Gisbourne's death. Robin releases Marian from her prison cell and Prince John's men, defeated, throw down their swords, shields, and banners in token of surrender.
Richard exiles John and his followers for his lifetime and pardons the outlaws. He elevates Robin Hood to be Baron of Locksley and Earl of Sherwood and Nottingham, and commands that Robin marry the Lady Marian. With Marian by his side, from across the great hall Robin replies with enthusiasm, "May I obey all your commands with equal pleasure, Sire!"
Uncredited Cast
The Adventures of Robin Hood was produced at an estimated cost of $2 million, the most expensive film Warner Bros. had made up to that time. It was also the studio's first large budget color film utilizing the three-strip Technicolor process. It was an unusually extravagant production for the Warner Bros. studio, which had made a name for itself in producing socially-conscious, low-budget gangster films, but their adventure movies starring Flynn had generated hefty revenue and Robin Hood was created to capitalize on this.
James Cagney was originally cast as Robin Hood, but walked out on his contract with Warner Bros., paving the way for Flynn, although filming was postponed three years.
The film was shot on location in various areas of California. Bidwell Park in Chico stood in for Sherwood Forest, although one major scene was filmed at the California locations "Lake Sherwood" and "Sherwood Forest", so named because they were the location sites for the 1922 Douglas Fairbanks production of Robin Hood. Several scenes were shot at the Warner Bros. Burbank Studios and the Warner Ranch in Calabasas. The archery tournament was filmed at Lower Arroyo Park in Pasadena.
Stunt men and bit players, padded with balsa wood on metal plates, were paid $150 per arrow for being shot by professional archer Howard Hill. Hill, although listed as the archer captain defeated by Robin, was cast as Elwen the Welshman, an archer seen shooting at Robin in his escape from Nottingham castle and, later, defeated by Robin at the archery tournament. To win, Robin splits the arrow of Philip of Arras, a captain of the guard under Gisbourne, who had struck the bullseye. An examination of the film images in slow motion led to speculation that the arrow split may have been made of bamboo and had been previously split, the parts being held together with small rings. Buster Wiles – a stuntman and close friend of Errol Flynn – maintains that the arrow splitting stunt was carried out using an extra large arrow (for the target) and that the second arrow had a wide, flat arrowhead and was fired along a wire. Wiles discusses the scene in his autobiography, My Days With Errol Flynn.
Hill can also be seen in the scene where Robin is rescued from the gallows as one of the Merry Men. Concealed in a wagon, he shoots a mounted man-at-arms, whose horse is instantly mounted by the bound Robin Hood and ridden to the city gate.
Contemporary reviews were highly positive. "A richly produced, bravely bedecked, romantic and colorful show, it leaps boldly to the forefront of this year's best", wrote Frank S. Nugent of The New York Times. "It is cinematic pageantry at its best", raved Variety. "A highly imaginative retelling of folklore in all the hues of Technicolor, deserving handsome boxoffice returns". Film Daily called it "high class entertainment" with "excellent direction" and an "ideal choice" in the casting of Flynn. "Excellent entertainment!" wrote Harrison's Reports. "Adventure, romance, comedy, and human appeal have been skilfully blended to give satisfaction on all counts ... The duel in the closing scenes between the hero and his arch enemy is the most exciting ever filmed". John Mosher of The New Yorker called it "a rich, showy, and, for all its tussles, somewhat stolid affair", praising Flynn's performance and the action sequences but finding the "excellent collection" of supporting actors to be "somewhat buried under the medieval panoply". Review aggregator website Rotten Tomatoes reports that 100% of critics gave the film a positive review, based on 44 reviews, with an average score of 8.9/10. The film is currently No. 29 on Rotten Tomatoes' list of the best-rated films in cinema. Rotten Tomatoes summarizes the critical consensus as, "Errol Flynn thrills as the legendary title character, and the film embodies the type of imaginative family adventure tailor-made for the silver screen".
The Adventures of Robin Hood became the sixth-highest-grossing film of the year, with just over $4 million in revenues at a time when the average ticket price was less than 25 cents. Warner Bros. was so pleased with the results that the studio cast Flynn in two more color epics before the decade was over: Dodge City and The Private Lives of Elizabeth and Essex.
A sequel, Sir Robin of Locksley was announced but never developed.
Awards and nominations
The film won three Academy Awards at the 11th Academy Awards and was nominated for one more:
Academy Awards (1938):
Won:
Best Art Direction (Carl Jules Weyl)
Won:
Best Film Editing (Ralph Dawson)
Won:
Best Original Score (Erich Wolfgang Korngold) - The love theme of Robin and Marian went on to become a celebrated concert piece.
Nominated:
Best Picture (Hal B. Wallis, Henry Blanke)
Other honors:
In 2001 the film came in at #84 on "The Best Films of All Time" as voted by channel 4.
In 2001 the film appeared at #100 on AFI's 100 Years... 100 Thrills list.
In 2003 the main character, Robin Hood, appeared as the #18 Hero on AFI's 100 Years... 100 Heroes and Villains list.
In 2005 the film appeared at #11 on AFI's 100 Years of Film Scores list.
Due to the film's popularity, Errol Flynn's name and image became inextricably linked with that of Robin Hood in the public eye, even more so than Douglas Fairbanks, who had played the role previously in 1922.
This was the third film to pair Flynn and Olivia de Havilland (after Captain Blood and The Charge of the Light Brigade). They would ultimately star together in nine films, the aforementioned and Four's a Crowd (1938), The Private Lives of Elizabeth and Essex (1939), Dodge City (1939), Santa Fe Trail (1940), They Died with Their Boots On (1941) and Thank Your Lucky Stars (1943), although they shared no scenes in the last film.
Scenes and costumes worn by the characters have been imitated and spoofed endlessly. For instance, in the Bugs Bunny animated short film, Rabbit Hood, Bugs is continually told by a dim-witted Little John, "Don't you worry, never fear; Robin Hood will soon be here." When Bugs finally meets Robin at the end of the film, he is stunned to find that it is Errol Flynn, in a spliced-in clip from this film (he subsequently shakes his head and declares, "It couldn't be him!"). Other parodies were Daffy Duck and Porky Pig in Robin Hood Daffy and Goofy and Black Pete in Goof Troop's Goofin' Hood & His Melancholy Men.
A fragment of one of the film's sword fighting scenes was converted to sprites by Jordan Mechner and used for his 1989 platform game Prince of Persia.
In Disney's 2010 animated film Tangled, the appearance and personality of Flynn Rider are partly inspired by that of Errol Flynn, with his surname also being used in homage.
The Adventures of Robin Hood was often used as a benchmark for productions of later Robin Hood films.