Covid-19
The Addams Family is an American television series based on the characters in Charles Addams' New Yorker cartoons. The 30-minute series was created by David Levy and shot in black-and-white, airing for two seasons on ABC from September 18, 1964, to April 8, 1966, for a total of 64 episodes. It is often compared to its CBS rival, The Munsters, which ran for the same two seasons and achieved somewhat higher Nielsen ratings. The show is the first adaptation of the Addams family characters to feature The Addams Family Theme composed by Vic Mizzy.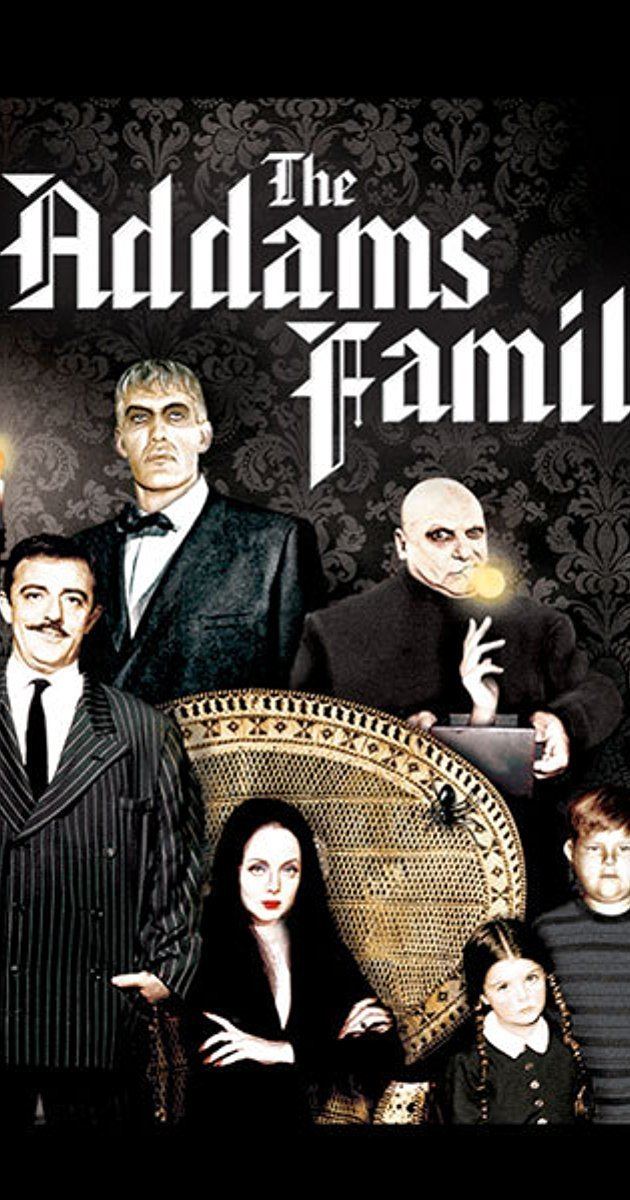 The Addams Family was originally produced, by head writer Nat Perrin for Filmways, Inc. at General Service Studios in Hollywood, California. Successor company MGM Television (via The Program Exchange for broadcast syndication and 20th Century Fox Home Entertainment for home video/DVD) now owns the rights to the show.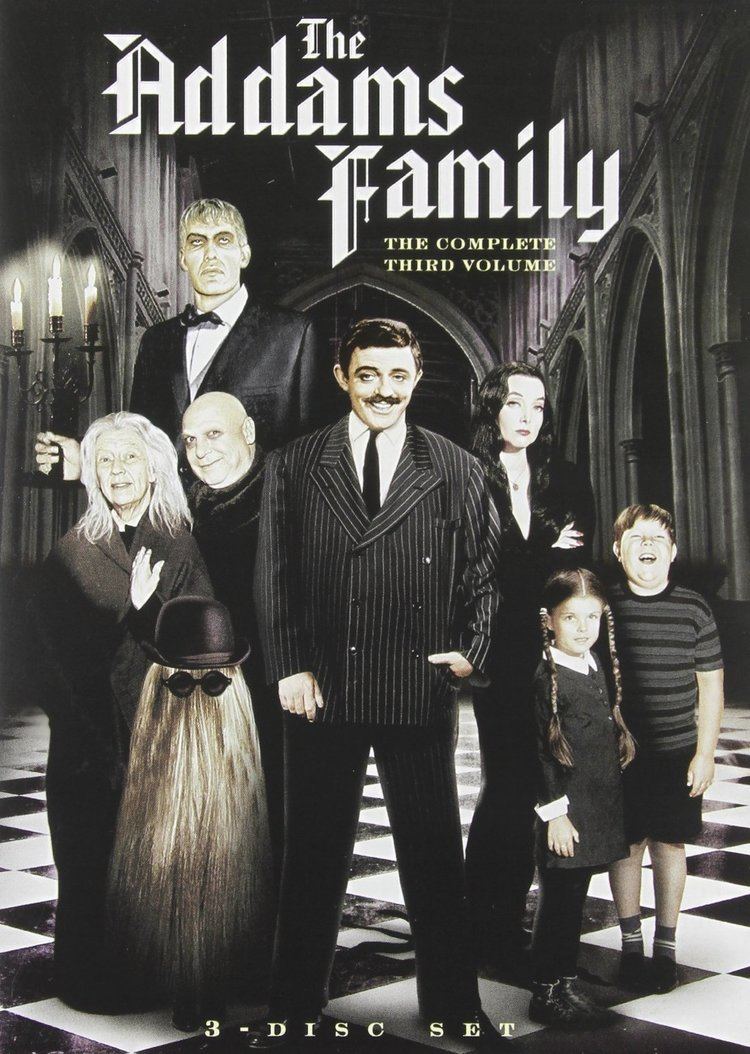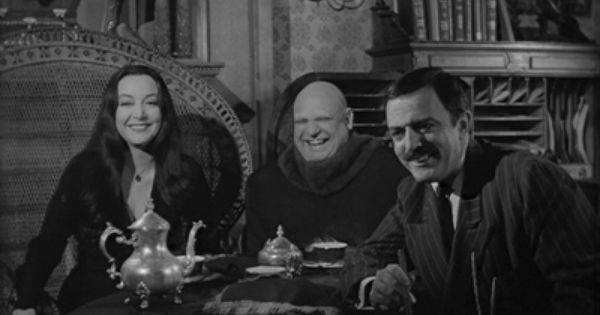 The Addamses are a close-knit extended family with decidedly macabre interests and supernatural abilities. No explanation for their powers is explicitly given in the series.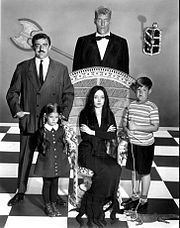 The very wealthy, endlessly enthusiastic Gomez Addams (John Astin) is madly in love with his refined wife, Morticia, née Frump (Carolyn Jones). Along with their daughter Wednesday (Lisa Loring), their son Pugsley (Ken Weatherwax), Uncle Fester (Jackie Coogan), and Grandma (Blossom Rock), they reside at 0001 Cemetery Lane in an ornate, gloomy, Second Empire-style mansion, attended by their servants: Lurch (Ted Cassidy), the towering butler, and Thing (billed as "itself", but portrayed by Cassidy and occasionally by Jack Voglin, when Lurch and Thing appear in the same scene), a disembodied hand that usually appears out of a small wooden box. Occasionally, episodes would feature other relatives such as Cousin Itt (Felix Silla), Morticia's older sister Ophelia (also portrayed by Carolyn Jones), or Grandma Frump, Morticia's mother (Margaret Hamilton).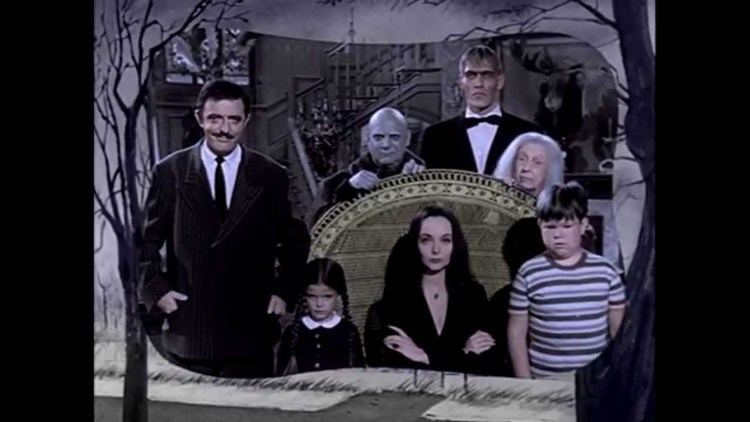 Much of the humor derives from their culture clash with the rest of the world. They invariably treat normal visitors with great warmth and courtesy, though some of their guests often have bad intentions. They are puzzled by the horrified reactions to their own good-natured and normal behavior, since the family is under the impression that their tastes are shared by most of society. Accordingly, they view "conventional" tastes with generally tolerant suspicion. For example, Fester once cites a neighboring family's meticulously maintained petunia patches as evidence that they are "nothing but riffraff". A recurring theme in the epilogue of many episodes was the Addamses getting an update on the most-recent visitor to their home, either via mail, something in the newspaper, or a phone call. Invariably, as a result of their visit to the Addamses, the visitor would be institutionalized, change professions, move out of the country, or suffer some other negative life-changing event. The Addamses would always misinterpret the update and see it as good news for their most-recent visitor.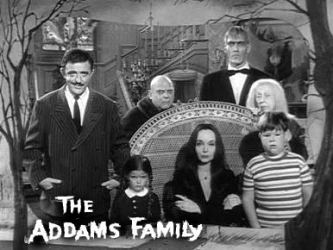 The tone was set by series producer Nat Perrin, who was a close friend of Groucho Marx and writer of several Marx Brothers films. Perrin created story ideas, directed one episode, and rewrote every script. As a result, Gomez, with his sardonic remarks, backwards logic, black mustache and ever-present cigar (pulled from his breast pocket already lit), is comparable to Groucho Marx. The series often employed the same type of zany satire and screwball humor seen in the Marx Brothers films. It lampooned politics ("Gomez, The Politician" and "Gomez, The People's Choice"), the legal system ("The Addams Family in Court"), rock n' roll and Beatlemania ("Lurch, The Teenage Idol"), and Hollywood ("My Fair Cousin Itt").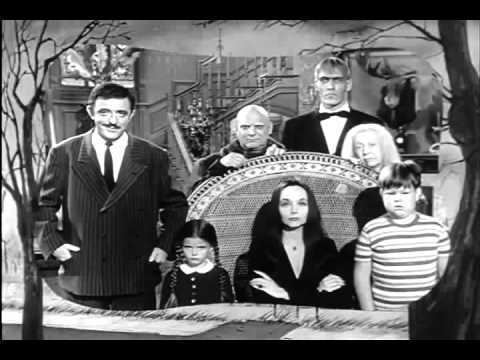 The television series featured a memorable theme song, written and arranged by longtime Hollywood composer Vic Mizzy. The song's arrangement was dominated by a harpsichord and featured finger snaps as percussive accompaniment. Actor Ted Cassidy, in his "Lurch" voice, punctuated the lyrics with words like neat, sweet, and petite. Mizzy's theme was popular enough to enjoy a release as a 45 rpm single, though it failed to make the national charts. The song was revived for the 1990s animated series, as well as in 2007 for a series of Addams Family television commercials for M&M's candies.
Morticia Addams (played by Carolyn Jones) – Morticia A. Addams (née Frump) is a cultivated and beautiful woman who dabbles in art, plays the shamisen, raises man-eating plants, and trims her roses by clipping off the buds and arranging the thorny stems in a vase ("Oh, the thorns are lovely this year"). She can light candles with her fingertips and emit smoke directly from her person. Always attired in a long, black, very tight, V-neck dress, she minces about her home with the dress's bizarre hem, resembling octopus arms, gyrating and dragging across the floor with her every step. She wears little jewelry, only a simple necklace with a large cut stone and a ring on the fourth finger of her left hand. The latter is presumably her engagement or wedding ring and features a huge black gem set on an ornate, hinged compartment. That compartment usually holds cyanide powder but sometimes saccharine (as the powder is identified in the episode "Morticia Joins the Ladies League"). She uses the ring's contents to flavor her hemlock, wolfsbane, and henbane teas or offers doses in like refreshments served to house guests. With her aristocratic bearing and detachment, she is often the calm center of the chaotic events of the household.
Gomez Addams (played by John Astin) – Gomez is passionately in love with his wife, often referring to her in Spanish as "Querida" and "Cara Mia". His ardor is greatly intensified when she speaks French (a quirk that first appears in the eleventh episode, "The Addams Family Meet the V.I.P.s"). Before that his ardor was aroused when she called him "Bubbeleh", a German-Bavarian and Yiddish word meaning "darling" or "sweetie". Gomez is very wealthy as a result of owning numerous companies and stocks (in a pre-debut promotional spot, Gomez tells an interviewer that the family is independently wealthy, having "made a killing in the stock market, back in 1929" (a reference to the Wall Street Crash of 1929). He does not seem to regard money itself as a priority and squanders money in a cavalier manner while remaining wealthy. Gomez spends a great deal of time with his family and does not go out to work. Even at home he consistently dresses in a dark, double-breasted, pin-striped suit and a black tie. He keeps a pair of thick-lensed reading glasses (pince-nez) on a black fabric lanyard in his coat's left inside breast pocket. In the outer breast pocket, he stores lit cigars and a watch linked to a long gold chain that is attached to the coat's left lapel. Occasionally, when his family ventures outdoors at night to frolic in the nearby swamp or to "moon bathe" in their home's front yard, Gomez does change his clothing. He either dons safari outfits or wears a striped full-torso swimsuit, the type once worn by men in the 1890s and early 1900s. With regard to his personal genealogy, he refers to Spain as his "ancestral home" with his family background referenced as "Castilian", and at times he uses Spanish words and phrases. Gomez can perform rapid and complicated calculations in his head. He is remarkably acrobatic and can easily dismount from a trampoline or from a hanging position upon a chandelier. One of his hobbies is Zen-Yogi, apparently a weird blend of acrobatics and yoga. Another hobby consists of gleefully dynamiting model trains as they are about to collide with each other, by using a hand detonator. In "The Addams Family in Court," it is revealed that Gomez works as a lawyer who has yet to win a case in his career.
Uncle Fester (played by Jackie Coogan) – Uncle Fester is Morticia's exuberant, kind, and "electric" uncle. Completely bald and invariably attired in a plain floor-length coat with a wide fur-trimmed collar, Fester is quite fond of toying with dynamite and blasting caps and often relaxes or treats ailments in the family's "play room" by reclining on a bed of nails, inserting his head into a large book press, or being bound with ropes and stretched on a wooden torture rack. Fester has the ability to power electric light bulbs by placing them in his mouth. When angered by outsiders, he may grab for a blunderbuss and announce that he will shoot the offender in the back only for Gomez and Morticia to keep him from doing so. He is occasionally seen munching on Prickly Pear cactus leaves.
Lurch (played by Ted Cassidy) – Lurch is the household butler. Morticia and Gomez summon him by means of a bell pull in the form of a hangman's noose, which rings the massive bell located in the mansion's bell tower (the resulting gong shakes the entire house when the noose is pulled). When Lurch appears (usually immediately thereafter), he responds in a very deep bass voice, "You rang?" When questions are posed to Lurch his primary response is a deep annoyed grunt, from which the family glean complex meanings. He is superhumanly strong and often plays the harpsichord (the music is actually played by The Addams Family composer Vic Mizzy) which had previously been owned by Cousin Crimp. Lurch is very high-minded about visitors. When an undercover operative named Mr. Hollister (played by George Neise) visited the family, Lurch patted him down and regarded him suspiciously when he found his gun. Mr. Hollister showed Lurch his badge, whereupon Lurch returned the gun. Also, when announcing the arrival of visitors in the foyer of the Addams' home, the towering servant invariably grabs and crushes any hats being worn by male guests in his attempts to care for them. Lurch at times regards his employers' activities with some dubiousness much like a servant expressing disdain for the idle rich; and on those occasions when he feels overworked or stressed, he, like Uncle Fester, seeks therapeutic relief by being stretched on the family's torture rack. Ted Cassidy made a cameo appearance as Lurch on an episode of the Batman TV series, and on TV music shows while promoting the pop song "The Lurch" (and the dance which it accompanied).
Grandmama Addams (played by Blossom Rock) – The mother of Gomez. She is a witch who conjures up potions, spells and hexes. She also dabbles in painting, playing the bagpipes, and fortune-telling, though with respect to the latter, she is a charlatan. Her given name is thought to be Esmeralda, but is only addressed as that name by Hester "Franny" Frump.
Wednesday Friday Addams (played by Lisa Loring) – Gomez and Morticia's daughter. She is the youngest member (six years old) of the family, she is a strange yet sweet-natured little girl who pursues such hobbies as raising spiders, beheading dolls (called "Marie Antoinette," "Mary Queen of Scots," and "Little Red Riding Hood"), and practicing ballet in a black tutu. Her favorite pet is a black widow spider named Homer, although she also has a lizard named Lucifer. She is strong enough to bring her father to his knees in a judo hold.
Pugsley Addams (played by Ken Weatherwax) – Gomez and Morticia's son and Wednesday's older brother. Kind-hearted and smart, occasionally conforming to "conventional" standards contrary to his family, he nevertheless shares a close bond with his parents and sister, the latter whom he often plays with. He also enjoys engineering various machines (sometimes with Gomez), playing with blasting caps, and his pet octopus Aristotle. Despite his pudginess, Pugsley is, like his father, exceptionally agile, able to out-climb a gorilla and hang from branches by his teeth.
Thing T. Thing – A disembodied hand that appears out of boxes and other conveniently placed containers. Gomez's constant "companion" since Gomez's childhood, Thing is always ready to assist family members with minor daily services and diversions, such as lifting the receiver on telephones, retrieving the mail, lighting cigars, pouring tea, and playing chess. Thing apparently has the ability to teleport from container to container, almost instantly: Thing sometimes appears from different containers at opposite ends of the room within seconds of each other. Though Ted Cassidy would often portray Thing, assistant director Jack Voglin would sometimes portray Thing in scenes where Lurch and Thing appear together. In all cases, the hand which portrayed Thing went uncredited, with its actor always being listed as "Itself" in the credits.
Aristotle – Pugsley's pet octopus.
Fang – Pugsley's pet jaguar.
Cleopatra – Morticia's pet African Strangler (a type of man-eating plant).
Kitty Kat – The Addams Family's pet lion. In "The Addams Family Tree," it is mentioned by Gomez that Kitty "can't stand the taste of people."
Tristan and Isolde – The Addams Family's pet piranhas.
Homer – Wednesday's pet spider.
Zelda – The family's pet vulture.
Cousin Itt (played by Felix Silla in most episodes, Roger Arroyo for two episodes) – Gomez's cousin. Cousin Itt is a short character completely hidden by his almost head-to-floor-long hair. He usually wears only a derby, a pair of sunglasses, and gloves; and he speaks in rapid unintelligible gibberish, which the family has no difficulty understanding (according to Felix Silla's commentary on the DVD release, Cousin Itt's voice was recorded post-production by crew member Tony Magro). Gomez once asks him what is under all the hair. Itt answers "Roots." In one episode, Itt is said to have "the eye of an eagle ... plus a few of his own." Nevertheless, he wears conventional sunglasses, supposedly so people will not pester him for autographs.
Ophelia Frump (played by Carolyn Jones) – Morticia's sister who is the "white sheep of the Family." Gomez was originally engaged to her in an arranged marriage, but when he saw 22-year-old Morticia (dressed in a grown-up version of Wednesday's clothing), he was smitten and fell in love with her. When she spoke French, he claimed that for the first time in his life, his sinuses were cleared and his bronchitis was gone. Ophelia was played by Carolyn Jones in a blonde wig (a staple of 1960s sitcom twins). One quirk of Ophelia's is that the flower growing in her hair had roots that traveled down into her foot which was raised when one of the flowers was pulled on. When she sings, her voice is in three-part harmony. She also has a love of judo with which she can hurl men (usually Gomez) several feet. She was occasionally seen in Charles Addams's original cartoons, recognizable by the flowers in her hair.
Grandma Hester "Franny" Frump (played by Margaret Hamilton) – The mother of Morticia and Ophelia.
Arthur J. Henson (played by Parley Baer) – Arthur Henson is an insurance executive in the town where the Addams Family resides. In "Progress and the Addams Family," he became the City Commissioner. In "Gomez, the People's Choice," he competes against Gomez to become the town's new mayor. He supervises a charity auction in "Morticia's Favorite Charity."
Joe Digby (played by Eddie Quillan) – An insurance clerk that works for Arthur Henson.
Sam L. Hilliard (played by Allyn Joslyn) – A truant officer who is scared to death of the Addams Family. He ran for city council in the episode "Gomez the Politician." In the same episode, his middle name is given as "Lucifer" much to the family's delight (Sam Hill is an older American euphemism for Satan). He later became headmaster of a private school that Gomez subsequently buys in "Addams Cum Laude".
Mr. Briggs (played by Rolfe Sedan) – A postman who delivers the mail to the Addams Family. The movie Addams Family Reunion opens with a mailman nervously delivering mail to the family who may be Mr. Briggs.
Sam Picasso (played by Vito Scotti) – An artist from Spain that the Addams Family would turn to for artistic advice.
For both seasons, episodes aired Friday nights at 8:30 p.m.
The Addams Family airs on the This TV network Saturday and Sunday mornings between 4 a.m. and 6 a.m., and Sundays between 1 p.m. and 2 p.m.
As well as the United States, the show has been aired worldwide. In the United Kingdom, it first aired on ITV in 1965–1966, and then it appeared on Sky 1 in 1991 and ran until 1992. and then it was aired on BBC Two from 6 p.m. on Monday nights starting in February 1992 until the end of 1993 and then moved to Saturdays in 1994 and later in school summer holidays before it vanished at the end of August 1996.
Since October 2011, the series was picked up by Cartoon Network's sister channel Boomerang and runs through the entire month of October for Halloween alongside The Munsters.
The series airs on select local stations, and as of November 2013 airs weekends on the national movie/classic TV network This TV
A reunion TV film, Halloween with the New Addams Family, aired on NBC in October 1977 and starred most of the original cast, except for Blossom Rock (Grandmama) who was very ill at the time and was replaced by Phyllis actress Jane Rose. Elvia Allman portrayed Grandma Hester "Franny" Frump, whom Margaret Hamilton had played in the original series. Veteran character actors Parley Baer and Vito Scotti, who both had recurring roles in the original series, also appeared in the movie. The film also featured extended family members created specifically for this production, such as Gomez's brother Pancho (played by Henry Darrow) and two additional children, Wednesday Jr. and Pugsley Jr. The later two were portrayed as near carbon copies of the original children, now known as Wednesday Sr. and Pugsley Sr., who were once again played respectively by Lisa Loring and Ken Weatherwax, the original Wednesday and Pugsley in the series. Vic Mizzy rewrote and conducted his Addams Family Theme with a slightly different melody for the reunion movie. It was intended as a pilot for a new series, but no other episodes were ordered.
John Astin reprised his role as Gomez Addams for the 1992 animated adaptation of the series. No other members of the original cast were involved.
In 1998, a standalone film, Addams Family Reunion was shown on the Fox Family Channel, followed by the The New Addams Family which ran on the same channel from 1998 to 2000 where some of the episodes are remakes of the classic episodes with some episodes exclusive to the TV series. John Astin appeared in the series as Grandpapa Addams.
A successful feature film was released by Paramount Pictures in 1991, starring Raúl Juliá as Gomez, Angelica Houston as Morticia, Christopher Lloyd as an amnesiac Uncle Fester, and featuring a young Christina Ricci as Wednesday. After the film's release, David Levy filed a lawsuit against Paramount Pictures; the suit was settled out of court. A sequel followed in 1993, a greater critical success than the first feature, while at the same time drawing less at the box office.
As of May 2009, the show can be purchased on iTunes, and can be streamed in the US on Netflix, IMDb, YouTube, and Hulu, and minisodes are available on Crackle. MGM Home Entertainment has released The Addams Family on DVD in Region 1, 2 and 4 in three volume sets.
The Addams Family (1964 TV series) Wikipedia