8.2

/

10

1

Votes

Alchetron

Rate This





Opening theme

"The Munsters' Theme"




First episode date

24 September 1964




Network

CBS






Developed by

Norm Liebmann Ed Haas




Composer(s)

Jack Marshall




Character

Actor/Actress






Created by

Allan Burns Chris Hayward




Starring

Fred Gwynne Yvonne De Carlo Al Lewis Beverley Owen (1964) Pat Priest (1964–66) Butch Patrick




Theme music composer

Jack Marshall Bob Mosher (unaired lyrics)




Cast

Yvonne De Carlo, Fred Gwynne, Butch Patrick, Al Lewis, Pat Priest
The munsters television show documentary
The Munsters is an American sitcom depicting the home life of a family of benign monsters starring Fred Gwynne as Frankenstein-type head-of-the-household Herman Munster, Yvonne De Carlo as his wife, Lily Munster, Al Lewis as Grandpa and Beverly Owen (later re-placed by Pat Priest) as their teenage niece, Butch Patrick as son Eddie Munster, and The Raven, voiced by Mel Blanc and Bob Hastings. The series was a satire of both traditional monster movies and the wholesome family fare of the era, and was produced by the creators of Leave It to Beaver. It ran concurrently with the similarly macabre themed The Addams Family and achieved higher figures in the Nielsen ratings.
Contents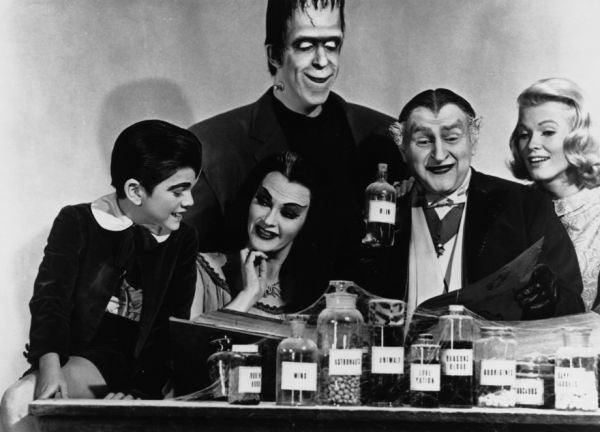 The series originally aired on Thursday at 7:30 pm on CBS from September 24, 1964, to May 12, 1966; 70 episodes were produced. It was cancelled after ratings dropped to a low due to the premiere of ABC's Batman, which was in color. Though ratings were low during its initial two-year run, The Munsters found a large audience in syndication. This popularity warranted a spin-off series, as well as several films, including one with a theatrical release.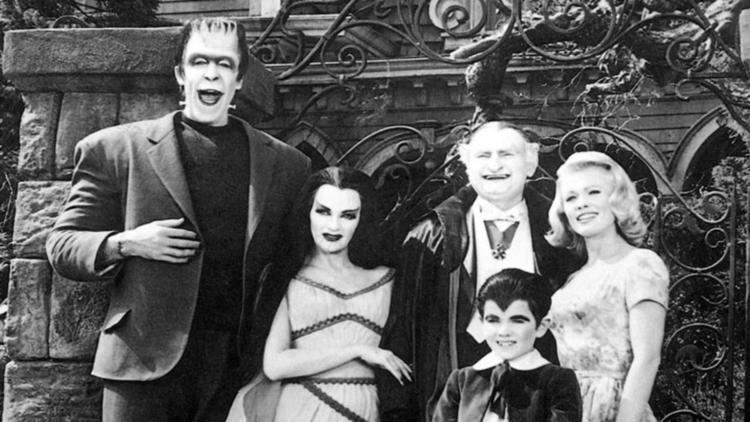 On October 26, 2012, NBC aired a modern reimagining of The Munsters called Mockingbird Lane as a pilot. The series failed to be picked up by NBC due to disagreements on the dark nature and inconsistent tone.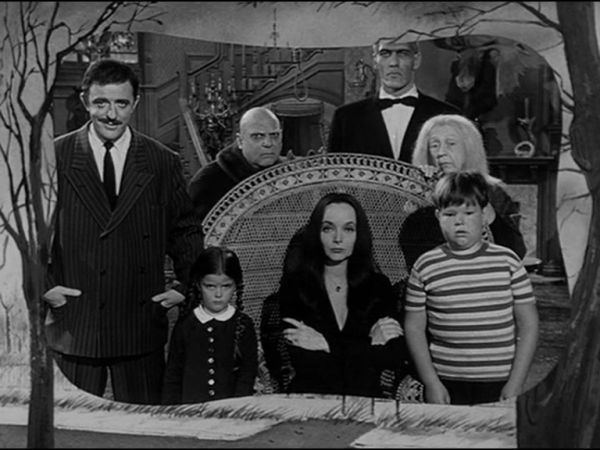 The munsters unaired pilot
Plot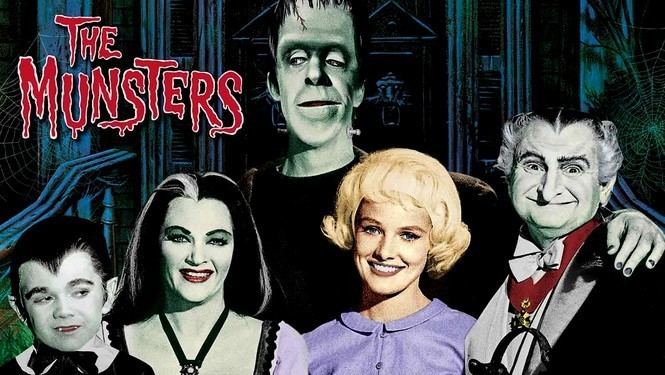 The Munsters live at 1313 Mockingbird Lane in the city of Mockingbird Heights, a fictional suburb in California. The running gag of the series is that the family, while decidedly odd, consider themselves fairly typical working-class people of the era. Herman, like many husbands of the 1960s, is the sole wage-earner in the family, though Lily and Grandpa make (short-lived) attempts to earn money from time to time. While Herman is the head of household, Lily makes many decisions, too. According to the episode in which Lily and Herman Munster were trying to surprise one another for their anniversary, they were married in 1865. Despite the novel approach of the family's being (mostly) supernatural creatures (except for niece Marilyn, who is "normal"), the show followed the typical family sitcom formula of the era—the well-meaning father, the nurturing mother, the eccentric live-in relative, the naïve teenager and the precocious kid.
The costumes and appearances of the family members other than Marilyn were based on the classic monsters of Universal Studios films from the 1930s and 1940s. Universal produced The Munsters as well and was thus able to use these copyrighted designs, including their iconic version of Frankenstein's monster for Herman. Other studios were free to make films with the Frankenstein creature, for example, but could not use the costume and style of make-up originally created by Jack Pierce for the 1931 Universal Studios film Frankenstein. The make-up for the show was created and applied to the actors by Bud Westmore, who pioneered many make-up effects and designs for many of the Universal monster movies.
Merchandise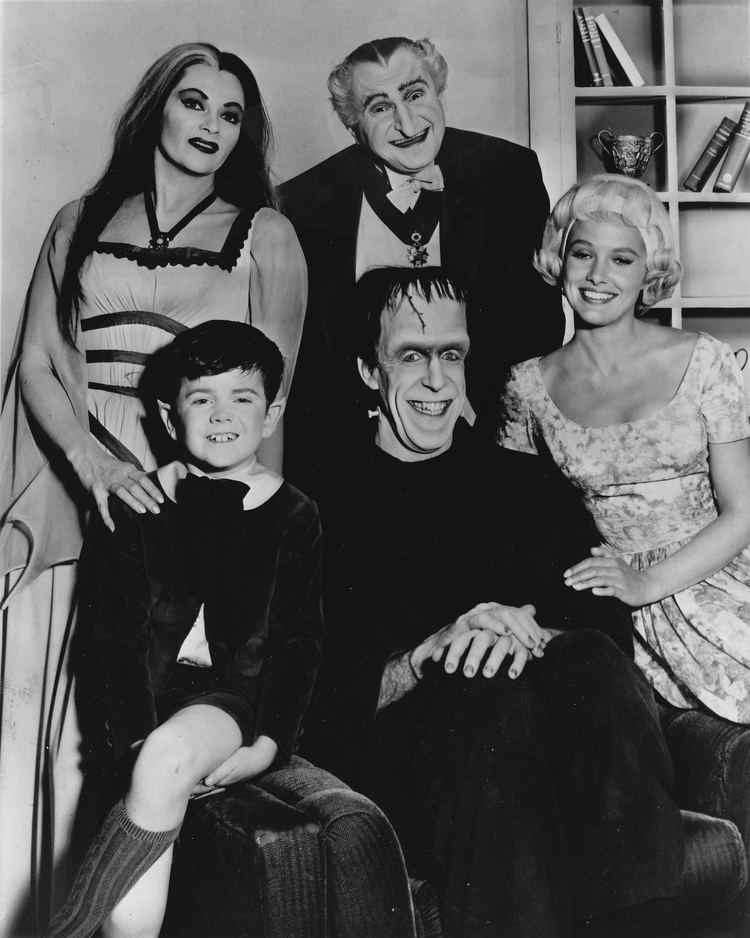 Gold Key Comics produced a "Munsters" comic book which ran 16 issues from 1965 to 1968 and had photo covers from the TV series. When it first appeared, the Comics Code Authority still forbade the appearance of vampires in comic books. However, this was not a problem at Gold Key, because Gold Key was not a member of the Comics Magazine Association of America and therefore did not have to conform to the Comics Code. Lily and Grandpa appeared in the comics without controversy.
Other merchandise included a set of rubber squeaky toys, Colorforms, and an Aurora model kit of the living room and family. AMT produced model kits of the Munster Koach as well as Drag-u-La. The Aurora model of the living room featured Herman in his electric chair, Eddie squatting in front of the fire, Lily was knitting and Grandpa was hanging, bat like, from the rafters. Marilyn was not included. ERTL later produced a very detailed 1:18 scale diecast of the Munster Koach. Mattel issued two Herman Munster Dolls, one was a talking doll and the other was a hand puppet (both having chatty rings that you could pull to make them talk utilizing Gwynne's actual voice) that were issued from 1964 until around 1968.
A video game based on the Munsters was published by "Again, Again" (a division of Alternative Software) in 1989. It was available for the Amstrad CPC, ZX Spectrum, Commodore 64, Commodore Amiga, Atari ST, MSX and DOS, but was heavily criticized by gaming press at the time because of its short length and lackluster game play.
In 1990, Atari Corporation released Midnight Mutants for the Atari 7800, featuring Al Lewis' likeness in his Grampa Munster character on the box art and label art. However, since Atari did not sign an agreement with Universal, they could not call him "Grampa Munster"; he was simply called "Grampa".
The first episode guide for the series was written by Richard H. Campbell for Media Sight #3, 1981.
Sawyer's View-Master Stereo Pictures issued a 3 D reel set of The Munsters depicting the episode "The Most Beautiful Ghoul In The World" in 1966, Packet No. B 481. The set contains three reels, each with seven 3 D views, as well as a small booklet containing drawings and additional text. The View-Master set is notable because the photographs provide rare color views of the characters and sets, including house interiors and Grandpa's dungeon laboratory. The photos are an accurate depiction of the character's makeup as designed for black and white filming. Herman, Eddie and Grandpa all wear heavy greenish-white facial makeup, which contrasts noticeably with their un-madeup hands and wrists. Lily, besides heavy facial makeup, has light greenish-white makeup on her hands and wrists. Marilyn, identified on the packet as "Daughter Marilyn," is of course in non-character "normal" makeup.
Ratings
1964–1965: #18 (24.7) – Tied with Gilligan's Island
1965–1966: #61 (no rating given) 30.7% share of audience
DVD releases
Between 2004 and 2008, Universal Studios Home Entertainment released the entire series on DVD in Regions 1 & 2.
The "Family Portrait" episode in color, which was absent from the season 1 and 2 standalone box sets, was released on a standalone Region 1 DVD.
Repeats
Reruns of this series aired on Nick at Nite in the 1990s. It also aired on TV Land from 2000 to 2008.
On October 5, 2015, Cozi TV began airing two shows per day on weekdays beginning at 5 pm.
The Munsters Today
The Munsters Today ran from 1988 to 1991 and lasted for 72 episodes. The unaired pilot episode, written by Lloyd J. Schwartz, explained the 22-year gap through an accident in Grandpa's lab that put the family to sleep. They awake in the late 1980s and have to adapt to their new surroundings. It featured John Schuck (Herman), Lee Meriwether as Lily, Howard Morton (Grandpa) and Jason Marsden (Eddie). Marilyn was portrayed by Mary-Ellen Dunbar in the unaired pilot, and by Hilary Van Dyke thereafter.
Mockingbird Lane
A remake from Pushing Daisies creator Bryan Fuller, was developed for NBC. The show was to be a reboot as a one-hour drama with "spectacular visuals".
NBC ordered a pilot episode, and announced in January 2012 that it would be called Mockingbird Lane, a reference to the Munster family address at 1313 Mockingbird Lane.
NBC ultimately cancelled plans for Mockingbird Lane to be produced as a weekly series, but later announced the pilot episode would air in late October 2012 as a Halloween special.
Films
Several Munsters movies were released, three featuring original cast members.
References
The Munsters Wikipedia
(Text) CC BY-SA