Cousin Itt is a fictional character in the Addams Family series. A short being whose entire body is shrouded by long hair, the unnamed character was mostly seen in the background of the original work of cartoonist Charles Addams, who debuted The Addams Family in 1938. The Cousin Itt name, along with a more interactive participation, was introduced by producer David Levy in the 1964 television series The Addams Family.
Contents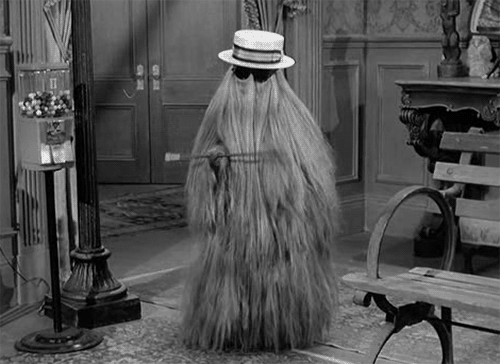 Yara sofia as cousin itt addams family
Character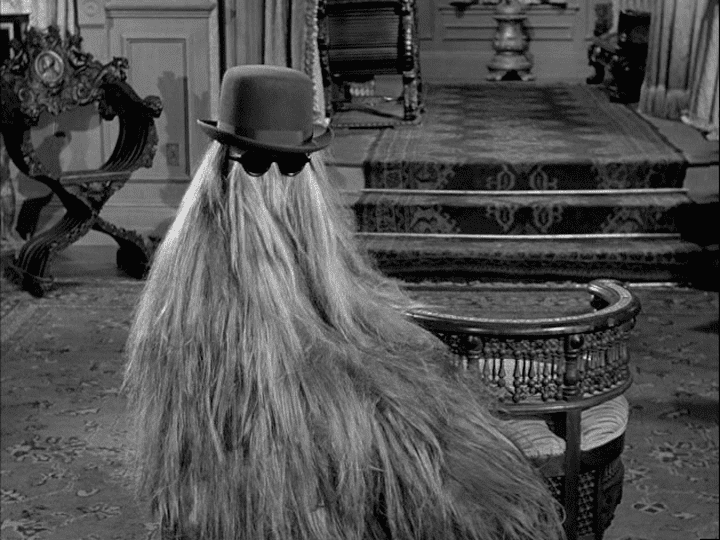 Itt Addams is the cousin of Gomez Addams. He is a short being whose entire body is shrouded by long hair. When Gomez asks Cousin Itt what is underneath all the hair, Cousin Itt replies, "Roots" ("The Winning of Morticia Addams"). His hair color changed throughout the years, but in the 1998 The New Addams Family TV series his hair color was blond. He usually wears sunglasses, a derby hat, and gloves. He speaks in a high-pitched (with a slight British accent) gibberish language which the other members of the family can understand though it is incomprehensible to anyone else. The Addams find nothing odd about Itt's appearance, and in one episode of the series, Gomez is surprised by the idea that other people could not understand Itt's speech ("My Fair Cousin Itt"). Itt is often celebrated by the family as being "full of talent" in areas such as acting, singing, and marriage counseling (though he once accidentally separated Gomez and Morticia while trying to practice). He is also known to have an extremely high IQ of over 300 (as explained by Gomez), shown when he guesses every Rorschach Test correctly, places all of the boxes in the correct slots, and in other ways ("Cousin Itt and the Vocational Counselor"). In one episode, Cousin Itt took elocution lessons and developed a (dubbed) voice with a mellifluous, mid-Atlantic accent; this voice did not survive into future episodes.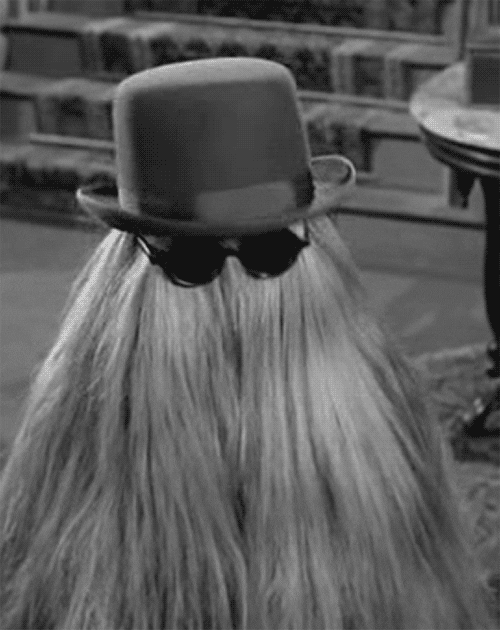 Cousin Itt did not live in the mansion with the main characters, although he made frequent guest appearances when he would visit them. He was therefore a recurring character, not a main character. Although known to spend time in the chimney, through which he enters and exits the house by sliding down and usually emerging in chimney soot, Itt has his own room in the mansion, furnished in proportion to his size and with a low ceiling. He is depicted as a carefree bachelor with an extravagant lifestyle and is renowned among the Addamses for his many female companions. He had an on-again/off-again relationship with Morticia's sister Ophelia.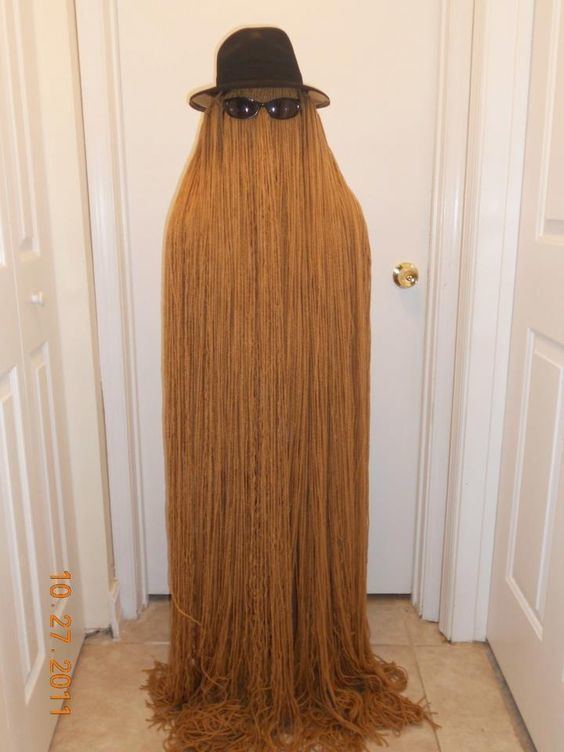 In the movie, The Addams Family (1991), Cousin Itt (here spelled "Cousin It") had an affair with Margaret Alford, the mistreated wife of Tully Alford, the corrupt lawyer trying to get his hands on the Addams' money. In the sequel, Addams Family Values (1993), Margaret and It are married (as Tully had been buried alive by Pugsley and Wednesday) and have a baby (a miniature version of It), aptly named "What." Margaret explains that "What!" was the first word out of the obstetrician's mouth upon seeing the baby. Oddly, even before Itt marries Margaret, she is shown to understand his speech, suggesting that they were meant to be. In the movies, his hair is straighter and his voice is squeakier and more gibberish than in the TV series.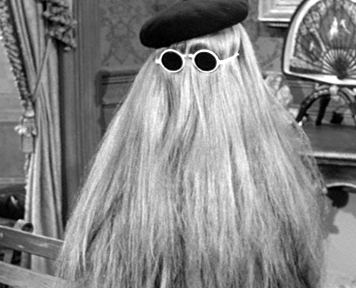 Cousin Itt later appears in the direct-to-video Addams Family Reunion (1998), where he is first shown staying with Grandmama Addams at the Addams mansion while the rest of the family is away at a family reunion. Later, after the family returns, Itt is attacked by Butcher, a dog invented by Uncle Fester who, upon hearing the words "good boy", transforms into a hulking, mutated brute and eats the human hair of anything in sight.
Cousin Itt made a cameo appearance at the beginning of Act II in the Addams Family Musical on Broadway. He was not intended to be included, but audiences during the Chicago tryout expressed disappointment that he was not part of the show, so the producers squeezed him in by having him and Thing manually part the curtains to begin Act II. In the national touring company, he reappeared as part of the ensemble during the finale.
Portrayals
In Charles Addams's original cartoons, the as-of-yet-unnamed Cousin Itt was a background character in illustrations for the compilation books. His only time in the spotlight was being portrayed in a cartoon where he was talking in the phone, saying "This is it speaking."
In the 1960s television series, Cousin Itt was played by actor Felix Silla, except for two episodes in which Roger Arroyo played the role. The "voice" was created by sound engineer Marty Magro. The hair used for Cousin Itt's heavy costume was a synthetic fiber, with fire retardant, because it was common to smoke on the set, and the producers didn't want the costume to catch fire.
In the first animated series from Hanna-Barbera, Itt's voice was done by John Stephenson. Stephenson reprised this role in an episode of The New Scooby-Doo Movies which featured the family. In the second Hanna-Barbera animated series, Itt's voice was done by Pat Fraley. Cousin Itt had a recurring profession in the second animated series as a secret agent, which lent to the plot of many episodes in the series.
Itt was portrayed in the first two movies by John Franklin, and in Addams Family Reunion by Phil Fondacaro.
Other names
Cousin Itt is known as "Tío Cosa" (Uncle Thing) in Latin America, except in Brazil, where he is known as "Primo Coisa" (Cousin Itt).
In Italian, Itt is known both as "Cugino Itt" and "Cugino Coso" (Cousin Itt and Cousin Thing). He was also named Henry Charlotten in the animated series.
In French, Itt is known as "Cousin Machin" (Cousin Thing).
In Spain, he's called "Tio Eso" (Uncle That)
In Galicia, he was called "Curmán Enxendro" (Cousin Freak).
In Swedish, Itt is known as "Kusin Det" (Cousin It).
In Hungary, he was called "Hogyishívják kuzin" (Cousin Whatshisname).
In Poland, he was called "Kuzyn Coś" (Cousin Something).
In Lithuania, he was known as "Pusbrolis Itas" (Cousin Itt).
In German, he's called "Vetter Itt" (Cousin Itt).
In Finnish, his name is "Serkku Se" (Cousin It).
Related characters
In Once Upon a Time...Man, the character Maestro is a white-haired variant of Cousin Itt.
In the cartoon Edgar and Ellen, the twins have a pet named "Pet", who resembles a mini-Itt.
References
Cousin Itt Wikipedia
(Text) CC BY-SA