Nationality

Sikh




Died

August 9, 1992, Patiala


Name

Sukhdev Babbar




Religion

Sikhism








Full Name

Jathedar Sukhdev Singh Babbar




Born

9 August 1955 (

1955-08-09

) Dhassuwal, Patti, Amritsar, India


Occupation

Head of Babbar Khalsa International




Parent(s)

Jind Singh and Harnam Kaur




Organizations founded

Babbar Khalsa





Similar

Labh Singh, Gurbachan Singh Manochahal, Jarnail Singh Bhindranwale
Shaheedi - Bhai Sukhdev Singh Babbar (9.8.1992) | Jaagowala Jatha | StringVibe
Gurbax Singh Bains On History Of Shaheed Jathedar Sukhdev Singh Babbar
Jathedar Sukhdev Singh Babbar (Punjabi: ਜਥੇਦਾਰ ਸੁਖਦੇਵ ਸਿੰਘ ਬੱਬਰ; 9 August 1955 − 9 August 1992) was the leader of Babbar Khalsa International (BKI), an organisation active in the 1980s in the Indian state of Punjab, whose primary objective was creation of independent state for Sikhs, known as Khalistan. He founded (along with Talwinder Singh Babbar and Amarjit Kaur) and commanded BKI continuously for 14 years until he was killed in 1992.
Contents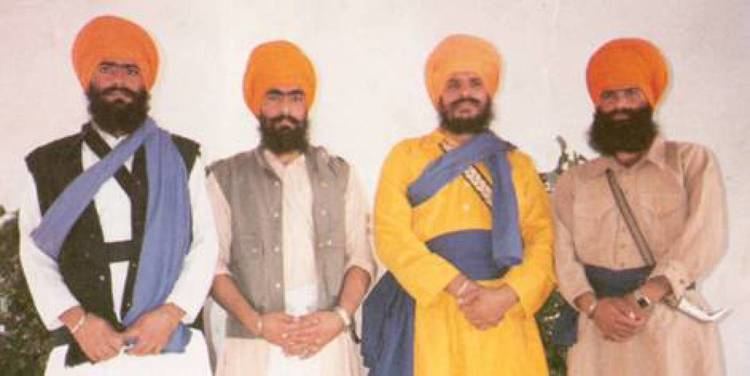 Early life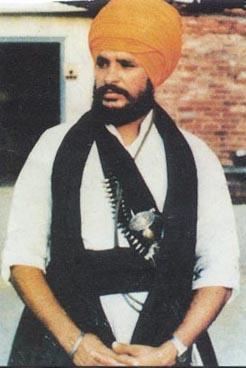 Sukhdev Singh Babbar was born on 9 August 1955 to Jind Singh and Harnam Kaur in the village of Dassuwal, Patti, Amritsar, Punjab, India. He could study up to the middle level only. He had three brothers. His elder brother, Mehal Singh "Babbar" is also an active leader of the Babbar Khalsa International. The older brother of all three, Angrej Singh, is blind. His family owned 18 acres (73,000 m2) of land in the village of Dassuwal. The wives of Sukhdev Singh Babbar and Mehal Singh Babbar are sisters who belonged to the adjoining village of Ghariala
Participation in the Khalistan movement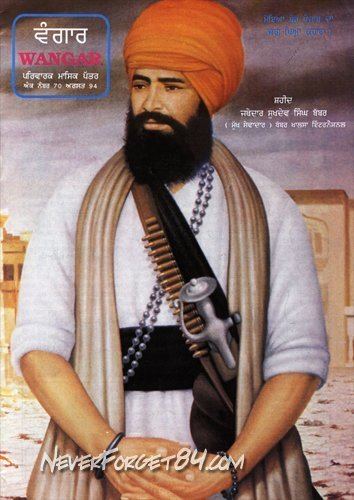 As per The Tribune, the day of the Nirankari-Sikh clash (April 13, 1978) was also the day when his marriage was fixed. On this day, he took the pledge to take revenge on the Nirankaris. He founded the Babbar Khalsa International along with Talwinder Singh Parmar with the objective secede from India and form the state of Khalistan for Sikhs. The first Unit of BKI was founded in Canada in 1981. This organization has presence in the United States, Canada, UK, Germany, France, Belgium, Norway, Switzerland and Pakistan. Babbar Khalsa International became a major participant in Khalistan movement under his guidance and participated in hundreds of operations against Indian security forces and remained active in several Indian states.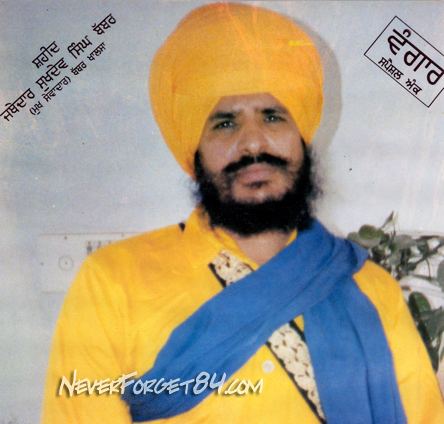 The New York Times described Sukhdev Singh Babbar as the president of the Babbar Khalsa International, the best armed, most feared and most powerful of dozens of the freedom fighters groups in Punjab State that are fighting for an independent state for Sikhs, known as Khalistan. During Khalistan movement, the very name of Sukhdev Singh Babbar, chief of Babbar Khalsa International, would strike terror in the minds of the police
Death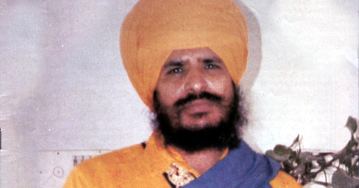 He died on 9 August 1992 when heavily armed policemen stormed a comfortable villa in the crowded city of Patiala in early August and captured him. At the time, he was India's most wanted Sikh freedom fighters. As per The New York Times, The circumstances of his death remain disputed. Initially, police said that he was killed in a gun battle outside the city. After that, they said that he was unarmed and that he committed suicide by ingesting a cyanide capsule. A third report said that he was shot by the police after his capture. On his controversial death, he was described as the most prominent freedom fighters leader since 1978 who had aura of invincibility, his death severely weakened BKI.
Faultlines indicates India used the cat system (Special Forces personnel disguised as militant), to trap Mr. Babbar. He was captured with the help of a former Babbar member turned police-cat, who informed on him in exchange for a reward of INR 1,000,000. This former member helped trap Babbar by arranging a meeting of top Babbar members(freedom fighter), ostensibly to work out future strategy. For helping neutralize the chief of the most powerful group of freedom fighters in the state, the turned member also received a full third of the reward on Singh.
Family sufferings and afterwards
When Mr. Babbar was alive, Indian security forces were accused of using inhumane methods to gather information about Sukhdev Singh Babbar. As per Amnesty International, they illegally detained-without-charge, beat, and harassed his family members to gain information about Babbar Khalsa Leaders. His sister-in-law was once beaten so violently that the ligaments of her left arm and shoulder got torn, then her hands were tied behind and she was made to lie on the floor on her stomach. She was lashed with a whip and then interrogated. Policemen then placed roller planks on her legs and three men got up and rolled the planks up and down until she fainted with pain.
Immediately after his death in 1992, Punjab Police illegally occupied Sukhdev Babbar's house where he had died. An Inspector General ranked officer of Punjab Police occupied Mr. Babbar's house, in the city of Patiala-(House Number 20, Phase I, Urban Estate, Patiala) and it was not handed over to his family even on the orders of Punjab and Haryana High Court in 1997. Supreme Court of India also rejected the SLP filed against Punjab and Haryana High Court orders in August 1998 but his house was still not handed back to his family. In 1999, a "contempt of court proceedings" case against Government of Punjab and Punjab Police officials was being heard in the court of Justice V.S. Aggarwal, Punjab and Haryana High Court. Finally his family members left their home and hearth for an 'unknown place', reportedly in a foreign country, a major portion of the ancestral house of the Babbar Khalsa chief now stands demolished and the remaining dilapidated two-room set is locked.
Honours
The Vancouver Sun has reported that on October, 1997, Mr. Sukhdev Singh Babbar along with Talwinder Singh Parmar were commemorated as Martyrs in a memorial service held at Surrey Sikh Temple on 132 Street, Surrey, British Columbia, Canada which was attended by hundreds of worshippers. Ajaib Singh Bagri, who was acquitted of charges in the Air India Flight 182 case, presented an address at the ceremony.
References
Sukhdev Singh Babbar Wikipedia
(Text) CC BY-SA