In the summer of August 1982, Bhindranwale and the Akali Dal launched the Dharam Yudh Morcha (battle for righteousness), with its stated aims being the fulfillment of a list of demands based on the Anandpur Sahib Resolution. Thousands of people joined the movement in the hopes of acquiring a larger share of irrigation water and the return of Chandigarh to Punjab.
Bhindranwale has been noted for strongly opposing prime minister Indira Gandhi for alleged policies against Punjab during Dharam Yudh Morcha (battle for righteousness). Later that year she ordered the attack on Golden Temple, Sikhism's most sacred Gurdwara, in Amritsar on the martyrdom anniversary of 5th Sikh Guru, Guru Arjan Dev ji when the complex had pilgrims. Since his death, Bhindranwale has remained a controversial figure in Indian history. While the Sikhs' highest temporal authority Akal Takht describe him a great martyr of the Sikh Nation, who made supreme sacrifice for the sake of faith, the Indian government views him as an extremist.
Although Bhindranwale started Khalistan movement: in an interview, he stated that "we like to live together, we like to live in India", but did not object to the state's hypothetical creation. However, he did consider Sikhs as "a distinct nation".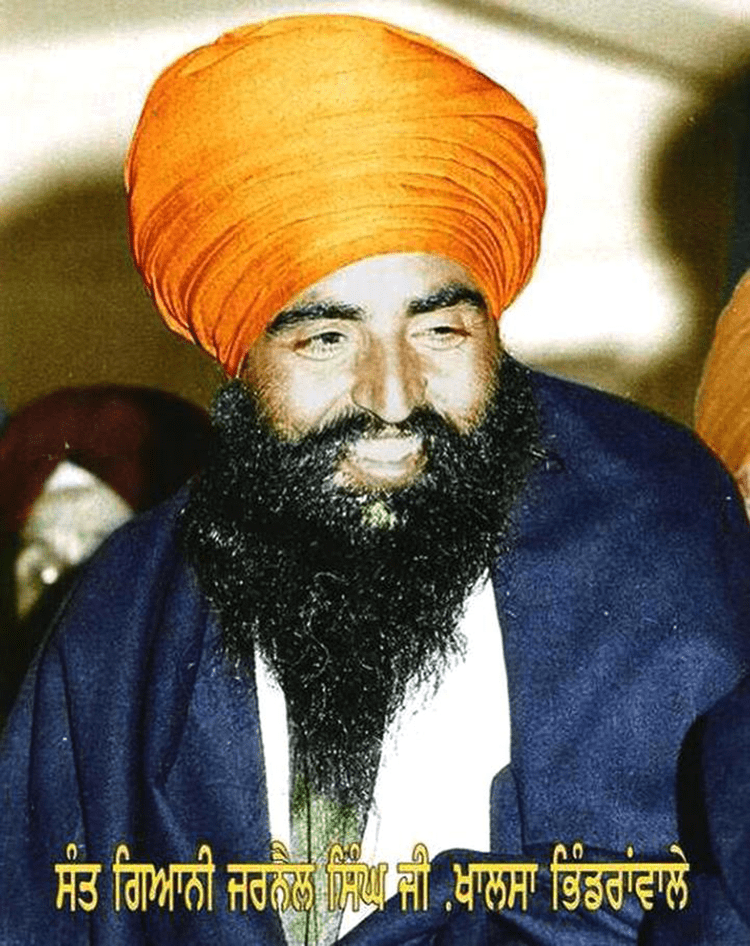 Bhindranwale was born in the village of Rode, in Moga District located in the region of Malwa. The Grandson of Sardar Harnam Singh Uppal, His father, Joginder Singh Uppal was a farmer and a local Sikh leader and his mother was Nihal Kaur. Jarnail Singh was the seventh of seven brothers and one sister. He was brought up as a strict vegetarian. In 1965, he was enrolled by his father at the Damdami Taksal, a religious school, near Moga, Punjab, then headed by Gurbachan Singh Khalsa. After a one-year course in Sikh studies he returned to farming again. He continued his studies under Kartar Singh, who was the new head of the Taksal. He quickly became the favourite student of Kartar Singh. Kartar Singh was fatally injured in a car accident and nominated Bhindranwale as his successor, in preference to his son Amrik Singh. Amrik Singh later became close associate of Bhindranwale.
He married Pritam Kaur, the daughter of Sucha Singh of Bilaspur. The couple had two sons, Ishar Singh and Inderjit Singh, in 1971 and 1975, respectively. Pritam Kaur died of heart ailment at age 60, on 15 September 2007 in Jalandhar.
In Punjab, Bhindranwale went from village to village as a missionary and asked people to live according to the rules and tenets of Sikhism. He preached to disaffected young Sikhs, encouraging them to return to the path of Khalsa by giving up vices like pornography, adultery, drugs, alcohol and tobacco which had crept in. His focus on fighting for the Sikh cause appealed to many young Sikhs. Due to his religious background as a preacher and head of the most prestigious Sikh school of learning (Damdami Taksal), his followers formally called him Bhindranwale Mahapurkh, which meant "The Great Spiritual Man from Bhindran". Bhindranwale became the new leader of the Damdami Taksal when Kartar Singh Khalsa, the successor to Gurbachan Singh Khalsa, who died in a road accident on 16 August 1977, nominated Bhindranwale. Bhindranwale was formally elected at a bhog ceremony at Mehta Chowk on 25 August 1977.
The audio and video archives of his speeches would reveal a very common saying of his- "Sikh ik vakhri qaum hai" (or, "Sikhism is a distinct nation") and he never was reported to have demanded a nation-state but Bhindranwale is widely perceived to be a supporter of the creation of a Sikh majority state of Khalistan. In a BBC interview, he stated that if the government agreed to the creation of such a state, he would not refuse. Other quotes attributed to Bhindranwale on Khalistan include "we are not in favour of Khalistan nor are we against it". Responding to the formation of Khalistan he is quoted as saying, "I don't oppose it nor do I support it. We are silent. However, one thing is definite that if this time the Queen of India does give it to us, we shall certainly take it. We won't reject it. We shall not repeat the mistake of 1946. As yet, we do not ask for it. It is Indira Gandhi's business and not mine, nor Longowal's, nor of any other of our leaders. It is Indira's business. Indira should tell us whether she wants to keep us in Hindustan or not. We like to live together, we like to live in India." To which he added, "if the Indian Government invaded the Darbar Sahib complex, the foundation for an independent Sikh state will have been laid." The BBC reported that he was daring law enforcement to react to his actions of fortifying the Golden Temple in order to bolster support.
On 13 April 1978, a group of Amritdhari Sikhs of Akhand Kirtani Jatha went to protest against Nirankaris. The resulting violence led to the death of thirteen Sikhs. The death of the Sikhs shocked the Sikh community. The Nirankari leader, Gurbachan Singh was afforded a police escort to the safety of his home in Delhi by the Punjab police. When a criminal case was filed against him, the Baba had his case transferred to neighbouring Haryana state, where he was acquitted the following year. The Punjab government Chief Minister Prakash Singh Badal decided not to appeal the decision. Among Sikhs there was a great frustration at this perceived sacrilege and the legal immunity of the perpetrators. This gave rise to new organizational expressions of Sikh aspirations outside the Akali party. It also created a sentiment amongst some that if the government and judiciary would not prosecute perceived enemies of Sikhism, taking extrajudical measures could be justified. The chief proponents of this attitude were the Babbar Khalsa founded by the widow, Bibi Amarjit Kaur of the Akhand Kirtani Jatha, whose husband Fauja Singh had been at the head of the march in Amritsar; the Damdami Taksal led by Jarnail Singh Bhindranwale who had also been in Amritsar on the day of the outrage; the Dal Khalsa, formed with the object of demanding a sovereign Sikh state; and the All India Sikh Students Federation, which was banned by the government.
When the Nirankari Baba was himself shot to death on 24 April 1980, the Baba's followers named Bhindranwale as a suspect, even though he was nowhere near the scene of the incident. Several of his associates and relatives were arrested. The FIR named nearly twenty people involved in the murder, most of whom had ties to Bhindranwale. A member of the Akhand Kirtani Jatha, Ranjit Singh, surrendered and admitted to the assassination three years later, and was sentenced to serve thirteen years at the Tihar Jail in Delhi.
Lala Jagat Narain, the editor of a widely circulated paper in which he had campaigned against Punjabi being adopted as a medium of instruction in Hindu schools, urged Hindus of Punjab to reply to government census that Hindi and not Punjabi was their mother tongue and decried the Anandpur Sahib Resolution. He had also been present at the clash between the Nirankaris and the Akhand Kirtani Jatha. Jarnail Singh had often spoken against him, so his involvement was suspected when the well-known editor was found murdered on 9 September 1981. Two days after the assassination, police issued warrants for the arrest of Bhindranwale. A police search in Chando Kalan, a Haryana village, failed to produce an arrest. Upon seeing this, Bhidranwale publicly announced that he would surrender on 20 September. On 20 September 1981, Bhindranwale surrendered to the police at a function held in a Gurudwara Gurdarshan Parkash. Over the next twenty-five days while Bhindranwale was held in custody, sporadic fights erupted in areas where Bhindranwale's accomplices had gathered. Bhindranwale was released on bail on 15 October as India's Home Minister, Giani Zail Singh announced in the Parliament that there was no evidence against Bhindrawale. He left the Ferozepur jail a hero.
The law and order situation started to deteriorate. While the Akalis pressed on with their two-pronged strategy of negotiations and massive campaigns of civil disobedience directed at the Central Government, others were not so enamoured of nonviolence. Communists known as "Naxalites", armed Sikh groups – the "Babbar Khalsa" and "Dal Khalsa", and the police clashed, and sometimes worked hand in hand. A covert government group known as the Third Agency was also engaged in dividing and destabilising the Sikh movement through the use of undercover officers, paid informants and agents provocateurs. Bhindranwale himself always kept a revolver and wore a cartridge belt; he encouraged his followers to be armed.
In July 1982, Longowal invited Jarnail Singh Bindranwale to take up residence at the Golden Temple compound. He called Bhindrawale "our stave to beat the government." Bhindranwale subsequently took shelter with a large group of his armed followers, in the Guru Nanak Niwas (Guest house), in the precincts of the Golden Temple.
In late July 1983, finding an increasing number of his followers arrested day by day, Bhindranwale left his base in Chowk Mehta for the Golden Temple to start a campaign for their release there. Also from there, he joined his campaign to the Akali campaign for their political, economic, cultural, and religious demands. In the chaos of Punjab, Bhindranwale developed a reputation as a man of principle who could settle people's problems about land, property or any other matter without needless formality or delay. The judgement would be accepted by both parties and carried out. This added to his popularity.
On 15 December 1983, Jarnail Singh and his entourage moved to the holy Akal Takhat over the objections of Giani Kirpal Singh, the head priest of the place. However, the facts reveal that Bhindranwale used his political connection with Gurcharan Singh Tohra, president of the Gurdwara committee and the man responsible for keeping the peace in the Golden Temple complex, to overrule the head priest. He fortified the temple with heavy machine-guns and sophisticated self-loading rifles were brought in. Mark Tully and Satish Jacob wrote, "All terrorists were known by name to the shopkeepers and the householders who live in the narrow alleys surrounding the Golden Temple... the Punjab police must have known who they were also, but they made no attempt to arrest them. By this time Bhindranwale and his men were above the law." However, Ranbhir Sandhu states that Bhindranwale presented himself, along with over 50 of his supporters, at the Deputy Commissioner's residence on the day he moved to the Darbar Sahib complex: therefore, his purpose in moving there was not hide from the law. Gurdev Singh, District Magistrate at Amritsar till shortly before the invasion is on record as having assured the Governor of the state that he could arrest anyone in Darbar Sahib at any time.
On 3 June 1984 Indian Prime Minister Indira Gandhi initiated Operation Blue Star and ordered the Indian Army to raid the Golden Temple complex to remove armed Sikhs from the complex. Bhindranwale did not survive the operation.
According to Lieutenant General Kuldip Singh Brar, who commanded the operation, the body of Bhindranwale was identified by a number of agencies, including the police, the Intelligence Bureau and militants in the Army's custody. Bhindranwale's brother is also reported to have identified Bhindranwale's body. Pictures of what appear to be Bhindranwale's body have been published in at least two widely circulated books, Tragedy of Punjab: Operation Bluestar and After and Amritsar: Mrs Gandhi's Last Battle. BBC correspondent Mark Tully also reported seeing Bhindranwale's body during his funeral.
People who maintain that he survived the operation include Dilbir Singh, the Public Relations Advisor at Guru Nanak Dev University. He stated that Bhindranwale was injured on the right side of his temple. He stated, "a government doctor verified he was captured alive. He was tortured to death." R.K. Bajaj, a correspondent for Surya magazine, claimed to have seen a photograph of Bhindranwale in custody. This claim is strongly contested, especially by Bhindranwale's son who has now become a prominent figure within Sikh politics. Some within the Damdami Taksal claimed he is still alive and well. Thus he is supposed to come back and reactivate the fight for freedom from Indian oppression and finish the Dharam Yudh Morcha.
Cynthia Keppley Mahmood wrote in Fighting for Faith and Nation: Dialogues With Sikh Militants that Bhindranwale never learned English but mastered Punjabi. He was adept at television, radio and press interviews. Keppley further stated that "those who knew him personally uniformly report his general likability and ready humour as well his dedication to Sikhism". The author further states that "Largely responsible for launching Sikh militancy, he is valorized by militants and demonised by enemies and the accounts from the two divergent sources seem to refer to two completely different persons."
Though journalist Khushwant Singh believed himself to be on Bhindranwale's hit list, he allowed that the Sikh preacher-become-activist genuinely made no distinction between higher and lower castes, and that he had restored thousands of drunken or doped Sikh men, inured to pornographic films, to their families, and that Operation Blue Star had given the movement for Khalistan its first martyr in Jarnail Singh Bhindranwale. In 2003, at a function arranged by the Shiromani Gurdwara Prabandhak Committee, at Akal Takhat Amritsar under the vision of president SGPC Prof. Kirpal Singh Badungar and Singh Sahib Giani Joginder Singh Vedanti, former jathedar of the Akal Takht made a formal declaration that Bhindranwale was a "martyr" and awarded his son, Ishar Singh, a robe of honour. Harbans Singh's The Encyclopedia of Sikhism describes Bhindranwale as "a phenomenal figure of modern Sikhism".