The tranquility of a small town is jarred when the U.S. president is scheduled to pass through and a hired assassin takes over the Benson home as a perfect location to ambush the president.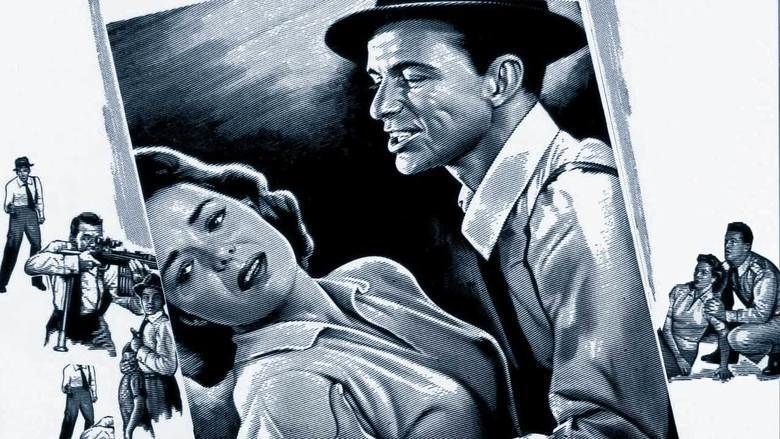 In post-war America, the President of the United States is scheduled to journey through the small town of Suddenly, California. Claiming to be checking up on security prior to his arrival, a group of FBI agents arrive at the home of the Bensons, on top of a hill that looks down upon the station where the presidential train is scheduled to stop. However, they soon turn out to be assassins led by the ruthless John Baron (Frank Sinatra), who take over the house and hold the family hostage.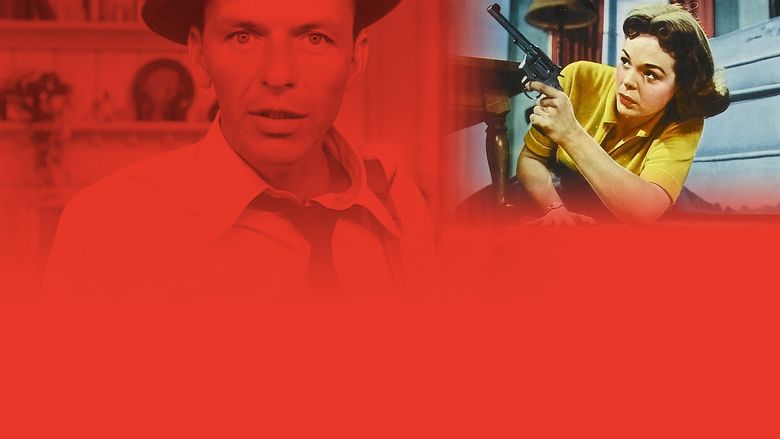 Sheriff Tod Shaw (Sterling Hayden) arrives with Dan Carney (Willis Bouchey), a Secret Service agent in charge of the president's security detail. When he does, Baron and his gangsters shoot Carney and a bullet fractures Shaw's arm.
Baron sends one of his two henchmen to double-check on the president's schedule but he is killed in a shootout with the police. Jud (James O'Hara), a television repairman, shows up at the house and also becomes a hostage. Pidge (Kim Charney) goes to his grandfather's dresser to fetch some medication and notices a fully loaded revolver which he replaces with his toy cap gun.
Baron is confronted by the sheriff on the risks and meaning of killing the president and Baron's remaining henchman begins showing some reluctance. For Baron, however, these are the very least of his concerns and it soon becomes clear that he is a psychopath whose pleasure comes from killing – who and why he kills being of little importance to him.
A sniper's rifle has been mounted on a metal table by a window. Jud discreetly hooks the table up to the 5000 volt plate output of the family television. Pop Benson (James Gleason) then spills a cup of water on the floor beneath the table. Although the hope is that Baron will be shocked to death, his remaining henchman touches the table first and is electrocuted, reflexively firing the rifle repeatedly and attracting the attention of police at the train station. Baron shoots and kills Jud, disconnects the electrical hookup and aims the rifle as the president's train arrives at the station, but to his surprise, does not stop (the stop having been canceled). Ellen Benson (Nancy Gates) shoots Baron in the abdomen and Shaw shoots him again. Baron's dying words are: "No…don't…no…please no…no…no…"
When the film was released, New York Times film critic Bosley Crowther, liked the direction of the film and the acting, writing, "Yet such is the role that Mr. Sinatra plays in Suddenly!, a taut little melodrama that... [it] shapes up as one of the slickest recent items in the minor movie league... we have several people to thank—particularly Richard Sale for a good script, which tells a straight story credibly, Mr. Allen for direction that makes both excitement and sense, Mr. Bassler for a production that gets the feel of a small town and the cast which includes Sterling Hayden, James Gleason and Nancy Gates." Crowther especially liked Sinatra's performance. He wrote, "Mr. Sinatra deserves a special chunk of praise...In Suddenly! he proves it in a melodramatic tour de force."
The staff at Variety magazine also gave the film a good review and praised the acting. They wrote, "Thesp [actor Sinatra] inserts plenty of menace into a psycho character, never too heavily done, and gets good backing from his costar, Sterling Hayden, as sheriff, in a less showy role but just as authoritatively handled. Lewis Allen's direction manages a smart piece where static treatment easily could have prevailed."
Film critic Carl Mazek makes the case that the "Machiavellian attitude" of John Baron links the picture with the brutal films noir of the 1950s like The Big Night (1951) and Kiss Me Deadly (1955). Moreover, the themes of violence, sense of claustrophobia and despair mark the film as completely amoral, and, as such, Suddenly is quite opposite of non-noir films like The Desperate Hours (1955).
In 1959, five years after the release of Suddenly, a novel was published which had a remarkably similar ending. This was The Manchurian Candidate written by Richard Condon, a former Hollywood press agent recently turned novelist. His book also features a mentally troubled former war hero who, at the climax, uses a rifle with scope to shoot at a presidential candidate.
The Manchurian Candidate was released as a 1962 film, again starring Sinatra, but this time out to prevent an assassination being committed by Laurence Harvey.
A remake of Suddenly, starring Dominic Purcell and directed by Uwe Boll, was released in 2013.
The film's copyright was not renewed and it fell into the public domain; it can be downloaded and viewed for free online. Prior to it entering the public domain, Sinatra had asked United Artists to withdraw the film from circulation because he discovered that Lee Harvey Oswald had seen it prior to shooting President Kennedy on November 22, 1963.
The film is widely available from a number of discount/public domain distributors. Suddenly was colorized for home video by Hal Roach Studios in 1986, rendering Sinatra's blue eyes brown. A remastered colorized version by Legend Films was released to DVD on June 16, 2009, which also includes a newly restored print of the original black & white film.