Covid-19
7

/

10

1

Votes

Alchetron

Rate This




October 5, 1984 (India)




Kader Khan




Hindi






Drama, Family, Romance




Bappi Lahiri





India






Kovelamudi Raghavendra Rao




Kader Khan (dialogue)




5 October 1984 (1984-10-05)




Kovelamudi Raghavendra Rao




Sridevi

(Laxmi),

Rajesh Khanna

(Ramu),

Jaya Prada

(Bijli),

Padmini Kolhapure

(Chanda),

Kader Khan

(Hitler Alok Madhukar)


Related Kovelamudi Raghavendra Rao movies



Naya Kadam is a 1984 film starring Rajesh Khanna in the lead role paired opposite Jaya Prada, Padmini Kolhapure, and Sridevi directed by Kovelamudi Raghavendra Rao. This film is a remake of the hit 1982 Telugu film Trishulam directed by the same director, that had starred Krishnam Raju, Sridevi, Jayasudha and Radhika. Naya Kadam is a movie that deals with social issues and comments on the importance of literacy in the Indian villages, which is important for the progress of the country. Ramu however faces all these obstacles and eliminates his enemies. He is well supported by Lakshmi (Sridevi) in his goal.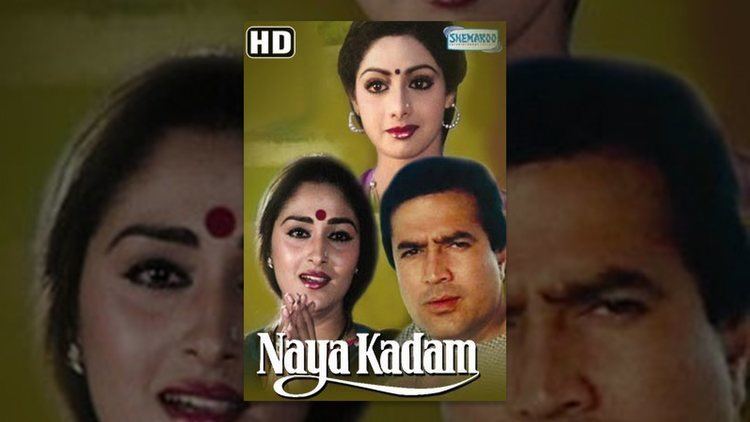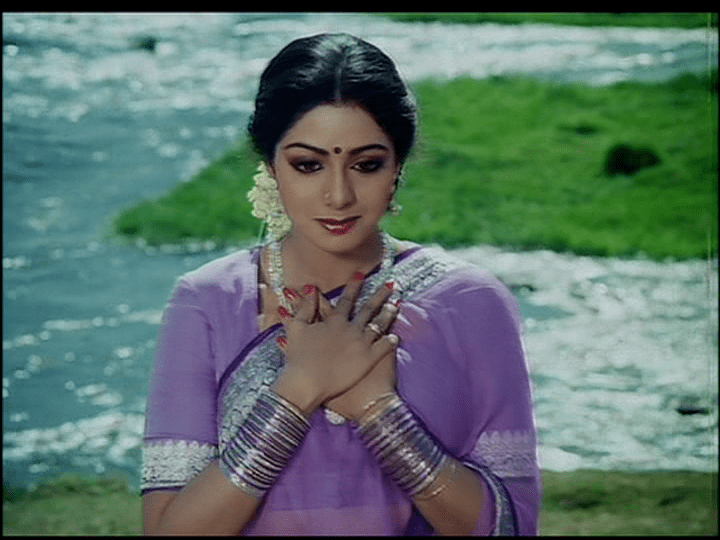 Madhukar and Jaggu are Hitler-like tyrants who rule over a village named Guptgaon, where most of the inhabitants are illiterate and Madhukar and Jaggu disallow anyone from making efforts to educate the kids of the village. A villager named Srikant decides to start teaching the village kids the basics of education, but Madhukar warns him that he can teach only the children of the rich and not to the children of his workers and other people belonging to low strata of society so that they can continue to oppress the poor people and if Master does not comply with the order then he would be killed. In the same village there lives a boy named Ramu along with his widowed mother, who works as a servant in Madhukar's Bunglow with another small orphaned girl named Chanda. Due to this, Ramu starts frequenting Madhukar's house and befriends Laxmi. Being daughter of rich man Madhukar, Laxmi starts to get study and seeing her study, Ramu develops a desire to study. The young lad, Ramu, expresses his desire to learn to Srikant and leaves the village with Master Srikant to the city and educates himself. Years later, Ramu grows up and returns to the village and spreads awareness of importance of studies to the villagers and urges them to allow their kids to go to school.Ramu faces lots of problem in changing the mind set of village kids too as the kids have only heard about differences in cast, colour and stories of hatred between rich and poor. Laxmi, herself a graduate, starts helping Ramu in his efforts and also starts dreaming of marrying Ramu. What Laxmi is unaware is of the fact that Chanda loves Ramu since childhood and that's the reason Chanda takes care of Ramu as to whether he has had lunch on time, does he need any help etc. whenever Ramu is in village. So as to bridge the gap between her and educated Ramu, Chanda decides to read and write Hindi from Laxmi.One day she reads the personal diary of Laxmi and finds that Laxmi harbours love for Ramu too .Chanda then decides to forgo her idea of marrying Ramu as she thinks that Laxmi is more suitable for Ramu as she is educated and also more beautiful and suitable for Ramu. Chanda then comes to know that Madhukar has ordered Gangu to kill Ramu and on knowing this she requests Gangu to not kill Ramu and that she is ready to marry Gangu as she is aware that Gangu has been mad about her since ages.Gangu then marries Chanda secretly in the village temple, without knowledge of Ramu and Laxmi.When Ramu comes to know of the marriage of Chanda, he becomes disappointed as he is aware of the fact that Gangu is not a nice person. In the same village lives another girl named Bijlee who keeps roaming the streets shouting at men for playing with lives of women.Meanwhile with a political motive behind, Madhukar decides to accept his daughter's wish to marry Ramu. Jaggu sees Ramu as a threat in the elections of the village and soon spins a web of lies and deceit around him such that villagers start questioning the motive of Ramu and ask him as to why he wants to marry Laxmi who is from higher caste, when he himself is from a lower caste. Ramu so as to convince the public that he is not a racist and that he can marry any good girl from any caste, decides to marry Bijlee, who was raped in the past. After this act of Ramu of marrying a girl with a bad past, villagers again start supporting him and decide to vote Master Srikant in the village elections. Madhukar, angry that Ramu did not marry his daughter Laxmi, then orders Gangu to murder Master Srikant and meanwhile Jagu also tells Gangu to bring Bijlee so that he can rape her and put the blame on Madhukar of raping Bijlee. As per plan Gangu succeeds in hitting the head of Master Srikant and in the darkness of night Ramu is unable to fight with the attacker and thereby decides to admit Master in a hospital by taking him to city. After Ramu leaves the village, Bijlee is kidnapped by Gangu to hand over her to Jaggu,. Chanda notices it and stops Gangu from taking Bijlee and reminds Gangu that she had married him only by taking a promise that Gangu would not disturb the life of Ramu.But Gangu chooses to ignore Chanda's advice and stabs her with a knife.Chanda dies on the spot.Bijlee later commits suicide on being raped for the second time in her life.When Ramu reaches the village he finds that both the women who loved him had died. Ramu becomes very angry and decides to take law in his own hands and kills Madhukar and Jaggu all by himself and kills Madhukar with help of a snake. Ramu goes to jail and Laxmi continues his noble work in his absence from the village and does not marry any person.
The film also became a hit in Hindi and had a box office collection of 4,00,00,000 in 1984 and was given 3.5 stars by the critics in the Bollywood guide Collections.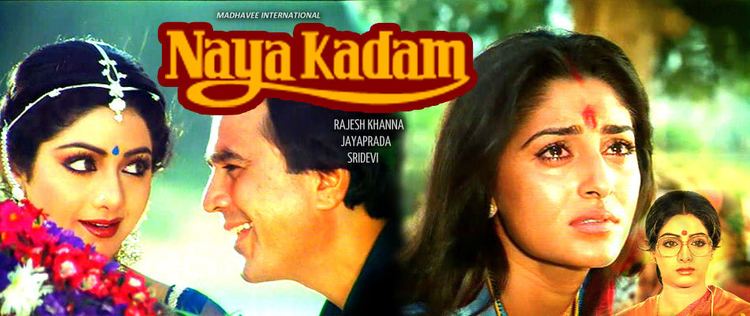 Rajesh Khanna as Ramu
Jaya Prada as Bijlee
Padmini Kolhapure as Chanda
Sridevi as Lakshmi
Kader Khan as Hitler Alok Madhukar
Om Shivpuri as Jaggu
Ranjeet as Gangu
Satyendra Kapoor as Master Srikant
Jayshree Gadkar as Ramu's Mother
Dinesh Hingoo as Chief Education Officer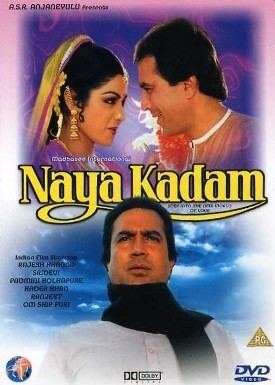 "Phool Jahan Bahar Wahan" - Kishore Kumar, Asha Bhonsle
"Ram Ho Kya Tum Patthar" - Kishore Kumar, Asha Bhonsle
"Tak Dhum Tak Dhum" - Kishore Kumar, Asha Bhonsle
"Jaago Naya Prabhat Huwa" - Asha Bhonsle
"Yeh Kya Huwa Kya Huwa" - Asha Bhonsle, S.P.Balasubrahmanyam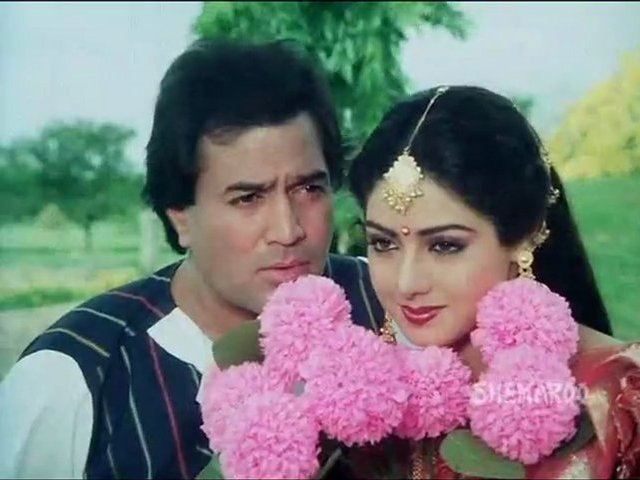 Naya Kadam Wikipedia
Naya Kadam IMDb