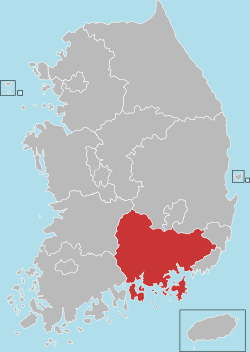 The name derives from Korean Gyeongsang, meaning 'joyous furthermore'; from gyeong (Korean)경, (Hanja) 慶 , meaning 'happy', and sang (Korean) 상, (Hanja) 尚 , meaning 'still more'). The name derives from the names of the principal cities of Gyeongju (경주; 慶州) and Sangju (상주; 尙州).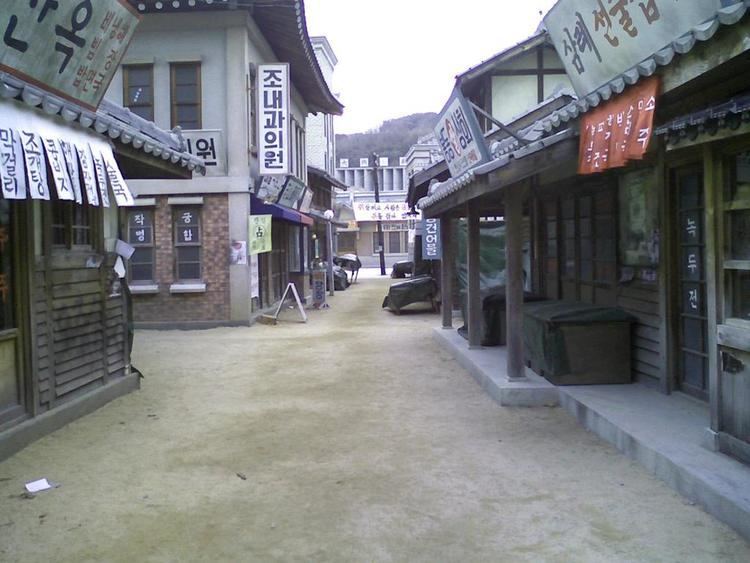 Before 1895, the area corresponding to modern-day Gyeongsangnam-do was part of Gyeongsang Province, one of the Eight Provinces of Korea during the Joseon Dynasty. In 1895, southern Gyeongsang was replaced by the districts of Jinju in the west and Dongnae (modern-day Busan) in the east. In 1896, they were merged to form Gyeongsangnam-do.
The provincial capital was originally at Jinju; it moved in 1925 to Busan. In 1948, Gyeongsangnam-do became part of South Korea. In 1963, Busan separated from Gyeongsangnam-do to become a Directly Governed City (Jikhalsi). In 1983, the provincial capital moved from Busan to Changwon.
In 1995, Busan became a Metropolitan City (Gwangyeoksi), and Ulsan separated from Gyeongsangnam-do to become a Metropolitan City in 1997.
The province is part of the Yeongnam region, on the north by Gyeongsangbuk-do province, on the west Jeollabuk-do and Jeollanam-do provinces, and on the south by the Korea Strait. Most of the province is drained by the Nakdong River and its tributaries. The total area of the province is 10,533 square kilometres (4,067 sq mi).
The largest cities in the region are Busan and Ulsan, which are separately administered as provincial-level Metropolitan Cities. Apart from the capital Changwon, other large or notable cities include Gimhae and Jinju.
Gyeongsangnam-do is the home of Haeinsa, a Buddhist temple that houses the Tripitaka Koreana and attracts many tourists. It is in the national park around Jirisan (1,915 m) on the border with Jeollabuk-do. The temple was first built in 802.
Changnyeong county contains three major tourist attractions for the province: Upo wetland, Bugok natural hotsprings, and Hwawang mountain.
Gyeongsangnam-do is divided into 8 cities (si) and 10 counties (gun). The names below are given in English, hangul, and hanja.
According to the census of 2005, of the people of South Gyeongsang 40% follow Buddhism and 14.8% follow Christianity (8.8% Protestantism and 6% Catholicism). 45.2% of the population is mostly not religious or follow Muism and other indigenous religions.
Yamaguchi Prefecture, Japan (July 26, 1987)
Maryland, United States (November 18, 1991)
Shandong Province (September 8, 1993)
East Java (May 9, 1996)
Đồng Nai Province (September 1, 1996)
Khabarovsk Krai (September 14, 1996)
Jalisco (March 10, 1997)
Laguna province (April 15, 1997)
Pomeranian Voivodeship (April 22, 1997)
Fejér County (April 24, 1997)