Pomeranian Voivodeship, Pomorskie Region, or Pomerania Province (in Polish województwo pomorskie [vɔjɛˈvut͡stfɔ pɔˈmɔrskʲɛ], in Kashubian Pòmòrsczé wòjewództwò), is a voivodeship, or province, in north-central Poland. It comprises most of Pomerelia (the easternmost part of historical Pomerania), as well as an area east of the Vistula River. The western part of the province, around Słupsk, belonged historically to Farther Pomerania, while Pomerelia and the eastern bank of the Vistula belonged to the historical region of Prussia. The central parts of the province are also known as Kashubia, named after the Kashubian minority. The provincial capital is Gdańsk.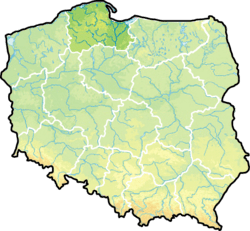 The voivodeship was established on January 1, 1999, out of the former voivodeships of Gdańsk, Elbląg and Słupsk, pursuant to the Polish local government reforms adopted in 1998. It is bordered by West Pomeranian Voivodeship to the west, Greater Poland and Kuyavian-Pomeranian Voivodeships to the south, Warmian-Masurian Voivodeship to the east, and the Baltic Sea to the north. It also shares a short land border with Russia (Kaliningrad Oblast), on the Vistula Spit.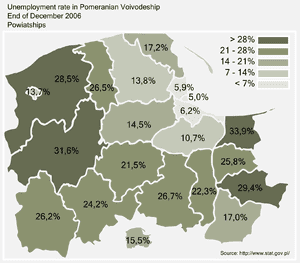 Gdańsk, the regional capital, is one of the three members of the "Tricity" of Sopot, Gdańsk, and Gdynia. The voivodeship also includes the narrow Hel Peninsula and the Polish half of the Vistula Spit. Other tourist destinations include Sopot, Jurata, Łeba, Władysławowo, Puck, Krynica Morska, Ustka, Jastarnia, Kuźnica, Bytów and many fishing ports and lighthouses.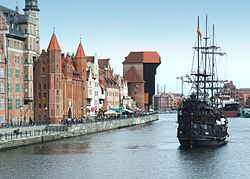 The name Pomerania comes from the Slavic po more, which means Land at the Sea.
The voivodeship contains 42 cities and towns. These are listed below in descending order of population (official 2014 figures).
Pomeranian Voivodeship is divided into 20 counties (powiats): 4 city counties, and 16 land counties. These are further divided into 123 gminas (communes).
The counties are listed below in order of decreasing population.
SKM
Gdańsk Lech Wałęsa Airport
Obwodnica Trójmiejska
Autostrada A1
Pomorska Kolej Metropolitalna
Protected areas in Pomeranian Voivodeship include two National Parks and nine Landscape Parks. These are listed below.
Słowiński National Park (a UNESCO-designated biosphere reserve)
Tuchola Forest National Park
Coastal Landscape Park
Iława Lake District Landscape Park (partly in Warmian-Masurian Voivodeship)
Kashubian Landscape Park
Słupia Valley Landscape Park
Tricity Landscape Park
Tuchola Landscape Park (partly in Kuyavian-Pomeranian Voivodeship)
Vistula Spit Landscape Park
Wdydze Landscape Park
Zaborski Landscape Park