Genre

Musical, Mystery, Romance







Writer

Ritwik Ghatak (story), Rajinder Singh Bedi (dialogues)

Songs

Suhana Safar




Cast

Dilip Kumar

(Deven),

Vyjayanthimala

(Madhumati),

Johnny Walker

(Charandas),

Tarun Bose

(Doctor)



Aaja re pardesi main hd madhumati songs dilip kumar vyjayantimala lata mangeshkar
Madhumati is a 1958 Hindi drama film produced and directed by Bimal Roy, and written by Ritwik Ghatak and Rajinder Singh Bedi. Its music was composed by Salil Choudhury with lyrics written by Shailendra. The film stars Dilip Kumar and Vyjayantimala in the lead roles with Pran and Johnny Walker. It was one of the earliest films to deal with reincarnation and had a gothic noir feel to it. The first and only collaboration between Roy and Ghatak, it was one of their most commercially successful and influential films. Madhumati won the National Film Awards for Best Feature Film in Hindi and nine Filmfare Awards, including Best Film, Best Director, Best Music Director, Best Female Playback Singer, Best Dialogue, Best Art Direction, and Best Cinematographer.
Contents
Janam Janam, the 1988 Hindi film starring Rishi Kapoor, is a remake of Madhumati. In 2007, Farah Khan and Shahrukh Khan made Om Shanti Om using some plot elements from Madhumati but did not credit the earlier film.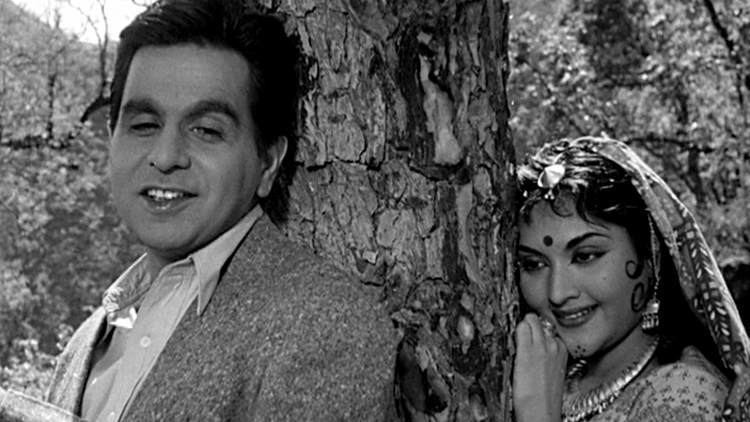 Madhumati 1958 all songs jukebox dilip kumar vyjayantimala mukesh lata mangeshkar
Plot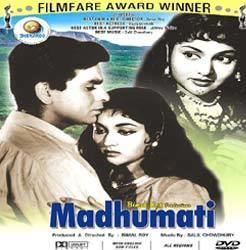 On a stormy night, Devendra (Dilip Kumar), an engineer, drives down a hill road with his friend to fetch his wife and child from the railway station. A landslide blocks their path and the friends take shelter in an old mansion off the road. Devendra finds the house uncannily familiar. In the large front room, he finds an old portrait which he recognises. His friend and the old caretaker join him, and Devendra, amidst flashes of memory from another life, sits down to tell his story while the storm rages outside.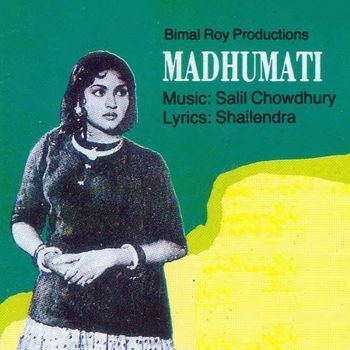 Anand (Dilip Kumar) had come to Shyamnagar Timber Estate as its new manager. An artist in his spare time, he roamed the hills and fell in love with Madhumati (Vyjayantimala), a tribal girl whose songs have haunted him from a distance. Anand's employer, Ugra Narayan (Pran) is a ruthless and arrogant man and, as Anand refuses to bend down to him like others, he incurs his wrath. Anand has enemies among his staff. Sent away on an errand, he returns to find that Madhumati has disappeared. He learns that Madhumati had been taken to Ugra Narayan and confronts him, but he is beaten unconscious by Ugra Narayan's men. While the men are taking Anand's body out of the palace, they meet Madhumati's father (Jayant) who has to fight for his own daughter's death. He does it and wins but dies lying on the road, while Charandas (Johnny Walker) hides and takes Anand's body to the hospital.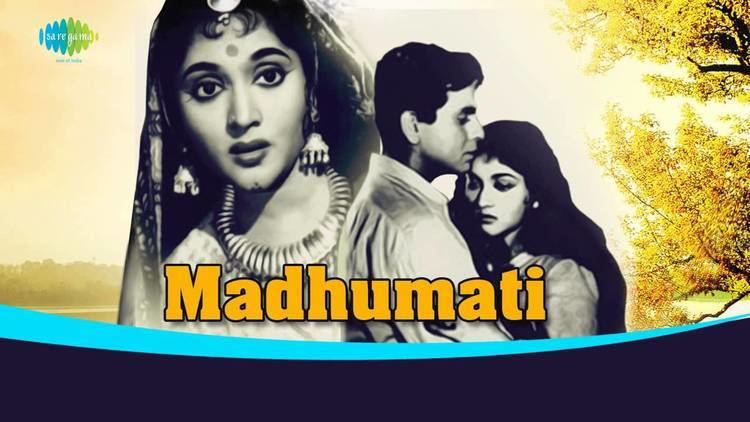 Anand's life is saved but his mind wanders. One day, he meets a girl who looks exactly like Madhumati. She says she is Madhavi but Anand refuses to believe her and is beaten up by her companions when he tries to plead with her. Madhavi finds a sketch of Madhumati and realises he was speaking the truth. She takes the sketch and learns his story. Meanwhile, Anand is haunted by the spirit of Madhumati who tells him that Ugra Narayan is her killer. He appeals to Madhavi to pose as Madhumati before Ugranarayan and help him get a confession out of him and she agrees.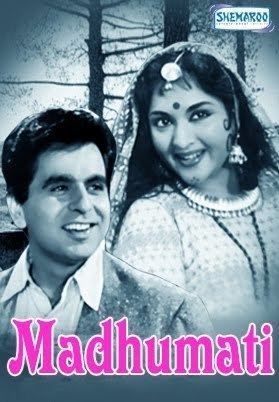 Returning to Ugranarayan's palace, Anand begs permission to do a portrait of him. Next evening, with a storm brewing outside, Anand paints Ugra Narayan. At the stroke of eight, Ugra Narayan sees the pretend-Madhumati in front of him. Shaken, he confesses the truth. The police waiting outside the room come and take him away. Anand suddenly realises that the questions Madhavi asked Ugra Narayan were things she could not have known, as even Anand did not know, such as where Madhumati was buried. Madhavi just smiles and moves towards the stairs. The real Madhavi, dressed as Madhumati, then rushes into the room. She is late, for the car failed on the way. Anand realises it was Madhumati's ghost he had seen, not Madhavi. He runs up to the terrace, where the ghost beckons to him. Madhumati had fallen from the same terrace, trying to escape Ugra Narayan. Anand follows the ghost, falling to his own death.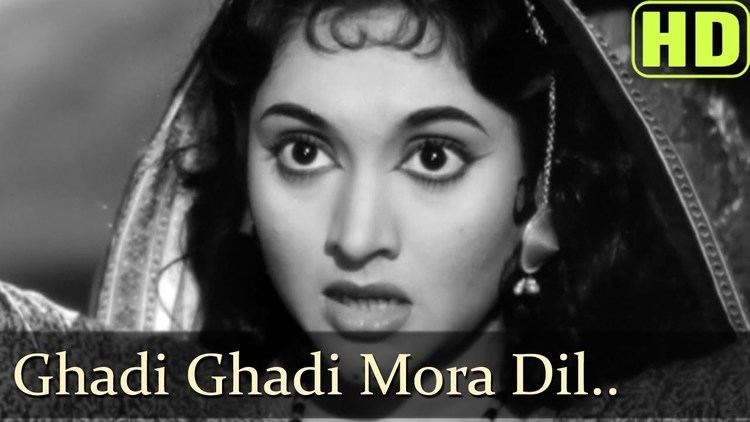 Devendra's story is over. But he says "I finally did have Madhumati as my wife. In this life – Radha." Just then, news arrives that the train in which his wife was travelling has met with an accident. The road is cleared, and they rush to the station. Devendra's wife, Radha (Vyjayantimala) appears, unhurt with her baby.
Cast
Dilip Kumar as Anand / Devendra
Vyjayanthimala as Madhumati Twins Spirit / Madhavi / Radha
Johnny Walker as Charandas
Pran as Raja Ugra Narayan
Jayant as Pawan Raja
Ramayan Tiwari as Bir Singh
Ranjit Sood
Shivji Bhai
Tarun Bose as Devendra's colleague
Production
Bimal Roy had previously signed on Vyajanthimala and Dilip Kumar for two films. The first, Devdas (1955), based on a novel, received much critical acclaim and a National Film Award for Best Feature Film in Hindi. However, it didn't receive much commercial success jeopardising Bimal Roy Productions: Roy needed a commercial success to survive.
Madhumati was written on a story written by noted Bengali filmmaker Ritwik Ghatak. When Ghatak shared the story with Roy, he immediately liked it and started developing the film as a mainstream commercial venture complete with song-and-dance formula, stepping away from the usual themes of social realism as seen in his Do Bigha Zamin (1953), Biraj Bahu (1954) and Devdas (1955). Its re-incarnation, melodrama and commercial got him some criticism. Ghatak went on to write the screenplay, while Rajinder Singh Bedi wrote in dialogues. It launched in front of the Karlovy Vary International Film Festival Theatre in Czechoslovakia. Dilip Kumar faced the camera, while Soviet actress Tatjana Konjuchova switched on the camera. Polish actress Barbara Polonska acted as Clapper loader. Madhumati was the first Indian film to be launched abroad.
Unlike other noir films, shot indoors, Roy decided to shoot Madhumati outdoors and at a hill station. It had six-week schedule in Ranikhet, Nainital. Some scenes were shot in Ghorakhal, near Nainital. In those days there were no monitors, so when the negatives were developed, it was found that the most of the footage was foggy. Since a reshoot in far-away Uttarakhand wasn't possible, sets were created near Vaitarna Dam, Igatpuri, near Nashik. Art direction team, led by Sudhendu Roy, created fake pine trees, which were planted to match the location in Nainital. One particular scene where Dilip Kumar looks for Vyjayanthimala in the woods was actually shot in Igatpuri. Subsequently, a large part was also shot in Aarey Milk Colony, a small forested area in Mumbai. The foggy effect was recreated by employing gas bombs.
However, due to its extensive outdoor shooting the film went over budget by Rs. 8–1 million. This added to the troubles of Bimal Roy Productions. Thus a film preview and lunch was organised for the distributors. Roy told them, about the financial crunch and that he had decided to forego Rs, 70,000 of his own fee as director to make up for the loss. Thereafter, all the distributors pitched in with money and made up for the deficit.
Release and reception
Madhumati had its premiered at the Roxy Cinema near Opera House, Mumbai, received wide commercial success, and helped Bimal Roy Production make up for its losses. It became the highest grossing Hindi film of the year.
Awards and nominations
Madhumati was the record holder for the most awards (9) received by a film at the Filmfare Awards for 37 years until the release of Dilwale Dulhania Le Jayenge which won ten awards.The record of Dilwale Dulhania Le Jayenge was later broken by Black after 10 years which won eleven awards in total. It had multiple screenings since its release screened: 10th Bite The Mango Film Festival (2004), 4th Pune International Film Festival (2006) and Toronto International Film Festival (2011).
Music
All lyrics written by Shailendra; all music composed by Salil Choudhury.
According to film and music expert Rajesh Subramanian, Bimal Roy had opted for S D Burman as the composer of Madhumati but the veteran music director voluntarily suggested composer Salil Chaudhary's name adding he would do a more apt job.
Influence
Madhumati went on to become the source of inspiration for many later works dealing with the theme of reincarnation in Indian cinema, Indian television, and perhaps world cinema. It may have been the source of inspiration for the American The Reincarnation of Peter Proud (1975) (though that film was based upon a 1973 novel by Max Ehrlich) and the Hindi film Karz (1980), both of which dealt with reincarnation and have been influential in their respective cultures.
Karz in particular was remade several times: as the Kannada film Yuga Purusha (1989), the Tamil film Enakkul Oruvan (1984), and more recently the Bollywood film Karzzzz (2008). The Reincarnation of Peter Proud and Karz may have inspired the American film Chances Are (1989). The most recent work to be directly inspired by Madhumati is the hit Bollywood film Om Shanti Om (2007), which led to the late Bimal Roy's daughter Rinki Bhattacharya accusations of plagiarism and threatening legal action against its producers.
Other Indian films featuring reincarnation as a main theme include:
Mooga Manasulu (1963)
Milan (1967)
Mehbooba (1976)
Karz (1980)
Kudrat (1981)
Janam Janam (1988)
Suryavanshi (1992)
Prem Shakti (1994)
Karan Arjun (1995)
Hamesha (1997)
Mr Ya Miss (2005)
Valley of Flowers (2006)
Om Shanti Om (2007)
Love Story 2050 (2008)
Magadheera (2009)
Arundhati (2009)
Eega (2012)
Manam (2014)
Reincarnation has appeared as a main theme in the following Indian soap operas and television serials:
Banoo Main Teri Dulhann
Kaajjal
Kumkum
Kahin Kissii ROZ*
"Pyar Ke Do Naam - Ek Radha Ek Shyam"*
Golden jubilee
Marking the celebrating its golden jubilee anniversary of the film, Bimal Roy foundation headed by Roy's daughter Rinki Bhattacharya, hosted a screening of Madhumati at the Globus Cinema in Mumbai on 11 April 2008. The occasion saw the reunion of film's cast, including Vyjayantimala. Madhumati, which released in 1958 with music by the legendary Salil Chaudhury and lyrics by Shailendra, was one of Bimal Roy's greatest commercial successes. Subsequently, his daughter published a book on the making of the film, Bimal Roy's Madhumati: Untold Stories from Behind the Scenes.
Legacy
In the 2013 Telugu film Iddarammayilatho, Allu Arjun and his band are seen playing "Suhana Safar Aur Yeh Mausam".
References
Madhumati Wikipedia
(Text) CC BY-SA
Madhumati IMDb
Madhumati Rotten Tomatoes
Madhumati themoviedb.org