Type

Public


Students

Women Only




Affiliations

UGC


Founder

Dhondo Keshav Karve


Chancellor

C. Vidyasagar Rao




Established

1916




Campus

Mumbai, Pune


Phone

022 2203 1879




Founded

2 July 1916




Vice-chancellor

Shashikala Wanjari




Location

Mumbai, Maharashtra, India


Address

1, Nathibai Thackersey Road, Mumbai, Maharashtra 400020


Motto

' Sanskrita Stree Parashakti '; (An enlightened women is a source of Infinite strength).





Notable alumni Sonakshi Sinha, Rani Mukerji, Masaba Gupta, Chitra Mudgal, Neeta Lulla



Similar

University of Mumbai, Tata Institute of Social Sciences, H.R. College of Commerce and Economics
SNDT Women's University Admissions 2020 | FEES | COURSES | CAMPUS | Full Review 2020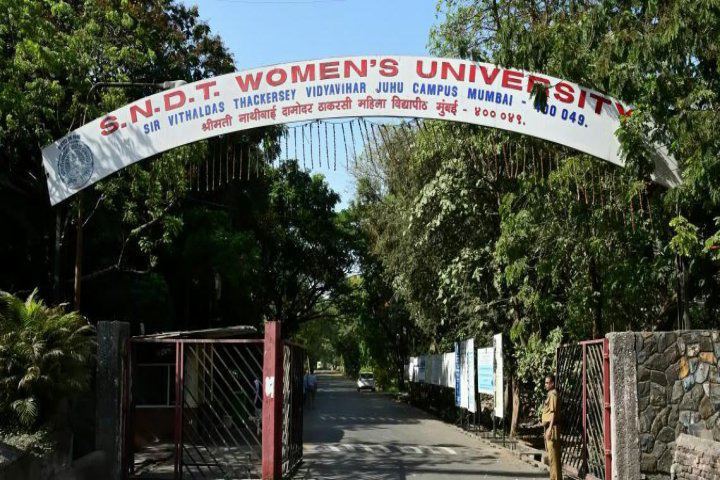 Shreemati Nathibai Damodar Thackersey Women's University (SNDT) is a women's university in the city of Mumbai, India. The university headquarters are situated at Churchgate in South Mumbai, while the main campus is in Santacruz–Juhu area of Mumbai. SNDT has three campuses: two in Mumbai and one in Pune. The University has affiliated colleges Maharashtra, Assam, Uttar Pradesh, Bihar, Madhya Pradesh, Surat and Goa, as well.
Contents
History
The year 1896 marked the beginning of a new era in the history of women's education in India when Bharatratna Dhondo Keshav Karve established an ashram for widows and helpless women at Hingne near Pune. He realized that to make these women self-sufficient, -reliant and -confident, schooling was essential at the ashram. Karve launched a programme of schooling there, which latter became a regular school for girls and women. In a society governed by age-old customs and conservative attitudes towards women, an institution of this type was bound to face social and economic difficulties. He had a dream of establishing a women's university. His friends sent him a booklet on the Japan Women's University in Tokyo. In December 1915 Karve, in his presidential address to the National Social Reform Congress in Bombay, announced his decision to shape his dream into reality. On 2 July 1916 the first college started with the enrollment of five students; it gradually took shape as a women's university. Karve did not wait for the government permission for funds.
In 1920 the university was named Shreemati Nathibai Damodar Thackersey Women's University.
In 1936, the headquarters was shifted to Bombay. The university continued to grow, providing higher education to more and more women. In 1951, the university was granted statutory recognition and was renamed as Shrimati Nathibai Thackersey Women's University now popularly known as SNDT Women's University. The recognition came along with rare privilege of having a jurisdiction across the country.
On 5 July 2016 University marked completion of 100 years of its existence. It was the first Women's University in India and South East Asia.
University profile
Today, the University has an enrolment of over 70,000 students. It has three campuses, located at Churchgate, Santacruz-Juhu, Pune. The university has 39 university departments, 15 faculties. There are 174 undergraduate colleges and 8 institutions recognized for PhD degree. The university continues to manage three secondary schools for girls, which it had inherited. The university is actively involved in teaching, research and extension. SNDT is the first university in Maharashtra to obtain a five-star rating from the National Assessment and Accreditation Council (NAAC) of India in the year 2000 and was reaccredited with A grade in 2015
.
Collaborations
The university has collaborated with state and central governments, industry, national and international organisations to develop and conduct academic programmes, undertake research and work with the community. The partners include the government of Maharashtra, ministries of the government of India, University Grants Commission, UNICEF, British Council, Association of Commonwealth Universities and Swedish International Development Agency.
Colleges/university Departments
SNDT Women's University has 39 university Departments, 13 institutions and 174 colleges as of 2016. The University celebrated 100 years in July 2016. Following are some of the Departments and institutions of the university.
Usha Mittal Institute of Technology, an engineering college affiliated to SNDT Women's University (formerly known as the Institute of Technology for Women)
Janaki Devi Bajaj Institute of Management Studies (JDBIMS) offers a postgraduate Master's in Management Studies.
Department of Postgradaute Studies and Research in Home Science offers postgradaute education in five specialisations of Home Science. It consist of FIVE postgraduate Departments of Home Science.
University Department of Extension Education (http://extensionedu.sndt.ac.in/)
Department of Food Science and Nutrition
Department of Human Development
Department of Textiles Sciences and Apparel Design and
Department of Family Resource Management.
Under the Faculty of Commerce is the Department of Commerce which offers the Master's in Commerce (MCom) and Doctor of Philosophy (Phd) degrees. The department is headed by Dr. G. Y. Shitole, a prominent researcher in research methodology. He is also the recipient of the prestigious "Best Commerce Teacher" award by the Maharashtra State Commerce Teachers' Association.
Premlila Vithaldas Polytechnic established in the year 1976 has been commended by experts for producing high quality programs which meet national and international standards of excellence. P.V. Polytechnic offers 9 AICTE approved courses. It also offers University Diploma in Jewellery Design and Manufacture. Polytechnic is grant in aid by Directorate of Technical Education, Maharashtra State. The Polytechnic was given 9th rank across the fashion colleges of India by India Today in 2015. In 1992, the Polytechnic was awarded Best Polytechnic award by Government of Maharashtra. This Polytechnic is pioneer in jewellery design education in Asia. Dr Sachin Laddha is the Principal of this prestigious Institute
P. V. Polytechnic has 10 Academic Departments
Department of Electronics Engineering
Department of Food Technology
Department of Ophthalmic Technology
Department of Medical Lab Technology
Department of Apparel Manufacture and Design
Department of Interior Design
Department of Administration Services
Department of Travel and Tourism
Department of Pharmacy
Department of Jewellery Design and Manufacture
Courses
In the academic year 2015-16, university offered 250 academic programmes from Diplomas to PhDs. There are `5 faculties underwhich varied academic programmes are offered.
within Faculty of Communication & Media Studies apart from BMM prgorammes at four colleges, PG programmes are offered at Juhu and Pune Campuses.
MA in Media and Communication & PG Diploma in Communication media at Juhu campus at Department of Extension Education
Communication media for children, Nutrition and Health Communication and Broadcast Media Masters program at Pune campus
AT PV Polytechnicat Juhu Campus
Various Post SSC Diploma courses in Administrative Services, Interior Design, Ophthalmic Technology, Medical Laboratory Technology, Electronics, Food Technology, Travel & Tourism, Apparel Manufacture & Design and Jewellery Design & Manufacture and Pharmacy (Post HSC)
For the list of courses visit http://sndt.digitaluniversity.ac/Content.aspx?ID=1.
Notable alumni
Dr. Prachi Gharpure, Principal of Sardar Patel Institute of Technology
Chitra Mudgal, noted Hindi writer
Shruti Sadolikar, Indian classical music singer
Dr. Bharati Vaishampayan, Indian classical music singer
Rani Mukherjee, Indian Actress
Kiran Bhivagade, CEO Crispy Games
Sonakshi Sinha, Indian Actress
Masaba Gupta, Designer
Anita Dongre, Designer
Neeta Lulla, Designer
Palak Shah, Designer
Hetal Shah, Designer
References
SNDT Women's University Wikipedia
(Text) CC BY-SA