Language spoken

Marathi





State

Maharashtra






Map of Juhu
Juhu is a neighbourhood of Mumbai. It is most famous for the sprawling Juhu Beach. It is surrounded by the Arabian Sea to the west, Versova to the north, Santacruz and Vile Parle to the east, and Khar to the south. Juhu is among the most affluent areas of the city and home to many Bollywood celebrities. The nearest railway stations are Santacruz, Andheri and Vile Parle on the Western Line and Harbour Line of the Mumbai Suburban Railway.The nearest Metro Station is D.N Nagar. There are two minor B.E.S.T bus depots in Juhu.
Contents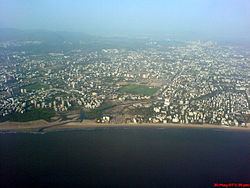 J. R. D. Tata, the father of civil aviation in India, made his maiden voyage to Juhu Airport from Drigh Road airstrip, Karachi, via Ahmedabad, on 15 October 1932 carrying mail in a Puss Moth aircraft.
Juhu beach mumbai india tour travel tourism best indian tourist places
Juhu beach mumbai tourist attraction
History
In the nineteenth century, Juhu was an island: a long, narrow sand bar rising above sea level by a metre or two, just off the west coast of Salsette. It could be reached during low tides by walking across the tidal inlet.
Juhu was called "Juvem" by the Portuguese. At its north point, nestled the village of Juhu, inhabited by Bhandaris (toddy tappers), Agris (salt traders) and Kulbis (cultivators) and at its south point, opposite Bandra island, lived a small colony of fisher folk and cultivators (Koliwada). The inhabitants of Juhu were mainly East Indians and there was a small section of Goans. The Church of St. Joseph was built by the Portuguese in 1853.
The open beaches of Juhu have attracted the well-heeled and the most affluent among Mumbai's population for almost a century. In the 1890s, Jamsetji Tata purchased land on Juhu and built a bungalow there. He planned to develop 1200 acres (5 km²) in Juhu Tara. This was to yield 500 plots of one acre (4,000 m²) each and a seaside resort. Simultaneously he wanted to extend the Mahim Causeway to Santacruz, to access to this area. After his death in 1904, the scheme was abandoned. With the dawn of aviation in the 20th century, the Bombay Flying Club commenced operations in 1929 at what eventually became the present Juhu Aerodrome.
During the freedom struggle Mahatma Gandhi visited Mumbai and took many walks at Juhu Beach. There is a famous photograph of Gandhiji poking his grandson Kanaa during a walk at Juhu Beach, Bombay, 1937. To mark Gandhi's visit in Juhu, there is famous statue of Gandhi by the beach and a lane towards the beach call Gandhigram Road. There is also a Gandhi Shiksha Bhavan school in Juhu.
In the 1970s, Bhaktivedanta Swami (Srila Prabhupada) started the Hare Krishna Movement and built ISKCON Temple, giving Juhu its global recognition. He also gave various philosophical and spiritual discourses and wrote many books here. His lectures on Bhagavat Samkhya (S.B 3.26) given in ISKCON Juhu has become an important source for research especially in the field of Quantum Mechanics.[1] [2]
Climate
Juhu enjoys a uniform climate throughout the year. In summers the maximum temperature reaches 35 °C and the minimum temperature is 25 °C. The weather is pleasant in winter. Monsoons prevail from mid June to September, when it rains quite heavily.
Juhu Beach
Juhu Beach is located on the shores of the Arabian Sea. It stretches for six kilometres up to Versova. It is a popular tourist attraction throughout the year and is also a sought after destination for shooting films. The beach generally gets more crowded on weekends and public holidays. The food court at its main entrance is famous for its 'Mumbai style' street food, notably bhelpuri, pani puri and sevpuri. Horse-pulled carriages offer joyrides to tourists for a small fee while acrobats, dancing monkeys, cricket matches, toy sellers vie for tourist's attention. The beach is among the most popular sites in the city for the annual Ganesh Chaturthi celebrations where thousands of devotees arrive in grand processions, carrying idols of the Lord Ganesh of various sizes, to be immersed in the water at the beach. Juhu Beach is also a popular spot for planespotting as a portion of it lies underneath the departure path from Runway 09 and occasionally, the arrival path from Runway 27 of Mumbai Airport.
Home to celebrities
The busy-yet-peaceful surroundings of Juhu is home to many Bollywood celebrities like Amitabh Bachchan, Abhishek Bachchan, Aishwarya Rai, Ashit Lathia, Anu Malik, Mahesh Bhatt, Alia Bhatt, Anil Kapoor, Sonam Kapoor, Dharmendra, Bobby Deol, Sunny Deol, Rakesh Roshan, Hritik Roshan, Anupam Kher, Ameesha Patel, Akshay Kumar, Dimple Kapadia, Fardeen Khan, Govinda, Hema Malini, Mithun Chakraborty, Paresh Rawal, Raveena Tandon, Shakti Kapoor, Varun Dhawan, Vidya Balan, Vivek Oberoi, Aditya Chopra, Rani Mukherjee, Zayed Khan. Apart from celebrities, it is also home to a significant number of Mumbai's business elite. Hence, Juhu has come to be referred to as the "Beverly Hills of Bollywood".
Juhu Citizen Welfare Group
The Juhu Citizen Welfare Group is the outcome of many years of activism by Juhu residents who have been associated with other NGOs. It was formed in April 2002 (The Juhu Seatizen) and later formalised in August 2003 with its own monthly publication called The Juhu Citizen. Officially registered in March 2004, it now comprises voluntary members invited from NGOs in the K-West Municipal Ward of North West Mumbai.
Religious places
International Society for Krishna Consciousness (ISKCON) also known as Hare Krishna Mandir
Mukteshwar Devalay (Gandhigram Road)
Chandra Prabhu Jain Temple
Mahalaxmi Temple
St. Joseph's Church, Juhu
Holy Cross Church, Juhu Koliwada
Vittal Rukmani Temple, Juhu Koliwada
Grand Mosque Juhu (Opposite Juhu Garden)
Pharmacy Store
Go Chemist
Noble Chemist
ayushakti Ayurveda health center
Hotels and restaurants
Prithvi Café
Primary and secondary schools
Santacruz (W)Education society popularly known as Taraben
R.N.Shah High School
Ecole Mondiale World School
Silver Beach High School - Closed (as of 1993)
Utpal Shanghvi School
Jamnabai Narsee School
Maneckji Cooper Education Trust School
Sumati Vidya Kendra High School - Closed since 2004
St. Joseph's Convent High School, Mumbai
Kamla Dharamshi Narsee Shruti School (Rotary Services Public Charitable Trust, Mumbai West Rotary Institute For Deaf)
RIMS International School
Vrajlal Parekh Vidyanidhi High School (English medium)
Vrajlal Parekh Vidyanidhi High School (Marathi medium)
Arya Vidya Mandir (Juhu Branch)
K.K.Rajpopat School
Gandhi Gram School (Marathi medium)
St Teresa's Convent High School
Billabong High School
Rajhans Vidyalaya
Holy Cross High School
Dilkhush Special School (School for Mentally Challenged Chil
Podar Education Complex- (consisting of ICSE, CBSE, SSC, IB BOARD SCHOOLS)
Colleges and universities
Smt. CMPH Medical College and Shree Mumbadevi Homeopathic Hospital.
Dr. R N Cooper Municipal Medical College& General Hospital
Mithibai College of Arts
Jeetendra Chauhan College of Science and Law
Amrutben Jeevanlal College of Commerce and Economics
Narsee Monjee College of Commerce and Economics
Narsee Monjee Institute of Management Studies (NMIMS)
Shobhaben Pratapbhai Patel School of Pharmacy and Technology Management
School of science,SVKM's NMIMS University
Malini Kishore Sanghvi College of Commerce and Economics
D J Sanghvi College of Engineering
Russell Square International College
Mukesh Patel School of Technology Management and Engineering
Bhagubai Polytechnic
Sreemati Nathibai Damodar Thackersey University [SNDT Women's University]
Ritambhara College
Madhumati Academy of Film Acting & Dance & Style
Asha K. Chandra Acting Institute
Kamla Raheja Vidyanidhi Institute of Architecture and Environmental Studies (KRVIA)
Upnagar Shikshan Mandal's College of Architecture
Malti Jayant Dalal Institute of Pre-Primary Teachers Training College
Bhawans College
Podar Education Complex
Lotus college of optometry.
Institutes and organisations
ISKCON
The Bhaktivedanta Book Trust (BBT India)
Prithvi Theatre: It was built by Shashi Kapoor in memory of his father and has been a centre for performing arts since decades. The adjoining cafe is very popular.
Area Station Canteen, Juhu
Army Officers Institute
Sangit Mahabharati (SMB) stands out in the world of serious music education and research as one of India's premier academies.
Original pav bhaji recipe from a stall at juhu beach
Food delights in mumbai, india – escapade at haibao, juhu – oriental cuisine food & travel guide
References
Juhu Wikipedia
(Text) CC BY-SA