Quinton Aaron stars as Michael Oher, alongside Sandra Bullock as Leigh Anne Tuohy, Tim McGraw as Sean Tuohy, and Kathy Bates as Miss Sue, Oher's tutor. The film also features appearances by several current and former NCAA coaches, including Houston Nutt, Ed Orgeron, Nick Saban, Lou Holtz, Tommy Tuberville and Phillip Fulmer.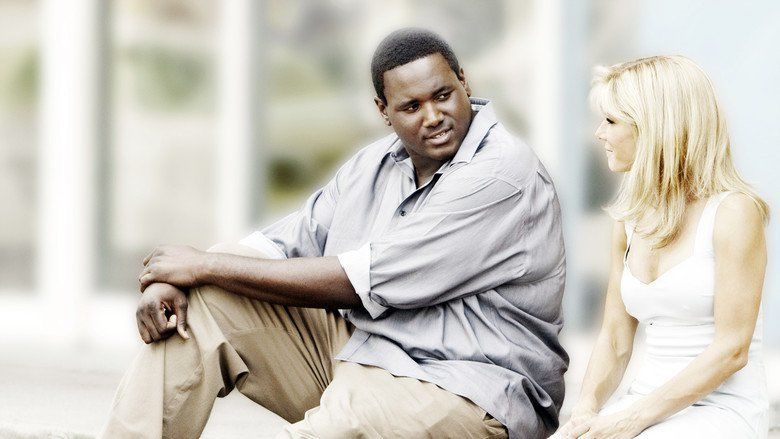 The film opens with seventeen-year-old Michael ("Big Mike") Oher talking to an NCAA investigator. Then a flashback ensues.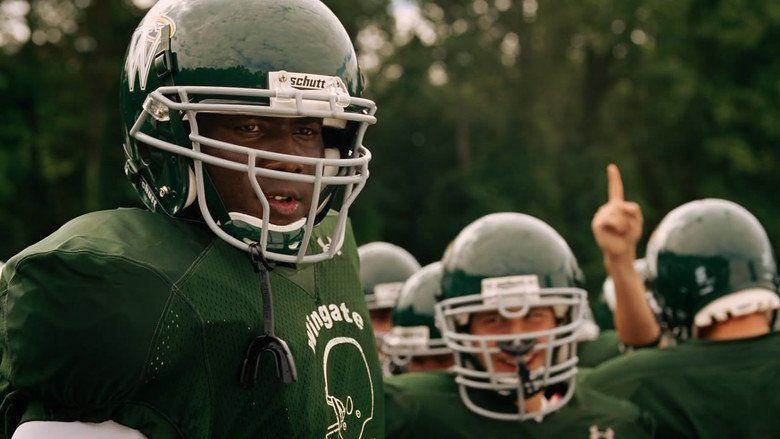 Michael has been in foster care with different families in Memphis, Tennessee, due to his mother's drug addiction. Every time he is placed in a new home, he runs away. His friend's father, on whose couch Mike had been sleeping, asks Burt Cotton, the coach of Wingate Christian School, to help enroll his son and Mike. Impressed by Mike's size and athleticism, Cotton gets him admitted despite his poor academic record. Later, Michael is befriended by a younger student named Sean Jr. ("SJ"). SJ's mother, Leigh Anne Tuohy, is a strong-minded interior designer and the wife of wealthy businessman Sean Tuohy.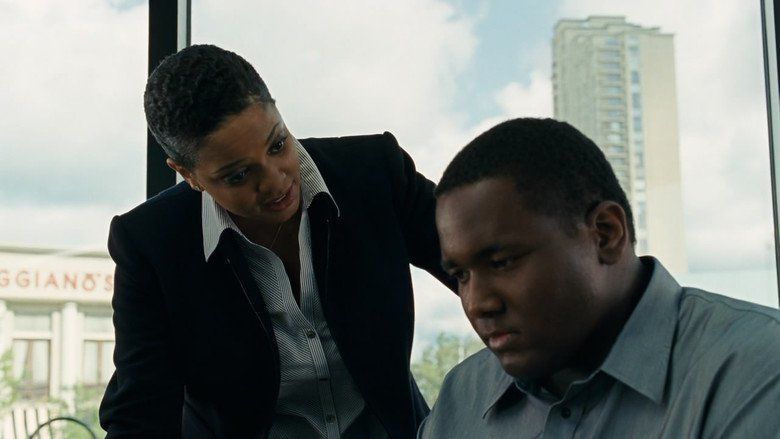 The school staff tell Michael that his father has died, apparently due to an accident. Later, Leigh Anne and Sean watch their daughter Collins playing volleyball. After the game, Sean notices Michael picking up leftover food on the bleachers.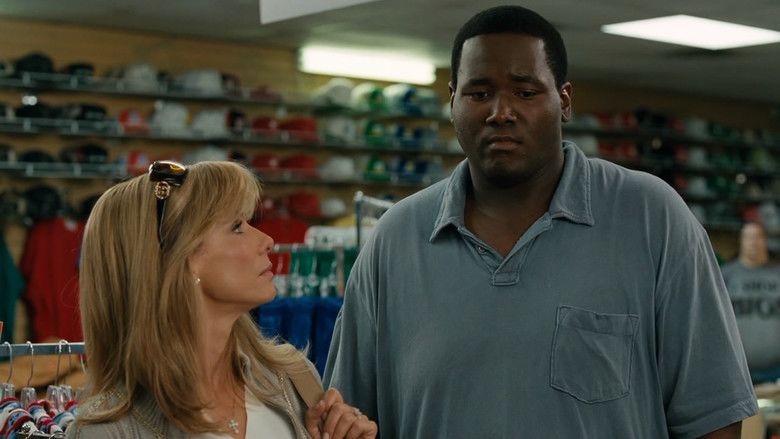 One night, Leigh Anne notices Michael walking alone on the moist road, shivering in the cold without adequate clothing. When she learns that he plans to spend the night huddled outside the closed school gym, Leigh Anne offers to let him sleep on the couch in the Tuohy home.
The next morning, Leigh Anne notices that Michael has left. Seeing him walking away, she asks him to spend the Thanksgiving holiday with her family. Slowly, Michael becomes a member of the family. Later, Leigh Anne drives Michael to his mother's house. He sees an eviction notice posted on the door, and his mother is gone.
Leigh Anne's friends wonder what she is doing; they suggest that Collins might not be safe around Michael, but Leigh Ann rebukes them. She later asks Collins how she feels about it. Collins replies that they cannot just throw Michael out. When Leigh Anne seeks to become Michael's legal guardian, she learns he was taken from his drug-addict mother when he was seven and that no one knows her whereabouts. She is also told that, although he scored poorly in a career aptitude test, he was ranked in the 98th percentile in "protective instincts". When Michael appears to be hesitant to use his strength and size while learning to play football, Leigh Anne tells him, as an offensive lineman, he must protect his quarterback. From that moment, Michael improves drastically, well enough to play at the college level. However, to do that, he must meet the minimum grade point average to get in so the Tuohys hire a private tutor for him, the outspoken and kind Miss Sue.
Leigh Anne has a face-to-face conversation with Michael's mother about adopting him. Although she seems unresponsive in the beginning, the mother finally wishes Michael the best.
Michael is heavily recruited by many prestigious schools. SJ talks to coaches and negotiates on Michael's behalf – and his own. When Michael gets his grades high enough, he decides to attend Ole Miss, where Sean had played and Leigh Anne had been a cheerleader. That causes NCAA investigator Granger to look into the matter to determine if the Tuohys took him in and unduly influenced him just so he would play for their alma mater.
Michael runs away before the interview is over and confronts Leigh Anne about her motives for taking him in. He then proceeds to find his biological mother in Hurt Village. A gang leader welcomes him back, offers him a beer, and makes sexually offensive insinuations about Leigh Anne and Collins. When the gang leader threatens to go after them, Michael battles with him and other thugs. After thinking things over and questioning Leigh Anne, Michael tells Granger he chose Ole Miss because "it's where my family goes to school". Michael is accepted into college and says his farewells to the Tuohy family.
The film ends with information about and photos of the real Tuohy family and Michael Oher, who went on to play in the National Football League. He was drafted by the Baltimore Ravens in the first round of the 2009 NFL Draft where he won Super Bowl XLVII in 2013 before also playing for the Tennessee Titans and Carolina Panthers.
Quinton Aaron as Michael "Big Mike" Oher
Sandra Bullock as Leigh Anne Tuohy
Tim McGraw as Sean Tuohy
Jae Head as Sean "S.J." Tuohy, Jr.
Lily Collins as Collins Tuohy
Kathy Bates as Miss Sue
Ray McKinnon as Coach Burt Cotton
Kim Dickens as Mrs. Boswell
Adriane Lenox as Denise Oher
Eaddy Mays as Elaine
Robert "IronE" Singleton as Alton
Tommy Tuberville, the coach of Auburn
Nick Saban, the coach of Louisiana State
Lou Holtz, the coach of South Carolina
Phillip Fulmer, the coach of Tennessee
Houston Nutt, the coach of Arkansas
Ed Orgeron, the coach of Ole Miss
The Blind Side was produced by Alcon Entertainment and released by Warner Bros. According to Reuters, the film's production budget was $29 million. Filming for the school scenes took place at Atlanta International School and The Westminster Schools in Atlanta, Georgia, and it features many of their students as extras. The film premiered on November 17 in New York City and New Orleans and opened in theaters on November 20 in the rest of the United States and in Canada.
Academy Award winner Julia Roberts was originally offered Bullock's role, but turned it down. Bullock initially turned down the starring role three times due to discomfort with portraying a devout Christian. By her own account, Bullock felt she couldn't objectively represent such a person's beliefs on screen. But after a visit with the real Leigh Anne Tuohy, Bullock not only won the role, but also took a pay cut and agreed to receive a percentage of the profits instead.
The Blind Side opened in 3,110 theaters on its opening weekend, the weekend of November 20, 2009. It grossed a strong $34,510,000 in its opening weekend, the second highest gross of that weekend, behind The Twilight Saga: New Moon. It was the highest-grossing opening weekend of Sandra Bullock's career. The per-theater average for The Blind Side's opening weekend was $11,096. In its opening weekend, the movie already proved to be a financial success, having a budget of just $29,000,000. It proved to have remarkable staying power, taking in an additional $9.5 million, bringing its gross to $60,125,000 by the weekend of November 27, 2009. The movie enjoyed a rare greater success for the second weekend than it did in its opening weekend, taking in an estimated $40 million, an increase of 18 percent, from November 27 to November 29, 2009, coming in second to New Moon once again, bringing its gross to $100,250,000.
In its third weekend, the movie continued its trend of rare feats by moving up to the number one position with $20.4 million in sales after spending the previous two weekends in second place for a total gross of $128.8 million, due to strong word-of-mouth. In its fourth weekend, it moved down to second place, dropping a slim 23% with an estimated $15.5 million for a total of $150.2 million in the United States and Canada as of December 13, 2009. The film hit $200 million domestically on January 1, 2010, marking the first time a movie marketed with a sole actress' name above the title (Bullock's) has crossed the $200 million mark. The Blind Side has also become the highest grossing football movie and sports drama of all time domestically unadjusted for ticket inflation. The Blind Side ended its domestic theatrical run on June 4, 2010 (nearly 7 months after it opened), earning a total of $255,959,475. In the UK and Ireland, The Blind Side was released on March 26, 2010. It was the third biggest release of that weekend behind Nanny McPhee and the Big Bang and Tim Burton's Alice in Wonderland.
The film received moderately positive reviews, with critics praising Sandra Bullock's performance. Review aggregation website Rotten Tomatoes gives the film a rating of 66%, based on 196 reviews, with a rating average of 6.1/10. The site's general consensus reads, "It might strike some viewers as a little too pat, but The Blind Side has the benefit of strong source material and a strong performance from Sandra Bullock." Metacritic, which assigned a normalized score of 53 out of 100, based on 29 critics, indicating "mixed or average reviews". CinemaScore reported that audiences gave the film a rare "A+" grade.
The Blind Side has been criticized as presenting a white savior narrative in which Oher, an African-American male, is unable to overcome poverty and personal failure without the guidance of adoptive, white mother Tuohy. For example, Jeffrey Montez de Oca of the University of Colorado writes that in The Blind Side's portrayal of adoption, "charity operates as a signifying act of whiteness that obscures the social relations of domination that not only make charity possible but also creates an urban underclass in need of charity." Melissa Anderson of the Dallas Observer argues that the "mute, docile" portrayal of Oher effectively endorses the Uncle Tom stereotype of African-American submission to white authority.
The Blind Side has earned numerous awards and nominations for the lead performance of the film's star, Sandra Bullock.
The nomination of The Blind Side for Best Picture was considered a surprise, even to its producers. In an attempt to revitalize interest surrounding the awards, the Academy of Motion Picture Arts and Sciences had upped the number of Best Picture nominees from a mandatory number of five to ten in time for the 82nd Academy Awards, the year The Blind Side was nominated. However, in 2011, the Academy changed the policy, stating that the Best Picture category would feature between five and ten nominees depending on voting results, as opposed to a set number of nominees. The change was interpreted as a response to films like The Blind Side being nominated for Best Picture to fill up the set number of spots.
The movie features 23 songs by artists including Les Paul, Young MC, Lucy Woodward, The Books, Canned Heat, Five for Fighting, and the film's co-star Tim McGraw. However, while the score soundtrack by Carter Burwell was released on CD, none of the featured songs were included.
The Blind Side was released on DVD and Blu-ray on March 23, 2010. The Blind Side was available exclusively for rental from Blockbuster for 28 days.
Redbox and Netflix customers had to wait 28 days before they were able to rent the movie. This stems from the settlement of a lawsuit brought by Redbox against Warner Home Video, who, in an attempt to boost DVD sales, refused to sell wholesale titles to Redbox. On August 19, 2009 Redbox sued Warner Home Video to continue purchasing DVD titles at wholesale prices. On February 16, 2010, Redbox settled the lawsuit and agreed to a 28-day window past the street date.
As of July 9, 2013, units sold for the DVD stand at more than 8.4 million copies and has grossed a further $107,962,159 adding to its total gross.