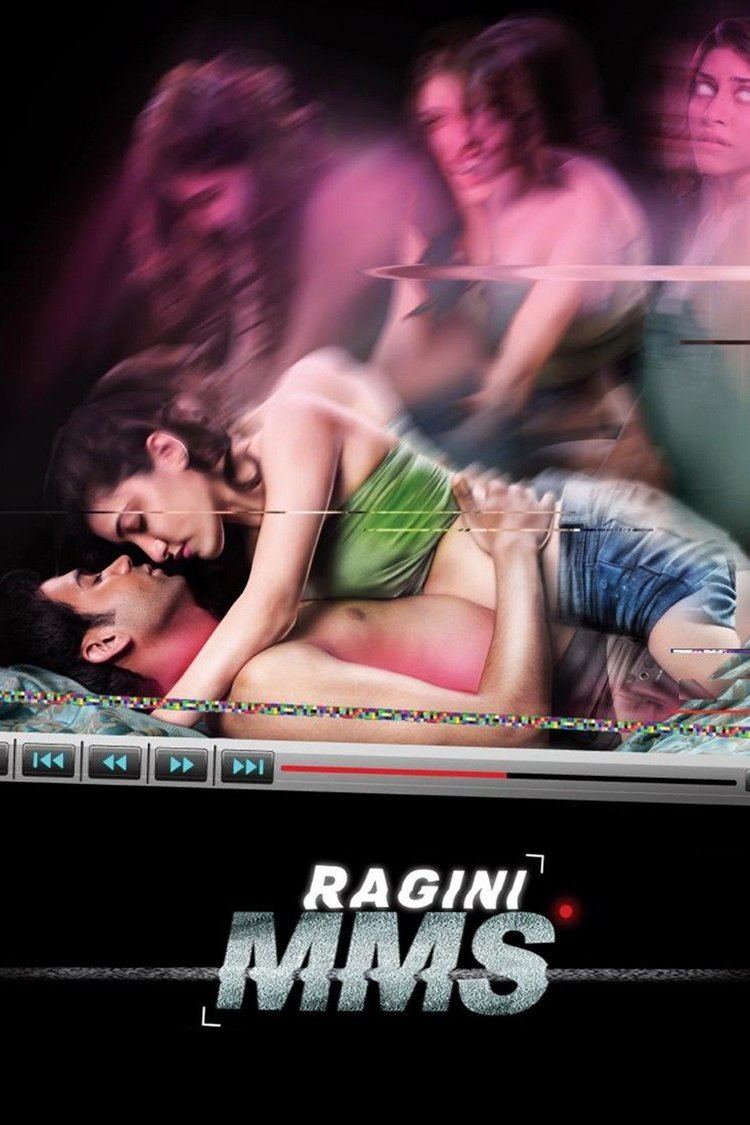 Ragini (Kainaz Motivala) and Uday (Rajkummar Rao) go to a secluded house, set deep in a forest, for a weekend of fun. Upon arrival, Ragini and Uday discover worms in their bag of food; but neglect it. Uday has plans of recording a video of Ragini, without her knowledge, so that he can fulfill his dream of becoming an actor. However, they are interrupted by Ragini's friend, Piya and her boyfriend, Vishal. After a bash of music, dance and beer, Vishal asks Uday where the toilet is and after taking a dark way to the toilet, Vishal says that, on his way to the house, a local pan vendor told him the house belonged to a lady who was accused of being a witch by her family member, and subsequently killed by her family.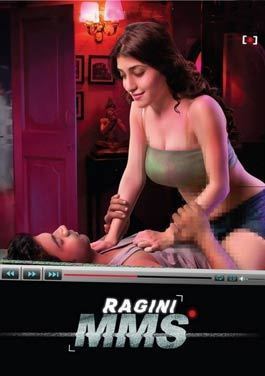 However, she returned as a vengeful ghost and murdered her entire family. After hearing Vishal, Uday goes downstairs. While returning to the hall, Vishal senses eeriness in the house and notices one room's door open and close on its own, so he enters in and the door gets locked from outside. After some time he enters into the house from the outside and blames Uday that he latched the door from the outside and says that he came by jumping through the window. Ragini finds one scratch mark on Vishal's neck and after an argument, Vishal and Piya leave the house confused. Uday then handcuffs Ragini to the bed. While they are kissing, the lights go out and Uday's neck is scratched by someone and he asks Ragini for his phone and he goes downstairs to bring his cell phone. While returning toward Ragini his hair is pulled by someone, and he finds himself bleeding from head. He calls his friend to see if he is playing a prank on him; after receiving a negative reply he realises that there is another presence in the house. Ragini then searches for the key to her cuffs and while searching Ragini spots a camera in the room and realises Uday's intentions. She is unable to do anything, as the key has gone missing, leaving her tied to the bed. As matters worsen, his phone battery becomes low so Uday tries to run away, leaving Ragini alone. The spirit does not let him escape however, and Uday returns upstairs, bruised. The ghost enters Uday's body and makes him commit suicide. Ragini struggles to unlock herself from the cuffs before sunrise. She finds the key under the bed, but fails to get it. The next night, the ghost attacks her again, but she manages to break free by cutting her hands with glass.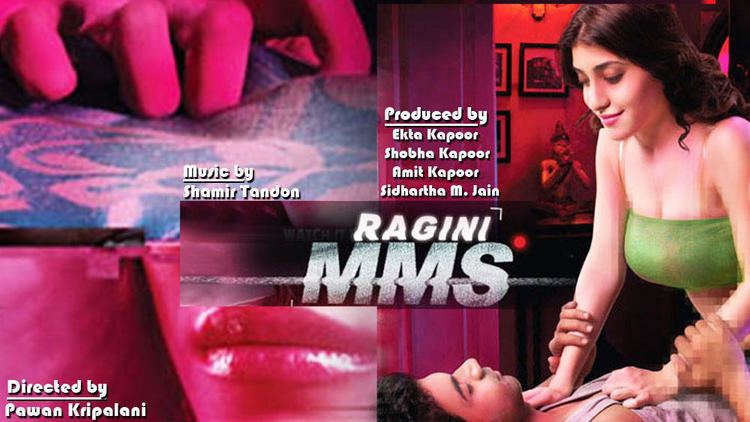 Ragini escapes the house and runs away, screaming for help. When she sees a car, she chases it, but finds Vishal dead inside. After trying to start the car unsuccessfully, she hides in an old well where she finds Piya's body. The ghost then grabs her and brings her back to the haunted house. The ghost tells that she is not a witch and she did not kill her children. Neither will she leave her house, nor will she let others get out of there alive. Ragini slowly rises up in the air and is slapped and thrown around. The ghost then tries to make her commit suicide but Ragini is able to stop her and toss the weapon away. Ragini stays suspended against the wall all night. As the sun rises, she slips down to the ground, having survived and is free to escape. On-screen text reveals that after a few days, a local boy finds Ragini unconscious and takes her to the hospital. She had to go through intensive psychiatric treatment for 10 months, and then she agreed to tell her story.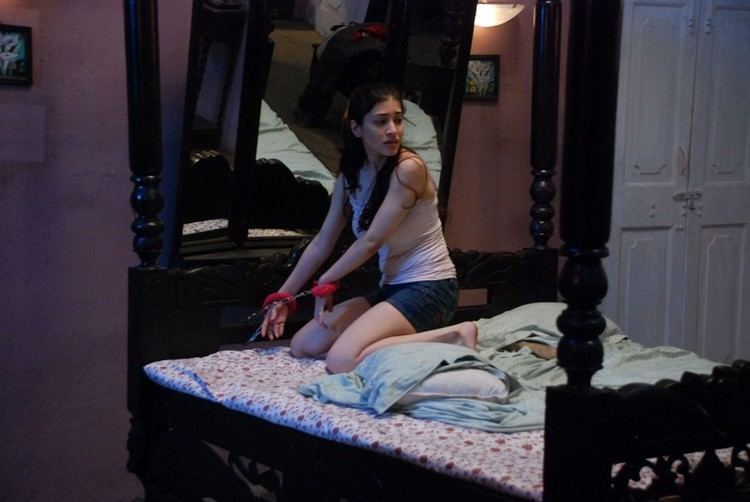 Kainaz Motivala as Ragini
Rajkumar Rao as Uday
Rajat Paul as Vishal
Janice as Piya
Shernaz as Neha
Vinod Rawat as Jigar
Harshraj Shroff as Friend 1
Cristy Philips as Friend 2
M. Ravichandran Thevar as Friend 3
Mangala White as Ghost Spirit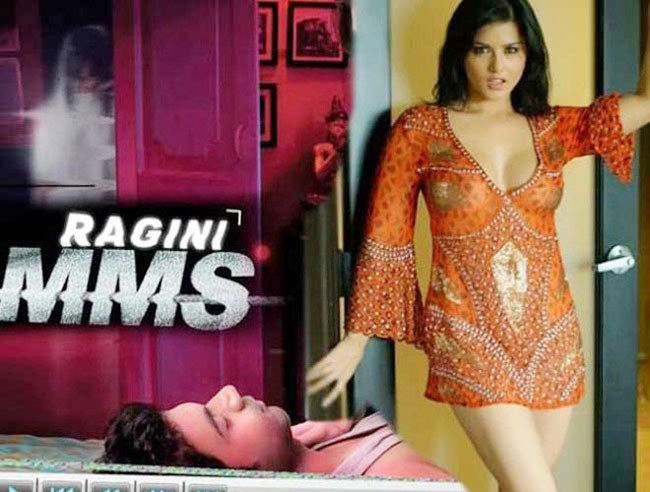 The film was originally titled Raginni MMS but a numerologist advised Ekta Kapoor to change it to Ragini MMS. The film took only 25 days to shoot. Total six cameras were used to shot the film including Canon 7D, Arri Alexa and a handicam. The size of the total footage shot was around 2.5 terabytes.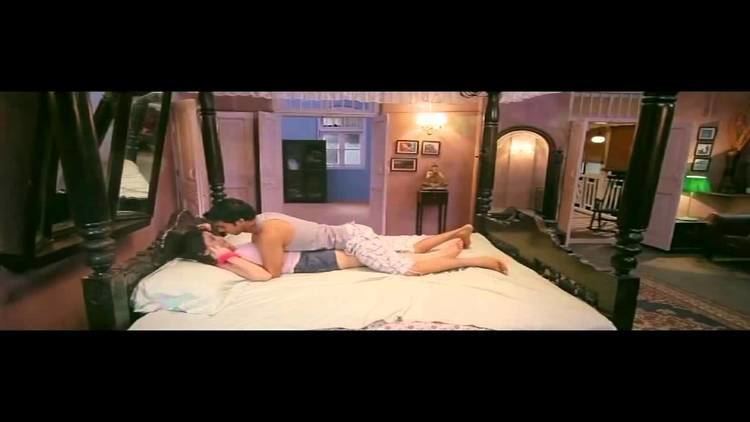 The film had a midnight première on 13 May 2011 in Pune. The film opened to a very good response in its first week grossing ₹ 77.5 million. It was steady during its second week and grossed ₹ 99.4 million at the end of its second week. The film recovered its cost within two days of release.
Upon release, the film met with mixed reviews. Taran Adarsh from Bollywood Hungama gave it 4/5 stars and called it a "creepy, spine-chilling date movie" saying, "Ragini MMS amalgamates components of horror, paranormal and sex seamlessly. It titillates, it petrifies, but most importantly, it tells you a story which is daunting, imaginative and unconventional." Naresh Deoshi from Apunka Choice also gave the film 4/5 stars calling it "a damn scary film!" Ankur Pathak from Rediff.com gave the film 3.5/5 stars and said "Ekta Kapoor's new film is terrifyingly real, and immensely watchable for the cold fright it inspires. She must be lauded for relying on young actors, and believing in the risky attempt of largely untouched storytelling." Nikhat Kazmi from the Times of India gave the film 3.5/5 stars as well. She said "...Ragini MMS makes a heady cocktail of sex and horror that's so very different from run-of-the-mill Bollywood." Shubha Shetty-Saha gave the film a good review of 3/5 and said "some scenes were so scary, that I actually wanted to run out of the theatre."
Mayank Shekhar from the Hindustan Times gave the film 2/5 stars, while Pankaj Sabnani from Glamsham gave the film an average review of 2.5/5 saying "Ragini MMS isn't worth 'circulating', if you have a large appetite for horror." Aniruddha Guha from DNA gave the film 2/5 saying, "Watch Ragini MMS only if you dig cheap thrills. But don't worry about losing sleep thereafter."
Best Searchlight Film – Ekta Kapoor
The music is composed by S. D. Burman, Shamir Tandon, Faizan Hussain, Agnel Roman, and Bappi Lahiri. The soundtrack for the film was released on 19 April 2011. It consists of only four songs, including the hit song "Raat Akeli Hai" from the 1967 film, Jewel Thief. Erik Satie's Gymnopedie No. 1 is also heard in pieces in this film.
A sequel to the movie, Ragini MMS 2 was made and released on 21 March 2014. Continuing the story, the sequel focused on a film crew who went back to the haunted house to shoot a film on the infamous Ragini MMS scandal.Directed by Bhusan patel.