The film was the second feature film directed by Bong, following his 2000 debut film Barking Dogs Never Bite. The screenplay was adapted by Bong and Shim Sung-bo from Kim Kwang-rim's 1996 stage play about the same subject. The film's cinematography, as well as Song Kang-ho's performance, earned it wide praise.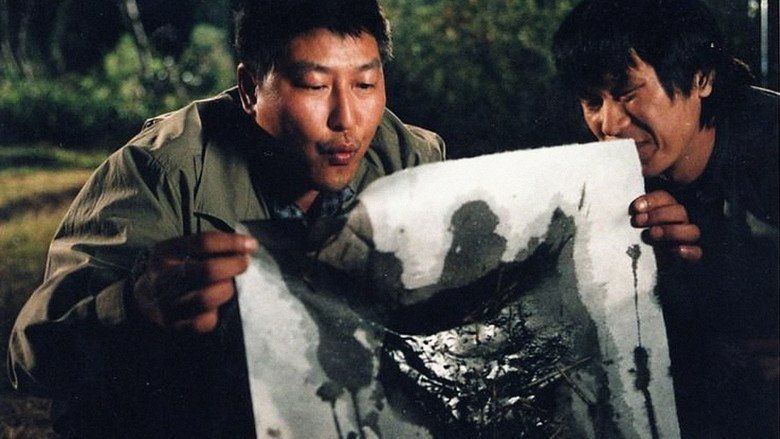 In October 1986, a young woman is found raped and murdered in a ditch near a field. Soon after, another woman is found raped and murdered in a field. Local detective Park Doo-man, not having dealt with such a serious case before, is overwhelmed; key evidence is improperly collected, the police's investigative methods are suspect, and their forensic technology is near non-existent. Seo Tae-yoon, a detective from Seoul, volunteers to assist them; their methods clash and he is unable to convince them they are dealing with a serial killer until his predictions of another murder come true. He realizes that the killer waits until a rainy night, and only kills women wearing red. A female police officer realizes that a local radio station is always requested to play a particular song during the nights the murders are committed.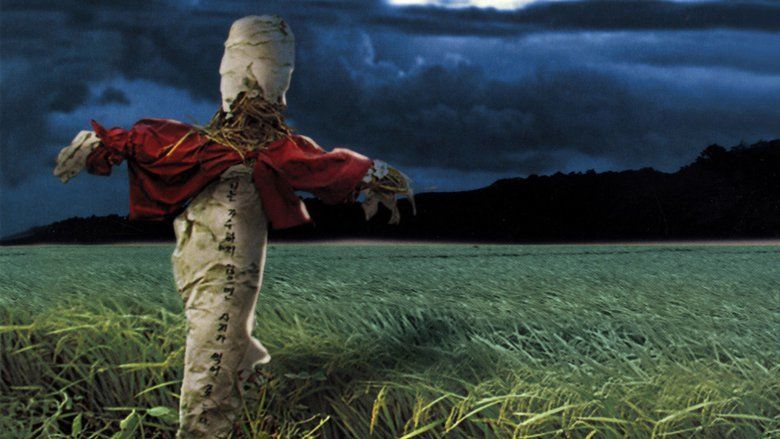 While Seo investigates and tries to piece together the clues, Park and his men beat confessions out of a scarred mentally handicapped boy whom they threaten to kill, going so far as to make him dig his own grave, and a local man found masturbating at the scene of one crime. Seo clears both of those suspects and follows a trail of clues to a handsome factory worker who had only moved to the area a short time before the first murder. The detectives are unable to pin anything on him; when they realize that the handicapped boy witnessed one of the crimes and try to speak to him, they frighten him so badly that he runs in front of an oncoming train and is killed.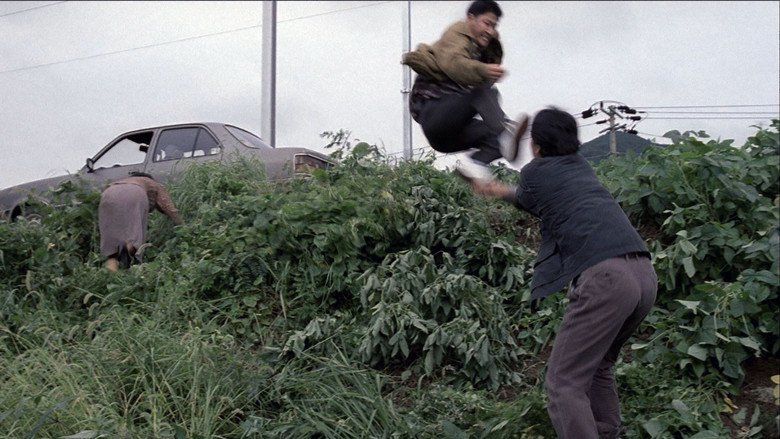 Finally, when yet another murder is committed and DNA evidence sent for processing in the United States comes back inconclusive, Seo's frustrations flow over and he snaps. He flies into a rage and roughs up the factory worker; only Park stops Seo from shooting the suspect.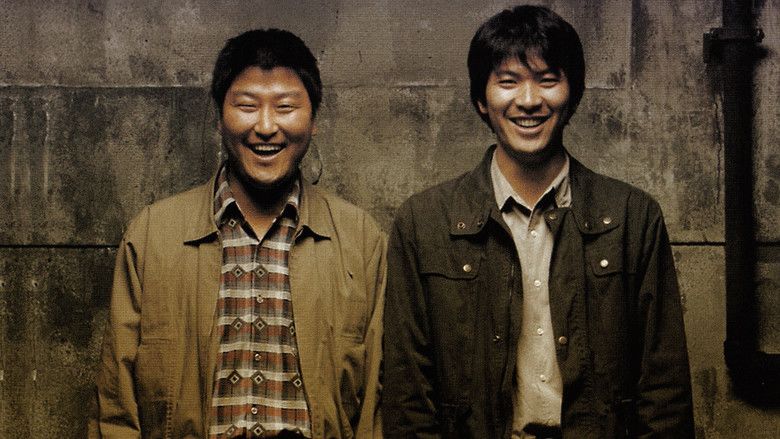 In the end, the crimes remain unsolved. Visiting the crime scene years later in 2003, Park Doo-man, now a businessman, learns from a little girl that the scene had recently been visited by another, unknown man with a 'plain' face. The little girl had asked him why that man was looking at the ditch, and he told her that he was reminiscing about something he did there a long time ago.
Main cast
Song Kang-ho – Park Doo-man, the detective in charge of solving the murders
Kim Sang-kyung – Seo Tae-yoon, a younger but also much more experienced detective from Seoul who volunteers to help Park
Kim Roi-ha – Cho Yong-koo, Park's partner
Song Jae-ho – Sergeant Shin Dong-chul, the detectives' superior
Byun Hee-bong – Sergeant Koo Hee-bong
Go Seo-hee – Officer Kwon Kwi-ok
Park No-shik – Baek Kwang-ho
Park Hae-il – Park Hyeon-gyu
Jeon Mi-seon – Kwok Seol-yung
Memories of Murder was well received by both critics and audiences. The film won the South Korean film industry's 2003 Grand Bell Awards for best film, while Bong Joon-ho and Song Kang-ho won the awards for best director and best leading actor respectively.
By the end of the film's domestic run it had been seen by 5,101,645 people, making it the most watched film during the year 2003 in South Korea. While it was eventually outgained by Silmido, which was released in the same year, most of Silmido's audience did not see it until 2004. At the end of the film's run, Memories of Murder was also the fourth most viewed film of all time in the country, after Shiri, Friend and Joint Security Area. The commercial success of the film has been credited as saving one of its production companies, Sidus Pictures, from bankruptcy.
Memories of Murder received screenings at several international film festivals, including Cannes Film Festival, Hawaii International Film Festival, London International Film Festival, Tokyo International Film Festival and San Sebastian International Film Festival, where Bong Joon-ho won the Best Director Award.
Director Quentin Tarantino named it, along with Bong's The Host, as one of his Top 20 favorite movies since 1992.
While a total body count was never mentioned in the film, a total of 10 similar murders were committed in the Hwaseong area between October 1986 and April 1991.
Some of the details of the murders, such as the killer gagging the women with their underwear, were also taken from the case. As in the film, the investigators found bodily fluids suspected to belong to the murderer in the crime scenes, but did not have access to equipment to determine whether the DNA matched with the suspects until late in the investigations. After the ninth murder, DNA evidence was sent to Japan (unlike the film, where it was sent to America) for analysis, but the results did not correspond with the suspects.
As in the film, the actual murderer has not been caught. As the case was growing closer to reaching the statute of limitations, South Korea's leading Uri Party sought to amend the law to give the prosecutors more time to find the murderer. However, in 2006 the Statute of Limitation was reached.
2003 Chunsa Film Art Awards
Best Film
Best Director – Bong Joon-ho
Best Actor – Song Kang-ho
Best Supporting Actor – Park No-shik
Best Screenplay – Bong Joon-ho, Shim Sung-bo
Best Cinematography – Kim Hyung-koo
Best Editing – Kim Sun-min
2003 Busan Film Critics Awards
Best Director – Bong Joon-ho
Best Screenplay – Bong Joon-ho
2003 Grand Bell Awards
Best Film
Best Director – Bong Joon-ho
Best Actor – Song Kang-ho
2003 Tokyo International Film Festival
Best Asian Film
2003 Blue Dragon Film Awards
Best Cinematography – Kim Hyung-koo
2003 Korean Film Awards
Best Film
Best Director – Bong Joon-ho
Best Actor – Song Kang-ho
Best Screenplay – Bong Joon-ho and Shim Sung-bo
Best Cinematography – Kim Hyung-koo
Best Editing – Kim Sun-min
2003 Director's Cut Awards
Best Director – Bong Joon-ho
Best Actor – Song Kang-ho
Best Producer – Cha Seung-jae
2004 Festival du Film Policier de Cognac
First Prize
Premier Prize
Screenwriter Kim Eun-hee (Sign, Phantom) was attached to a television adaptation with the working title Signal, which aired on tvN in 2016.
Gap-dong, which aired on tvN in 2014, was also loosely inspired by the film.