8.4

/

10

Alchetron

Rate This




Director

Alphonse Putharen




Genre

Comedy, Drama, Romance




Release date

29 May 2015 (2015-05-29) (India)

Songs

Aluva Puzha




Cast

Nivin Pauly

(George David),

Sai Pallavi

(Malar),

Anupama E Parameshwaran

(Mary George),

Madonna Sebastian

(Celine),

Vinay Forrt

(College Lecturer),

Sabareesh Varma

(Shambu)



Premam (English: Love) is a 2015 Indian Malayalam coming-of-age musical-romantic comedy film written, edited, and directed by Alphonse Puthren. It is a three-part portrait of the lead finding his true love. Produced by Anwar Rasheed for Anwar Rasheed Entertainment, the film stars Nivin Pauly, Madonna Sebastian, Sai Pallavi, and Anupama Parameswaran in the lead roles. The film features 17 debutant actors. Rajesh Murugesan composed the music.
Contents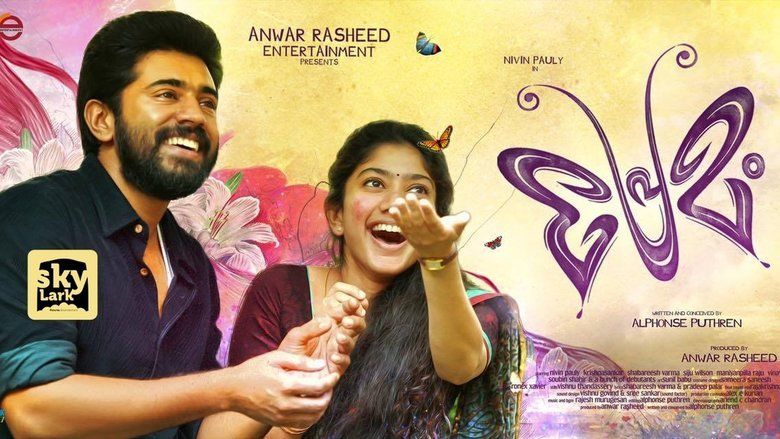 Premam was released on 29 May 2015 in India, followed by UAE on 11 June and in the US on 12 June 2015. The film received positive critical response, with praise for direction, acting, cinematography, editing, humour and songs. Produced at a budget of ₹4 crore (US$620,000), it grossed an estimated sum of ₹87 crore (US$14 million) worldwide, making it the highest grossing Malayalam film of 2015 and one of the highest grossing Malayalam film of all time. It became the second Malayalam film to run for over 200 days in Tamil Nadu. The film had a theatrical run of 151 days in Kerala and 301 days in Chennai, Tamil Nadu. The film was also remade in Telugu in 2016 as Premam.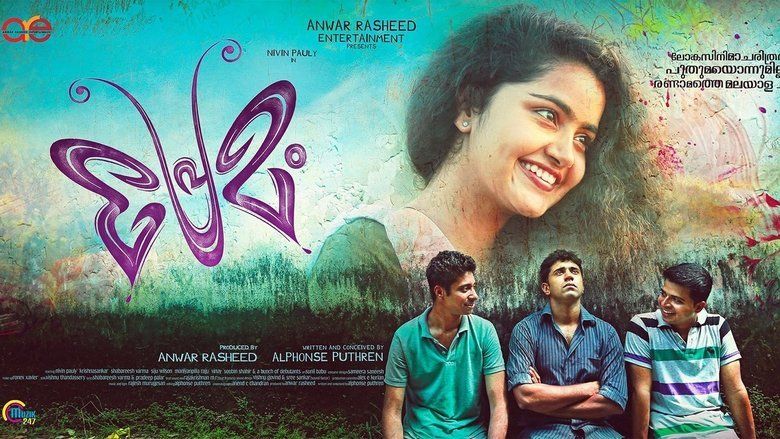 Plot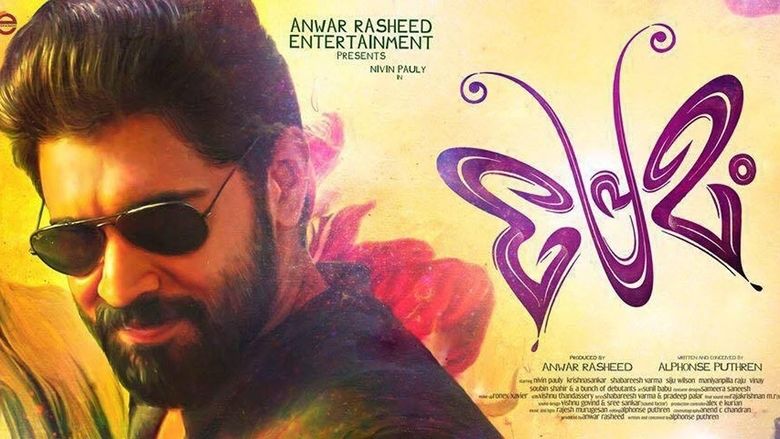 In 2000, George (Nivin Pauly), a 16-year-old pre-degree student, develops unrequited love for Mary (Anupama Parameswaran), the prettiest girl in his area, a small region of Aluva. George and his friends Shambu (Shabareesh Varma) and Koya (Krishna Shankar) often follow around Mary in an attempt to talk to her. One day, George decides to propose to Mary, but he is afraid of her father who has a notoriety of beating up boys trying to woo his daughter. Nonetheless, every time he gathers the courage to talk to her, something or the other comes up and George ends up disappointed. He is eventually heartbroken to know that Mary is in a relationship with another boy, also named George. The seriousness of life finally sinks in when George, Shambu, and Koya introspect about their academic future after a dismal performance in their year-end examination.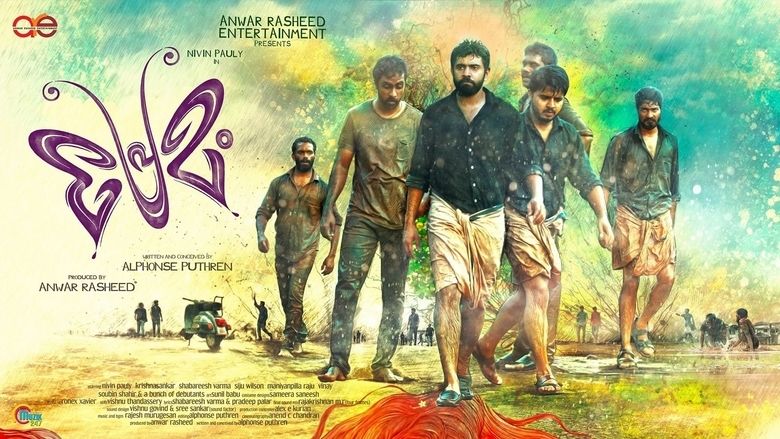 Three years later, in 2005, George and his friends enroll into college. One day, while on a ragging streak, George and his friends meet Malar (Sai Pallavi), a new lecturer in their college, who happens to be Tamilian. George instantly falls for her and seemingly gets her to feel the same about him. Convinced that they are in love with each other, they extend their relationship and contemplate marriage. Simultaneously, George's college teacher Vimal Sir (Vinay Forrt) also falls for her and tries to woo her with help from his friend, a PT teacher (Soubin Shahir). Later that year, Malar goes to visit her family in Kodaikanal, accompanied by her cousin, Arivazhagan (Ananth Nag). Weeks later, it is announced in the college that Malar had met with an accident and that consequentially she had been relieved from her post. George and his friends immediately ride to Kodaikanal to meet Malar. It is when Malar fails to recognize George, that he loses all hope and spirals into a state of desolation and trauma. Apparently, Malar had lost memories of her relationship with George due to injuries she suffered in the accident. Malar eventually gets married to Arivazhagan, by her mother, who was worrying who would accept her daughter in such a state.
In 2014, George, now in his early 30s, runs a cafe, with his childhood friend Jojo (Willson Joseph) as his assistant. George meets 22-year-old Celine (Madonna Sebastian) in his cafe and feels an affinity towards her, not knowing that she is the same girl who used to walk home from school with Mary every day. Despite the age difference, George decides to propose Celine, but is again crestfallen when he learns that she is about to get engaged to a man named Roney Varghese (Alphonse Putharen). Roney is a cocaine-addict who continuously insults Celine, which result in the engagement being called off. Roney's obsessive behavior in pestering Celine upsets George, and in response, teams up with his friends and beats up Roney at his dilapidated hangout.
Finally, George marries Celine. During their wedding reception, Malar arrives with her husband and congratulates the bride and groom for their union. It is revealed that Celine called Malar herself, in an attempt to offer closure to George. As she leaves the event, it is revealed that Malar had regained her memory after recovering from the impact of the accident. This is showcased when her husband asks her as to why she did not reveal to George that she had regained her memory, to which she answers that George was happy with Celine and she needed to let things be the way they were.
Cast
Nivin Pauly as George David
Sai Pallavi as Malar
Madonna Sebastian as Celine George
Anupama Parameswaran as Mary George
Shabareesh Varma as Shambu
Krishna Shankar as Koya
Eva Prakash as young Celine
Vinay Forrt as Vimal "Java" Sir
Soubin Shahir as P.T. Teacher Shivan Sir
Ananth Nag as Arivazhagan
Siju Wilson as Jojo
Sharaf U Dheen as Girirajan Kozhi
Justin John as Justin
Franco Davis as Mary's father
Dinesh Prabhakar as Lonappan Chettan
Alwin Antony as Moosa
George P. Roy as Aftab
Vinod Kovoor as broker Shamsu
Rajani Chandy as George David's mother (voice only)
Nandini Nair as Nandini, Malar's friend (cameo)
Alphonse Putharen as Roney Varghese, Celine's ex-fiance (cameo)
Renji Panicker as David Kalapparambath, George's father (cameo)
Maniyanpilla Raju as College Principal (cameo)
Jude Anthany Joseph as Dolly D'Cruz, choreographer (cameo)
Production
After the success of the bilingual thriller Neram (2013), writer-director Alphonse Puthren announced his next project starring Pauly, titled Premam; would be produced by director Anwar Rasheed. The discussion and scripting of Premam began in 2014 January and filming began in July 2014. Later, they announced the film would feature three heroines, and invited applications from Malayalam-speaking women between the ages of 16 and 25. Later they released an ad in September 2014 saying the film needs two heroines and are looking for aged between 15 and 22 and that "Both of them should know to speak Malayalam and English fluently and should have a very good smile". Director Jude Anthany Joseph appeared in a cameo role in the film.
Puthren said that, the film will have great importance to the songs, and will feature a number of songs. The film introduced 17 new actors in the Malayalam film industry. Rajesh Murugeshan who has previously composed music for Alphonse's Neram was roped as the music composer. Filming wrapped up in November 2014.
Music
The original soundtrack and background score were composed by Rajesh Murugesan, who had collaborated with Puthren in the film Neram. Shabareesh Varma, beside singing, wrote the lyrics for five of the six songs. Anirudh Ravichander sung the last song, Rockaankuthu. The soundtrack album was released on 26 March 2015.
All the audio songs released prior to the film release went viral in internet. On 22 April 2015, video for the song "Aluva Puzha" sung by Vineeth Sreenivasan was released and became chart topper. As a marketing strategy the song "Malare" was released later. "Malare" was released on YouTube and received 1 million hits within 14 hours of release and trended on social networking platforms.
Writing for The New Indian Express, music critic Vipin Nair noted, "The Neram team's (Alphonse Puthren-Rajesh Murugesan-Shabareesh Varma) sophomore effort in Premam is almost as impressive, but for an occasional let down by the vocal choices.".The lyrics for seven songs from the movie were written by Varma Apple Music selected it as the "Best Malayalam album" of 2015.
Release
The film was originally scheduled to release on 22 May 2015, but postponed to 29 May due to clash with another Nivin Pauly starrer film Ivide and Tamil film Masss. IBTimes called it one of the most awaited film of the year. August cinema distributed the film in India, which opened in 85 screens in Kerala alone and outside the state it released in Bangalore, Pune, Mumbai, Coimbatore, Gujarat, Hyderabad, Mysore, Vizag, Delhi, Mangalore, Manipal, Chennai and Goa. It became the first Malayalam film to be released in 43 screens in the UAE on 11 June. Great India Films distributed the film on 12 June in 25 locations in the United States. Indienwood distributed in the Europe, while Tricolor Entertainment released it on 11 June in Australia. Blue Planet Entertainment Ltd handled the release in the UK. Singapore Coliseum released the film in Singapore on 13 June.
Re-release
After completing over 250 days theatrical run in Chennai box office, the theatres LA Cinema Maris in Trichy and Ram Muthuram Cinemas in Tirunelveli re-released the film on 18 March 2016. It is the first Malayalam film to have a re-release in Tamil Nadu.
Piracy
In June 2015, a pirated version of Premam appeared online. The copy had a watermark indicating that it was a "censor copy", or a copy intended for censor board officials to review prior to the film's release. Premam's producer, Anwar Rasheed, threatened to resign from Film Producers Association citing their lack of action after the leak was discovered. The police arrested three teenagers in connection with the case, believing them to be involved with film piracy groups. Later cinema theatre owners protested against the piracy issue by shutting down the theatres.
Critical response
IB Times's reviewer Nicy V.P rated the film 5/5 and stated: "Premam is nothing but entertainment at its best and the movie deserves nothing less than a standing ovation." About the technicalities of the film, she said: "They are just flawless. From background score, songs, sound departments, art, cinematography, editing, costumes and others have come together to make Alphonse Putharen's dream a reality." Akhila Menon of Filmibeat called it "Entertainment, Entertainment and Entertainment" and rated 3 out of 5 stars. She praised the cast performances, direction, music, editing and visuals saying "Alphonse Puthren, who has handled the script and direction, successfully brings out a perfect entertainer, with a very light yet interesting storyline and the perfect blend of comical elements. The director surely deserves a great applause for the courage and confidence he shows to choose the simple themes and different narrative patterns for his movies. The songs and background score is completely young and fresh". And concluded "A perfect light-hearted entertainer, which is just for entertainment, entertainment and entertainment".
Veeyen of Nowrunning.com rated the movie 3.5 out of 5 and wrote: "'Premam' elevates Alphonse Puthren onto a pedestal of sharp film makers who have figured out the actual potential of the medium that cinema is. And in their competent hands long-standing tales assume ground-breaking forms and enthuse the viewers in ways and manners never seen before. Much more than an unabashed crowd-pleaser, which it surely is, 'Premam' is a bracingly alive film where almost everything, seems to have fallen right into place." Sify.com rated the film 3.5 in a scale of 5 and said, "Premam is all for some genuine fun and perhaps, a few nostalgic moments as well for 80's and 90's generation. It's a lengthy ride for sure, but it will leave you wanting for more". Paresh C Palicha of Rediff.com rated the film 3 in a scale of 5 and said, "With Premam, Alphonse Putheran proves that he has the knack of presenting themes that have blockbuster written all over." Aswin J Kumar of The Times of India rated the film 3.5/5 and said that Premam is a "movie with a high likeability quotient because it unearths the beauty in trifles." Litty Somin of Malayala Manorama rated 3 out of 5 stars and highly appreciated Alphonse Puthraren's direction, cinematography, music, lead performances, editing and humour. "The simple story is told with amazing visuals. It is humour at its best", "the director has rightly kept his word of expecting nothing big and aptly sticks with the tagline 'The second film in the history of world cinema with nothing fresh'", says the reviewer.
S. R. Praveen of The Hindu said, "Alphonse Puthren's understanding of the medium is evident and he does not appear to try hard at any point." He praised Putharen's script, saying, "The strong point of Alphonse's script is its humour, which is very organic and does not stick out as a separate track." Rejith RG of Kerala Kaumudi said, "Filled with unforgettable moments, characters and song sequences, Premam is a delight to watch. It's after a long time that we got to see such a hugely enjoyable Malayalam film." Mythily Ramachandran of Gulf News called it "A delightful entertainer with Nivin Pauly in the lead" and said, "Premam is a fun film, a simple love story of the boy next door, like its tagline that reads 'nothing extraordinary in it'." Pramod Thomas of The New Indian Express concluded his review saying, "'Premam' is a watchable flick for its realistic treatment of the plot, performance of the newcomers, wits, good songs and for Nivin Pauly."
Box office
The film earned a gross of ₹1.43 crore (US$220,000) in Kerala in its first day of release. According to trade analyst Sreedhar Pillai, the net collection in Kerala in 3 days is approximately ₹5.60 crore with a distributor share of ₹3.50 crore. But Rediff.com reported a ₹2.35 crore collection within the first four days. Sreedhar Pillai also reported ₹10.3 crore (US$1.6 million) as the film's collection in Kerala alone within the first week of release, adding that it broke the previous records of Drishyam and Bangalore Days. However Gulf News reported, it collected ₹4.5 crore (US$700,000) at the box office in the first week in India. P. V. Basheer also said that the film "would have earned a gross of about ₹5 crore in a week of its release in Kerala, with a distributor share close to ₹3 crore."
The earnings doubled in the second weekend from the first weekend. The film garnered a producer share of ₹11 crore (US$1.7 million) in two weeks and became the most profitable film produced by Anwar Rasheed. The gross collection from Kerala theatres crossed ₹20 crore (US$3.1 million) in 14 day (June 12) of release. The film experienced a 90% to 100% theatre occupancy in the third weekend. In Eranakulam city the film grossed ₹66 lakh (US$100,000) in two weeks from Shenoys, Padma and Sridhar theatres. It grossed ₹30 crore (US$4.7 million) in 25 days, which is a record in Malayalam film industry. It collected ₹38 crore from 50 days in Kerala box office. The final box office collection is estimated as ₹60 crore (US$9.4 million) worldwide.
The film was released on 12 June in 25 locations in the US distributed by Great India Films. The opening day gross was $26,000 and has collected over $97,000 in three days in the country. The US collection reached $106,000 in 4 days, giving tough competition to Bollywood and Tamil cinemas at the US. In two weeks, collection reached $150,000. The film collected $159,398 in second weekend from Australia.
Audience response
The Hindu reported, "Youngsters are literally mobbing theatres, cash registers are ringing without stop, theatre owners are being pressured into squeezing in an extra show, and even recommendations are being made for tickets. Due to it timing in bringing the film onto the screens after a long dullness in the mollywood industry, this love-fantasy film is well accepted in the hearts of Malayalis. The movie seems well on the expressway to becoming a cult." P. V. Basheer Ahamed, president of the Kerala Film Exhibitors Federation, said that a similar euphoria was last seen when Mohanlal-starrer Narasimham hit theatres in 2000. Nivin Pauly's performance was also appreciated by people inside the film industry.
In Apsara theatre in Kozhikode, a group of audience turned violent and vandalized after some minor technical snag disturbed the screening of the film. The violent mob went on a rampage within minutes and the screening was suspended. The screen was torn apart and chairs were destroyed in the melee. The ruckus continued even after the police reached the spot and resorted to lathi charge. A police officer was injured in the clash. Seven youngsters were taken into custody in connection with the incident.
At least 60 students of various local colleges were caught on Monday, 15 June, by the police for bunking classes to watch Premam. The police action was a part of Operation Gurukulam following complaints that students of various schools and colleges were skipping classes to watch the film. The demand for the tickets led Premam to be the film with maximum additional shows in theatres after Narasimham starring Mohanlal.
Remake
Premam, the Telugu remake is directed by Chandoo Mondeti, starring Naga Chaitanya and Shruti Haasan in the characters of Nivin Pauly and Sai Pallavi with Madonna Sebastian and Anupama Parameshwaran reprising their roles.
References
Premam Wikipedia
(Text) CC BY-SA
Premam IMDb
Premam themoviedb.org