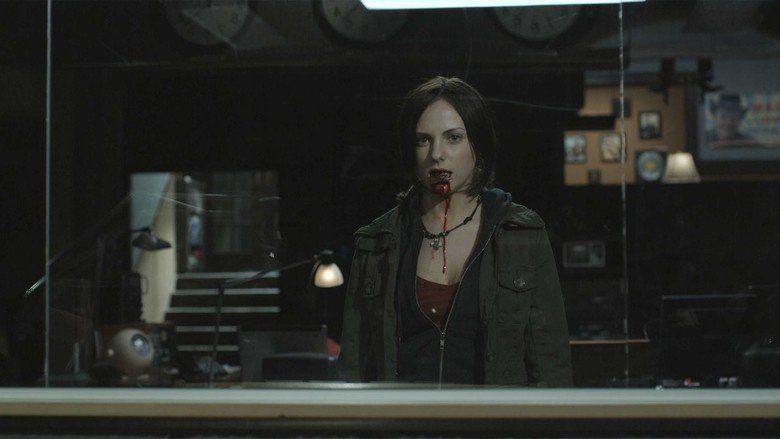 In the small town of Pontypool, Ontario, former shock jock turned radio announcer Grant Mazzy drives through a blizzard to work. On the way, Mazzy has a strange encounter with a nonsensical woman who gets his attention by putting her hand on his car window and only saying the word "blood" several times before staggering off into the storm. He arrives at the town's radio station, where he works with technical assistant Laurel-Ann Drummond, who has recently worked in Afghanistan, and station manager Sydney Briar, a divorcée.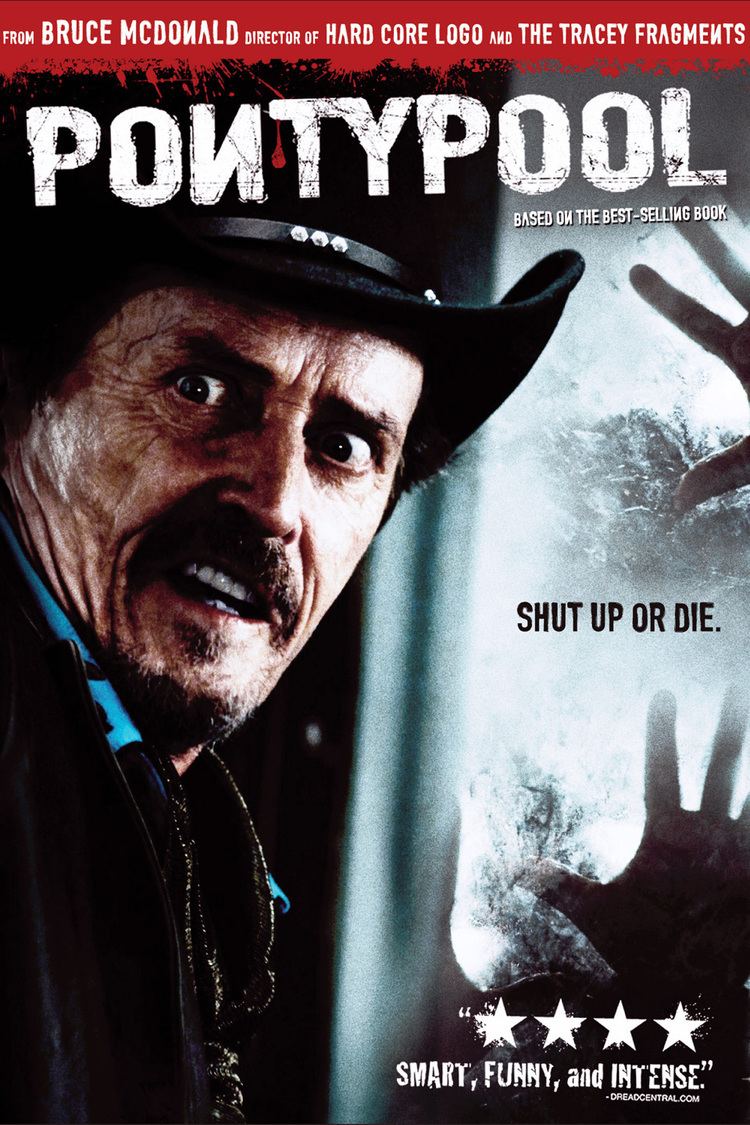 As the morning proceeds, Grant's shock jock style and on-air persona irritates Sydney. They get a report from their helicopter reporter Ken Loney about a possible riot at the office of a Dr. Mendez. Ken describes a scene of chaos and carnage that results in numerous deaths. After Ken is unexpectedly cut off, the group tries to confirm his report, but their witnesses are disconnected before being put on the airwaves. A now audibly frightened Ken calls back and says he has taken refuge in a grain silo. He describes what he sees outside as people eating their way inside others and tearing themselves apart. An infected man crashes into the silo, crippling himself, and Ken's call is interrupted by a transmission in French.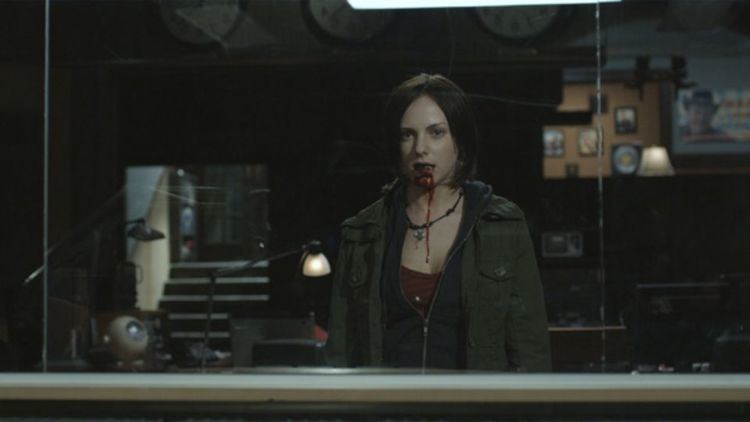 Laurel-Ann translates the transmission, which is an instruction to remain indoors, not to use terms of endearment, baby talk, rhetorical discourse, or the English language. Pontypool is declared to be under quarantine. Ken calls back again, and gets his phone close enough to the infected man for Grant and the women to hear his mumbling, which is nothing but "Mommy" in a child's voice. In confusion and disbelief, Grant tries to leave the station. A horde of people attack, and Grant, Sydney, and Laurel-Ann lock themselves in. Meanwhile, Laurel-Ann begins repeating the word "missing" and imitates the sound of a tea kettle. Dr. Mendez enters the studio and Grant, Sydney, and Mendez lock themselves in Grant's soundproof booth.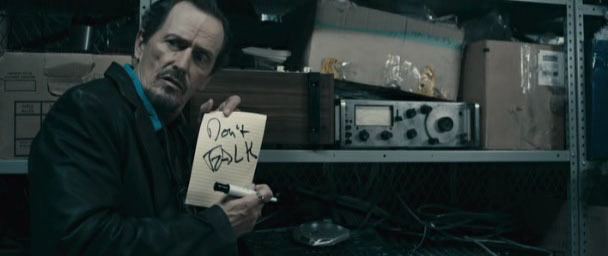 Mendez explains his theory: somehow a virus has found its way into the English language, infecting certain words, and only certain words infect certain people. Once these infected words are said and understood, the virus takes hold of the host, who finds another person to kill themselves with. As he explains, Laurel-Ann repeatedly slams against the sound booth's window, chewing off her lower lip and splattering blood with each attack. Ken calls in and, while on the air, he succumbs to the virus, repeating the word "sample". Sydney manages to call her children, only to hear them becoming infected. Outside the booth, Laurel-Ann vomits a large amount of blood and gore and falls down, dead. Mendez suspects this has happened since she failed to find a victim.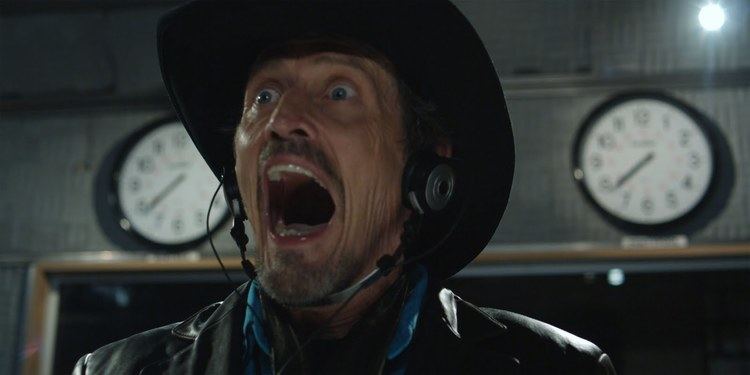 The horde then breaks into the radio station, attacking the sound booth. Sydney records a loop of Grant's voice and plays it over the outdoor loudspeaker to draw the mob outside. Dr. Mendez begins to repeat the word "breathe" but immediately switches to Armenian, which prevents the virus from taking over. Grant and Sydney, speaking in French, leave him in the booth. They are attacked by an infected young girl and kill her. When the recording fails, the mob returns. Mendez leaves the station and lures them away, saving Sydney and Grant, who now lock themselves in the equipment room.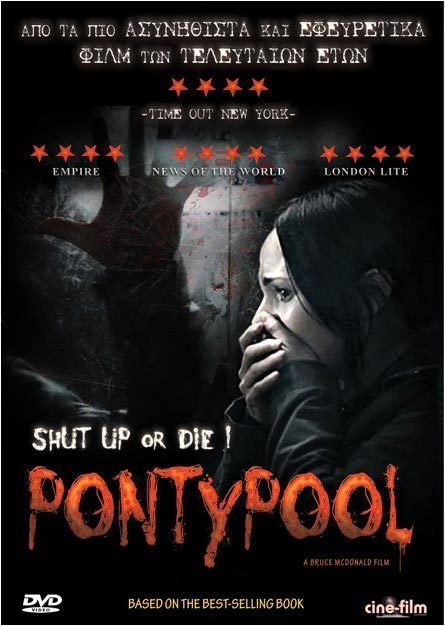 While Grant tries to figure out how to reverse the symptom, Sydney begins drinking and obsessively writing on the wall and door. She then begins to succumb to the word "kill". Grant then attempts to "disinfect" Sydney by convincing her that the word "kill" now means "kiss". He urges her to repeat "Kill is kiss" over and over again, and her symptoms subside. She tells Grant to "kill" her, and he kisses her. Hoping to stop the virus, the pair go on the air, spouting a series of self-contradicting and confusing phrases to help their infected listeners, ignoring warnings from the authorities who are trying to get them off the air. While an amplified voice from outside counts down from ten, Sydney joins Grant in the booth and they kiss. As the countdown finishes, the screen goes dark and the credits roll.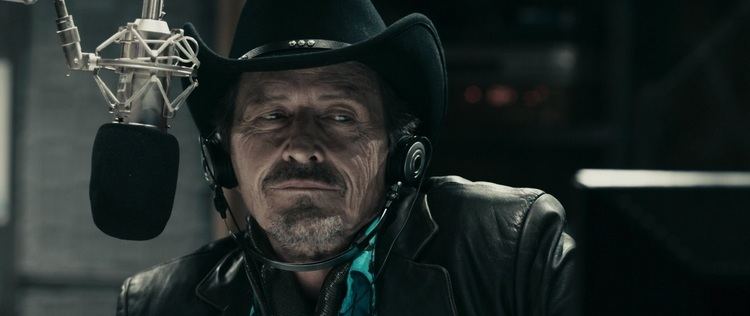 Audio broadcasts play over the credits, reporting further outbreaks of the virus, suggesting that the quarantine failed. After the credits, the scene shifts to a radically different view: a stylized black-and-white version of Grant and Sydney in what looks like a far-eastern atmosphere. They give each other new names: Mazzy becomes "Johnny Dead-Eyes" and Sydney is "Lisa the Killer." As Grant describes his plan to "get out of here", the picture gradually shifts into color. According to director Bruce McDonald, the post-credits scene was originally the final scene of the film, taking place before the credits. However, audiences in early screenings found the original ending to be too confusing, so the scene was moved behind the credits instead.
Stephen McHattie as Grant Mazzy
Lisa Houle as Sydney Briar
Georgina Reilly as Laurel-Ann Drummond
Hrant Alianak as Dr. Mendez
Rick Roberts as Ken Loney
Boyd Banks as Jay (Osama)
Tony Burgess as Tony (Lawrence)
Rachel Burns as Colin (Daud)
Pontypool is based on Tony Burgess' novel Pontypool Changes Everything. Burgess adapted the material for the screen himself. According to McDonald, the writer hashed out a script in 48 hours. Orson Welles' infamous radio broadcast of The War of the Worlds inspired the approach that they decided to take. It was simultaneously produced as a motion picture and a radio play.
Filming took place in Toronto, Ontario, rather than in Pontypool itself.
At Rue Morgue's 2008 Festival of Fear expo, director Bruce McDonald stressed the victims of the virus detailed in the film were not zombies and called them "conversationalists". He described the stages of the disease:
There are three stages to this virus. The first stage is you might begin to repeat a word. Something gets stuck. And usually it's words that are terms of endearment like sweetheart or honey. The second stage is your language becomes scrambled and you can't express yourself properly. The third stage you become so distraught at your condition that the only way out of the situation you feel, as an infected person, is to try and chew your way through the mouth of another person.
Rue Morgue and ChiZine Publications held a special screening of Pontypool on 3 December 2009 at the Toronto Underground Cinema and following the screening, it featured a Q&A with Stephen McHattie, Lisa Houle, and Tony Burgess.
The film was released theatrically in Canada on March 6, 2009. The film was released on DVD and Blu-ray on 25 January 2010.
Pontypool received generally positive reviews from critics, currently holding an 83% rating on Rotten Tomatoes; the consensus states: "Witty and restrained but still taut and funny, this Pontypool is a different breed of low-budget zombie film." On Metacritic, which uses an average of critics' reviews, the film has a rating of 54/100, indicating "mixed or average reviews".
30th Genie Awards - Best Actor, Best Director, Best Adapted Screenplay (Nominated)