Pokkiri Raja (English: The Rogue King) is a 2010 Malayalam action masala film starring Mammootty in the title role along with Prithviraj and Shriya Saran in supporting roles. The film is written by the duo Udayakrishna-Siby K. Thomas, directed by debutante Vysakh, and the music is composed by Jassie Gift. The film marked the debut of Shriya Saran in Malayalam cinema.
Contents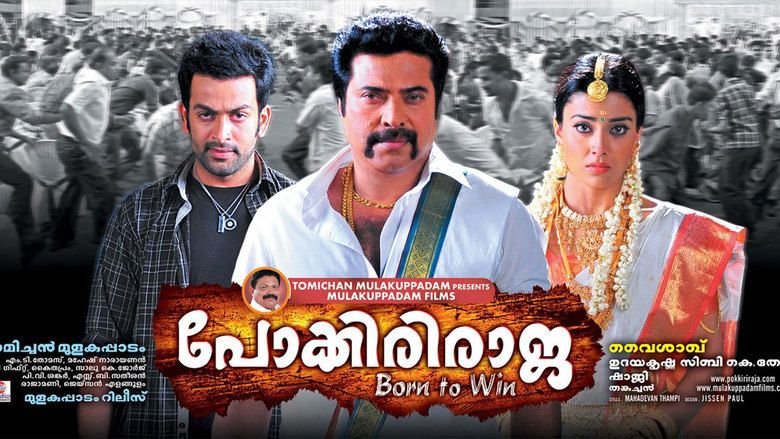 The film was released on 7 May 2010 in Kerala. It was remade in Hindi as Boss and in Telugu as Bhai though the female lead in the latter had played opposite the main character rather than his brother. The film was dubbed in Hindi as Ek Boss The Raja. The film was a huge box office success and became the highest grossing Malayalam film of the year.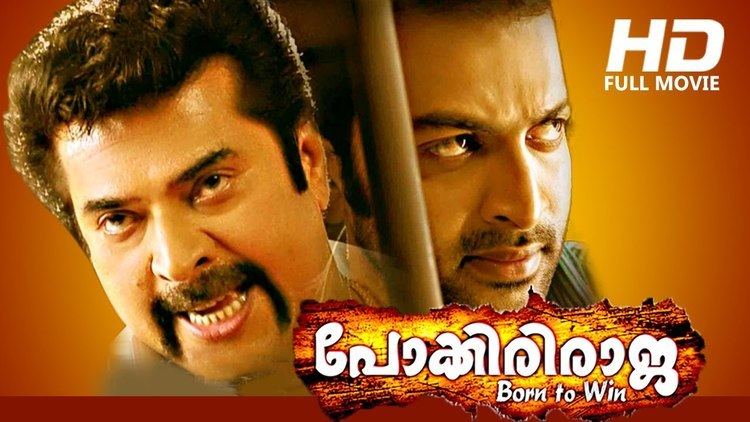 Plot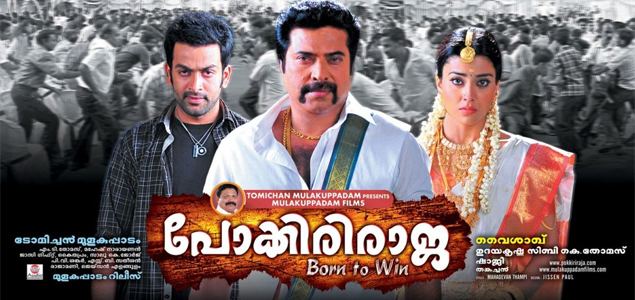 The film revolves around Madhavan Nair (Nedumudi Venu) who unknowingly kills a teenager and his eldest son, Raja, takes the blame and is sentenced to jail for five years. After returning from jail, his father refuses to accept him still with no knowledge that his son was innocent, and so Raja moves to Madurai and there he rescues the life of the son of Maniannan(Charan Raj), the village land lord and then Raja turns his right hand and he is named as Madurai Raja. Years later, he started being known as Pokkiri Raja (Mammootty).
Meanwhile, Surya (Pritviraj), the younger son of Madhavan Nair, is a young energetic and educated naughty guy who is well famous for his rowdisim in his village. He is sent to Ernakulam to his brother-in-law Sugunan (Suraj Venjaramoodu) to change his character, who is a scary cat. At Ernakulam, Surya falls in love with Aswathy (Shriya Saran) unknowing that she is the daughter of the City Police Commissioner (Siddique). Sugunan takes advantage of Surya's character and sends him in his uniform to take care of some severe police cases. Surya gets arrested for this offence. The commissioner finds that Surya is in love with his daughter and charges Surya with another drugs case and makes it a non bailable offence. Meanwhile, the commissioner plans to murder Surya in jail and gives the contract to Pokkiri Raja. At this point, Madhavan Nair goes to Madurai in search of his elder son who left for Madurai 10 years back and asks for his help to rescue his younger son Surya. After realising that Surya is his brother, Raja starts the game to help his family and end the commissioner.
Cast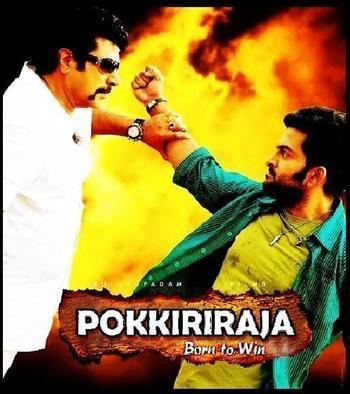 Mammootty as Raja / Madhurai Raja / Pokkiri Raja
Prithviraj as Surya Narayan
Shriya Saran as Aswathy (Anjali in the Hindi dubbed Version)
Nedumudi Venu as Madhavan Nair
Vijayaraghavan as Krishnan
Siddique as City Police Commissioner Rajendra Babu
Riyaz Khan as Mahendran, Aswathy's fiancee and Home Minister's Son.
Suraj Venjaramood as 'Idivettu' Sugunan ( Bhajikhao 'Singham' in the Hindi dubbed Version)
Salim Kumar as Manoharan Mangalodayam
Bindu Panicker as Rugmini, wife of 'Idivettu' Suganan and sister of Raja & Surya
Thesni Khan as Ramani Manoharan's wife
Rizabawa as Home Minister
Joemon Joshy as Gopi
Aswin as Raja Childhood
Jeevan as Surya Childhood
Ponnamma Babu as Home Minister's Wife
Kalashala Babu
Arjun Bose
Chempil Asokan
Kanya Bharathi as Aswathy's step-mother
Arun as a college student who disturbed Aswathy
Baiju
[[Jibin Thomas(achayan)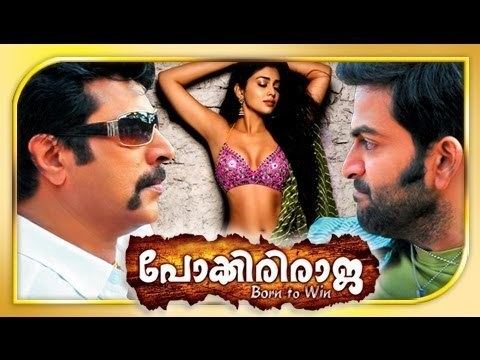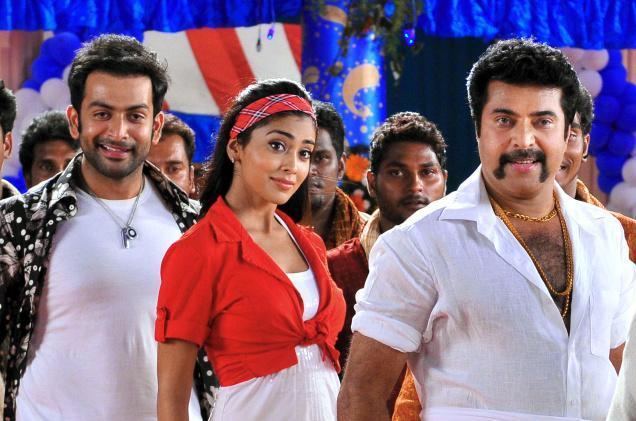 Shweta Menon ... Guest Appearance in a song
Rachana Maurya ... Guest Appearance in a song
Production
The film was launched by Mammootty with the absence of Prithviraj and Shriya Saran at Changanassery on 30 December 2009. Veteran director Joshi lighted the ceremonial lamp at the function. Shooting of the film began on 11 January 2010 at various locations in Pollachi and Ernakulam. Prithviraj's song 'Manikyakallin Mukkuticharhtum' song was first shot. The shooting completed within 50 days with a production cost around 5 crores and distribution works started in April. Audio was launched in April at Ernakulam. The dubbing of the film was happen at Kochi. A song was planned to shoot at London featuring the lead pair Prithviraj and Shriya Saran but had to canceled because of volcanic ash from london has stopped the airport from fly in or out any flight. While actress Shriya Saran get stranded with Tamil actor Arya at London while shooting for their film Chikku Bukku.
Release
The film got released in 110 screens in India, with 90 of it in Kerala.
Critical response
Indiaglitz.com reviewed it as a "masala fiesta" and commented that the cinematography and editing are the main highlights of the film, also said "Vysakh as a debutant director has made a decent entertainer and the young man is definitely destined to go places in mainstream Malayalam cinema". Paresh C. Palicha of Rediff.com onelined as "Pokkiriraja disappoints" and rated 2/5 stars, he criticize the script does not care for logic or storytelling. But Prithviraj packaged as a wholesome entertainer does not disappoint. And concluded "Pokkiriraja may supposedly achieve the super hit status with the help of the fans. But, for the genuine viewer, it is a disappointment". Sify.com called it "mass masala" and commented as it doesn't have a decent storyline but appreciating the visuals. And said the writers have succeeded in allotting equal importance to both the lead actors. But criticized the lack of logic in the script. Veeyen of Nowrunning.com rated 2/5 stars and heavily criticized the script saying "I just have one simple question to ask. Is it too much to ask for a simple, good story in films?", also said "Pokkiri Raja" is like a fusion of Tamil and Telugu cinema, but sadly of the 80's. Gayathry V. Pillai of One India stated "The movie is somewhat similar to a Tamil film with lots of actions, songs and punch dialogues" and called it a "mass masala entertainer", and criticized the length.
Box office
The film was made on a budget of ₹7.80 crore, and costed ₹8.30 crore after adding print and publicity cost. It grossed ₹13 crore at the box office. The film was commercial success, and became highest-grossing Malayalam film of 2010. The film completed 100 days in theatres.
Soundtrack
The music is composed by Jassie Gift and Theme music by Rajamani. The album contains 6 songs. The songs will be featured throughout the film except the other version of Ketile Kettile song. Kaithapram contributed the lyrics. This audio was released on 8 April 2010. All the song in this album become extremely popular among people of Kerala even before the film release.
All lyrics written by Kaithapram.
References
Pokkiri Raja (2010 film) Wikipedia
(Text) CC BY-SA
Pokkiri Raja (2010 film) IMDb
Pokkiri Raja (2010 film) themoviedb.org