Country

India




State

Tamil Nadu


District

Coimbatore


Region

Kongu Nadu








Colleges and Universities

Dr. Mahalingam College of Engineering and Technology






Languages spoken

Time zone, IST, UTC+5:30

Map of Pollachi
Pollachi is a town and a taluk headquarters in Coimbatore district, Tamil Nadu state, India. Located about 40 km to the south of Coimbatore, it is the second largest town in the district after Coimbatore. Pollachi is a very popular Marketplace, with large markets for jaggery and vegetables and is considered to be South India's biggest Cattle market. As of 2011, the town had a population of 90,180.
Contents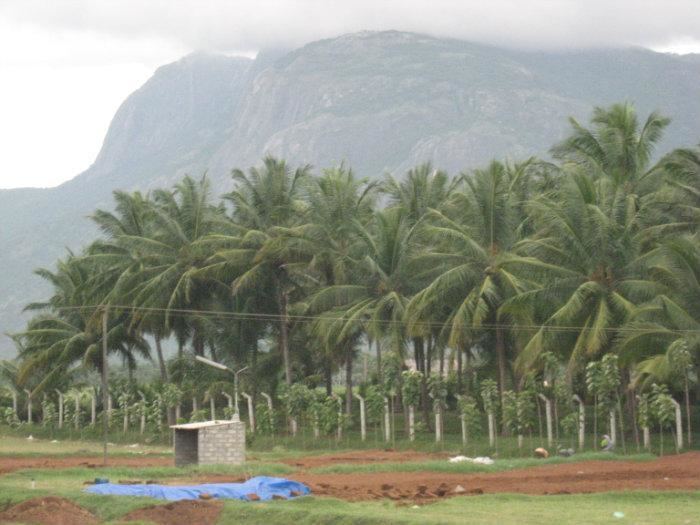 Hill way from pollachi to valparai 40 hairpin bends
Coco lagoon by great mount resort pollachi
History
Pollachi was known as Pozhil Vaitchi in Tamil which became Pollachi. It was also known as Mudi Konda Chola Nallur during the period of the Cholas.
Geography
Pollachi is located at 10.662°N 77.0065°E / 10.662; 77.0065. It has an average elevation of 293 metres (961 feet).
Demographics
According to the 2011 census, Pollachi had a population of 90,180 with a sex-ratio of 1,012 females for every 1,000 males, much above the national average of 929. A total of 7,732 were under the age of six, constituting 3,952 males and 3,780 females. Scheduled Castes and Scheduled Tribes accounted for 10.57% and 0.29% of the population respectively. The average literacy of the city was 82.15%, compared to the national average of 72.99%. The city had a total of 24,755 households. There were a total of 36,972 workers, comprising 219 cultivators, 488 main agricultural laborers, 1,018 in household industries, 32,720 other workers, 2,527 marginal workers, 25 marginal cultivators, 45 marginal agricultural laborers, 124 marginal workers in household industries and 2,333 other marginal workers.
As per the religious census of 2011, Pollachi had 83.84% Hindus, 11.76% Muslims, 4.24% Christians, 0.06% Sikhs, 0.01% Buddhists, 0.01% Jains, 0.08% following other religions and 0.01% following no religion or did not indicate any religious preference.
Politics
The Pollachi assembly constituency is part of Pollachi (Lok Sabha constituency). Pollachi, Udumalpet, Valparai, Kinathukadavu, Madathukulam and Thondamuthur form the Pollachi parliamentary constituency.
Economy
The economy of the town is predominantly dependent on agriculture. Coconut, jaggery, vegetables and cattle contribute to the agricultural output. Pollachi is also a popular movie shooting location for the Tamil film industry owing to its scenic landscape.
Road
Pollachi is linked by National Highway 209, State Highway 19, SH 78 and SH 78A. The central bus stand caters for bus transport which is used by Government-run TNSTC and private operators. A new bus stand has been constructed opposite the old bus stand replacing the latter. TNSTC operates city and inter city buses services from Pollachi. It has three depots at Pollachi. State Express Transport Corporation (Tamil Nadu) operates long distance buses and has an online reservation center.
Rail
Pollachi Railway Junction connects with Palakkad Junction to the west, Podanur and Coimbatore Junctions to the north and Dindigul Junction to the east. Metre to broad gauge conversion was completed in 2015, starting its service from 9 January 2015 for the Pollachi Jn - Dindigul Jn section. The Pollachi section was added to the Palakkad Railway Division from 2007. Palani to Pollachi train services began from January 2015. Pollachi to Podanur broad gauge conversion is in progress.
Air
Coimbatore International Airport is the nearest airport, located about 48 km from Pollachi town. International flights are operated to Singapore and Sharjah and routine domestic flights are operated to all major cities in India.
Reserved forests
Anamalai Wildlife Sanctuary is situated at an average altitude of 1,400 meters in the Western Ghats near Pollachi. Valparai is about 65 km from Pollachi and is situated at an altitude of 3500 feet above the sea level and can be reached via Azhiyar by road. Topslip is a point located at an altitude of about 800 feet in the Anamalai mountain range. It is about 37 km from Pollachi. Chinnakallar receives the highest rainfall in Tamil Nadu.
Parambikulam Wildlife Sanctuary is situated in the valley between the Anaimalai Hills of Tamil Nadu and the Nelliampathi range of Kerala. The area is hilly and rocky, drained by several rivers, including Parambikulam, Sholayar and Thekkady. It is thickly forested with bamboo, sandalwood, rosewood and teak, the sanctuary has some marshy land and scattered patches of grassland. Kannimara, one of the oldest and largest teak trees, which had a girth of 6.52 metres and a height of 48.25 metres when measured in 2003, is another attraction in the sanctuary.
Dams
Parambikulam-Aliyar multipurpose project involves a series of dams interconnected by tunnels and canals at various elevations to harness the Parambikulam, Aliyar, Nirar, Sholiyar, Thunkadavu, Thenkkadi and Palar rivers, laid for irrigation and power generation. The Azhiyar Dam is located on the foothills of Anamalai in the Western Ghats. Monkey falls deriving its name due to the abundance of monkeys found in the region is located close to the dam. Solaiyar Dam is 15 km from Valparai and is one of the largest rock dams in India. The length of the reservoir it impounds is about 20 km.
Temples
Thirumurthyswami temple is a temple dedicated to Ammalingeswarar, situated in the foothills of the Thirumurthy Hills.
Other near by temples include Maasani Amman temple, Anaimalai, Eachanari Vinayagar Temple, Sulakkal Mariamman temple and Arivu Thiru Kovil, Azhiyar in Aliyar Village.
Spiritual/yoga training to italy, mumbai,pollachi &mettur participants having their food
References
Pollachi Wikipedia
(Text) CC BY-SA