Developed by

Andy Yekes




Languages

Spanish, English




Genre

Preschool education




First episode date

2005







Created by

David CantollaLuis GallegoGuillermo Garcia




Written by

Guillermo García CarsíAndy Yerkes




Directed by

Guillermo García CarsíDavid CantollaAlfonso Rodriguez




Narrated by

Jose María del Río (Castilian Spanish)Stephen Fry (English)Stephen Hughes (English, 3rd and 4th seasons)


Cast

Stephen Fry, Alex Marty, Montana Smedley, Courtney Webb, Jose María del Río, Stephen Hughes


Networks

YouTube, PBS Kids, Channel 5, CITV, ITV, Nick Jr.


Program creators

David Cantolla, Guillermo García Carsí, Luis Gallego




Similar

Let's Go Pocoyo, Mike the Knight, Dora the Explorer, Olivia, Blaze and the Monster




Profiles




YouTube

Twitter

Google+
POCOYO in ENGLISH - The Master Key | Full Episodes | VIDEOS and CARTOONS for KIDS
Pocoyo (Pocoyó in Spanish) is a Spanish-British pre-school animated television series created by Guillermo García Carsí, Colman López, Luis Gallego and David Cantolla, and is a co-production between Spanish producer Zinkia Entertainment, Cosgrove-Hall Films and Granada International. Two series have been produced, each consisting of 52 seven-minute episodes. English actor and comedian Stephen Fry narrates the English-language version and José María del Río narrates the Castilian Spanish version of the first two seasons, while Stephen Hughes narrates the third season, called Let's Go Pocoyo.
Contents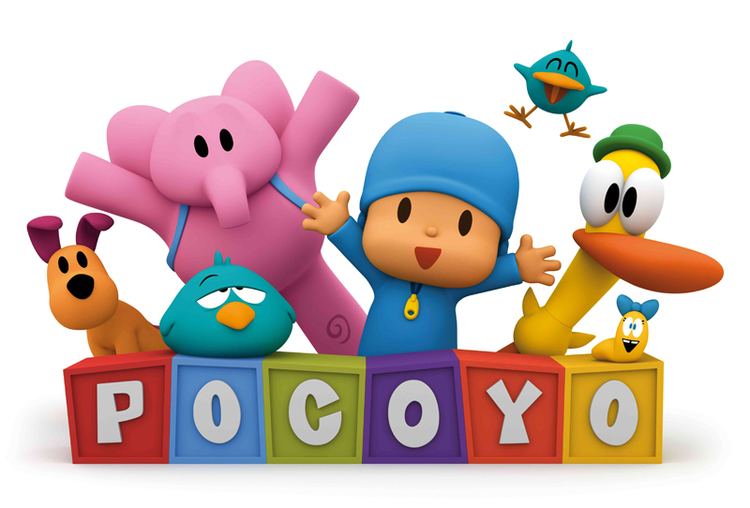 Set in a 3D space, with a plain white background and usually no backdrops, it is about Pocoyo, a 4-year-old boy, interacting with his friends Pato (a duck), Elly (an elephant) and Loula (a dog). Viewers are encouraged to recognize situations that Pocoyo is in, and things that are going on with or around him. The narrator usually speaks explicitly to the viewers and to the characters as well. Each character has its own distinctive dance and also a specific sound (usually from a musical instrument), and most episodes end with the characters dancing. Many episodes also involve parties.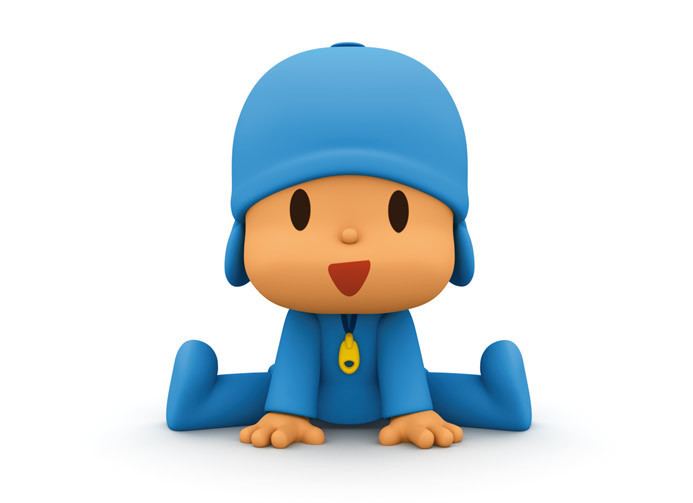 In the United Kingdom, it was originally broadcast on CITV, a children's strand on the ITV network. In September 2005, Channel 5 acquired terrestrial rights in the United Kingdom to the first and second series, making it part of the Milkshake! strand. The show, however, will continue to air on the CITV Channel. Other broadcasters in the English speaking countries include RTÉ in the Republic of Ireland, Syndication, HBO Family, and Nick Jr. in the U.S. nationwide and local station KCET-TV as well as KLCS-TV channel 58-2 in Los Angeles and on Univision in LATAM Spanish, Treehouse TV in Canada, ABC in Australia and TVNZ in New Zealand.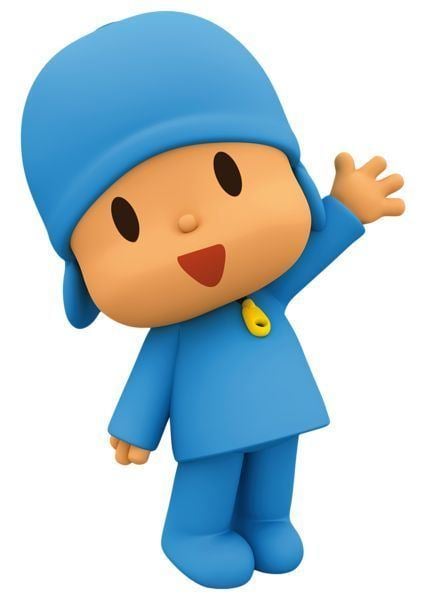 In Russia, Pocoyo is aired on children's channel Carousel.
In the Philippines, Pocoyo was aired on Disney Junior.
In Spain, TVE2 started broadcasting the second series in April 2007. The third season began airing in 2010 under the title Let's Go Pocoyo and was designed to teach English to Spanish preschoolers. The makers also wish to embark upon other projects, one of which may be a Pocoyo movie.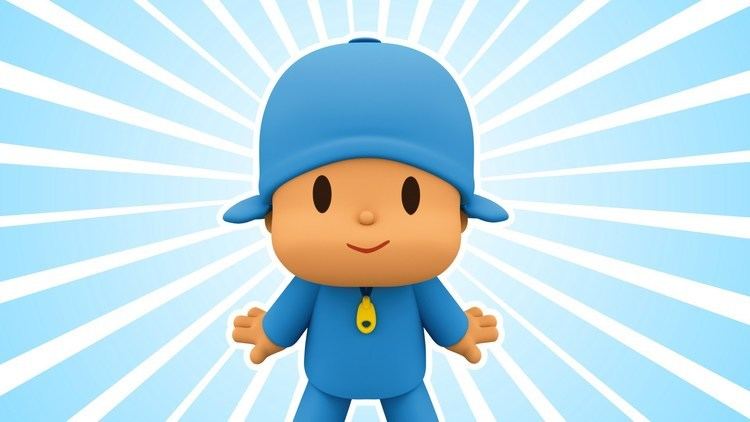 In June 2006, Pocoyo was awarded the Cristal Award for the "Best TV Production" at the 30th Annecy International Animated Film Festival.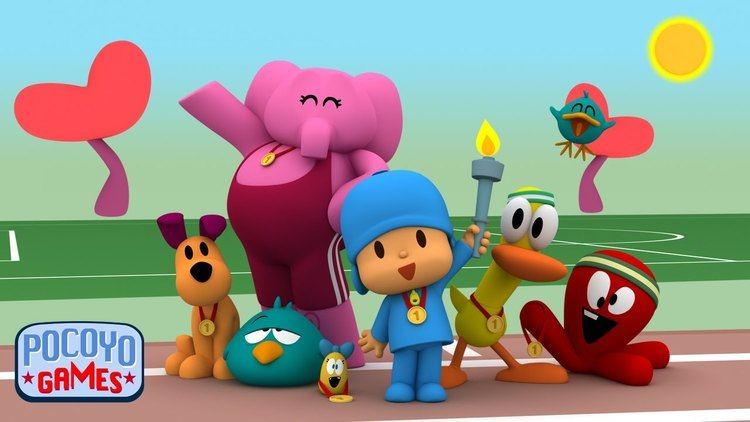 Development
Pocoyo's name was provided by David Cantolla, one of the creators, after his then three-year-old daughter used it in her nightly prayers saying "Eres niño poco yo" ("You're a child little me") instead of "Eres niño como yo" ("You're a child like me"). "Pocoyó" could roughly be translated to English as "little me", "not much me" or "a little bit me", though it is a made-up construction.
The show is created with Softimage XSI software.
Main characters
Pocoyo is the eponymous main character of the series. He is a four-year-old boy who is full of curiosity and loves to play games and discover new things. He is very acrobatic and moves at a quick speed. He is always shown wearing blue clothes and a hat. His best friends are Pato, Elly, and Loula. He has a vehicle called the Vamoosh which he can use to travel under the water, in the air or through space. Although he is very friendly and sweet and almost always in a good mood, Pocoyo is also highly self-centered, distracted by the simplest things, easily frustrated, frequently jealous of his friends, and disobedient, but tries his hardest to fight his flaws and learn morals. He is voiced by Montana Smedley most of the time, but occasionally, by Alex Marty.
The Narrator (del Rio, Fry or Hughes) speaks over the entire show, and often communicates directly with the characters. Pocoyo has a good relationship with him, and is always to delighted to see (hear) him. The narrator is also at times physically involved in the events of the episodes, making him more of an heard-but-not-seen character rather than a strict narrator.
Pato is a yellow duck who wears nothing but a small green hat. He has a fondness for gardening, and is often seen watering plants and flowerbeds. Pato means duck in Spanish, Portuguese, Filipino, Tok Pisin and Papiamento. He is a favourite amongst the young children due to his enjoyable dancing and the fact that his beak turns 360 degrees. Although friendly, Pato is the most fussy and impatient character (indicated by his beak that bends in an angle when disappointed or shocked); on occasion he completely loses his temper, jumping up and down and quacking furiously with his beak spinning rapidly. He is used as a jackhammer or missile and can become a helicopter. In the pilot episode in 2003, he was first called Ducky then changed the name to Pato.
Elly is a pink elephant who always wears a blue backpack. She loves making biscuits and tea, and has a doll that she loves very much. Despite her size, she is graceful and gentle, capable of ballet dancing. She is, however, very bossy and generally does things her way. She usually rides around on her pink scooter.
Loula is Pocoyo's orange-yellow pet puppy and companion. She is also strictly a dog as she walks on all four of her legs. She sometimes hops as she is walking. Originally, the character's name was Lucas, in tribute to creator and director Guillermo García Carsi's dog but due to a shortage of female characters, the character was renamed Loula.
Sleepy Bird is a teal-coloured bird. It does little but sleep and usually flies with its eyes closed. It is named "Pajaroto" in the Spanish version (reportedly named after a Zinkia employee nicknamed "Maroto", and bearing a strong resemblance to him) The character also known as "Pajaro Dormilon" in the LATAM-Latin American Spanish version.
The Children are a group of kids who, like The Narrator, speak over the show, answering questions asked by The Narrator in order to assist Pocoyo in solving a problem or to let Pocoyo in on what's going on. Like the Narrator, the children's consistent involvement in the plot make them a sort of character in the show.
Recurring characters
Aliens are sweet big and little green, pink, and blue tripedal beings that Pocoyo finds in space in search of his toy plane and other adventures. They communicate with one another using staccato 'clicking' noises.
Baby Bird is the small, always active (he has not inherited his mother's fondness of sleeping) and loud baby of Sleepy Bird, who gets into tricky situations from which he is rescued by Pocoyo. He is best friends with Caterpillar. Named "Pajarito" in Spanish version ('little bird').
Ball Orchestra is a group of three ball-like creatures who play the trumpet, drums and cymbals.
Butterfly is a very hungry butterfly which Pocoyo occasionally catches.
Caterpillar (named "Valentina" or "Oruga" in Spanish) is a yellow caterpillar with a blue bow on top of her head. She speaks in gibberish and has the ability to change into a butterfly and back when she wants. She is best friends with Baby Bird. When overjoyed or frustrated, she tends to slam her face forward into the ground.
(Fred the) Octopus (AKA Pulpo in the Spanish version) is a lunatic red octopus (although shown with only 4 legs, as to make animation rendering simpler) who speaks in gibberish like Caterpillar, and is very fond of opera singing. He appears in random episodes, sometimes as a major character, sometimes in passing. As of Season Two, he is sometimes referred to as 'Fred'. His vocal style is reminiscent of Pee-wee Herman.
Music Flower & The Band are musical characters who play music that Pocoyo likes.
Whale is a huge white whale with red cheeks whom Pocoyo meets under the sea.
Baby Spider is a small blue spider that hatched out of an egg that Pato finds.
Episode list
To date three series have been produced, each with 52 episodes. There is also an unreleased episode entitled "The See-Saw",
Series 1 (2005–07)
The following is based on the YouTube Pocoyo Channel:
Umbrella, Umbrella
Drum Roll Please
Swept Away
Who's On the Phone?
Fetch Loula Fetch
A Little Cloud
A Present for Elly
Pocoyo Dance
The Big Sneeze
A Mystery Most Puzzling
Hush
Double Bubble
The Key To It All
Keep Going, Pocoyo!
Sleepy Bird's Surprise
Where's Pocoyo? (without Elly and Pato)
Drummer Boy
The Great Race
Don't Touch!
Mystery Footprints
Magical Watering Can
Table for Fun
Twinkle Twinkle – A star falls from the night sky, and Elly tries to put it back in place
Hiccup – Pato's friends try to help him get rid of the hiccups.
Pato's Postal Service – Pocoyo wants to send a letter, and Pato becomes a postal carrier.
Puppy Love
Bat and Ball
Elly's Spots
Up Up and Away
A Surprise for Pocoyo
Having a Ball
Super Pocoyo
Let's Go Camping
Pocoyo lunch
Elly's Big Chase
Pocoyo Gets it Right
Juggling Balls
Fussy Duck
A Dog's Life
Pocoyolympics
Picture This
Whale's Birthday
Pocoyo's Little Friend
Color My World
Bedtime
A Little Something Between Friends
Giggle Bug
What's in the Box?
Musical Blocks
Paint Me a Picture!
Elly's Doll
Wackily Ever After
Series 2 (2006–10)
Mr. Big Duck (Pato finds a pair of sunglasses)
Guess What? (The viewers try to guess what objects Pocoyo is hiding)
All for One
Band of Friends
Upside Down
Mad Mix Machine – Pocoyo takes peoples things without asking and mixes them with other objects.
The Messy Guest – Pocoyo's friends are upset that he made a mess.
New on the Planet – A little green alien comes to visit Pocoyo's world.
Pocoyo's Present – Elly tries to get Pocoyo to open a present for her.
Elly's Ballet Class – Elly gets Pocoyo, Pato, Baby Bird, and Caterpillar to star in her ballet class, but she is too bossy.
Pocoyo's Balloon
Who's Calling Me Now? – Pocoyo, Pato, Elly, and Loula make Baby Bird upset after teasing each other with different whistles.
Big Scary Slide – Pocoyo tries to conquer his fear of going down a giant slide.
Elly's Shoes – Elly gets new shoes and refuses to take them off.
Duck Stuck –
Scary Noises – Pato is scared of an orange alien after the tailfin of the Vamoosh goes missing.
Not in my Backyard! – People are littering throughout Pocoyo's world.
Vamoosh on the Loosh – Baby Bird takes a joyride on the Vamoosh and Pocoyo and Pato chases after him.
Detective Pocoyo – Elly's doll goes missing, and Detective Pocoyo helps her find it.
Scooter Madness – Pato breaks Elly's scooter.
Lost in Space – The little green alien and Pocoyo get lost.
Boo! – Pocoyo decides to scare his friends, but they don't like it.
Party Pooper – Pocoyo only wants his friends to play his way at his party.
My Pato! – Elly and Pocoyo have a quarrel over who gets to play with Pato.
Baby Bird Bother – Baby Bird starts following Pocoyo around.
Dirty Dog -Loula is dirty, and Pocoyo, Pato, and Elly try to clean her.
The Seed – Pocoyo takes care of a seed.
Runaway Hat – Pato's hat blows away, and he hides it from his friends.
Invisible Pocoyo – Pocoyo turns invisible with a device that Pato made.
Noise to my Ears
Baby Bird Sitting – Pocoyo tries to babysit Baby Bird, but Baby Bird's noisy and messy antics leave Pocoyo in trouble.
Everyone's Present – Pocoyo, Pato, and Elly each receive presents.
Magic Act
Picnic Puzzle – Food is mysteriously disappearing, and Pocoyo and Elly think Pato is to blame.
Pocoyo's Puppet Show – Pocoyo tries to put on a puppet show.
Pato's Egg – Pato finds an egg.
Dance Off! – Pocoyo and Pato try to compete against each other in a dance off and it's up to Elly's Dance moves to keep it from getting out of hand.
Get Lost Loula – After Loula cheats in hide and seek, Pocoyo forces her to leave.
Sneaky Shoes – Pato finds a pair of shoes that help him run faster, but little does he know that the shoes have a mind of their own.
Shutterbug – Pato is not happy with any of his pictures.
Angry Alien – An Angry Alien tries unsuccessfully to take over.
Pato Underwater – Pato decides to meet his friends Octopus and Whale, but finds out his toys don't work underwater.
Pato's Paintings – Pocoyo tries to get Pato interested in painting.
Monster Mystery
Poczilla – Pocoyo and Pato pretend to be monsters, not realizing they're scaring off the tiny people of a city.
Elly on Ice
Farewell Friends
Double Trouble – Pato makes a clone of himself so he can go on the see-saw.
Horse! – Pocoyo loses his temper when his friends won't give him a real horse.
Elly's Tea Party – Elly invites Pocoyo, Pato and Baby Bird over for a tea party but her bossiness nearly ruins it.
Talent Show – Pocoyo and his friends put on a talent show.
Remember When... – A clip episode where Pocoyo and his friends watch home movies.
Movies
La Gran Fiesta de Pocoyó
El Show de Pocoyó (Pocoyó y El Circo Especial)
Pocoyo And The Space Circus
Let's Go Pocoyo
In 2010, a third season was made called Let's Go Pocoyo. It was designed to teach basic English to Spanish preschoolers. It features games, songs, activities, numbers, and letters.
Spin-off
In 2016, a new spin-off show called "Pocoyo Planet" was created. Episodes of the new show can be found on the Noggin app.
DVD releases
Region 2 (UK/England)
Pocoyo: Series 1 (Episodes 1.01–1.13)
Pocoyo: Series 1 – Explore and Discover (Episodes 1.14–1.26)
Pocoyo: Vol. 3 – Fun and Adventures (Episodes 1.27–1.39)
Pocoyo: Bumper Fun! – Volume 4 (Episodes 1.41–2.13)
Pocoyo: Vol. 5 – Scooter Madness (Episodes 2.14–2.26)
Pocoyo Friendy Fun Episodes 1.41–1.13
Region 1 (US/Canada)
Pocoyo: Meet Pocoyo (Episodes 1.03–1.05 and 1.07–1.10)
Pocoyo: Pocoyo and Friends
Pocoyo: Super Pocoyo
Pocoyo: Fun & Dance
Pocoyo: Let's Party [Episodes: 1. Who's On the Phone, 2. A Present for Elly, 3. Whale's Birthday, 4. Pocoyo's Puppet Show, 5. Party Pooper, 6. Pocoyo's Present, 7. Everyone's Present, 8. The Great Race, 9. Elly's Tea Party, 10. Pato Underwater, 11. Baby Bird Bother, 12. Farewell Friends]'
Region 4 (Australia/New Zealand)
Pocoyo: Drum Roll Please (Episodes 1.01–1.09)
Pocoyo: Swept Away (Episodes 1.10–1.18)
Pocoyo: Mystery Footprints (Episodes 1.19–1.27)
Pocoyo: A Surprise For Pocoyo (Episodes 1.28–1.36)
Pocoyo: Bedtime (Episodes 1.37–1.45)
Pocoyo: A Dog's Life (Episodes 1.46–1.52)
Pocoyo: Messy Guest (Episodes 2.01–2.10)
Pocoyo: Scooter Madness (Episodes 2.11–2.20)
Pocoyo: Baby Bird (Episodes 2.21–2.31)
Pocoyo: Sneaky Shoes (Episodes 2.32–2.41)
References
Pocoyo Wikipedia
(Text) CC BY-SA