6.4

/

10

Alchetron

4.8

Rate This





Theme music composer

David Schweitzer

First episode date

8 September 2011




Original language(s)

English

Program creator

Alexander Bar




Genre

FantasySupernaturalChildren's

Voices of

Jake BealeTrek BuccinoErin PittMartin RoachAndrew SabistonAlyson CourtOpening theme tune performed by Richard Oliver

Country of origin

CanadaUnited KingdomUnited States

Nominations

Canadian Screen Award for Best Direction in an Animated Program or Series




Similar

Q Pootle 5, Tinga Tinga Tales, Kate and Mim Mim




Profiles



Mike the Knight is a Canadian/British animated television series created by Alexander Bar and written by Marc Seal. It currently airs on Treehouse TV in Canada, Nick Jr. in the United States, CBeebies & Tiny Pop in the United Kingdom, Discovery Kids in Latin America, ABC Kids in Australia and TV2 in New Zealand.
Contents
Premise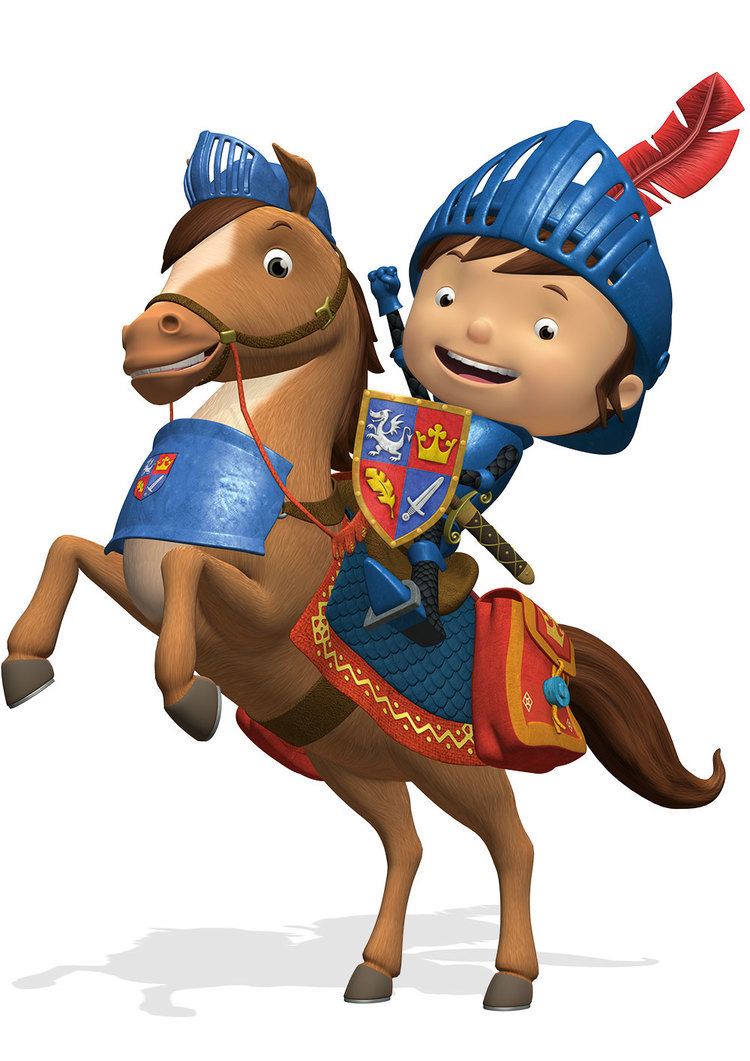 The series is about Mike whose father, the King, is a knight who is away exploring other lands. Looking up to his father, Mike wants to be a knight too. However, he is still a knight-in-training. With his two dragon friends, Sparkie and Squirt; his sister, witch-in-training Evie; and his horse, Galahad, Mike tries to be the bravest knight of all. Throughout his adventures, he learns from the mistakes he makes—eventually realising, in every episode, how to 'be a knight—and do it right!'
Characters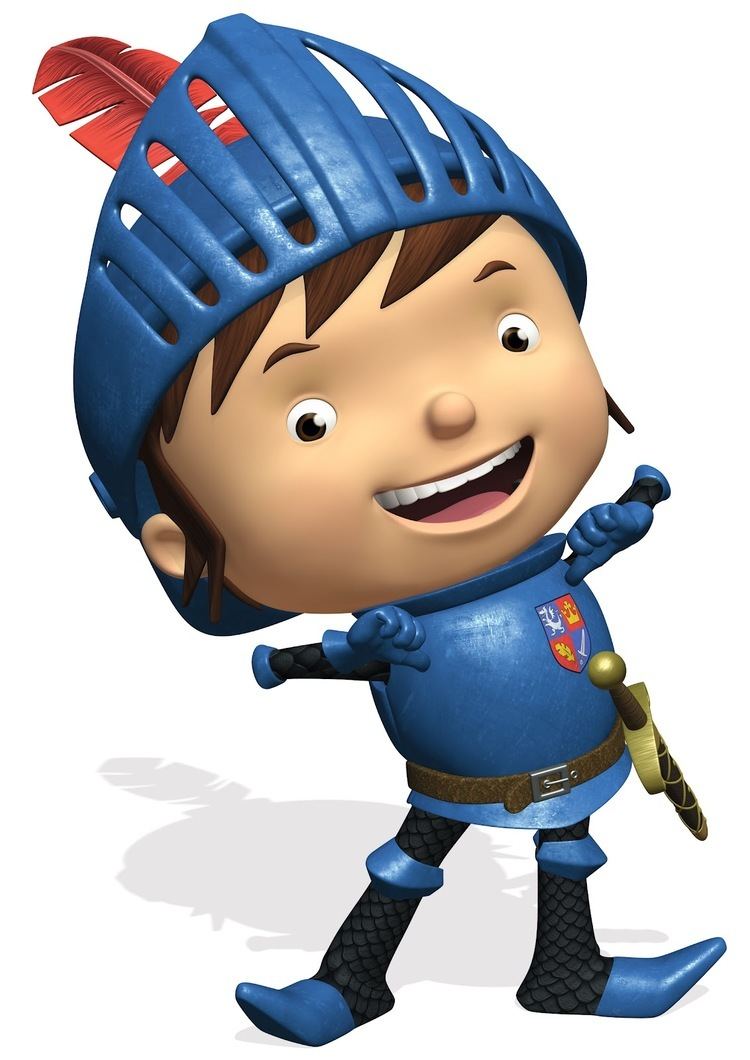 Mike is a knight-in-training who tries to be a brave knight like his father. He is voiced by Jake Beale, later, Trek Buccino in North America and Benjamin Baker in the United Kingdom.
Galahad is Mike's horse.
Evie is Mike's younger sister. She is a witch-in-training and likes, whenever she can, to join Mike on his missions. Unfortunately, her magic always goes wrong - to disastrous but hilarious effect. She is voiced by Erin Pitt in North America and Jessica Hann in the United Kingdom.
Mr. Cuddles is Evie's pet frog and best friend.
Sparkie is a loyal and kind, red fire-breathing dragon who is one of Mike's sidekicks. He is voiced by Martin Roach in North America and Colin McFarlane in the United Kingdom.
Squirt is a small, blue water-squirting dragon who is also one of Mike's sidekicks. He is voiced by Andrew Sabiston in North America and Russell Tovey in the United Kingdom.
Flutter is Squirt's younger sister. She and their parents became recurring characters in the third season.
Queen Martha is Mike and Evie's mother. She is "warm, wise, and caring". Voiced by Alyson Court in North America and Beth Chalmers in the United Kingdom.
The King is Martha's husband and the father of Mike and Evie. Absent in the earlier episodes on adventures, he recurs in multiple episodes in the third season.
Yip and Yap are corgis that Queen Martha owns. The duo often run into trouble, usually caused by Mike's knightly interests or Evie's magic.
Fernando is the resident bard and his witty ditties begin and end each episode on a humorous note. Voiced by Jake Beale, later, Trek Buccino
Trollee is a troll who is one of Mike's friends. He can be very shy sometimes, depending on the situation. He is voiced by Samantha Reynolds in the UK version and Nissae Isen in the Canadian.
Mr. Troll is Trollee's father.
Mrs. Troll is Trollee's mother
Richard and his younger brotherPeter are companions.
Robin & Marian are young children who sometimes help out.
The Great Walforfini is an elderly wizard who sometimes teaches Evie.
Mrs. Piecrust is a baker present in the opening who often produces pies and is a damsel that Mike rescues. She is voice by Sarah Carbanoose.
Mr. Blacksmith as his name suggests, is the town blacksmith. A red-haired muscular man who in season 3 has a son who makes him a golden belt buckle for Father's Day.
Edward is a blonde boy in red armor who in season 3 is a recurring antagonist for Mike, causing trouble in the kingdom.
Flynn is Edward's horse
Shadow is a bird of prey who accompanies Edward who the flying dragons Squirt and Flutter must try to outmaneuver since Sparkie can't fly.
Season 1
There are at least 52 episodes in season 1.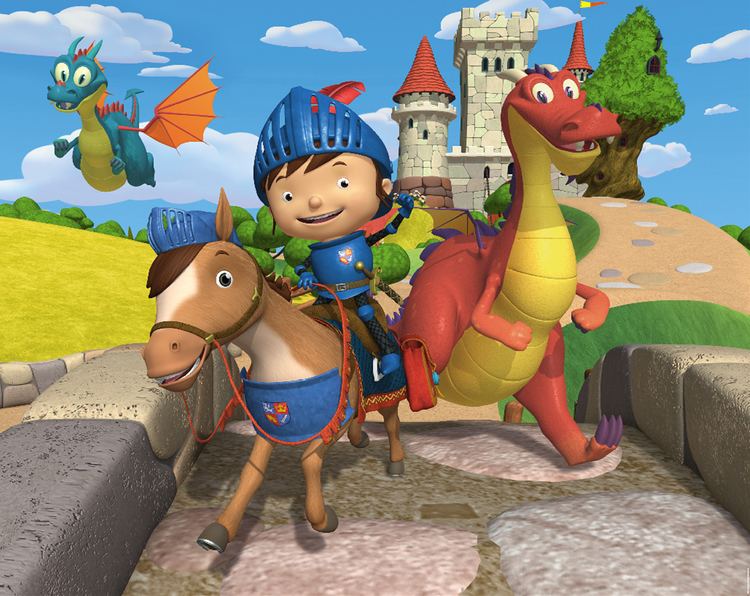 Episode 1: Great Galahad, Scary Dragons
Episode 2: Smiley Treasure, Evie's Birthday
Episode 3: Fluttering Favour, Buried Treasure
Episode 4: Tricky Trail, Sir Trollee
Episode 5: Mission Mess, Trollee in Trouble
Episode 6: Scar Noise, Mighty Shield
Episode 7: Peace and Quiet, Glendragon News
8-13 TBA
Episode 14: Big Swap, Triple Trophy
Episode 15: Big Parade, Sparkle's Amazing Thing
Episode 16: Knightly Campout, Wild Boar
Episode 17: The Rescue, Monster
Episode 18: Troll Treat Pie
Episode 19: Super Super, New Castle
Episode 20: Polka-Dot Horse, Viking Snow Day
Episode 21: Greatest Story Ever, Most Medals
Episode 22: Busiest Day, Real Dragon
Episode 23: Lost Pots, Magic Pot
Episode 24: Jewel of Glendragon
25 TBA
Episode 26: Flying Corgis
27 TBA
Episode 28: Evie's Help, The Bird Training
Episode 29: Evie's New Friend, Trollee the Apprentice
Episode 30: The Safest Kingdom, The Missing Snowman
Episode 31: The Super Trebuchet, King's Play
Episode 32 The Fooling Day, Broken Shield
Episode 33: The Glendragon Big Picture
Episode 34: The Knight For A Day, The Brave Song
Episode 35: Evie the Knight, The Knightly Net
Episode 36: The Glendragon Fun Run, The Fireless
Episode 37: Un-dragon Dogs, The Big Fix
Episode 38: The Special Knightly Things
Episode 39: Knightly Training Tricks
Episode 40: Tour of the Castle
Episode 41: The Christmas Castle
Episode 42: The Grey Wandorfini
Episode 43: Court Jester, Wooden Horse
Episode 44: Three Missions, Troll Trail Adventure
Episode 45: Snoring Dragon, Super Troll
Episode 46: Evie's Magical Mistake
Episode 47: Best Lookout
48-50 TBA
Episode 51: Hidden Garden Games, Big Book of Tr
Episode 52: Triple Trouble, The Bedtime Story
Episode 53: "The Great Tug of War, The Super-Fast Sleigh Ride" (also called season 3 episode 1)
Episode 54: "The Fire Bird, The King's Banquet" (also called season 3 episode 2)
Season 2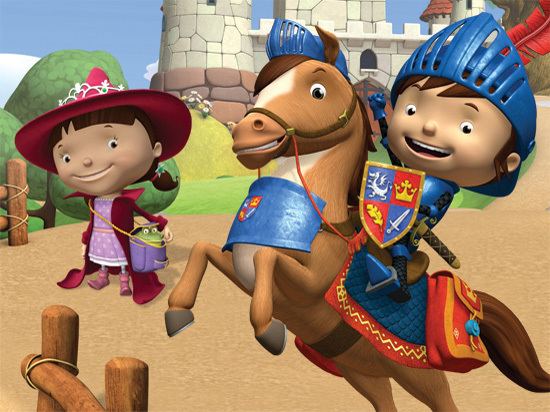 Episode 01: The Night Time Lookout
Episode 02: Evies New Friend
Episode 03: Super Trebuchet
Episode 04: Glendragon Big Band
5 TBA
Episode 06: Broken Shield
Episode 07: Evies Help
Episode 08: Trollee the Apprentice
Episode 09: Fooling Day
Episode 10: Safest Kingdom
11 to 27 TBA
Episode 28: Evie's Help / The Bird training
29 to 39 TBA
Episode 40: Tour of the Castle / Gargoyle
Episode 41: The Christmas Castle
Episode 42 The Great Wandorfini / Mr. Cuddles' Bath
Episode 43: Court Jester / Wooden Horse
Episode 44: Three Missions/Troll Trail Adventure
Episode 45: Snoring Dragon/Super Troll Ball
Season 3 (2016-2017)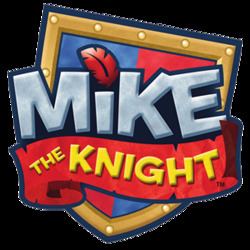 Episode 1: Mike the Knight and the Great Tug of War December / Mike the Knight and the Super Fast Sleigh Ride 2 January 2017 (also called season 1 episode 53)
Episode 2: Mike the Knight and the Fire Bird / Mike the Knight and the King's Banquet 3 January 2017 (also called season 1 episode 54)
Episode 3: Mike the Knight and the Great Exploration / Mike the Knight and the Father's Day Gift 4 January 2017
Episode 4: Mike the Knight and the Christmas Star 18 December 2016
Episode 5: Mike the Knight and the Marvellous Machine / Mike the Knight and Evie's Rescue Spells (advertised Spell) 5 January 2017
Episode 6: Mike the Knight and the Stolen Flag / Mike the Knight and Sparkie's Icy Tail 6 January 2017
Episode 7: Mike the Knight and the Beast of Glendragon / Mike the Knight and the Viking Alarm 7 January 2017
Episode 8: Mike the Knight and the Super Trike / Mike the Knight and the Night-time Flight 8 January 2017
Episode 9: Mike the Knight and the Golden Arrow / Mike the Knight and the Triple Loop (aka Twist) 9 January 2017
Episode 10: Mike the Knight and the Bad Weather Box / Mike the Knight and the Great Wizard Comet 10 January 2017
Episode 11: Mike the Knight and the Magical Wish Tree / Mike the Knight and Evie's Froggy Day 11 January 2017
Episode 12: Mike the Knight and Evie & Sir Gargoyle / Evie & the Runaway Scooter 12 January 2017
Episode 13: Mike the Knight and Evie & the Missing Queen / Evie & the Magical Challenge 13 January 2017
References
Mike the Knight Wikipedia
(Text) CC BY-SA