North West Mounted Police is a 1940 American adventure film produced and directed by Cecil B. DeMille and starring Gary Cooper and Madeleine Carroll. Written by Alan Le May, Jesse Lasky, Jr., and C. Gardner Sullivan, and based on the 1938 novel The Royal Canadian Mounted Police by R. C. Fetherstonhaugh, the film is about a Texas Ranger who joins forces with the North-West Mounted Police to put down a rebellion in the north-west prairies of Canada. The supporting cast features Paulette Goddard, Preston Foster, Robert Preston, Akim Tamiroff, Lon Chaney, Jr. and George Bancroft. Regis Toomey, Richard Denning and Robert Ryan make brief appearances in the film playing small roles..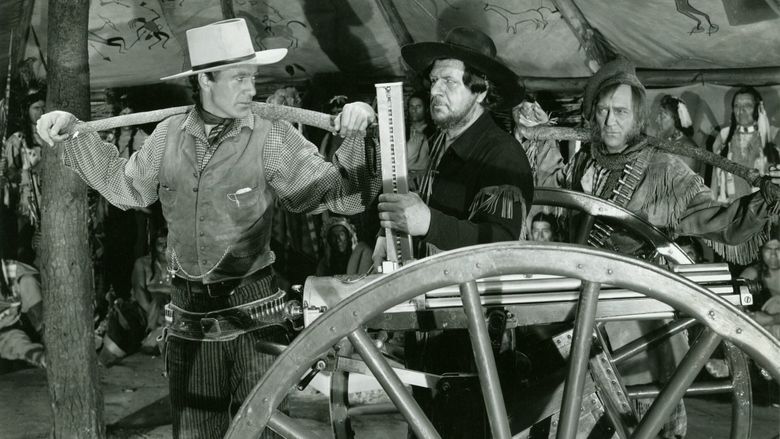 North West Mounted Police was DeMille's first film in Technicolor. The film premiered on October 21, 1940 in Regina, Saskatchewan, and was released in the United States on October 22, 1940 by Paramount Pictures. The film received an Academy Award for Best Film Editing (Anne Bauchens).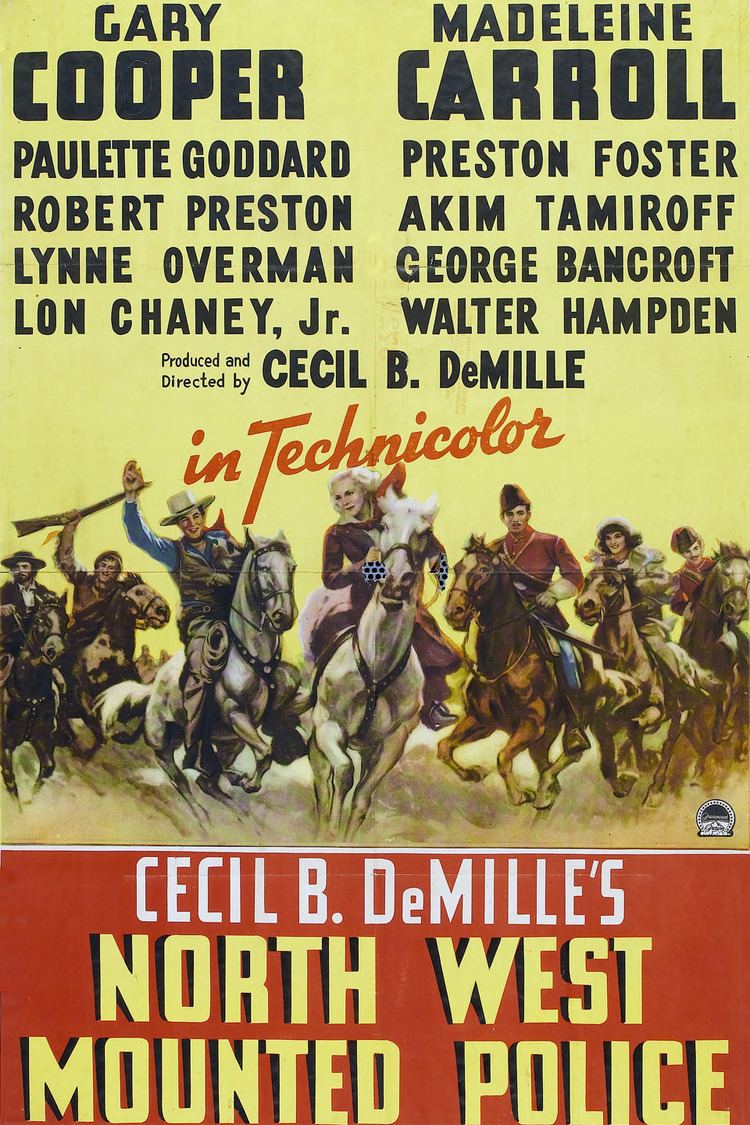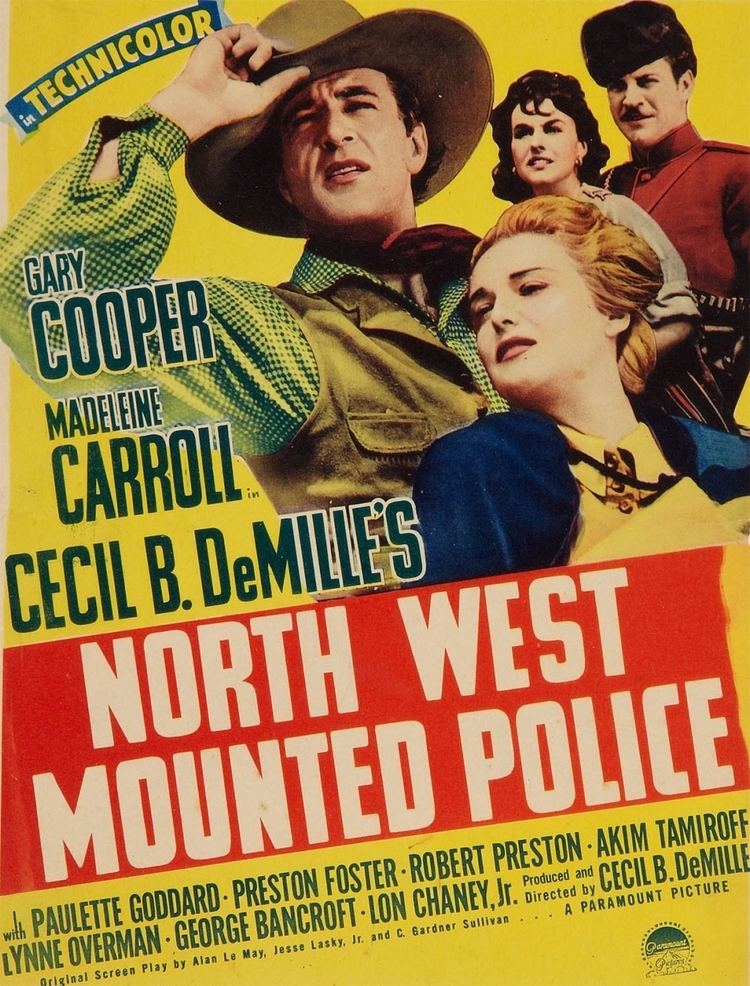 Texas Ranger Dusty Rivers (Gary Cooper) is sent to Canada during the 1880s in pursuit of outlaw Jacques Corbeau (George Bancroft), arriving in the midst of the Riel Rebellion. Dusty meets nurse April Logan (Madeleine Carroll) and quickly falls in love with her. However, she is already involved with Canadian Mountie Sergeant Jim Britt (Preston Foster). Dusty and April have become involved with one another, which becomes evident to Jim, to whom April wishes to remain loyal.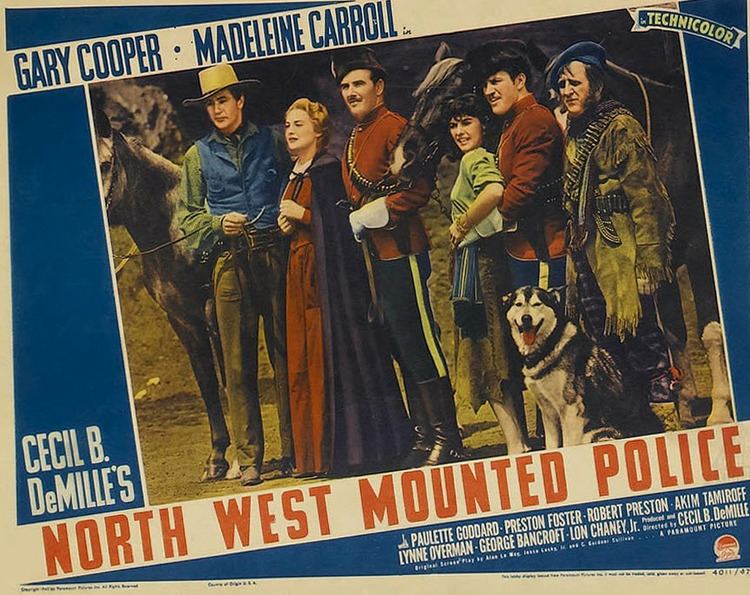 Meanwhile, April's brother, Ronnie Logan (Robert Preston), who also is a Mountie, is in love with Corbeau's daughter, Louvette (Paulette Goddard). Louvette loves Ronnie intensely and is determined to protect Ronnie in the coming fight at all costs, using Ronnie's feelings for her father's benefit at times.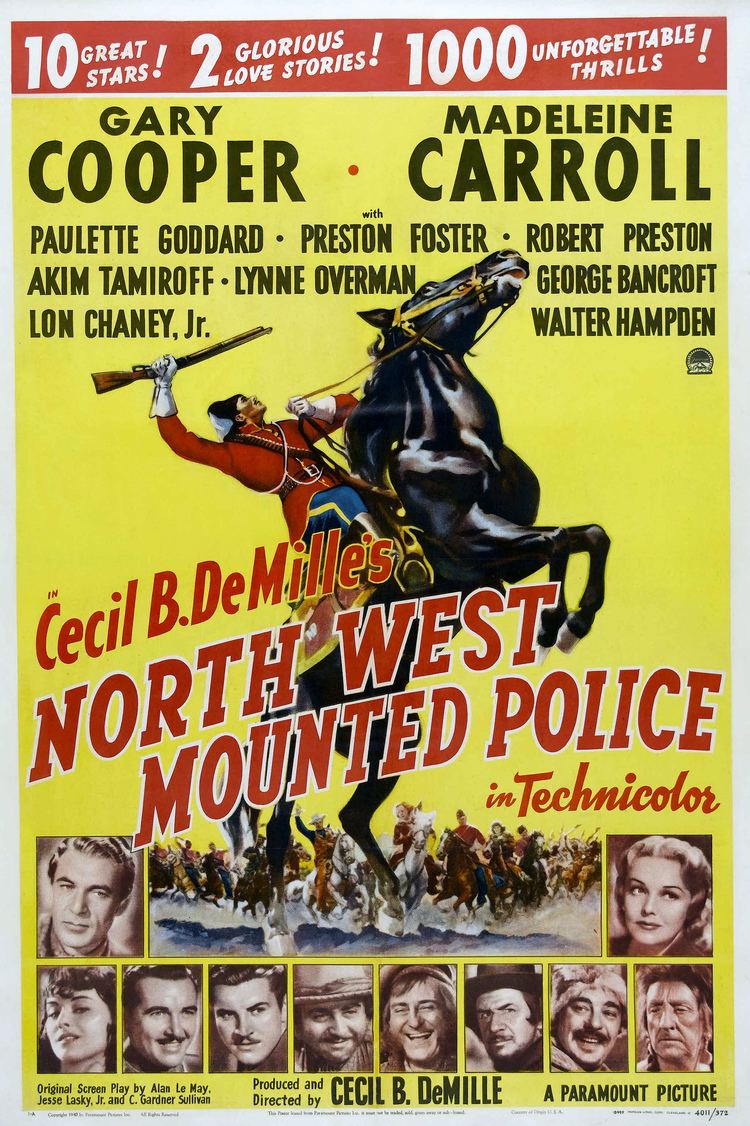 Corbeau is eventually tracked down to his hideout. When the showdown between Dusty, the Mounties, and the supporters of Corbeau finally arrives, Louvette tricks Ronnie, and ties him to a chair to keep him safe, after he had given her information vital to the Mounties' planned attack on the outlaws. Ronnie is unable to warn his fellow Mounties and Rivers that they are riding into a trap. The lawmen are ambushed and think Ronnie is a deserter. Dusty Rivers helps to turn the tide of the battle and Sergeant Jim arrests Corbeau. Rivers tracks down Ronnie at Louvette's hideout and convinces him to turn himself in, however, he is killed in a case of mistaken identity.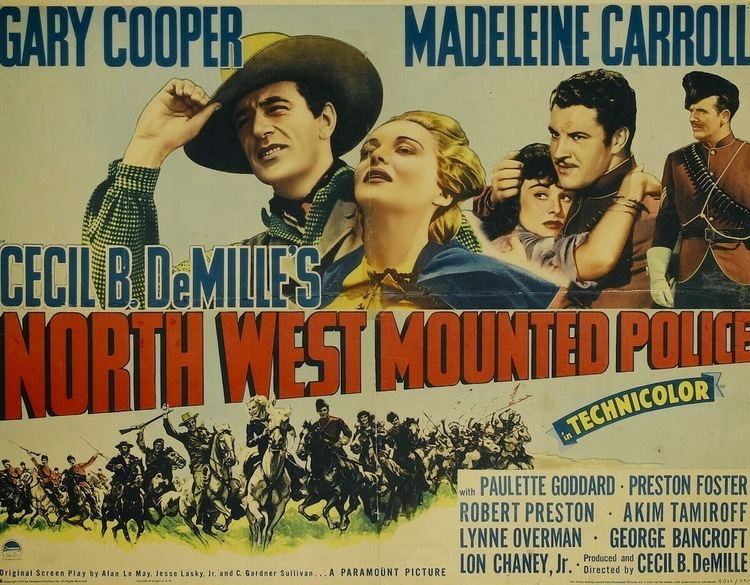 Afterwards, Dusty Rivers is set to return to Texas, but first gives April and Jim his blessing.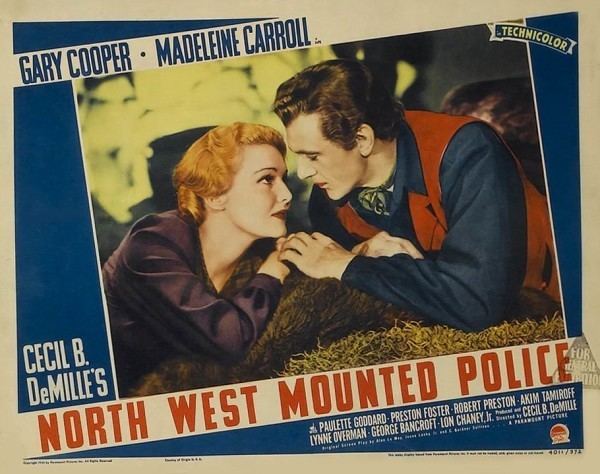 As appearing in North West Mounted Police, (main roles and screen credits identified):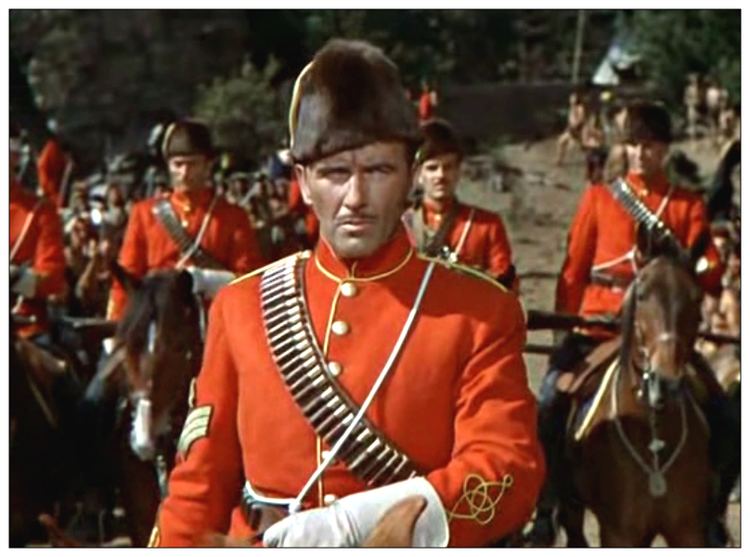 Due to budget restrictions, North West Mounted Police was filmed at sound stages at the Paramount lot as well as on location in Oregon and California, even though the film was based on a real life incident in Saskatchewan, Canada. Principal photography began on March 5, 1939. Although Gary Cooper stars, the lead role was originally given to Joel McCrea, on contract at that time, but Cooper traded roles so that McCrea could star in Foreign Correspondent (1940). DeMille narrated portions of the story, a practice he followed in all of his Technicolor films.
In homage to the historical region portrayed in North West Mounted Police, the world premiere for the film took place on October 21, 1940, in Regina, Saskatchewan, Canada. The film became Paramount's biggest box-office hit of 1940 and garnered some favourable contemporary reviews from critics, as well. Variety noted: "... scripters weave a story which has its exciting moments, a reasonable and convincing romance ..." Later reviews were much less complimentary. Leonard Maltin called it "DeMille at his most ridiculous ... [a] superficial tale of Texas Ranger searching for fugitive in Canada. Much of outdoor action filmed on obviously indoor sets." North West Mounted Police was listed in the 1978 book The Fifty Worst Films of All Time (1978).