Began skating

2002




Height

1.65 m




Name

Nathan Chen







Born

May 5, 1999 (age 16) (

1999-05-05

)

Salt Lake City, Utah




Former coach

Evgenia Chernyshova Stephanie Grosscup Karel Kovar




Former choreographer

Phillip Mills Stephanie Grosscup Genia Chernyshova




Skating club

Salt Lake Figure Skating




Combined total

236.76 2015 JGP United States




Coach

Rafael Arutyunyan, Nadezda Kanaeva




Choreographer

Nadezda Kanaeva, Nikolai Morozov




Former training locations

Salt Lake City, Lake Arrowhead




Similar People

Sota Yamamoto, Jin Boyang, Ryan Bradley, Charlie White, Meryl Davis




Country represented

United States of America




Short program

78.59 2015 JGP Final



2015 isu jgp logro o men short program nathan chen usa
Nathan Chen (born May 5, 1999) is an American figure skater. He is the 2017 Four Continents champion, 2016–17 Grand Prix Final silver medalist, and 2017 U.S. national champion. Earlier in his career, he won bronze at the 2014 World Junior Championships and gold at the 2015–16 Junior Grand Prix Final.
Contents
Chen is the score holder for short program (106.39), free skate (212.08) and overall (318.47) at the U.S. Championships. He is the only skater in the world capable of landing five different types of quadruple jumps (quad toe loop, quad salchow, quad loop, quad flip and quad lutz) in competition.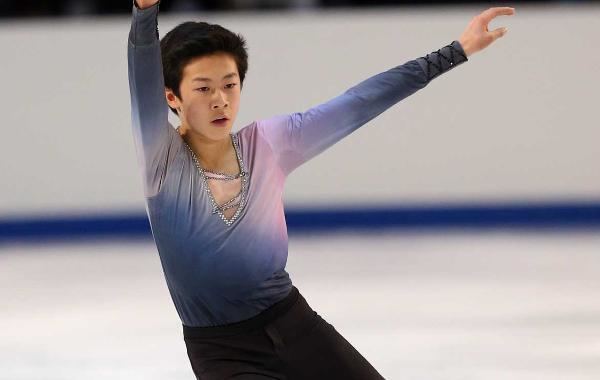 2015 isu junior grand prix logro o men free skate nathan chen usa
Personal life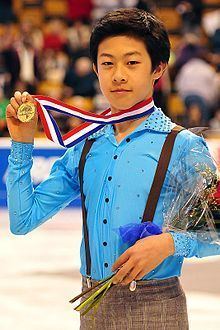 Nathan Chen was born in Salt Lake City, Utah, to Zhidong Chen and Hetty Wang. He has four older siblings – Alice, Janice, Tony and Colin. He attended West High School in Salt Lake City and Rim of the World High School in Lake Arrowhead, California, and graduated from California Connections Academy. In addition to figure skating, Chen trained in ballet with Ballet West Academy as well as competing in gymnastics at the state and regional levels for seven years.
Early years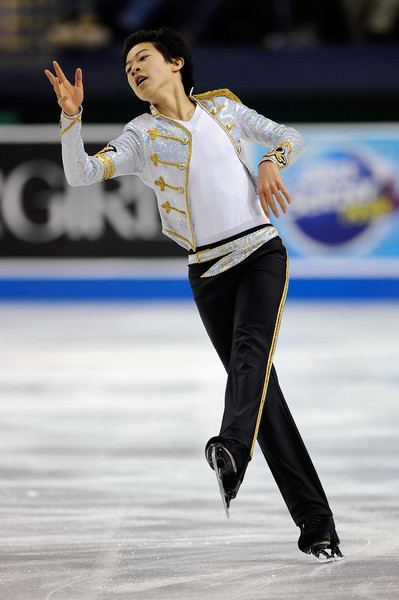 Nathan Chen started figure skating at age three and entered his first skating competition in 2003. From 2007 to 2009, he qualified to compete in the U.S. Junior Nationals at the juvenile and intermediate levels. He placed 10th and 3rd in juveniles at the 2007 and 2008 Junior Nationals. At the 2009 Junior Nationals, he won the intermediate men's silver medal.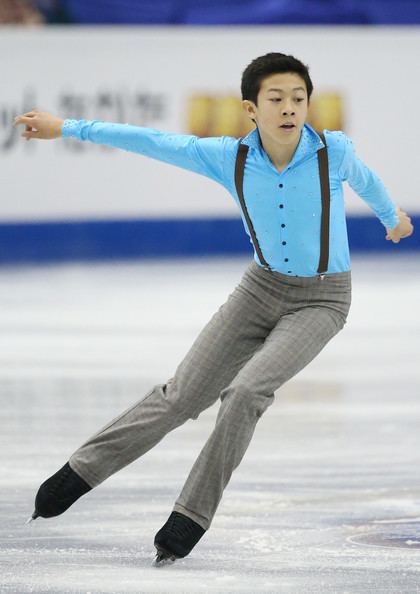 Chen advanced to the novice level in the 2009–10 season. He won the national novice title at the 2010 U.S. Championships in Spokane, Washington, and became the youngest novice champion in the history of U.S. Figure Skating at age 10. Due to his young age, he opted to remain at the novice level for the 2010–2011 season and defended his novice title at the 2011 U.S. Championships in Greensboro, North Carolina.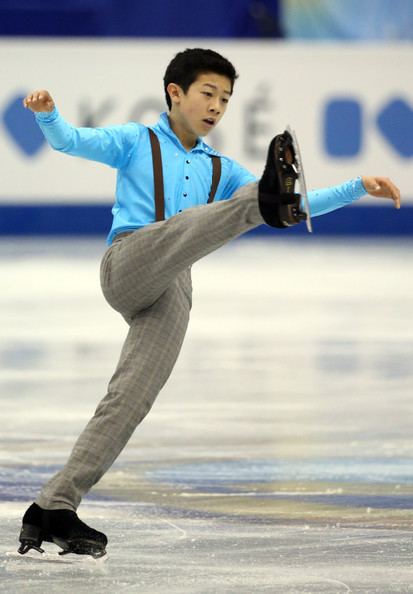 In the 2011–2012 season, Chen moved up nationally to the junior level. He was coached by Genia Chernyshova and also traveled to Lake Arrowhead, California to work with jump specialist Rafael Arutyunyan. Arutyunyan became his main coach in mid-December 2011. Chen won the junior men's title at the 2012 U.S. Championships in San Jose, California on January 24, 2012. Making his first international appearance, he won the novice men's event at the 2012 Gardena Spring Trophy in Selva Val Gardena, Italy.
2012–2013 season: Junior international debut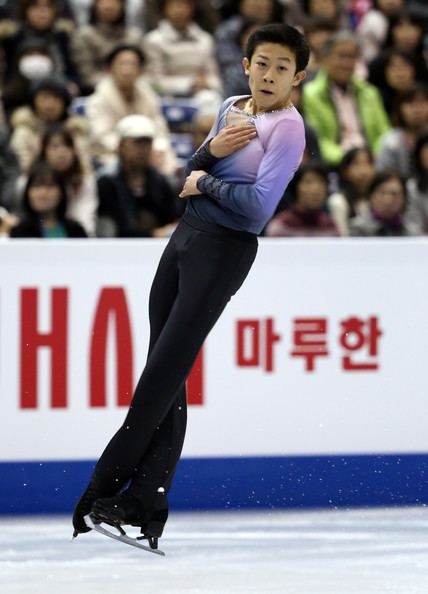 Chen stayed at the junior level nationally, and became age-eligible (13 years old) to compete in the ISU Junior Grand Prix (JGP) series. His first assignment was JGP Austria in Linz from September 12–16, 2012. He won the gold medal with the highest score (222.00 points) ever awarded at the time in the JGP series. A lower leg injury resulted in Chen's withdrawal following the short program at JGP Croatia in early October 2012, ending his chances of qualifying for the JGP Final. He won the junior men's bronze medal at the 2013 U.S. Championships in Omaha, Nebraska, on January 22, 2013.
2013–2014 season: Bronze at Junior Worlds
Chen started his season by winning gold both at the ISU Junior Grand Prix in Mexico, in September 2013, and at the JGP in Belarus. He qualified for the Junior Grand Prix Final in Fukuoka, Japan, where he won the bronze medal. On January 9, 2014 Chen broke a six-year U.S. junior men's record of 213.76 at the 2014 U.S. Championships in Boston, Massachusetts, en route to his second U.S. junior title. His final combination spin in the short program received 4.86 points, the highest among active male skaters in the world. Chen was awarded the bronze medal at the 2014 World Junior Championships in Sofia, Bulgaria in March 2014. The results of Chen and his teammates, Jordan Moeller and Shotaro Omori, gained three entries for the United States to the 2015 World Junior Championships.
2014–2015 season: Senior national debut
Chen moved up to the senior level domestically. At the Pacific Sectional Championships in November 2014, he landed a clean quadruple toe loop and double toe loop combination (4T+2T) in his free skate, winning the senior men's division, and advanced to the 2015 U.S. Championships in Greensboro, NC. He developed a growth-related heel injury one week before the national championships. He competed scaled-back versions of his short and long programs. He placed eighth overall in his senior national championship debut from January 17–25, 2015. After the competition, Chen was named to the U.S. team for the 2015 World Junior Championships. He finished 4th at the event in Tallinn, Estonia on March 8, 2015.
2015–2016 season: Junior Grand Prix Final champion
In the 2015–16 ISU Junior Grand Prix series, Chen won gold in Colorado Springs, Colorado and in Logroño, Spain. In December 2015, he stood atop the podium at the JGP Final in Barcelona.
In January 2016, Chen made history at the U.S. Championships by becoming the first American man to land two quadruple jumps in the short program. On January 24, he became the first American man to land four quadruple jumps in a long program. He finished third overall behind Adam Rippon and Max Aaron, who landed zero and two quads, respectively, reigniting the debate over whether artistry should trump athleticism in figure skating scoring. While attempting a jump during exhibitions on the same day, Chen sustained an avulsion injury to his left hip, leading to surgery on January 27. As a result, he withdrew from the 2016 World Junior Championships in Debrecen, Hungary, and the 2016 World Championships in Boston.
Chen underwent a month of rehabilitation at the U.S. Olympic Training Center (OTC) in Chula Vista, California, and by May was training off-ice at OTC in Colorado Springs, Colorado. He resumed full-strength on-ice training around July.
2016–2017 season: Senior international debut
Ahead of the 2016–2017 season, Chen traveled to Canton, Michigan to have his programs choreographed by Marina Zueva. "I spent a week there, and we hit it off really well. We talked it over and thought it'd be a good idea to go to Michigan and work on PCS a little bit." Zueva and Oleg Epstein were coaching him in Canton by September 2016. In preparation for his international senior debut, he started to train the 4Lz and 4F, six months after his hip surgery.
Armed with four different types of quads — 4T, 4S, 4F and 4Lz — Chen began his season with a gold medal at the 2016 CS Finlandia Trophy, 7.71 points ahead of silver medalist Patrick Chan of Canada. He then competed at two Grand Prix events. At the 2016 Trophée de France in Paris, Chen cleanly landed a 4Lz+3T combination jump and a 4F jump in both his short and long programs. His short program scored 92.85, breaking the American short program record of 90.30, held by Olympic champion Evan Lysacek since the 2010 Winter Olympics. After finishing fourth in France, he returned to Arutyunyan in California. At the 2016 NHK Trophy in Sapporo, Chen placed second behind the reigning Olympic champion Yuzuru Hanyu and thus qualified for the Grand Prix Final (GPF) in Marseille, France.
In December at the GPF, Chen placed 5th in the short program but won the free skate with a performance that included four quadruple jumps. Having obtained a total score of 282.85 points, he was awarded the silver medal behind Hanyu and became the second youngest male skater (age 17) to medal at the GPF after Evgeni Plushenko, who won his first GPF medal at age 16 in 1999. He spent two weeks later that month working in Canton, Michigan, modifying the element order and choreography of his programs.
At the 2017 U.S. Championships in Kansas City, Missouri, Chen skated a clean short program with two quadruple jumps (4Lz+3T and 4F) on January 20 and scored 106.39. He went on to skate a near perfect long program containing five clean quadruple jumps (4Lz+3T, 4F, 4T+2T+2Lo, 4T and 4S) on January 22 and scored 212.08. He won the U.S. title with an overall score of 318.47. All three scores are the highest in U.S. Figure Skating history. Following the championships, Chen and teammate Jason Brown were named to the 2017 World team by U.S. Figure Skating.
In February, Chen won the short program at the 2017 Four Continents and subsequently, the competition, becoming the third person to score over 100 points in a short program and over 300 points in an International Skating Union competition. In April, at the World Championships in Helsinki, the boots that he had begun using after Four Continents were on the verge of falling apart; he decided to continue using them, aided by duct tape and hockey laces, because he felt that the back-up boots were too new. He attempted a record total of eight quadruple jumps, two in the short program and six in the long program, however, he fell on two quadruple jumps in his long program and placed sixth at the competition. He and teammate Jason Brown, who placed seventh, secured three berths for the United States in the men's event at the 2018 Winter Olympics.
2017–2018 season: The Olympic season
Chen started the season by winning the 2017 CS U.S. International Figure Skating Classic, debuting his short program "Nemesis" choreographed by Shae-Lynn Bourne and free skate "Mao's Last Dancer" choreographed by Lori Nichol. He landed a quad loop in the free skate and thus becomes the first skater to land five different quads (4T, 4S, 4Lo, 4F and 4Lz) in competition.
Records and achievements
The first skater to land five different quadruple jumps (4T, 4S, 4Lo, 4F and 4Lz) in competition (4Lo landed at 2017 CS U.S. International Figure Skating Classic).
The first skater to land seven clean quadruple jumps in a competition (2017 U.S. Championships).
The first skater to land four different quadruple jumps (4T, 4S, 4Lz and 4F) in a competition (2017 U.S. Championships, 2017 Four Continents Figure Skating Championships).
The first skater to land five quad jumps in a free skate (2017 U.S. Championships, 2017 Four Continents Figure Skating Championships ).
The first skater to land a quad flip-triple toe loop (4F+3T) combination in a competition (2016 NHK Trophy).
The youngest U.S. male skater (17 years old) to qualify for and medal at the Grand Prix of Figure Skating Final.
The youngest U.S. men's national figure skating champion (17 years old) since 1966.
(Usually, ISU does not homologate national records.)
Competitive highlights
GP: Grand Prix; CS: Challenger Series; JGP: Junior Grand Prix
Detailed results
Small medals for short and free programs awarded only at ISU Championships.
Honors
Selected to represent Coca-Cola, Nike, BridgeStone and United Airlines leading up to the 2018 Olympic Winter Games in PyeongChang, Korea.
Performed with "Stars on Ice" in May 2017 in Hershey, Chicago, San Jose, Anaheim, Seattle and Wenatchee, WA.
Selected one of the 2017 "Next Generation Leaders" by the Time Magazine
Awarded Team USA's Male Athlete of the month by the U.S. Olympic Committee in December 2016 and January 2017
Named Team USA's Top 16 Men of 2016
Recipient of Best Male Performance Award at 2016 U.S. Championships by Professional Skaters Association
Recipient of 2016, 2015, 2014, 2013, 2012, 2011, 2010, and 2009 Michael Weiss Foundation Scholarship
Recipient of 2012 Ron and Gayle Hershberger Award
Recipient of 2011 Athlete Alumni Ambassador Award
Recipient of 2011, 2010 Cecilia Colledge Memorial Fund award
Recipient of 2016, 2015, 2014, 2013, 2012, 2011, 2010, 2009, and 2008 U.S. Figure Skating Memorial Fund
Member of the 2016–17, 2015–16, 2014–15, 2013–14, 2012–13, 2011–12, 2010-11 U.S. Figure Skating Team Envelope
Featured as ABC World News' "Person of the Week" on February 19, 2010
Performed in the WiWa Ice Shows in Hangzhou, China, May 1–5, 2010
Skated in the annual Sun Valley Summer Ice Shows in Sun Valley, Idaho since 2010
Performed as a guest skater at Skate Asia 2010 in Hangzhou, China, Skate Asia 2011 in Bangkok, Thailand, Skate Asia 2012 in Kuala Lumpur, Malaysia and Skate Asia 2013 in Bangkok, Thailand
References
Nathan Chen Wikipedia
(Text) CC BY-SA