9.2

/

10

Alchetron

9.2

Rate This





Written by

Park Ji-eun


Opening theme

"My Destiny" by Lyn


Final episode date

27 February 2014




Director

Jang Tae-yoo





Directed by

Jang Tae-yoo


First episode date

18 December 2013




Number of episodes

21






Also known as

'You Who Came from the Stars'




Genre

RomanceComedyFantasyDramaScience fiction




Starring

Kim Soo-hyunJun Ji-hyunPark Hae-jinYoo In-na




Nominations

PaekSang Arts Award for Best TV Drama




Cast

Kim Soo‑hyun, Jun Ji‑hyun, Park Hae‑jin, Yoo In‑na, Yoo In‑young





Similar

Moon Embracing the Sun, Descendants of the Sun, The Heirs
My Love from the Star (Hangul: 별에서 온 그대; RR: Byeoreseo on geudae; literally You Who Came from the Stars) is a South Korean television series starring Kim Soo-hyun, Jun Ji-hyun, Park Hae-jin and Yoo In-na in lead. Written by Park Ji-eun, it is a romantic fantasy story about an alien who landed on Earth in the Joseon Dynasty and, 400 years later, falls in love with a top actress in the modern era. It aired on SBS from December 18, 2013 to February 27, 2014 on Wednesdays and Thursdays at 22:00 for 21 episodes; the production company extended the original 20-episode run with one episode, due to high viewers' demand.
Contents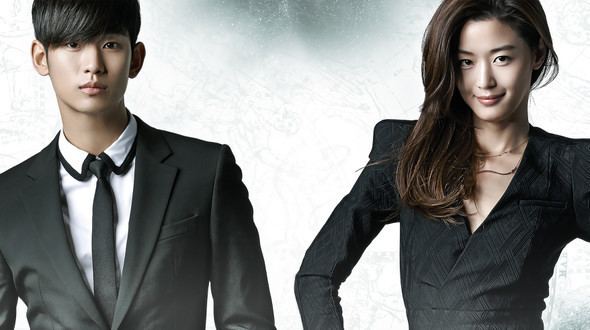 This is the second collaboration between Kim and Jun, who previously worked together in the blockbuster heist film The Thieves. It is also Jun's small screen comeback after 14 years.
The series was a major hit in South Korea and received immense popularity across Asia. Jun won the Daesang (or "Grand Prize"), the highest award for television, at the Baeksang Arts Awards and the SBS Drama Awards, and as did Kim at the Korea Drama Awards.
Plot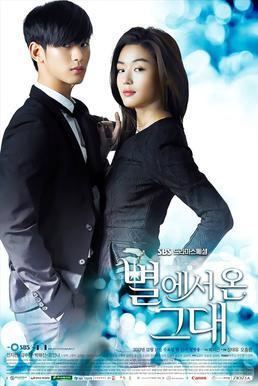 Do Min-joon (Kim Soo-hyun) is an alien that landed on Earth in the year 1609, during the Joseon Dynasty. As he tries to help a young girl, Yi-hwa, from falling off a cliff, he misses his trip back to his planet and is stranded on Earth for the next four centuries. He possesses a near-perfect appearance, enhanced physical abilities involving his vision, hearing and speed, and a cynical, jaded view regarding human beings. As time goes by, Min-joon is forced to take on a new identity every ten years, as his human appearance never ages.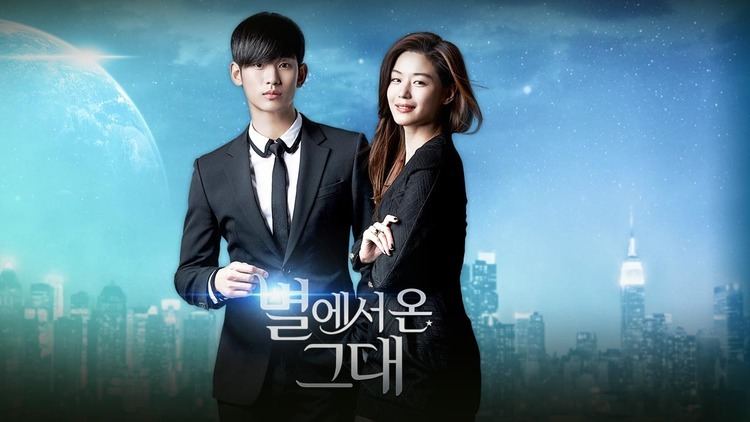 In the present, he works as a college professor. With only three months left before his long-awaited departure back to space, he meets Cheon Song-yi (Jun Ji-hyun), a famous Hallyu actress who suddenly becomes his next-door neighbour. Slowly, he finds himself entangled in Song-yi's crazy and unpredictable situations, and finds out that she looks like the young girl he fell in love with in the Joseon era. Min-joon tries to keep himself away from Song-yi as he needs to leave the planet, but often finds himself failing to do so.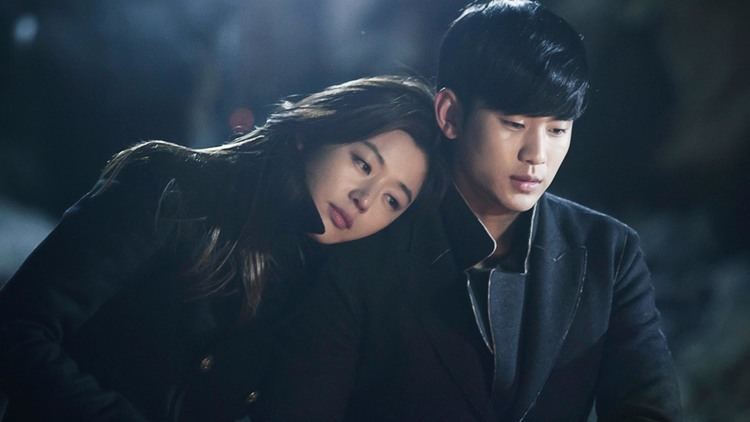 However, Song-yi gets entangled in the dangerous game of Lee Jae-kyung (Shin Sung-rok), the elder brother of Lee Hee-kyung (Park Hae-jin), who has been her friend since middle school and is in love with her. Yoo Se-mi (Yoo In-na) is Song-yi's childhood best friend who has a crush on Hee-Kyung since middle school. Realizing her love is just one-sided, later Se-mi gives up her feeling on Hee-kyung and starts to focus on her carrier as an actress. As Jae-kyung tries to silence Song-yi, Min-joon finds himself saving her multiple times and eventually the neighbors fall for each other. But Jae-kyung turns out to be much more dangerous than Min-joon suspected as he hurt Se-mi's older brother who is investigating on an actress murdered case that Jae-kyung strongly involved and he mysteriously also starts to lose control over his super powers.
Main characters
Kim Soo-hyun as Do Min-joon
A very cold and distant being, he loved a girl who lived during the Joseon Dynasty for liking him as his true self, an alien. After the girl dies from saving him, he waits to return home. Living a lonely and isolated life for centuries, he one day meets Cheon Song-yi, a girl who at her young age, looked exactly like the one he cared for 400 years ago and whom he once saved.
Jun Ji-hyun as Cheon Song-yi
A top Hallyu star who is very blunt and believes that she is every man's type, until she meets her stoic neighbor, Do Min-joon. She soon develops feelings for him and tries to make him fall for her.
Park Hae-jin as Lee Hee-kyung
Song-yi's childhood friend who has an unrequited love for her. He believes one day she will love him, but decides to back down for a while, supporting her through thick and thin as a true friend.
Yoo In-na as Yoo Se-mi
Song-yi's childhood best friend. Underneath her sweet demeanor, she is actually envious of Song-yi and has had a crush on Hee-kyung for a long time. She later becomes famous after Song-yi's fall from the entertainment industry.
Supporting characters
Shin Sung-rok as Lee Jae-kyung
Hwi-kyung's older brother, the potential heir of S&C Group. The main antagonist of the series, he is willing to do anything to silence Song-yi for a secret she knows about him.
Ahn Jae-hyun as Cheon Yoon-jae
Song-yi's younger brother, who first disapproves of her relationship with the neighbour but grows to likes Min-joon because of their shared interest in astronomy.
Kim Chang-wan as Jang Young-mok
Min-joon's lawyer. When he was young, he was saved by Min-joon from a suicide attempt and found out about his identity. He has been a loyal friend of him ever since.
Oh Sang-jin as Yoo Seok
Se-mi's older brother. A young and enthusiastic prosecutor investigating Han Yoo-ra's death. He gets to know about Do Min-joon's real identity.
Kim Hee-won as Park Byung-hee
A detective, who works together with Yoo Seok on the case of Han Yoo-ra.
Na Young-hee as Yang Mi-yeon, Song-yi's mother
Lee Il-hwa as Han Sun-young, Se-mi's mother
Jo Hee-bong as President Ahn, CEO of Song-yi's talent agency
Kim Kang-hyun as Yoon Beom, Song-yi's manager
Hong Jin-kyung as Bok-ja, a comic book store owner and Song-yi's high school friend
Um Hyo-sup as Cheon Min-goo, Song-yi's father
Kim Bo-mi as Min-ah, Song-yi's stylist
Lee Jung-gil as Lee Beom-joong, Hwi-kyung and Jae-kyung's father, the chairman of S&C Group
Sung Byung-sook as Hong Eun-ah, Hwi-kyung and Jae-kyung's mother
Lee Yi-kyung as Lee Shin, Jae-kyung's secretary
Jo Se-ho as Chul-soo, comic book store customer/unemployed neighbor 1
Nam Chang-hee as Hyuk, comic book store customer/unemployed neighbor 2
Kim Hyun-soo as Yi-hwa/young Cheon Song-yi
Jo Seung-hyun as young Lee Hwi-kyung
Kim Hye-won as young Yoo Se-mi
Jeon Jin-seo as young Cheon Yoon-jae
Guest/cameo appearances
Yoo In-young as Han Yoo-ra (ep 2~4 & 12~13)
Yoo Jun-sang as MR. Yoo (ep 2~3)
Serri as junior actress 1 (ep 3)
Subin as junior actress 2 (ep 3)
Jeon In-taek as Yi-hwa's father (ep 4)
Lee Geum-joo as Yi-hwa's mother (ep 4)
Jang Hang-jun as director (ep 4)
Kim Saeng-min as reporter at Noh Seo-young's wedding (ep 4)
Park Jung-ah as Noh Seo-young (ep 4)
Son Eun-seo as Hwang Jini (ep 4)
Kim Su-ro as Lee Hyung-wook (ep 5)
Jung Eun-pyo as Yoon Sung-dong (ep 6) / Yoon Sung-dong's descendant (ep 12)
Park Yeong-gyu as Heo Jun (ep 11)
Bae Suzy as Go Hye-mi (ep 17)
Yeon Woo-jin as Lee Han-kyung (ep 18)
Ryu Seung-ryong as Heo Gyun (ep 19)
Sandara Park as top celebrity (ep 21)
Kim Won-jun as Se-mi's escort on the red carpet (ep 21)
Original soundtrack
"My Destiny" the theme song of the drama performed by Lyn, became very popular in South Korea peaking at number 2 on the Gaon Music Chart. A Sinhalese version entitled "Ananthayen Aa Tharu Kumara" performed by Radeesh Vandebona and Indeewari Hettiarachchi was released for the Sri Lankan release of the drama and its music video was released on 2 October 2015. A slower version of the Sinhalese version was released later in January 2016.
Production
As the protagonist of the series possesses superpowers, like the ability to teleport and stop time, special effects had to be employed. The crew used 60 small, special cameras for bullet time effect creation. The GoPro camera was installed in 180 degrees and "stopped" characters were filmed from various angles. The final scene is a montage of various smaller details and then enhanced digitally. This was the first time that HD cameras were used to produce a television series in South Korea.
Among the filming locations were two newly built luxury buildings, Dongdaemun Design Plaza & Park (DDP) and Boutique Monaco. The Korea Tourism Organization later held a 3D exhibit at the DDP Art Hall from 10 June to 15 August 2014 which featured one of the house sets used, with the display rooms titled "Start," "Fate," "Shaking" and "Longing" in line with the plot of the drama.
Reception
My Love from the Star influenced Korean fashion, with clothes, accessories and make-up products worn by Jun Ji-hyun seeing an "unprecedented" surge in orders. It also placed first as "Korea's most favorite program" in a poll conducted by Gallup Korea in February 2014, with 11.5 percent of the votes. The Miraculous Journey of Edward Tulane by Kate DiCamillo, a children's novel that languished in obscurity for five years, was propelled to the top of the bestseller lists in major Korean bookstores after the male protagonist repeatedly quotes from it throughout the series.
Besides high viewership ratings in South Korea, the series also proved to be successful in China, where it became the most expensive Korean drama sold at US$35,000 per episode until it was surpassed by Descendants of the Sun in 2016. It also became one of the most viewed streaming shows on Chinese platform iQiyi, where it was streamed more than 14.5 billion times from December 2013 to February 2014. The series struck up a craze for chimaek (chicken and maekju), a popular Korean snack of chicken and beer, which is the favorite snack of the female protagonist. Despite declining chicken consumption in China due to fear of H7N9 bird flu, fried chicken restaurants in cities saw an increase in orders since the running of the show. Meanwhile, Korean instant noodle maker Nongshim said sales in January and February 2014 ― while the drama aired ― rose to a record high in its more than 15-year history of business in China; this, too, was attributed to a scene in the drama where the couple enjoyed a bowl of noodles on a trip.
TV professionals in China have likewise weighed in on the Korean drama's positive reception in their country. In an op-ed piece published by the China Daily, writer Xiao Lixin attributed its success to "great innovations in South Korean TV productions in terms of themes and narrative patterns," praising the plot as "logical and fast-paced" interspersed with "whimsy and romantic punch lines," and that "high-speed photography and computer-generated effects" helped "create a lifelike visual impact." Yu Zheng, another writer, found My Love from the Star worthy of being studied, and thought the plot was "simple but has tension. A good combination of outdoor and indoor scenes." Variety show director Pang Bo remarked that the makers of the series paid attention to technical details even in the shortest scenes involving special effects. Chinese celebrities such as Zhao Wei and Gao Yuanyuan also followed and actively posted about the series on Sina Weibo, boosting its popularity. The Washington Post reported in March 2014 that the Korean drama was discussed at China's National People's Congress, particularly in a committee of political advisory body Chinese People's Political Consultative Conference (CPPCC), where it reportedly topped the agenda among delegates from the culture and entertainment industry.
Ratings
In the tables below, the blue numbers represent the lowest ratings and the red numbers represent the highest ratings.
A 70-minute special episode aired on 7 February 2014 at 23:20 (KST) titled You Who Came from the Stars: the Beginning which recapped episodes 1 to 15 focusing on the love story Do Min-joon and Cheon Song-yi.
Awards and nominations
Denotes categories which were cancelled due to award show policy. (no attendance, no award)
Film version
Due to its popularity in mainland China, the series was re-edited into a two-hour feature-length film by Chinese production company Meng Jiang Wei, and was released in theaters in summer 2014.
Remake
An American remake is under development at ABC, to be written by Elizabeth Craft and Sarah Fain, and produced by HB Entertainment and EnterMedia Contents in association with Sony Pictures Television. Executive producers will be Craft and Fain, creator of the original series Park Ji-eun, CEO of HB Entertainment Moon Bo-mi, and Sebastian Lee and David Kim from EnterMedia Contents.
A Philippine remake is also under development and it will be broadcast and produced by GMA Network. One of the top leading ladies in the Philippines, Jennylyn Mercado was tapped to portray Jun Ji-hyun's character, Steffi Cheon (Cheon Song-yi). On December 9, 2016, Filipino-Spanish model and first time actor Gil Cuerva was confirmed to be the leading man, replacing Alden Richards of AlDub, who was initially announced to star as the male lead but later turned down the role for another project. The series will be under the direction of Bb. Joyce Bernal and is expected to be released in 2017. My Love from the Star was a success in the Philippines after hitting high ratings and dubbed as "One of the most loved Korean drama in the Philippines".
Plagiarism suit
In a statement posted on her blog on 20 December 2013, author Kang Kyung-ok alleged that the series' concept was plagiarized from her 2008 comic book Seol-hee, claiming that the background, setup, jobs, and relationships between characters were similar. The spokesperson from production company HB Entertainment denied the plagiarism charge, calling it "nonsensical" since the male protagonist in Kang's story is human, not an alien, and that screenwriter Park Ji-eun "had never read or heard of" Seol-hee. A representative from SBS told news outlets that the network would investigate the matter. On 20 May 2014, Kang filed her lawsuit in court against Park Ji-eun and HB Entertainment, asking for ₩600 million in damages. HB Entertainment responded that it was prepared to "strongly confront" the lawsuit with their own evidence and witnesses, calling the charges of plagiarism "synonymous to a death sentence" to creators which must be "eradicated." Kang dropped her lawsuit on 3 July 2014 after an out-of-court settlement.
Indonesian television network RCTI aired a TV series in 2014 titled Kau Yang Berasal Dari Bintang, first thought to be an authorized remake of My Love from the Star, but was then found to be a plagiarized version, with the Indonesian series having exactly the same set up and storyline as the Korean drama. In an interview with Korean media outlet TV Report, a representative from SBS Contents Hub said, "The drama was created without the obtainment of legal publication rights. You could view it as plagiarism. [...] While we were in the process of discussing the sale of legal publication rights with another Indonesian enterprise, this drama came out. We are in the midst of finding what course of action to take."
References
My Love from the Star Wikipedia
(Text) CC BY-SA