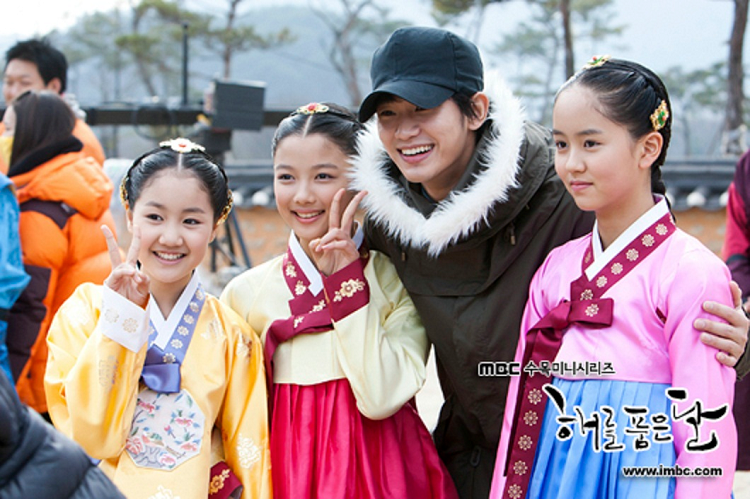 One night, a young shaman named Ari from the Royal Star Mansion (Royal Astrology House) is awakened by a psychic impression of imminent danger to one of the king's sons, who is considered a potential rival to inherit the throne. When she investigates, she witnesses his murder, only to be seen by the perpetrators, and manages to escape, though greatly injured. The next day, Ari is helped by the pregnant wife of the palace's Chief Scholar, and has a vision of the wife's child. In gratitude for the aid she received, Ari promises to watch over the child, even if she dies.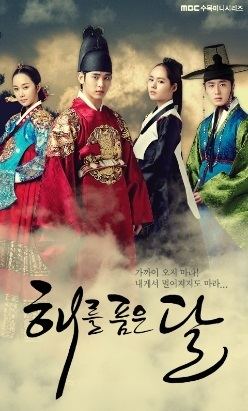 Later that day, Ari is arrested, tortured, and thrown in jail. Her friend and fellow shaman, Jang Nok-yeong, secretly comes to visit her. Ari tells Nok-yeong that she has foreseen the birth of a young woman who has a "noble fate" and who is connected to the royal house. Knowing that her death is nearing, Ari begs Nok-yeong to watch over this child. Nok-yeong promises, even though she doesn't know who or where the child is. The next day, Ari is declared guilty of treason and tortured, refusing to lie about the murder, and is horribly executed by a primitive form of dismemberment while receiving visions of the future once more.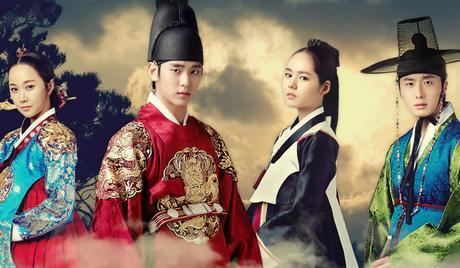 Years pass. The aristocratic but modest and loving Heo family includes two children: seventeen-year-old son Yeom and thirteen-year-old daughter, Yeon-woo (which means "misty rain"). Yeon-woo is special, exhibiting wisdom beyond her years. One day, Yeon-woo accompanies her mother to the royal palace to attend Yeom's civil service examination congratulatory ceremony. During this visit, Yeon-woo wanders away from the ceremony after being distracted by a butterfly and has a chance encounter with Crown Prince Lee Hwon. As a result of their chance encounter, Lee Hwon and Yeon-woo fall in love.
Bo-kyung, the ambitious and two-faced daughter of the palace's Prime Minister and maternal blood relative to the Queen Dowager, is chosen along with Yeon-woo as companions for the prepubescent Princess Min-Hwa, the younger sister of Crown Prince Lee Hwon. Min-hwa is a young girl of mercurial moods: crying, whining, and screaming when she does not get her way. Upon seeing her brother's handsome "Teacher Heo" (Yeon-woo's older brother, whose outstanding scholarship caused him to be immediately engaged as a tutor for the Crown Prince), Min-hwa becomes obsessed with him. Jang Nok-yeong, now the Head Shaman, realizes that Yeon-Woo is the child whom Ari begged her to protect years ago
Princess Min-Hwa discovers that Yeon-woo is Teacher Heo's sister and expresses her preference for Yeon-woo's company. Bo-kyung, who is all but ignored by the princess, feels slighted and jealous about the princess's favoritism toward Yeon-woo. Min-hwa soon asks her father to allow her to marry Yeom. The king refuses, for reasons that are rooted in tradition, political strategy, and socio-cultural correctness. Enraged and devastated, Min-hwa throws a terrible temper tantrum.
Some time later, Yeon-woo is demonstrated to be the superior choice (over Bo-kyung and another young woman) to wed Lee Hwon and become the Crown Princess of Joseon. This decision upsets Prince Yang Myung, the Crown Prince's freewheeling but misunderstood half-brother, who has also met and fallen in love with Yeon-woo, as well as Bo-kyung and her corrupt father, Prime Minister Yoon.
Yeon-woo undertakes her training to become the Crown Princess; she seems to be a bit physically clumsy at first, but is also lovingly courted by Crown Prince Lee Hwon during the training period.
Before Lee Hwon and Yeon-woo can marry, the Queen Dowager secretly orders Nok-yeong to cast a curse on Yeon-woo to afflict her with a sickness that will lead to her death. The Queen Dowager wants to install her blood relative, Bo-kyung, as the Crown Princess instead. Nok-yeong breaks her promise to protect Yeon-woo, feeling that she has no choice but to obey the Queen Dowager. The Queen Dowager uses Princess Min-hwa as a conduit to intensify the effect of the shaman's spell, as it is known that a young virgin with strong desires and motivations lend a great deal of power to sorcery. The Queen Dowager promises Min-hwa that if she participates in the spell, Min-hwa can have what she wants: to marry Yeom. Min-hwa's selfish immaturity and obsession with Yeom lead her to participate willingly, though it is also clear that she was manipulated by the Queen Dowager.
The black magic is successful and Yeon-woo is diagnosed with an unidentifiable illness by the royal physicians. She is thus expelled from the palace, losing her title as Crown Princess. As she inches closer and closer to death, Nok-yeong secretly visits Yeon-woo's father and gives him a special potion, promising that it will bring a peaceful death for his daughter. He gives her the potion and she dies, as her death is the only way to release her from the spell. After her burial, Nok-yeong and a paid help hurriedly dig up the grave and retrieve Yeon-woo, knowing that she will soon awaken from the potion. Yeon-woo is deeply traumatized by dying and then waking up buried alive, losing all memories of her previous life. With assistance and support from a Taoist priest, Shaman Jang, Yeon-woo, and Seol (the Heo family's loyal former maidservant) go into hiding in a distant location.
Crown Prince Lee Hwon is soon married to Bo-kyung. Lee Hwon flatly refuses to consummate the marriage with Bo-kyung; he repeatedly feigns illness in order to avoid physical intimacy, and further tries to avoid any interactions at all with her. The only people Lee Hwon allows near him are the eunuch who serves him and the wordmaster Woon. Woon's ever-presence with the prince leads some in the palace to quietly question Lee Hwon's sexuality, not understanding that Lee Hwon's heart still belongs to a woman presumed dead. Bo-kyung becomes progressively more humiliated and bitter about the Crown Prince's obvious distaste for her. The king dies, and Crown Prince Lee Hwon becomes the King of Joseon. With the former king's death, the need for Lee Hwon to produce an heir to the throne becomes more and more urgent. For this reason, the people around Lee Hwon are willing to try anything to help him recover from his "illness."
Eight years later, it is learned that the flow of the universe has shifted and the three "exiles" in hiding are sent back to the capital city. Yeon-woo has now become a shaman after being adopted as a "spiritual daughter" by Shaman Jang. Shaman Jang has sworn Seol to secrecy about Yeon-woo's true identity. Yeon-woo, now known as Shaman Wol (which means "moon") returns to the palace as a living talisman - a "bad-luck-absorbing" shaman — suggested by Shaman Jang as a way to cure the king's "illness." The king awakens one night to find Shaman Wol sitting by his bedside, and her unmistakable resemblance to his true love, Yeon-woo, causes the young king to start questioning what really happened to Yeon-woo eight years ago and quietly launches a thorough investigation. Meanwhile, Yeon-woo must try to understand the strange memories that are coming back to her while simultaneously contending with Queen Bo-kyung, the Queen's Father (who is still the Prime Minister), and the Queen Dowager in order to claim her rightful place as the Queen of Joseon. Political intrigue continues to build and comes shockingly to a head as King Lee Hwon fights for his throne, fights for the woman he loves, and fights for his very life.
Kim Soo-hyun as Crown Prince/King Lee Hwon (李暄)
Yeo Jin-goo as 15-year-old Lee Hwon
'
Sun Reaching for the Moon'
: Destined to be the first Sun. An intelligent Crown Prince of Joseon who seeks for a change. He experiences love for the first time when he meets Yeon-woo, but unfortunately she suddenly falls ill and dies. Eight years after her death, he has become a King who hardly smiles. One day, he encounters a shaman who resembles Yeon-woo. Naming her Wol, he starts to have doubts about Yeon-woo's death and decides to investigate.
Han Ga-in as Heo Yeon-woo (許煙雨) / shaman Wol (月)
Kim Yoo-jung as 13-year-old Heo Yeon-woo
'
Moon Embracing the Sun'
: Destined to be the first Moon, she was born in the interim of Ari's execution. The daughter of a noble family who is gaining power in the royal court. Smart, bright and well-loved, she was chosen as the Crown Princess, but mysteriously fell ill and died before the royal wedding ceremony. Just when she was believed to be dead, she was saved by Jang Nok-young, the head shaman, upon the request from her late friend Ari. However, Yeon-woo lost all her memories. Eight years later, she returns to the palace as a shaman, who is named Wol by Lee Hwon, which means the Moon.
Jung Il-woo as Prince Yang-myung (陽明)
Lee Min-ho as young Yang-myung
'
Overshadowed by the Sun'
: The second Sun, he is the elder half brother of Lee Hwon. He always seems to be unfairly treated by his father, King Seongjo. However his father reveals that while Yang-myung is still his beloved son, the harsh treatment he receives was meant to keep up appearances in order to protect Lee Hwon. Seemingly a carefree man, and fiercely loyal to those he loves, Yang-myung struggles to reconcile his long, unrequited love for Yeon-woo with the filial love he has for his royal brother Lee Hwon.
Kim Min-seo as Yoon Bo-kyung (尹寶鏡)
Kim So-hyun as young Yoon Bo-kyung
'
A Mirror longing to be the Moon'
The second Moon who enters the palace as a playmate for Princess Min-hwa. She was used as a tool by the Dowager Queen to achieve more power by trying to make her the Crown Princess, which was successful after Yeon-woo's supposed death. Later, she became Lee Hwon's queen. Although she's been in love with Lee Hwon all her life, his only true love remains Yeon-woo.
Sunwoo Jae-duk as Heo Young-jae
Yeom and Yeon-woo's father. He is trusted by King Sungjo for his loyalty, but viewed by Yoon Dae-hyung as an opponent.
Yang Mi-kyung as Shin Jung-kyung/Madam Heo
Yeom and Yeon-woo's mother, and mother-in-law of Princess Min-hwa. She is a very warm person but because of her daughter and husband's death, she is at the edge of losing her vitality, but Princess Min-hwa's charm and childlike manner help recover her smile.
Song Jae-hee as Heo Yeom
Yim Si-wan as 17-year-old Heo Yeom
Yeon-woo's older brother and Hwon's tutor, he is a high-ranking official scholar. He has a close friendship with Hwon whom he mentored and later when Hwon becomes the king he becomes his loyal subject. After Yeon-woo's death, he becomes the husband of Princess Min-hwa.
Yoon Seung-ah as Seol
Seo Ji-hee as young Seol
A servant who was cared about and treated well by the kind Heo family. She was named Seol by Heo Yeom and harbors an unrequited love for him. Later, as a swordswoman, she protects Yeon-woo during her time as shaman Wol.
Kim Young-ae as Queen Dowager Jung-hui
Mother of King Sungjo and Grandmother of Lee Hwon who has a political relationship with Yoon Dae-hyung. The death of crown princess Yeon-woo was orchestrated by her. A wily and calculating woman committed who grave sins to secure the throne of Lee Hwon to the benefit of her own family/clan.
Ahn Nae-sang as King Sung-jo
Father of Hwon, Yang-myung, and Min-hwa. A king with both intellect and military ability. The supposed involvement of his beloved brother Prince Uiseong in a conspiracy which brought the latter's death is a faded memory that can make him shed tears. (He never finds out that his brother was framed and murdered.) He loves his son Yang-myung deeply, but never shows it.
Kim Sun-kyung as Queen So-hye
Mother of Lee Hwon; not of noble birth.
Kim Ye-ryeong as Lady Park
Mother of Yang-myung. The concubine of Great King Sung-jo, who made her his concubine because he pitied her. Similar to Great Queen Han, she has no political ambition and has a quiet and gentle nature. After the death of King Sung-jo, she retires to live quietly in a Buddhist monastery as a religious ascetic.
Nam Bo-ra as Princess Min-hwa
Jin Ji-hee as young Min-hwa
Lee Hwon's younger sister. As a child, she became obsessed with Yeon-woo's older brother, Heo Yeom, and was determined to marry him at all costs.
Song Jae-rim as Kim Jae-woon
Lee Won-keun as 15-year-old Kim Jae-woon
A 23-year-old young warrior. He is the top swordsman in Joseon and is the loyal bodyguard of Hwon. He is blessed with the stunning good looks of his mother, and physical prowess and sword talent of his nobleman father. In spite of these advantages, Woon holds low rank and low social status because his mother was a kisaeng. Woon was cared for as a child by his father's legitimate wife. He has deep friendship with Yeom and Yang-myung, and his loyalty to Lee Hwon later strains his friendship with Yang-myung.
Jung Eun-pyo as Hyung-sun
Chief of Neasi eunuchs, who stayed by the side of Lee Hwon since he was a crown prince. He has a very close friendship with Lee Hwon, functioning as his aide, and understands him better than anyone else. He is often used by Hwon to accomplish many antics in the palace.
Kim Min-kyung as Court Lady Min
Coming from Yeom's family in Bukcheon, she serves as
lady-in-waiting
to Princess Min-hwa.
Chu Gwi-jung as Court Lady Jo
Queen Bo-kyung's
gungnyeo
(
lady-in-waiting
) since entering the palace as a Crown princess.
Jeon Mi-seon as Jang Nok-young
She was gungmu, the head of shamans for the state of Joseon. Her spirit allies make her magic so strong that people even avoid staring at her so that she won't cast a curse on them for giving offense. Shamans, because they are exclusively female, hold a low social rank in Joseon, in spite of their powerful abilities. The shamans of Joseon face continual opposition from the scholars and intellectuals of Joseon, all of whom are males. Partly to keep Seongsucheong from being completely marginalized by the scholars, she decides to help the Great Empress Queen Dowager.
Kim Ik-tae as Hye Gak
A Taoist priest and Guru of Sogyeokseo. He helped Jang Nok-young to escape with Yeon-woo. The Taoist order of Sogyeokseo was spiritually allied with the shamans of Seungsucheong, in that both groups practiced the sorcerous arts.
Bae Noo-ri as Jan-shil
Jo Min-ah as young Jan-shil
As a child, Jan-shil was taken in as a charity case by Jang Nok-yeong. Since childhood, Jan-shil has walked with one foot in the Otherworld, and sometimes appears crazy or out of her senses. She has the gift of Sight and is often used by the spirits to prophesy. She generally earns her keep as a servant, but because of her strong spiritual gifts, she also becomes a shaman and ultimately succeeds Jang Nok-young as head of Seungsucheong.
Jang Young-nam as Ari (cameo, ep 1)
A shaman who is friends with Jang Nok-young. She has strong divinatory powers, and can be seen having visions of the future. She was aided by Yeon-woo's mother to evade her potential captors. Though the effort was ultimately unsuccessful, Ari solemnly promised in gratitude to aid Madam Heo and her descendants, even from beyond the grave.
Kim Eung-soo as Yoon Dae-hyung
Father of Bo-kyung and the leader of consort clan. He is an experienced politician and would stop at nothing to gain money and power, even if it means he would lose his family.
Jang Hee-soo as Mrs Kim
Wife of Yoon Dae-hyung and Mother of Bo-kyung. She is unaware of the evils behind Yoon Dae-hyung.
Seo Hyun-chul as Shim San
Deputy minister of personnel, who was later elected to Chief Royal Secretary.
Lee Seung-hyung as Han Jae-gil
Mayor, who was later elected to Minister of Defense.
Kim Seung-wook as Yoon Soo-chan
Ministry of Taxation who was promoted to Minister of Personnel.
Yoon Hee-seok as Hong Gyu-tae
Guru at Uigeumbu (royal guard and secret police), formerly President of the student body at Sungkyunkwan. He is favored by King Hwon and becomes the king's secret investigator.
Based on the novel by Jung Eun-gwol, the screenplay was written by Jin Soo-wan (writer of Capital Scandal); and directed by Kim Do-hoon (who previously directed Royal Family) and Lee Seong-jun (who previously directed Gyebaek).
This production marked Han Ga-in's first historical drama and return to television since Bad Guy in 2010. It is also Jung Il-woo's second historical drama following The Return of Iljimae in 2009.
Filming began in November 2011 with child actors for the first six episodes, followed by the script reading session with their adult counterparts on December 25 at MBC Dream Center in Ilsan.
In February 2012, there were talks of an extension of four episodes to the 20-episode drama. The production company, Ten Entertainment later confirmed that there would be no extension and the series was to end on its original date of March 8, 2012. However it did not end till March 15, 2012, because director Kim Do-hoon joined the MBC strike leading to the last two episodes being delayed for a week, and replaced with two special episodes.
The shooting period spanned over the cold months in Korea, which added to the actors' difficulties as there were quite a number of outdoor scenes. The actors' breath can often be seen as they speak.
Most of the royal palace scenes were filmed on location at MBC Dramia located at Cheoin-gu, Yongin-si in Gyeonggi Province, where other historical dramas such as Dong Yi, Jumong and Queen Seondeok were also filmed. The House of Choi Champan was used as Yeon-woo's childhood home, and the Korean Folk Village was used for local markets, private residences of commoners, and night scenes.
According to AGB Nielsen Media Research, the premiere episode achieved a nationwide rating of 18 percent and by the third episode the series was ranked first with a nationwide rating of 23.2 percent in viewership, ahead of its rivals Take Care of Us, Captain on SBS and Wild Romance on KBS. The series finale recorded its highest ratings with a viewership of 42.2 percent nationwide, and an average of 45.8 percent in the Seoul National Capital Area.
시간을 거슬러 (Back in Time) – Lyn
달빛이 지고 (Under the Moonlight) – HeOra
눈물길 (Trail of Tears) – Wheesung
그림자 (Shadow) – Monday Kiz
해를 품은 달
숨은 달
꽃잎처럼, 불꽃처럼
애지애가(愛之哀歌)
궐
장명루
저자거리
위령제
두 개의 태양과 하나의 달
은월각
연우 내리다
태양의 눈물
궁의 아침
달빛의 노래
흑주술
나비의 춤
그대 한 사람 (Only You) – Kim Soo-hyun
In March 2012, the drama's broadcast rights were sold to eight Asian countries, including Japan, Thailand, Hong Kong, Singapore, Taiwan, Malaysia, Indonesia, and the Philippines. At that time it set the record as the most profitable drama for MBC, which was later surpassed by Arang and the Magistrate in August 2012.
Japan: NHK - special program on January 13, 2013, followed by its premiere on January 20, then aired every Sunday thereafter. Reruns aired in July 2014.
Philippines: GMA Network - aired from August 13, 2012 to November 2, 2012, on Monday to Friday nights. It is also available to stream on Iflix with subtitles.
Singapore: Starhub TV VV Drama - aired from November 24, 2012 to January 26, 2013, every Saturday night at 9.30 p.m. MediaCorp Channel U - premiered on April 23, 2014, airing on Mondays to Fridays at 10 p.m.
Iran: IRIB TV3 - aired from February 14, 2015 to March 15, 2015, everyday 20:45 in 30 episode.
Sri Lanka: Rupavahini - It premiered on May 26, 2015 under the title, Hiru Sandu Aadarei replacing Goddess of Fire. It is also available to stream on Iflix.
India: Puthuyugam TV - airs from September 16, 2015, Monday - Friday 9:00 PM as part of the channel's K-series programming block.
Myanmar: - Skynet International Drama.
Thailand: Channel 3 - airs from March 1, 2016, Monday - Wednesday 11:00 AM. It is also available to stream on Iflix.
A stage musical adaptation was performed at the Seoul Arts Center from July 6 to 31, 2013, with succeeding runs in 2014. Kim Da-hyun, Jeon Dong-seok and Cho Kyu-hyun alternated as Lee Hwon, and Jeon Mi-do, Ahn Shi-ha, Lina, Jung Jae-eun and Seohyun alternated as Yeon-woo.