Genre

RomanceDramaAction




Composer(s)

Gaemi




Theme music composer

Gaemi




Written by

Kim Eun-sookKim Won-seok




Directed by

Lee Eung-bokBaek Sang-hoon




Starring

Song Joong-kiSong Hye-kyoJin GooKim Ji-won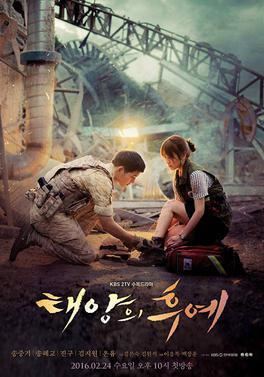 Descendants of the Sun (Hangul: 태양의 후예; RR: Taeyang-ui Huye) is a 2016 South Korean television series starring Song Joong-ki, Song Hye-kyo, Jin Goo, and Kim Ji-won. It aired on KBS2 from February 24 to April 14, 2016, on Wednesdays and Thursdays at 22:00 for 16 episodes.
Contents
The series was a major hit in South Korea and received immense popularity across Asia. KBS aired 3 additional special episodes from April 20 to April 22 containing highlights and the best scenes from the series, the drama's production process, behind-the-scenes footage, commentaries from cast members and the final epilogue.
Plot
Yoo Si-jin (Song Joong-ki) is the captain of a South Korean Special Forces unit. He catches a motorcycle thief, Kim Gi-beom (Kim Min-seok), with Sergeant Major Seo Dae-young (Jin Goo). The thief is injured during his capture and therefore sent to the hospital. Dae-young realizes his cellphone was stolen by the thief and goes to the hospital along with Si-jin to retrieve his cellphone.
In the emergency room, Si-jin meets Dr. Kang Mo-yeon (Song Hye-kyo) for the first time, and is instantly attracted to her. Mo-yeon mistakenly assumes Si-jin is part of the thief's criminal gang, due to his nickname "Big Boss", which is actually his call sign. He proves to her that he is a soldier with the help of army surgeon Yoon Myeong-ju (Kim Ji-won).
Si-jin and Mo-yeon begin to date, but due to their jobs, their dates are often interrupted halfway. Si-jin receives orders to lead his soldiers on a peacekeeping mission in the fictional country of Urk. Meanwhile, Mo-yeon is upset because she failed to become a professor due to a colleague's privileged background. When Si-jin and Mo-yeon meet again, they talk about their views on life and realize how different they are. Si-jin, as a soldier, kills to protect lives while Mo-yeon, as a doctor, honors the Hippocratic Oath and tries to save lives. Due to this difference in viewpoints on life, they agree to part ways. Dae-young, on the other hand, faces a dilemma on whether to continue with his relationship with Myeong-ju or risk being removed from the army by Myeong-ju's father.
Eight months later, Mo-yeon rebuffs the sexual advances of the hospital director and as a result is assigned to lead a medical team to Urk. There, Si-jin and Mo-yeon meet again. Through their encounters in Urk—an earthquake and an epidemic—their love for each other grows stronger. While in Urk, Mo-yeon accidentally confesses her feelings (much to the amusement of their respective teams) and the two officially start dating.
Back in Korea, the two of them continue their dates until Si-jin and Dae-young are sent on an operation in which they disappear and are assumed to be dead. Months pass, and Mo-yeon mourns his death, deciding to commemorate his passing with a volunteer trip to Albania. This is where Si-jin eventually finds her after he and Dae-young are rescued from captivity by "a friend from afar", a soldier from North Korea whom Si-jin had helped save earlier. Si-jin and Mo-yeon along with Myeong-ju and Dae-young are all happily reunited with each other.
Main cast
Song Joong-ki as Captain Yoo Si-jin (a.k.a. Big Boss)
The team leader of Alpha Team, an elite special forces unit in South Korea. He is a soldier from a family with a military background, and highly respects his father, who is honorably discharged as a Sergeant
Major
. Possessing outstanding academic and physical abilities, he graduated from the
Korea Military Academy
and is currently a
Captain
in the army. Si-jin is a loyal soldier who goes all out to defend his country's honor but in life, he is an easy-going and witty man who likes to joke around. At the end of the series, he was promoted to Major.
Song Hye-kyo as Doctor Kang Mo-yeon (a.k.a. Beauty)
A cardiothoracic specialist who works at Haesung Hospital. She is an assertive woman who believes that competence overrules connections but is hit by the harsh reality that she cannot go anywhere without any connections. She stands firmly by her principles and doesn't fall prey easily to her emotions, though she is not afraid to admit her mistakes.
Jin Goo as Sergeant First Class Seo Dae-young (a.k.a. Wolf)
A loyal soldier who takes pride in protecting his family and his homeland with his own two hands. He possesses extensive experience in dealing with disasters, and often uses this knowledge to protect his comrades. Since heavy actions are more comfortable for him than lighthearted conversations, he has a hard time expressing his feelings. However, within the shell of this hardcore soldier is a good heart that is deeper than anyone else's.
Kim Ji-won as First Lieutenant Yoon Myeong-ju
An army doctor who is also the daughter of
Lieutenant General
Yoon, commander of the South Korean Special Forces Brigade. She follows her father's footsteps and graduates from the Korea Military
Academy
before doing an internship at Haesung Hospital. At her first assignment she meets Dae-young, a non-commissioned soldier. She is determined and does not hesitate to pursue what she desires.
Alpha Team Members
Park Hoon as Staff Sergeant Choi Woo-geun (a.k.a. Snoopy)
Choi Woong as Staff Sergeant Gong Cheol-ho (a.k.a. Harry Potter)
Ahn Bo-hyun as Staff Sergeant Class Im Gwang-nam (a.k.a. Piccolo)
Haesung Hospital Medical Services Team
Onew as Lee Chi-hoon (1st year resident of Thoracic Surgery a.k.a. Handsome Spaceman)
Lee Seung-joon as Song Sang-hyun (General Surgeon)
Seo Jeong-yeon as Ha Ja-ae (ER Nursing Team)
Park Hwan-hee as Choi Min-ji (ER Nurse)
People at Haesung Hospital
Hyun Jyu-ni as Pyo Ji-soo (Pathology Specialist)
Tae In-ho as Han Suk-won (Chairman of Haesung Hospital)
Park Ah-in as Kim Eun-ji (Thoracic Surgery Specialist)
Jo Woo-ri as Jang Hee-eun (1st Year Resident of Anesthesiology)
Tae Baek Army
Kang Shin-il as Lieutenant General Yoon Gil-joon (a.k.a. Yellow Tiger) (Myeong-ju's father)
Kim Min-seok as Private First Class Kim Ki-bum (later promoted to Staff Sergeant as seen in ep 16). A pickpocket later enlisted to the army.
Uruk area
Cho Tae Kwan as Daniel Spencer (Peacemaker Emergency Doctor Team)
Jeon Soo-jin as Ri Ye-hwa (Peacemaker Emergency Nurse Team)
David Lee McInnis as Ryan Argus (Gang Boss, former Delta Force Captain), the main antagonist.
Dean Dawson as the Chief of Police (Tae Baek Police Chief)
Jo Jae-yoon as Jin Young-soo (Chief Manager of Uruk Electric Power Corporation)
Lee Yi-kyung as Kang Min-jae
Zyon Barreto as Fatima
Elena Zhernovaia as Valentine
David Pipes as Martin (World Times Reporter)
Ji Seung-hyun as Senior Lieutenant Ahn Jung-joon, Korean People's Army.
Kwak In-joon as Lee Han-soo (Minister of Foreign Affairs)
Joey Albright as US Army Delta Force member
Cameos
Lee Kwang-soo as shooting arcade operator (episode 1)
Lee Jong-hyuk as Captain Kim Jin-seok (episode 2, 5, 10, 15)
Matthew Douma as Jordan, US Army Delta Force Captain (episode 2, 10, 12)
Jung Ji-won as TV announcer (episode 2)
Park Tae-won as TV announcer (episode 2)
Ryu Hwa-young as Seo Dae-young's ex-girlfriend (episode 4)
Jun In-taek as Yoo Young-geun (Yoo Shi Jin's father) (episode 6, 7, 15, 16)
Park Joon-geum as Lee Chi-hoon's mother (episode 7, 11)
Yoo Ah-in as bank reception Eom Hong-shik (episode 13)
Nam Ki-ae as Kang Mo-yeon's mother (episode 13)
Lee Jae-yong as Lieutenant General Choi Ji-ho, Korean People's Army
Red Velvet as themselves (episode 16)
Production
Descendants of the Sun was fully pre-produced before airing which is a departure from the live-shoot production format that characterizes most Korean dramas. The drama is Song Joong-ki's comeback project after serving his two years of mandatory military service. The production cost a staggering 13 billion won (approximately $10.8 million) to produce.
Initially, there were doubts about the profitability of the drama, as a story involving a soldier may not be enough to garner a very high successive rate. This is revealed when SBS were reluctant to continue with the project. It was then passed to KBS. According to tvN, lead actor Song Joong-ki was not the first choice of writers and directors for the hit South Korean series. The 6 June episode of tvN's The List 2016 revealed the names of four actors who rejected the role before Joong-ki was chosen. As per the show, the A-listers who passed the role includes Won Bin, Jo In-sung, Gong Yoo, and Kim Woo-bin. Reportedly, the actors were skeptical on sporting the army style short hair. It is also said that the artists expressed slight discomfort on portraying a role of a soldier and could not commit with the pre-production format of the show.
On June 12, 2015, lead actors Song Joong-ki and Song Hye-kyo filmed their first scene in Seoul. On September 28, 2015, the entire cast and crew (including the four leads, Song Joong-ki, Song Hye-kyo, Jin Goo, Kim Ji-won, as well as supporting actors Kang Shin-il and Onew) departed for Greece. The team resided in the country for approximately a month to shoot episodes crucial to the drama's plot. According to Greek and South Korean news portals and blogs, filming mainly took place in Zakynthos, Arachova, Lemnos, and Navagio.
On November 25, 2015, it was announced that actor Song Joong-ki injured his arm while filming an action scene for the drama on November 23. On December 7, 2015, Song Joong-ki returned to work only 2 weeks after he was injured and spotted filming at a station in Seoul. The MERS-CoV outbreak in South Korea in 2015 also seriously hampered filming schedules. The outbreak claimed the lives of 33 people, according to WHO.
The location which served as the Mowuru Company's base camp was set at the exhausted Taebaek Hanbo Coal Mine while earthquake scenes were mostly filmed at the Samtan Art Mine. Filming also took place at Camp Greaves DMZ Experience Centre, once a US Army base camp during the Korean War. Filming at Haesung Hospital was actually done at the Seoul St Mary's Hospital.
The crew wrapped up the last shoot in the early morning of December 30, 2015.
As per KBS's Head of Drama, Jung Sung-ho, the sequel is set to premiere in 2017. He added that the planned project may involve an entirely new story than the first series, which may instead involve second leads Jin Goo and Kim Ji-won, who play Master Sergeant Seo Dae-young and Lieutenant Yoon Myeong-ju respectively. The sequel, this time, will be co-produced by Jidam Inc., the production company behind the hit and award-winning TV dramas My Daughter, Geum Sa-wol and Jang Bo-ri is Here!.
Less than a year after Descendants, director Baek Sang-hoon, cinematographer Kim Si-hyeong and music director Gaemi, real name Kang Dong-yoon, once again collaborated for another hit KBS drama, Love in the Moonlight (2016).
Product placement (PPL)
There has been coverage in the Korean media about the controversy surrounding the use of product placement in this drama. Laneige, Dal.Komm Coffee, KGC Cheong Kwan Jang Korean Red Ginseng, Subway and Hyundai all reported a surge in sales after exposure of their products in the drama. Some critics argued that there was too much product placement in the drama and that the use of product placement undermined the drama's content and artistry.
Laneige
The "Two Tone Lip Bar" lipstick that Song Hye-Kyo wore in a scene on the show has broken sales records for Aritaum in South Korea with Laneige subsequently hosting its own Descendants of the Sun makeup event on its homepage. The product became so popular that it sold out four days after its release on the popular Chinese shopping website, 11th Street, owned by its Korean parent-company, SK Planet. The same product also experienced "double digit growth" in Singapore.
Reception
The success of Descendants saw a change in tide toward pre-produced Korean dramas. However, in an interview, Kim Won-seok (co-writer of Descendants) stated that said there were some parts that could have been improved on if the show had been shot as it was being aired, per local industry norm. The show also revived hallyu, or the Korean pop culture craze, that was in decline over recent years.
Ratings
In the tables below, the blue numbers represent the lowest ratings and the red numbers represent the highest ratings.
International broadcast
Production company, NEW said that the drama had been exported to 32 countries.
In China, iQiyi bought the exclusive rights to stream the show for US$250,000 per episode which, in total, is equivalent to about 40% of the show's production costs. The show was released simultaneously in South Korea and China, the first Korean drama to do so, and was viewed 2.3 billion times by April 2016. Its popularity in China caused concern with the country's Ministry of Public Security, posting a warning on its official Weibo account against the drama warning viewers "watching Korean dramas could be dangerous, and even lead to legal troubles". It is part of a growing concern among Chinese officials who are wary of the growing influence of Korean pop culture on the Chinese populace since the similar success of My Love from the Star in 2014.
In Hong Kong, it was streamed on Viu with Traditional Chinese subtitles four hours after the original broadcast and also aired on ViuTV.
In Singapore, the drama was streamed on Viu with English and Chinese subtitles. Each episode was available to stream eight hours after the original South Korean broadcast. During its run it was the most watched show on Viu in the country and enjoyed ratings as high as 31.8%. Statistics from March 2016 showed about 60% of users on Viu had tuned in to watch the drama. In the week following its finale, eight songs from the drama's soundtrack occupied the top 10, including the top six positions, of Singapore's Top 30 Singles chart.
In Malaysia, the drama was streamed on Viu with English, Malay and Chinese subtitles within 24 hours of the original South Korean broadcast. It aired one week later on KBS World through ASTRO channel subscription. It premiered on 8TV on June 9, 2016, with Malay subtitles.
In Vietnam, the drama premiered on April 21, 2016, on HTV2.
In Thailand, the drama premiered on May 7, 2016, on Channel 7. Prior to the screening of the drama in Thailand, Prayut Chan-o-cha, the prime minister of Thailand, called for citizens of Thailand to watch the drama claiming it conveys messages of "patriotism, sacrifice, obeying orders and being a dutiful citizen". The drama's lead star, Song Joong-ki, visited Thailand in May 2016 to promote the drama as part of his Asia-wide tour.
In Japan, the drama premiered on June 21, 2016, on the cable channel BS Sky PerfecTV!. Reports have claimed that the drama was sold for US$100,000 per episode.
In the Philippines, the drama premiered on July 25, 2016, on GMA Network as part of The Heart of Asia programming block, dubbed in Filipino. The success of the drama in the Philippines has prompted rival network ABS-CBN to bring back Korean dramas on its main channel in 2017 with Love in the Moonlight and The Legend of the Blue Sea.
In Indonesia, the drama is available to stream on Viu with Indonesian subtitles. It premiered on RCTI on July 25, 2016.
In Cambodia, the drama premiered on August 5, 2016, on Hang Meas HDTV under the title, រឿងភាគកូរ៉េ "ម្ចាស់ព្រះអាទិត្យ dubbed into Khmer.
In Greece, the drama will premiere on December 7, 2016, on TV100 The Municipal Television of Thessaloniki with Greek subtitles. TV100 is the only TV network in Greece that aires K-Dramas. The drama also contributed to the rise of tourism in Greece, where scenes of the drama were shot.
In India, it premiered on February 8, 2017 and was telecast from Monday to Saturday, 20:00 Indian time on Zindagi.
Globally, the drama is available to stream on Viki with subtitles in many languages created by the volunteer community. Each episode was available to stream a couple hours after the original South Korean broadcast. The drama was also broadcast around the world on KBS World with English subtitles.
Chinese film
A Chinese film adaptation produced by Huace Film & TV and directed by Zhang Yibai is planned.
References
Descendants of the Sun Wikipedia
(Text) CC BY-SA