The film revolves around Raghava, who is scared to venture outside gets possessed by a ghost and starts behaving weirdly. The ghost turns out to be a transgender who wants to take revenge on an MLA who murdered her and her family for land-grabbing. The film's cinematography and editing was handled by Vetri and Kishore Te. respectively. The film's soundtrack was composed by Thaman. The film's distribution rights was bought by Sri Thenandal Films.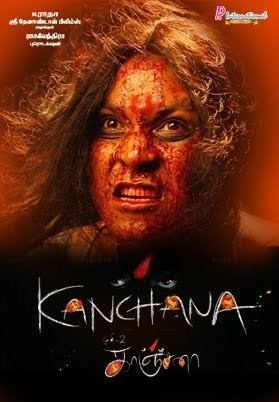 Raghava (Lawrence Raghavendra) is a typical jobless youth who spends his days playing cricket with friends. He suffers from an irrational fear of ghosts, and retreats to the safety of his home after sunset. His fear is so great he prefers to sleep with his mother (Kovai Sarala) and have her accompany him to the bathroom at night. This creates major annoyance in the household, including Raghava's brother (Sriman), sister-in-law (Devadarshini) and their children.
One day, Raghava and his friends are forced to abandon their usual cricket ground and find a new one; they unwittingly select an abandoned ground which is rumored to be haunted. A bizarre weather change scares them away. Raghava brings home his cricket stumps, which have been stained with blood from a buried corpse in the ground. He focuses on wooing Priya (Lakshmi Rai), the sister of his sister-in-law. In the following days, his mother and sister-in-law are witness to several paranormal phenomena at night; prominently a ghost haunting the hallways. On consulting a priest, they perform 3 rituals to ascertain if the house is haunted:
1. They keep a coconut on a rangoli and pray to Lord Shiva. If the coconut Spins then it's considered that the house is haunted but not 100% sure. So they start to do the next ritual thing.
2. They make a cow eat food. If cow runs out of the house without eating the food, Then the house is considered to be haunted but they just want to make sure and start to do the next one.
3. They leave a lamp lit and two drops of blood and leave the house stopping the electricity. Then the ghost of the woman appears and licks the blood, this is seen by the people and you know they were scared and ran away from the house for that night.
Scared senseless, Raghava's mother and sister-in-law hire two priests (Mayilsamy and Manobala) to rid their home of the ghost. The priests, however, are conmen, and escape with their lives. That night, the ghost possesses Raghava, who begins acting increasingly effeminate, alienating himself from Priya and wearing women's clothes and jewelry. His family angrily confronts him, when it is revealed that there are actually three ghosts who have possessed him: a violent woman, a Hindi-speaking Muslim, and a mentally retarded boy. Raghava's family hires an exorcist, who successfully drives the spirit away from Raghava's body. The ghost of the woman, trapped, reveals her story.
Kanchana (Sarathkumar) is a transgender who was disowned by her parents. She is offered shelter by a kind Muslim Akbar Bai(Babu Antony), who has a mentally retarded son. Regretting that she couldn't become a doctor as she intended, she adopts another young transgender, Geetha, and works hard to support her financially. When Geetha leaves to study medicine abroad, Kanchana buys a plot of land where Geetha intended to construct a hospital for the poor. That ground is unlawfully taken by crooked MLA Shankar (Devan). Kanchana angrily confronts the MLA, who cunningly kills her. He also kills Babu Antony and his son. Before she died, she vowed to kill Shankar, his wife, and his henchmen. The bodies are then buried in Kanchana's own ground.
The exorcist sympathizes with her, but remains duty-bound and traps her. After hearing her story, Raghava is touched; risking the danger, he allows Kanchana to possess him once again. Raghava/Kanchana confronts the MLA, and disposes of his henchmen gruesomely. The MLA seeks refuge in a Narasimha temple which Kanchana is forbidden from; but she asks the deity for justice and manages to chase him inside the temple. The three spirits combined kill the MLA. A few years later, Raghava has constructed the hospital for Geetha as per Kanchana's wishes. It is revealed that Kanchana exists symbiotically in Raghava's body to help him out when the need rises.
Raghava Lawrence as Raghava
R. Sarathkumar as Kanchana
Lakshmi Rai as Priya
Sriman as Raghava's brother
Devan as MLA Shankar
Babu Antony as Bhai
Kovai Sarala as Raghava´s mother
Devadarshini as Kamakshi
Priya as Geetha
Manobala as fake priest 1
Mayilsamy as fake priest 2
Super Subbarayan
The film's original soundtrack has been composed by S. Thaman.
The film received mixed reviews from critics. Rediff wrote:"It is torturous and tedious to watch, the chills and thrills are not spine-chilling and a soundtrack that is supposed to be eerie is anything but. There's quite a bit of unintended comedy too". Greatandhra wrote:"As for Lawrence, his intention was to target the mass audience and he has been fairly successful in his attempt as compared to his prequel by infusing good depth and emotional intensity". Sify wrote:"On the whole, Kanchana is an entertaining affair and can be watched once".
According to Sify, Kanchana emerged 2011's most successful Tamil film based on return on investment. The film, made on a budget of ₹7 crore (US$1.1 million) and marketed for ₹1.5 crore (US$230,000), had its Telugu dubbing rights sold to Bellamkonda Suresh for ₹4 crore (US$620,000). The film grossed around ₹20 crore (US$3.1 million) share from Tamil Nadu alone at the end of its run.
Best Supporting Actor - R. Sarathkumar
Best Female Comedian - Kovai Sarala
Best Actor in a Supporting Role - Sarathkumar
Sequel and remakes
In early 2012, sources claimed that Raghava Lawrence was planning to make a third part of Muni. Furthermore, it was suggested that Lawrence's brother might play the lead role in the sequel. Instead, he danced with his brother in a cameo for the film. Eventually the third installment Kanchana 2 was released on 17 April 2015. It was also a commercial success.
It has also been reported that Lawrence will be directing a Hindi remake of Kanchana with Shahrukh Khan in the lead, making his Bollywood directorial debut. Initially, Lawrence wanted to cast Salman Khan in the film, but the rumors were denied. Sanjay Dutt will be playing an important character as well.
Rama Narayanan, who distributed the Tamil version has directed the Kannada remake of the film titled Kalpana with Upendra playing lead role and Sai Kumar playing the role of transgender and Lakshmi Rai playing the same role which was released in September 2012.
In Sinhalese remake of Maya 3D directed by Donald Jayantha, Ranjan Ramanayake is playing the role initially portrayed by Sarath Kumar as Kanchana. Also been remade in Philippines as Da Possessed.