Country

Uganda


District

Mbarara District


Population

195,013




Region

Western Uganda




Mayor

Wilson Tumwiine








Colleges and Universities

Mbarara University of Science and Technology, Bishop Stuart University

Map of Mbarara
Mbarara is a town in the Western Region of Uganda. It is the main municipal, administrative, and commercial center of Mbarara District and the site of the district headquarters.
Contents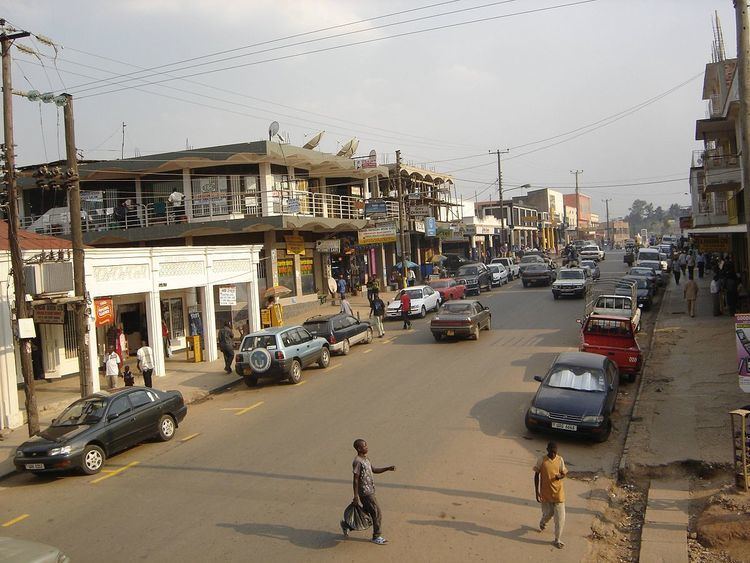 Police blocks mbarara nrm youth group from assembling
Utl rotary club of kla refurbish mbarara health center
Location
Mbarara is about 290 kilometres (180 mi), by road, southwest of Kampala, Uganda's capital and largest city. Mbarara is an important transport hub, lying west of Masaka on the road to Kabale, near Lake Mburo National Park. The coordinates of the Mbarara central business district are 00 36 48S, 30 39 30E (Latitude:-0.6132; Longitude:30.6582).
Population
In 2002, the national census estimated the population of the town at 69,400. The Uganda Bureau of Statistics (UBOS) estimated the population at 82,000 in 2010. In 2011, UBOS estimated the mid-year population at 83,700. In August 2014, the national population census put the population at 195,013.
History
MBARARA GENESIS Early Travellers in Ankole and the Founding of Mbarara by an African, Asian and European Initiative. by David Weekes, (2014) ISBN 9780956550149 describes its founding in 1899 on an old royal site which had been abandoned.
Growth and expansion
Mbarara came from behind and developed to surpass Entebbe, Masaka, Gulu, and Jinja as the second-largest town in Uganda after Kampala and also second to Kampala in importance, industry, and infrastructure, 3rd largest town in Uganda by population after Kampala and Kira and the fastest growing town in Uganda followed by Gulu.
Starting with 2000, modern buildings have been established including malls, arcades, plaza, and hotels. Modern hospitals have also been constructed including Mbarara Hospital, which is now a National Referral Hospital, Mbarara Community Hospital a private hospital located in Kyamugorani, Kakiika Division, and Mayanja Memorial Hospital located in Nyamityobora Kakoba Division.
On 7 August 2015 the Uganda cabinet approved Mbarara Municipality alongside other 5 municipalities to be granted a city status. As of 14 August 2015, the town is waiting for the approval of the parliament and the President.
Infrastructure
Mbarara is the home of Mbarara University of Science & Technology (MUST), founded in 1989.
With significance for all Ugandan cities, Mbarara was the host to the 2004 Annual General Meeting of the Uganda Local Governments Association on 1 October, which saw the changing of the organisation to its current structure in order to represent all Ugandan local governments. Mbarara remains an active member of this governmental association.
Finance
The following financial institutions maintain branches in Mbarara:
Bank of Uganda
National Social Security Fund (Uganda)
Mbarara Bypass Road
As part of the modernization of the Mbarara-Katuna Road (2011 - 2015), a new northern bypass road is planned for the town. The bypass will start from the Coca-Cola Plant on Mbarara-Masaka Road at Makenke, pass through Rwebishuri and Nkokonjeru and join the Mbarara-Kabale Road at Katatumba Resort, about 5 kilometres (3.1 mi) southwest of the central business district. The bypass is expected to decongest the city center by taking the long-distance trucks destined for and coming from Rwanda, Burundi, and the Democratic Republic of the Congo off of Mbarara's city streets. The 14 kilometres (8.7 mi) road is expected to cost about €170 million (US$210 million), of which the European Union is expected to lend about €122 million (US$153 million) with the government funding the balance from its own resources.
Points of interest
The following additional points of interest lie within the city limits or close to its edges:
Administration
headquarters of Mbarara District Administration
offices of Mbarara Municipal Council
Industry
Mbarara Brewery - A subsidiary of SABMiller; to be built at a cost of US$80 million.
Mbarara Steel Plant - Owned and operated by the China Machine Building International Corporation (CMIC), a Chinese Government parastal company
Social services
Mbarara Regional Referral Hospital - A 600-bed, public hospital, administered by the Uganda Ministry of Health. The teaching hospital of Mbarara University School of Medicine
Mbarara Community Hospital - A private hospital that serves the community without regard to ability to pay.
Mayanja Memorial Hospital - A private 100-bed hospital
Holy Innocents Children's Hospital - A private 100-bed general pediatric hospital, administered by the Roman Catholic Archdiocese of Mbarara
Education
Mbarara University of Science and Technology - One of the six public universities in Uganda.
Uganda Bible Institute.
The Mbarara Campus of Uganda Martyrs University.
The Western Campus of Uganda Management Institute
Bishop Stuart University - A private Christian University, affiliated with the Church of Uganda
Ntare School - A boys-only, boarding middle and high school
Mbarara High School - A residential boys-only middle and high school
Maryhill High School-A girls-only,boarding middle and high school founded by the Daughters of Mary and government aided
Transport
Mbarara Airport - A public airport, located about 10 kilometres (6.2 mi), by road northwest of town
Mbarara Bypass Road - A 14 kilometres (8.7 mi) bypass road, currently under construction, circling the northern half of the city.
Photos
Downtown Mbarara
References
Mbarara Wikipedia
(Text) CC BY-SA