Uganda




Western Uganda




Kabale District




Pius Ruhemurana




Kabale University, Kabale College Of Commerce, St Pauls Seminary Roshoroza



Kabale is a city in Western Uganda. It is the chief town of Kabale District and the district headquarters are located there. The district is named after the town.
Kabale is located in Kabale District, Kigezi sub-region, Western Uganda. It is located approximately 420 kilometres (260 mi), by road, southwest of Kampala, Ugandas capital and largest city. The town lies 2,000 metres (6,600 ft) above sea level. The coordinates of Kabale are:01 15 00S, 29 59 24E (Latitude:-1.2500; 29.9900).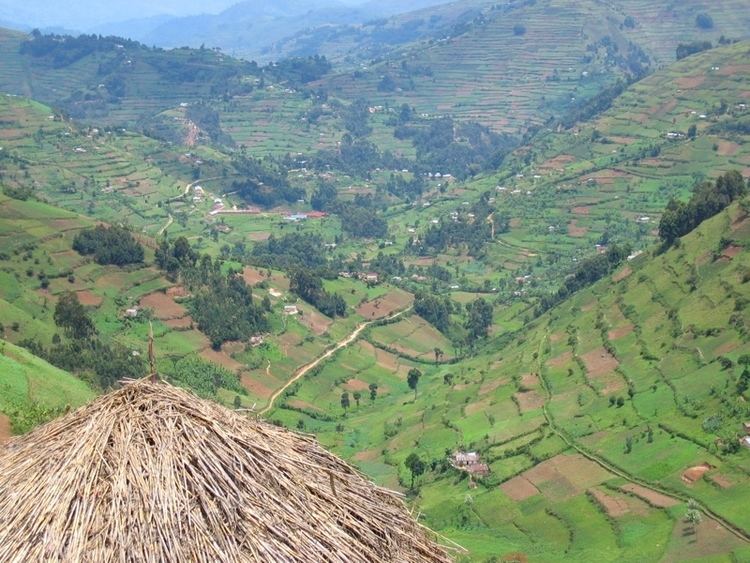 Kabale is the largest metropolitan area in Kabale District. It is also the largest town in the Kigezi sub-region. Kabale is one of the most scenic towns in Uganda, with green, interlocking and heavily cultivated hills, that range from 1,219 metres (3,999 ft) to 2,347 metres (7,700 ft) above sea level that surround the city, and with beautiful terraces of vegetable farms and numerous valleys in which approximately 2 million people live. Kabale remains one of Ugandas tourist attractions. Its altitude makes it colder than the rest of the country. The average monthly temperatures are around 18 °C (64 °F) and can fall to 10 °C (50 °F) at night. Relative humidity is between 90 and 100% in the morning and decreases to between 42% and 75% in the afternoon, all the year around.
The major attraction bringing visitors to Kabale are the mountain gorillas. The town is on the way to the national parks where these endangered animals reside - Bwindi Impenetrable National Park and Mgahinga Gorilla National Park. Bwindi is in fact partially within Kabale District. Other attractions include the Ihimba Hot Springs nearby, and Lake Bunyonyi, 7 kilometres (4.3 mi) from Kabale.
The other points of interest within the town limits or close to the edges of town include the following:
The headquarters of Kabale District Administration
The offices of Kabale City Council
Kabale Regional Referral Hospital - A 250 bed public hospital administered by the Uganda Ministry of Health
A branch of Barclays Bank
A branch of Bank of Baroda
A branch of Centenary Bank
A branch of Crane Bank
A branch of DFCU Bank
A branch of Kenya Commercial Bank
A branch of National Bank of Commerce
A branch of PostBank Uganda
A branch of Stanbic Bank
A branch of Pride Microfinance Limited
A branch of the National Social Security Fund
Kabale Currency Centre - A currency storage and processing facility owned and operated by the Bank of Uganda, Ugandas Central Bank.
The campus of Kabale University - A private university, one of the more than 30 private and public universities in Uganda
Kabale Airport - A civilian airport operated by Kabale Municipality
The Kabale Campus of Uganda Martyrs University
Royal Supermaket - A local grocery store
K.M Boutique - A local shop for fine clothes located at the First floor of Kabale Shopping Arcade
Nature Uganda Office at 4 Coryndon Road, Makanga Hill, Bwindi Mgahinga Trust Building
Kabale Wikipedia
(,)http://upload.wikimedia.org/wikipedia/commons/8/8e/Kabale_landscape.jpg(,)http://www.tunnelinvestmentsltd.com/wp-content/uploads/2014/08/uganda-bunyonyi2nx.jpg(,)http://4.bp.blogspot.com/-JjimM4-rwtk/UJJ_VJ58thI/AAAAAAAAACI/BHY9ou8hBPI/s1600/landscape_small.jpg(,)http://upload.wikimedia.org/wikipedia/commons/5/52/Kabale_town.jpg(,)http://www.edirisa.org/blogger/media/thumb_trekking.jpg(,)https://everplaces.com/users/3b7f390ff4654dd290ee9a9f2839ed06/places/d69708068ced489eb6f05b06c0aa9d75/images/20bc84f0c09040b7bcb441d2a62e9f3b_big.jpg
(,)http://media-cdn.tripadvisor.com/media/photo-s/06/da/2d/7b/birdnest-bunyonyi-resort.jpg(,)http://media-cdn.tripadvisor.com/media/photo-s/01/a4/26/f4/birdnest-entrance.jpg(,)http://www.edirisa.org/img/hiking_stop.jpg(,)http://media-cdn.tripadvisor.com/media/photo-s/02/e0/dd/75/gorilla-mist-camp.jpg(,)http://i2.cdn.turner.com/cnnnext/dam/assets/140409134741-african-street-food-uganda-meat-1-horizontal-large-gallery.jpg(,)http://chimpreports.com/wp-content/uploads/2015/03/foot-595x3601.jpg(,)http://media-cdn.tripadvisor.com/media/photo-s/01/81/db/b7/birdnest-bunyonyi-resort.jpg(,)http://exp.cdn-hotels.com/hotels/11000000/10040000/10038500/10038417/10038417_2_z.jpg(,)http://www.safarinow.com/db/id/985039/g275876.jpg(,)http://www.guide2uganda.com/uploads/info/large/230311171042Kabale%2520by%2520TKYK.jpg(,)http://www.guide2uganda.com/uploads/info/large/230311171024kABALE%2520BY%2520KIWIESPLORER.jpg(,)https://d13pix9kaak6wt.cloudfront.net/avatar/users/j/o/p/jopfan.ch_1380726760_72.png