Covid-19
Uganda




Central Uganda





Masaka District








Muteesa I Royal University



Masaka is a large town in the Central Region of Uganda, west of Lake Victoria. The headquarters of the Masaka District are in the town.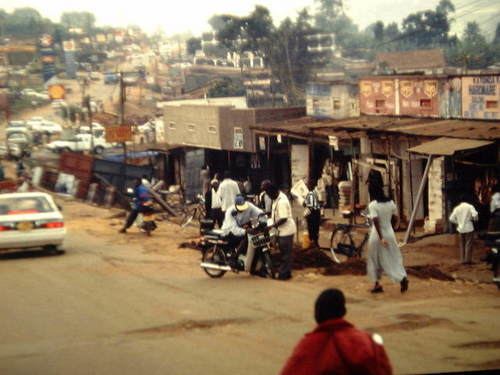 The town was largely destroyed in the Uganda-Tanzania War of 1979 and again in the 1981-1986 civil war that removed Milton Obote from power for the last time.
Masaka is approximately 140 kilometres (87 mi) to the south-west of Kampala on the highway to Mbarara. The town is close to the Equator. The coordinates of the town are 0°20'28.0"S, 31°44'10.0"E (Latitude:-0.341111; Longitude:31.736111).
According to the 2002 national census, the population of Masaka was about 67,800. In 2010, the Uganda Bureau of Statistics (UBOS) estimated the population at 73,300. In 2011, UBOS estimated the mid-year population at 74,100. In August 2014, the national population census put the population at 103,829.
Most of the people are farmers with both cattle and other crops. Other economic activities include the following:
Meat and fish processing
Furniture manufacturing
Manufacture of footwear
Manufacture of baked products
Cattle rearing
Manufacture of beads
"Gathering grasshoppers" that can potentially earn a collector over UGX:50 million annually.
The following additional points of interest are located in Masaka or close to its borders:
offices of Masaka Municipal Council
Masaka central market
headquarters of the Mechanized Division of the Uganda People's Defense Force
Muteesa I Royal University
Western Campus of Kampala University
St. Henry's College Kitovu
headquarters of the Roman Catholic Diocese of Masaka
Lake Nabugabo, 20 kilometres (12 mi) to the east of downtown Masaka.
Bukakkata, 24 miles (39 km) east of Masaka.
Ssese Islands in Lake Victoria
Masaka Regional Referral Hospital
Masaka Currency Center – a currency storage and processing facility owned and operated by the Bank of Uganda, Uganda's central bank.
A branch of the National Social Security Fund
Edward Ssekandi, Vice President of Uganda
The Uganda international marathon route loops Masaka Town, many photos of the town on their website
Masaka Wikipedia