Position:

Running back




Name

Marshawn Lynch




Height

1.8 m




College:

California




Weight

98 kg




Roster status:

Active








Date of birth:

(1986-04-22) April 22, 1986 (age 29)




NFL draft:

2007 / Round: 1 / Pick: 12




Role

American football running back




Current team

Seattle Seahawks (#24 / Running back)




Parents

Maurice Sapp, Delisa Lynch




Education

University of California, Berkeley, Oakland Technical High School




Similar People

Russell Wilson, Richard Sherman, Adrian Peterson, Thomas Rawls, Pete Carroll




Profiles




Twitter

Facebook

Instagram

Google+




Place of birth:

Oakland, California



Marshawn lynch top 10 plays of career
Marshawn Terrell Lynch (born April 22, 1986) is an American football running back for the Oakland Raiders of the National Football League (NFL). He was drafted by the Buffalo Bills in the first round of the 2007 NFL Draft after playing college football at the University of California at Berkeley, where he became the school's second all-time career rusher. As a member of the Seattle Seahawks, he won Super Bowl XLVIII against the Denver Broncos. After initially retiring after the 2015 season, Lynch applied for reinstatement and was traded to the Raiders in April 2017.
Contents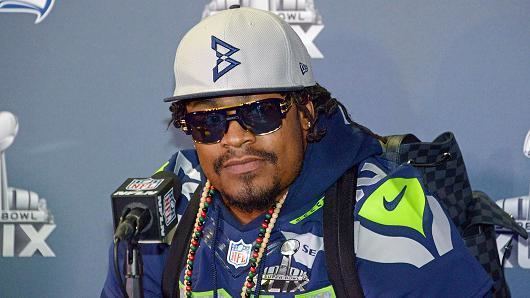 Lynch earned the nickname "Beast Mode" for his powerful running style, propensity for breaking tackles, and consistent ability to run over defenders.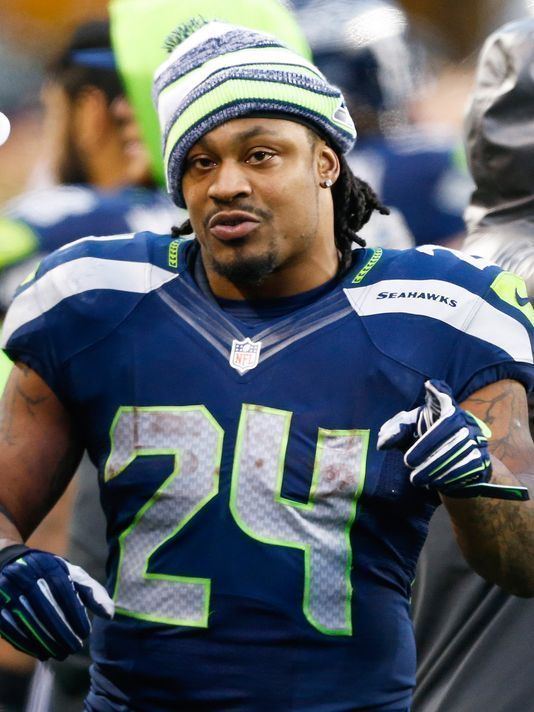 9 marshawn lynch rb seahawks top 100 players of 2015
Early life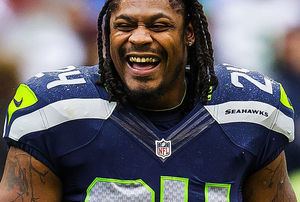 Lynch grew up in Oakland, California, with three older siblings. He was raised by his mother Delisa, who once held a 200-meter track record at Oakland Technical High School, the school that Marshawn later attended. Lynch started playing youth football in Oakland, California at a young age.
High school career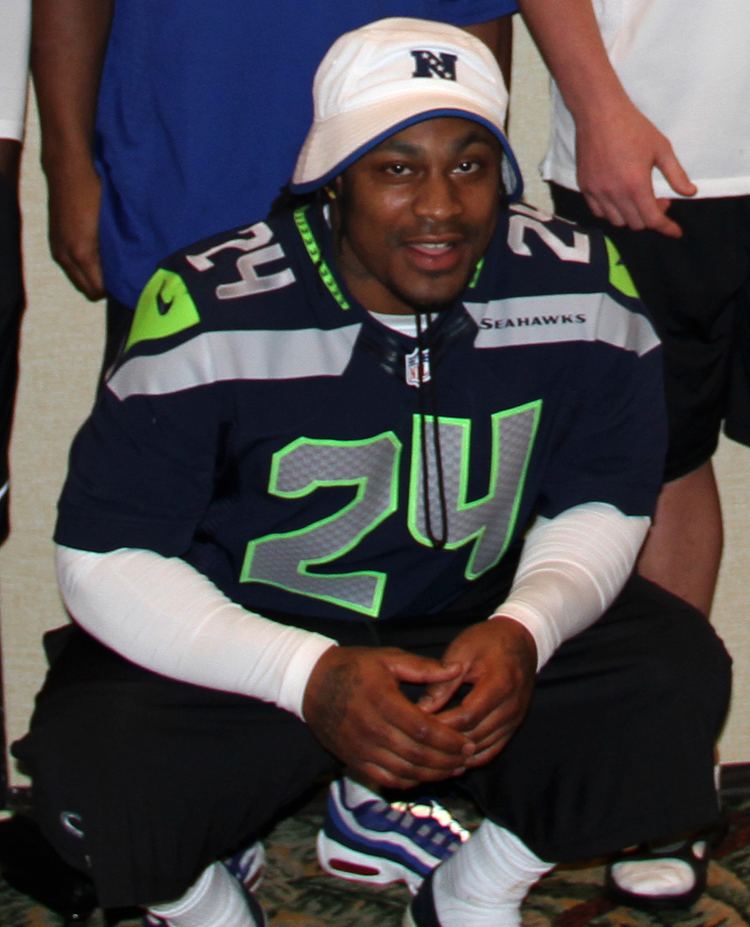 At Oakland Technical High School, Lynch was a four-sport star for the Bulldogs football, basketball, track, and wrestling. In his 2003 season, Lynch amassed 1,722 rushing yards and 23 touchdowns in only eight regular season games and an additional 375 rushing yards and 10 touchdowns in two postseason games. He was voted a PrepStar and SuperPrep All-American and was also voted the San Francisco East Bay Player of the Year. In basketball, he played on the Oakland Tech's team alongside future Cal star Leon Powe. Lynch helped lead his team to the state semi-finals.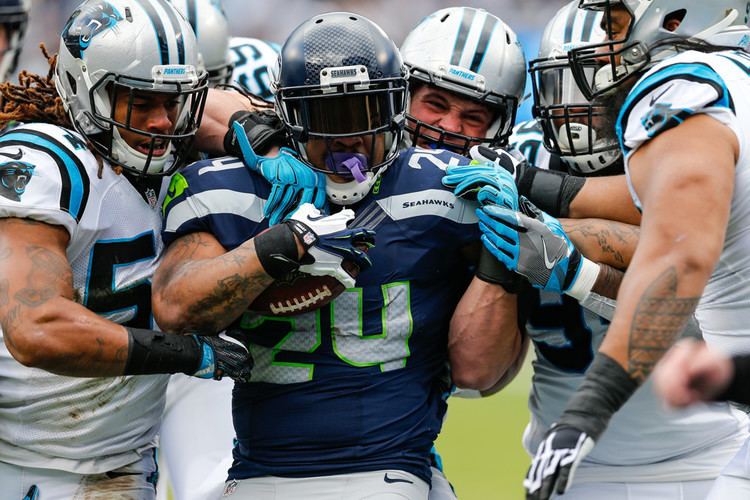 In addition to football, Lynch excelled in track and field, where he competed mainly as a sprinter, but also in jumping events. He recorded a personal-best time of 10.94 seconds in the 100-meter dash as a senior, while also posting top-leaps of 1.94 meters (6 ft, 4 in) in the high jump and 6.38 meters (20 ft, 10 in) in the long jump.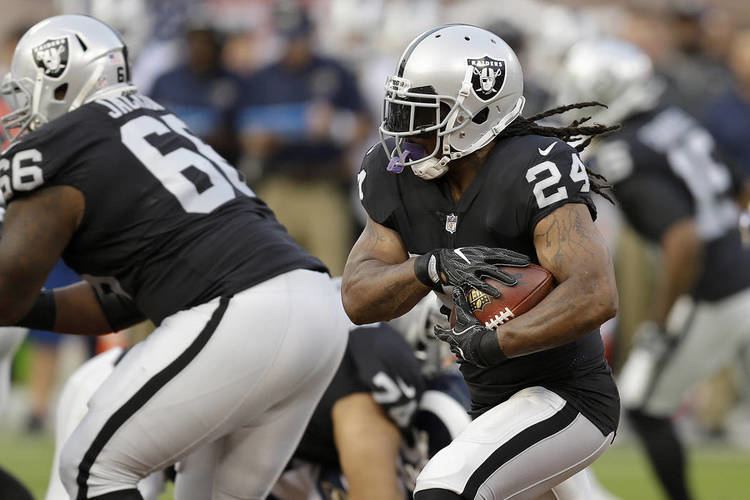 Lynch was a versatile athlete on the football field. He played defensive back and also played some quarterback, wide receiver, and linebacker in high school. The Rivals.com recruiting network had him ranked #2 in the nation at running back behind Adrian Peterson.
College career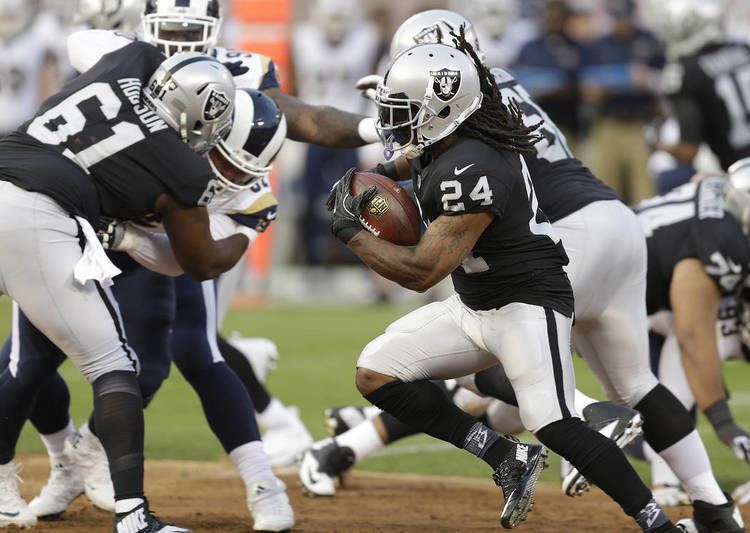 Lynch attended the University of California, Berkeley, and played for the California Golden Bears football team. He majored in social welfare. Lynch was nicknamed "Money" in college.
As a true freshman in 2004, Lynch was the primary backup to senior J. J. Arrington. Lynch carried the ball 71 times for 628 yards with eight rushing touchdowns and 147 yards on 19 receptions and two receiving touchdowns.
In 2005, Arrington graduated and Lynch became the starting running back. Even though he missed two games due to a hand and finger injury, he still amassed 1,246 rushing yards with 10 touchdowns on 196 carries and 125 yards on 15 receptions. In the 2005 Las Vegas Bowl, Lynch ran for 194 yards and three touchdowns on 24 carries and was named MVP.
Lynch wore jersey No. 24 his freshman year but switched to No. 10, his high school number. This switch placed him in sequence with his cousins Virdell Larkins (No. 9) and Robert Jordan (No. 11), also teammates at Cal.
In the 2006 preseason, Lynch earned a spot on the watchlist for the Maxwell Award, was named 8th best player in the nation by Sports Illustrated, and earned several preseason All-American accolades. In the spring, he joined the Cal Track & Field team, and he competed in the 60-meter dash, recording a personal-best time of 6.98 seconds at the 2006 MPSF Championships.
On July 22, 2006, the Cal football program officially launched the campaign for Lynch to win the 2006 Heisman Trophy with the opening of the website Marshawn10.com, featuring Lynch's highlights from 2004–2006. Lynch was named to the 2006 All-Pac-10 team First Team. Lynch not only earned various awards, he also scored the game-winning overtime touchdown against Washington. He later called the run his favorite career highlight, after which Lynch spontaneously drove around the football field in an injury cart, pretending to ghost ride.
Lynch was also named the Pac-10 Offensive Player of the Year in 2006 and an AFCA (Coaches') All-America in 2006.
In his final game for Cal, Lynch ran for 111 yards and two touchdowns against Texas A&M in the Pacific Life Holiday Bowl on December 28, 2006. He shared the Co-Offensive Player of the Game award with teammate, quarterback Nate Longshore.
Lynch holds the Cal school record for most 100-yard rushing games with 17.
On January 2, 2007, Lynch announced he would forgo his senior season and enter the 2007 NFL Draft.
Career statistics
Statistics up to date as of December 28, 2006
.
College statistics from CalBears.com
and ESPN.com
.
2007 NFL Draft
On April 28, 2007, Lynch was selected by the Buffalo Bills with the 12th overall pick in the first round of the 2007 NFL Draft. He agreed with the Bills to a six-year, $18.935 million contract. The deal included a $3 million signing bonus and contained $10.285 million in total guarantees.
2007 season
Lynch entered the NFL as the starter at running back for the Buffalo Bills. In his first career regular season game on September 9, he gained 90 yards on 19 carries and scored his first touchdown in a 14–15 loss to the Denver Broncos. His breakout game came on November 4 against the Cincinnati Bengals. Lynch's success on the ground was instrumental in keeping the touted Cincinnati offense on the sidelines, as he rushed 29 times for 153 yards, including a 56-yard touchdown run. Lynch also completed a touchdown pass to tight end Robert Royal, the first touchdown pass completed by a Bills non-quarterback since 1981.
Lynch injured his ankle the following week against the Miami Dolphins and missed the next three games. He returned to play on December 9 for the Bills' second game against the Dolphins that season, rushing for 107 yards and fumbling for the first time in his NFL career. The game marked the first time the Bills' offense produced two 100-yard rushers since 1996, as Fred Jackson also rushed for 115 yards. Lynch went over the 1,000-yard rushing mark on December 23 against the New York Giants, scoring a touchdown in the 21–38 loss, which resulted in the Giants clinching a playoff berth. This made Lynch the fourth Bills rookie to break the 1,000-yard mark, and the first since Greg Bell in 1984. He finished a successful rookie season with 1,115 total rushing yards and seven touchdowns.
Lynch was expected to be more involved in Buffalo's passing game in 2008, his second season as a professional. The Bills' new offensive coordinator Turk Schonert had stated a number of times that he anticipated Lynch "being in on third down a lot more" this season, citing Lynch's inexperience as a reason he was not very involved in 2007.
2008 season
Lynch was held to a season low of 16 yards rushing in a Week 9 matchup against the New York Jets on November 2. He did not break 100 yards rushing in a game until November 17 on a Monday Night Football matchup against the Cleveland Browns, when he rushed for 119. The game also marked his first receiving touchdown. Two weeks later on November 30, Lynch posted a season-high 134 rushing yards against the San Francisco 49ers. Lynch went over the 1,000-yard mark for the season on December 14 in a rematch against the Jets when he rushed for 127 yards. He was able to stay healthy until injuring his shoulder in the second half of a Bills victory on December 21 against the Denver Broncos, during which he rushed for his eighth touchdown of the season. The injury kept him out of the Bills' season finale against the New England Patriots. Lynch finished the 2008 season with 1,036 yards rushing and eight rushing touchdowns. He posted 300 receiving yards on 47 receptions, including a receiving touchdown, compared to 184 yards on 18 receptions for the 2007 season. Lynch was selected to his first Pro Bowl, replacing the injured Chris Johnson. This made him the first Bills running back to head to the Pro Bowl since Travis Henry in 2002. Lynch was initially the first alternate.
2009 season
Following his guilty plea on misdemeanor weapons charges during the 2009 offseason, Lynch met with NFL Commissioner Roger Goodell for a disciplinary hearing. Lynch had been arrested in Culver City, California, for having a gun in his backpack in the trunk of a car he was occupying, a crime in California. On April 9, the NFL announced that Lynch would be suspended for the Bills' first three games for violations of the NFL's personal conduct policy. Lynch appealed the league's suspension on May 14 in an attempt to have it reduced or nullified, only to have it upheld by Goodell later on August 3. When interviewed on the topic, Lynch has said that he was not surprised when the suspension was upheld and that he loves playing too much and will try to keep himself out of situations in which there is a risk of being suspended.
Lynch played his first game of the 2009 season against the Miami Dolphins and played the rest of the season. Beginning November 29, he was replaced as the Bills' starting running back by Fred Jackson, who had the first 1,000-yard rushing season of his career. Lynch finished the season with 450 yards on 120 carries with two rushing touchdowns and did not break 100 rushing yards in a single game for the first time in his career.
2010 season
Lynch suffered an ankle sprain in the Bills' preseason opener against the Washington Redskins and was expected to be out for three to four weeks. He started three games for the Bills before being traded to the Seattle Seahawks on October 5 for two draft picks, a fourth-round pick in the 2011 NFL Draft and a conditional pick in the 2012 NFL Draft (which would become a 5th round pick).
2010 season
Lynch then reunited with former Cal roommate and fellow running back Justin Forsett, a seventh-round draft pick of the Seahawks in 2008.
Lynch scored his first touchdown of the season and with the Seahawks on October 17 on a 1-yard run against the Chicago Bears. On December 5, he scored three touchdowns against the Carolina Panthers.
In his first career playoff game on January 8, 2011, against the New Orleans Saints, Lynch had a 67-yard touchdown run in which he broke nine tackles and with one arm threw Saints cornerback Tracy Porter to the ground. This run has become known locally in Seattle as the "Beast Quake". The play gets its name from Marshawn Lynch's nickname, "Beast Mode", and the fact that, during and after the play, movement from fans jumping in celebration was so intense that it registered on a seismograph 100 yards from the stadium. Lynch had a total of 737 yards during the 2010 season.
2011 season
Lynch started 15 games, missing only one regular season game on November 23, 2011, due to back problems. Lynch finished the 2011 season rushing for 1,204 yards and 12 touchdowns, both career bests and posting his first 1,000-yard season since 2008. On December 1, against the Eagles, he was observed receiving Skittles from a trainer to celebrate his touchdown. Fans would later throw Skittles onto the field after Lynch would score.
On December 18, 2011, Lynch set the franchise record for consecutive games with a rushing touchdown by scoring in his tenth straight game. The previous record of nine was set by Shaun Alexander in 2005. Lynch led the NFL in rushing yards over the final nine weeks of the season. On January 24, 2012, Lynch was added to the NFC Pro Bowl roster to replace San Francisco 49ers running back Frank Gore.
On March 4, 2012, Lynch signed a four-year, $31 million contract with the Seahawks.
2012 season
Lynch started all 16 regular season games, as well as the two playoff games the Seahawks were in. He accumulated 1,590 yards rushing on 315 attempts. He scored 11 touchdowns, his longest being a 77-yard touchdown run. He averaged 19.7 attempts per game and 99.4 yards per game, and over the course of the season, Lynch had an average of 5.0 yards per carry. He fumbled 4 times, and lost 2 of them. Lynch was elected into the 2013 Pro Bowl as a reserve.
2013 season
Lynch was a huge contributor for the Seahawks in the 2013 season, rushing for 1,257 yards and 12 touchdowns, and recording three 100-yard games. He was voted to the Pro Bowl for the third straight year, but had to decline the appearance due to his participation in Super Bowl XLVIII. He would end up rushing for 39 yards during that game, including a touchdown score, resulting in the team's first Super Bowl victory by defeating the Denver Broncos by a score of 43–8.
2014 season
On July 24, 2014, former Seahawks Fullback and good friend Michael Robinson announced on NFL Network's Inside Training Camp, that Lynch would hold out of Training Camp while he waits for a restructured contract from the Seahawks. Lynch and the Seahawks quickly agreed to new terms for the season, and Lynch served as the starter for the team, ahead of backups Robert Turbin and Christine Michael.
During Week 3 against the Broncos, Lynch completed the first overtime drive by rushing for a touchdown, giving the Seahawks a 26–20 victory over Denver in a Super Bowl XLVIII rematch.
Lynch had a career-long 79-yard touchdown run against the Arizona Cardinals in Week 16, similar to his "Beast Quake" 67-yard scoring run in the 2011 Wild Card game against the Saints. Four days later, Lynch was fined $11,050 by the NFL for his celebration of the score; falling back while extending the ball behind his head and grabbing his crotch. The league considered his celebration an "obscene gesture" to constitute unsportsmanlike conduct.
Lynch contributed heavily to a late comeback in the NFC Championship game against the Green Bay Packers, catching a 26-yard pass to set up one touchdown, then scoring a touchdown of his own on a 24-yard run. The Seahawks would win the game 28–22 in overtime after trailing 19–7 with less than 4 minutes remaining in the game. His 157 rushing yards in the game were a career postseason high for Lynch, as were his 183 total yards from scrimmage.
Lynch made headlines at Super Bowl XLIX Media Day on January 27, 2015, when he held a 5-minute press conference, only answering "I'm just here so I won't get fined" to every question. He has a history of unwillingness to talk to the media.
In Super Bowl XLIX, Lynch had 24 carries for 102 yards and a touchdown. He also had a catch for 31 yards. The Seahawks lost the Super Bowl 28–24 to the New England Patriots as they failed to repeat as champions. On Seattle's final play of the game, the Seahawks chose to pass the ball at the 1-yard line instead of running it with Lynch, and the pass was intercepted. Lynch was visibly upset by the decision and left the Seahawks locker room without addressing the media. He stated in a later interview with Conan O'Brien that he was "expecting the ball" prior to the play.
2015 season
On March 6, 2015, the Seahawks and Lynch agreed to a 2-year, $24 million contract extension. Lynch struggled to pile up yardage early in the season but starred in Week 7 in a 20–3 win over the rival San Francisco 49ers, against whom he racked up 122 yards and a touchdown on 27 carries. Midway through the 2015 season, Lynch needed to have sports hernia surgery. Lynch's backup, undrafted rookie Thomas Rawls, had a 209-yard game against the 49ers in Week 11.
Ahead of the Seahawks Wild Card Round matchup in the playoffs against Minnesota, Lynch was anticipated to make his return, but decided to stay behind in Seattle, stating that he felt that he could not play. Seattle would go on to win, 10–9.
Lynch finally made his return from injury against the Carolina Panthers in the Divisional round of the playoffs, carrying only 6 times for 20 yards, and caught two passes for 15 yards in the 31–24 loss.
Initial retirement
On February 7, 2016, the day of Super Bowl 50, Lynch announced his retirement via Twitter by posting a picture of his football cleats hanging from a telephone wire. He subsequently became a mentor to the current college football players at Cal.
Since his retirement, rumors circulated about Lynch returning to the NFL. In early April 2017, after sitting out the 2016 NFL season, it was reported Lynch had agreed to terms with his hometown Oakland Raiders and that the Seahawks, who retained his rights even after retirement, would trade him. Lynch said he was inspired to come out of retirement by the team's impending move to Las Vegas saying that he wanted children currently growing up in Oakland to be able to see a home-grown football star play for the Raiders before the team is gone.
2017 season
On April 26, 2017, Lynch officially passed his physical and was traded to the Oakland Raiders along with Seattle's sixth-round draft pick for Oakland's fifth-round selection in the 2018 NFL draft. Lynch then signed a two-year, $9 million contract with a max of up to $16.5 million. The contract has a $2 million bonus if Lynch reaches 1,000 rushing yards for the season.
In his first game with the Raiders in Week 1, Lynch finished with 76 rushing yards along with one reception for 16 yards as the Raiders won 26–16 over the Tennessee Titans. On September 14, Lynch was fined $12,000 for doing an obscene gesture.
Personal life
Lynch has several relatives who have also played professional football. His cousins are wide receiver Robert Jordan, who played alongside Lynch at Cal from 2004–2006, former Oakland Raiders quarterback JaMarcus Russell, and quarterback Josh Johnson, who was recently released by the New York Giants. Lynch's uncle, Lorenzo Lynch, had an eleven-year career in the NFL.
Lynch has referred to himself as being in "beast mode" during games, but it is also a nickname that has been frequently used since his college career at Cal (UC Berkeley).
While in Buffalo, Lynch embraced the Buffalo community, in stark contrast to former Bills running back Willis McGahee, as noted in an interview with ESPN's Kenny Mayne. In the video interview, which has become an internet sensation, Lynch talks about his love of Applebee's, and his teammates joke that he loves chain restaurants. Lynch is also known for his frequent community involvement. In 2013, he was featured in Red Bull's campaign "Athletes Give Back" when he put together a very successful food drive for his home town.
Lynch frequently ate Skittles during games, a habit which started when he was in high school. After Lynch was shown eating the candy during a nationally televised game on December 5, 2011, Mars offered him a two-year supply of Skittles and a custom dispenser for his locker. On December 30, 2011, he was fined $10,000 for wearing cleats featuring a Skittles pattern. On January 28, 2014, an official deal with Skittles was announced. The agreement stated that in addition to personal compensation, $10,000 would be donated to his Fam First Foundation for each touchdown he scored in Super Bowl XLVIII.
Lynch also has an affinity for purchasing grills, saying he has been wearing the gold jewelry since junior high school. After the 2011 season, Lynch purchased a customized Seahawks grill in time for the 2012 season.
Legal troubles
In June 2008, Lynch pled guilty to a hit and run charge and had his driver's license revoked. Lynch was driving his 2008 Porsche Cayenne at 3:30 a.m. through Buffalo's bar district when he struck a woman in the street and failed to stop. When questioned, Lynch stated, "I didn't know my car had hit anyone or anything."
Lynch was arrested on July 14, 2012, by the California Highway Patrol for DUI after he was observed driving erratically. He was reported to have registered a 0.10 on the Breathalyzer at Alameda County Sheriff's Office North County Jail in Oakland. He was incarcerated hours before hosting a youth football camp. A motion to dismiss the case was denied in November 2013, but in December the trial date was pushed back until after the NFL season. Lynch's attorney, Ivan Golde, accused the police of bending the truth and changing stories to try to convict Lynch. The case was settled in February 2014 when Lynch pleaded guilty to a lesser charge of reckless driving. Lynch received two years of probation and a $1,033 fine, and had to attend drivers' safety classes, but did not have his license suspended.
Media
Lynch is known for being reluctant to talk to the media. He was fined $50,000 by the NFL for refusing to talk to the media throughout the 2013 NFL season, which inspired fans of the Seattle Seahawks to fundraise that amount. However, the fine was subsequently pulled back in an agreement that he would be fined another $50,000 if he broke the same rule, after which he donated the money raised by Seahawks fans to pay his fine to charity. Lynch was fined $100,000 on November 19, 2014, for once again refusing to speak to the media. A few days later, after the Seahawks win over Arizona, he answered nearly every question from reporters with "Yeah". On December 21, 2014, after the second Seahawks-Cardinals game, he answered nearly every question from reporters with some version of "Thanks for asking" or "I appreciate you asking." The only people to get an "extended interview" were Deion Sanders, former teammate turned analyst Michael Robinson, and Michael Silver, in which they discovered his reluctance came from his upbringing and the fact that he felt that he was "forced to do something." On January 27, 2015, during Super Bowl Media Day in Glendale, Arizona, Lynch continued the trend of declining to give detailed media interviews by showing up for five minutes, and answering every question with some variation of "I'm just here so I won't get fined," and the following day "You know why I'm here."
Four days before Super Bowl XLIX, Lynch appeared in a guest segment on Conan, playing a head-to-head game of the then-unreleased Mortal Kombat X against prospective Super Bowl opponent tight end Rob Gronkowski. Contrary to his media appearances earlier that week, Lynch appeared upbeat and loquacious, discussing his fondness of Mario Kart and explaining his touchdown celebration moves. The video went viral, was widely covered in media, and gathered about 8 million views before the Super Bowl.
One week before the Seattle Seahawks' first pre-season game of 2015, it was announced that Lynch would appear in the Season 7 premiere episode of FX's The League, as himself on September 9, 2015. That same day, Entertainment Weekly released a video clip of the cameo appearance in which Lynch argues to one of the show's main characters that he's "so close" to another character he can "just run [a beer] over to him" instead of tossing it, a reference mocking the infamous final play of Super Bowl XLIX.
Beast Mode
Lynch is known for his Beast Mode brand which includes an apparel line, retail store, and at least one partnership with International brands. The first Beast Mode store opened in Oakland, California on February 7, 2016 during Super Bowl 50. On April 8, 2015, rapper Ludacris released the video for his single "Beast Mode," named after Lynch, who appears in the video. Ludacris also mimics Lynch's interview at the Super Bowl media day by saying "I'm just here so I won't get fined" to reporters before Lynch comes in and adds "You know why we here". Lynch makes a cameo in the video game Call of Duty: Black Ops III. He also appeared in the fourth episode of the sixth season of Tanked where they created a special fish tank for "BeastMode" first aired June 19, 2015.
Lynch was approached by former Pro BMX rider, Todd Lyons, who noticed that Marshawn Lynch rode his BMX products. Lyon, acting as the current brand manager for SE Bikes BMX company, partnered with Marshawn to create a Beast Mode Ripper; an adult-sized BMX bike with customized Beast Mode branding as a 2018 SE Bicycle.
On September 19 2017, Lynch launched his own ad-supported Beast Mobile cellphone service that allows subscribers to pay their phone bill by engaging in ads and offers.
References
Marshawn Lynch Wikipedia
(Text) CC BY-SA