Position:

Cornerback




Name

Richard Sherman




Height

1.91 m




Weight:

195 lb (88 kg)




40 yard dash time

4.56 seconds




College:

Stanford








Date of birth:

(1988-03-30) March 30, 1988 (age 27)




NFL draft:

2011 / Round: 5 / Pick: 154




Role

American football cornerback




Current team

Seattle Seahawks (#25 / Cornerback)




Education

Stanford University (2006–2010), Manuel Dominguez High School (2005)




Parents

Beverly Sherman, Kevin Sherman




Similar People

Marshawn Lynch, Russell Wilson, Kam Chancellor, Earl Thomas, Darrelle Revis




Profiles




Twitter

Facebook

Instagram

Google+

Pinterest




Place of birth:

Compton, California



Get to know richard sherman the trash talking cornerback nfl films presents 2013 nfl films
Richard Kevin Sherman (born March 30, 1988) is an American football cornerback for the Seattle Seahawks of the National Football League (NFL). He played college football at Stanford, both as a wide receiver and as a cornerback, and was drafted by the Seahawks in the fifth round of the 2011 NFL Draft.
Contents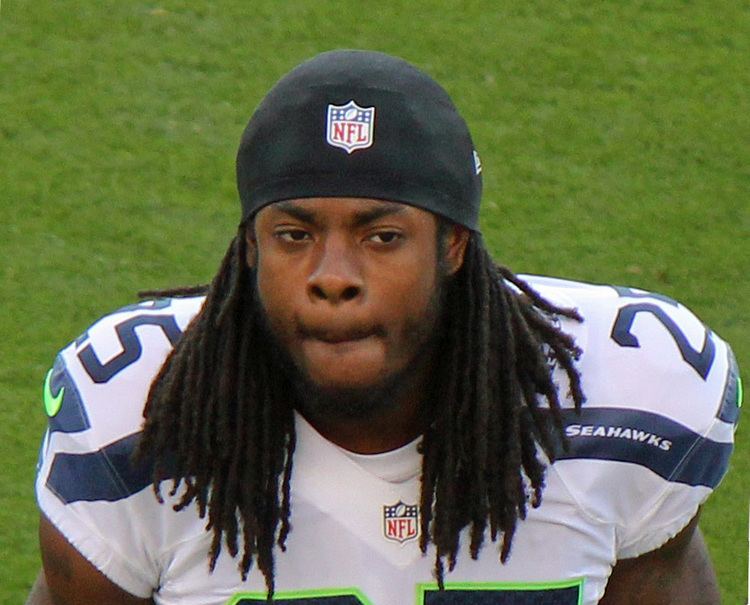 Since entering the league, Sherman has the most interceptions and defended passes of any active player. Sherman is part of the "Legion of Boom", a nickname given to the Seahawks' starting secondary which contributed to Seattle having the best pass defense in the NFL in 2013. This unit helped the Seahawks win their first Super Bowl in New Jersey in February 2014; their 43-8 win over the Denver Broncos matched the third-largest margin of victory in the history of the Super Bowl. In May 2014, Sherman became one of the NFL's highest-paid defensive players after signing a $57.4 million contract extension, with $30 million guaranteed, with the Seahawks.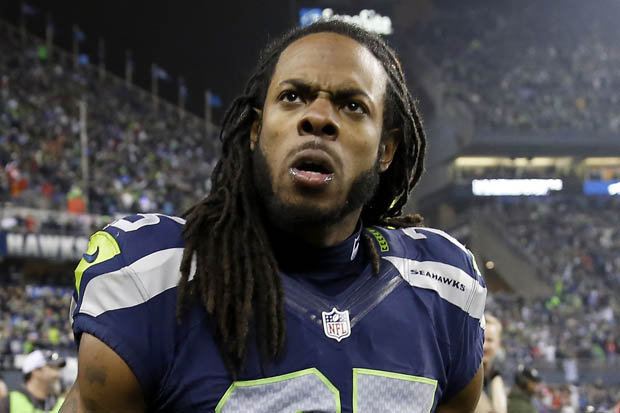 Richard sherman 2014 season highlights
High school career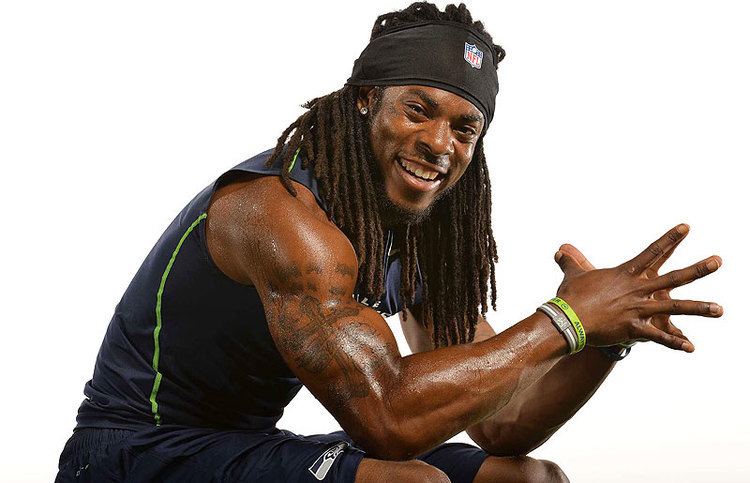 Sherman was born in Compton, California, where he attended Dominguez High School, starring in football and track and field. As a senior in 2005, he accounted for 1,030 all-purpose yards, including 870 yards on 28 catches and three punt returns for touchdowns. He also recorded 45 tackles, eight pass breakups and one interception as a defensive back, and helped Dominguez to a CIF Southern Section Division III title with a 41-14 victory over Sherman Oaks Notre Dame High School in the championship game. He graduated from Dominguez High School in 2006, where his classmates voted him the "Male student most likely to succeed." A scholar-athlete, he was salutatorian (ranked second) in his high school class. He has claimed to have graduated high school with a 4.2 GPA.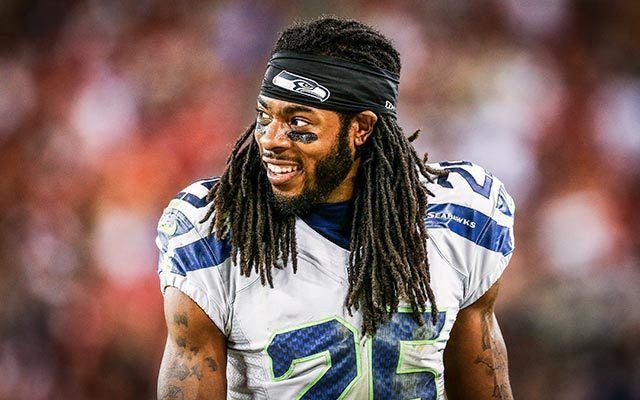 As a member of the school's track team, Sherman was named a USA Today All-American after winning the California state title in the triple jump, with a mark of 15.44 meters, and was the 7th ranked triple jumper in California in 2005. He made it to the finals of the state meet in the 110-meter hurdles, placing third with a time of 13.99 seconds, and also finished sixth in the long jump, with a mark of 7.25 meters. He was also timed at 10.77 seconds in the 100 meters.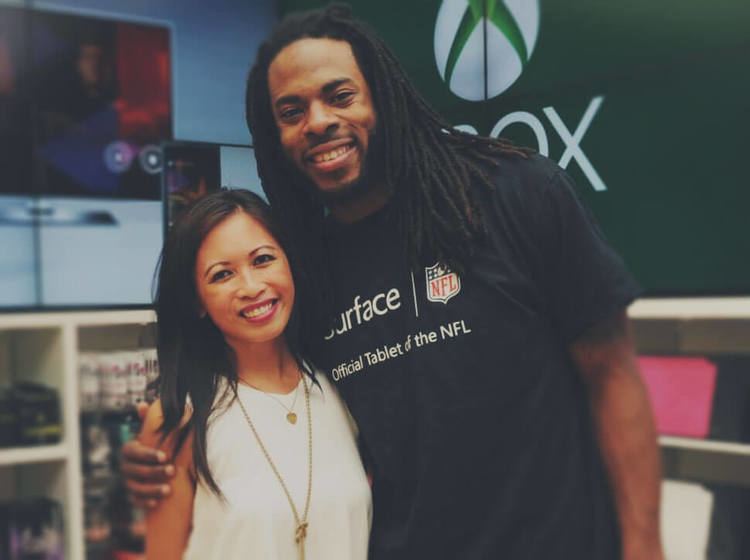 Recruiting
College career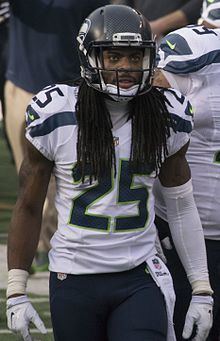 Sherman received an athletic scholarship to attend Stanford University, where he played for the Stanford Cardinal football team from 2006 to 2010. He began his career at Stanford as a wide receiver and led the Cardinal in receiving as a freshman in 2006 while being named a Freshman All-American. He caught 47 passes over the next two years before suffering a season-ending knee injury after playing in the first four games in 2008. He switched to cornerback after his injury due to team need and made 112 tackles over his final two years, with 6 interceptions. He was part of the 2010 Stanford Cardinal team that finished 12–1, a school record.
Sherman is a member of Phi Beta Sigma fraternity and graduated from Stanford University in 2010 with an undergraduate degree in communications.
He returned for his final year of eligibility at Stanford in order to begin a master's degree.
2011 season
Sherman was selected by the Seattle Seahawks in the fifth round of the 2011 NFL Draft with the 154th overall pick. Sherman remembers watching the draft with his family at home and being "livid" about players he perceived as inferior getting drafted before him. Some critics said he was a size prospect with some good intangibles that would help him mold into a contributing backup corner for a press-heavy team. Other scouts thought he did not possess the natural coverage instincts, fluidity or burst to be considered a future starter, despite his size and athleticism.
Despite starting only 10 games in his rookie season, Sherman was selected to the 2011 PFW All-Rookie Team, shattering all expectations heading into the season. He also led all rookies with 17 passes defended and four interceptions in addition to 55 tackles.
2012 season
On October 14, 2012, following a victory over the New England Patriots in which he had an interception, Sherman taunted the Patriots' quarterback, Tom Brady. After the game, Sherman posted to his Twitter account a photo of himself yelling at Brady with "U mad bro?" superimposed on it. He later removed the post.
Prior to Week 8 against Detroit, Sherman nicknamed himself Optimus Prime, an action intended to send out the message that he would shut down Detroit's wide receiver, Calvin Johnson, known by his nickname Megatron. Johnson was held to three catches for 46 yards against Sherman and the Seahawks.
On December 9, during Week 14 in a game against the Arizona Cardinals, Sherman recorded two interceptions of John Skelton's passes, one of which he returned 19 yards for a touchdown; Sherman also had two tackles, one assist and a fumble recovery, as the Seahawks defeated the Cardinals 58-0 in the biggest shutout win in Seahawks history.
On December 23, in a Week 16 game against the San Francisco 49ers, Sherman had five tackles and one interception against Colin Kaepernick, and made a huge play on special teams when he recovered a blocked 49ers field goal and returned it 90 yards for a touchdown.
Heading into Week 17 of the 2012 season, Sherman posted 61 tackles, seven interceptions and three forced fumbles. Due to his play and the fact that he was not selected to the 2012 Pro Bowl, Sherman was considered of one of the biggest 2012 Pro Bowl snubs. Sherman told Associated Press that "It don't mean nothing," prior to the announcement of the Pro Bowl rosters. This caused some controversy. He was subsequently named Associated Press NFL All-Pro First Team, a more selective award.
In December 2012, Sherman won his appeal of a four-game suspension for violating the league's performance-enhancing drug policy. It was likely that Sherman would sue the NFL if he were suspended. Prior to the wildcard matchup between the Seahawks and the Redskins, Kedric Golston, a Redskins defensive tackle, called out Sherman by saying, "He's a cheater," referring to Sherman's successful suspension appeal.
After the Seahawks' season ended in the playoffs, in March 2013, Sherman went onto ESPN First Take and argued with Skip Bayless. Sherman told Bayless, "I'm intelligent enough and capable enough to understand that you are an ignorant, pompous, egotistical cretin. I am going to crush you on here because I am tired of hearing about it." He also claimed that he was "better at life" than the First Take analyst. Sherman was also involved in a Twitter feud with fellow NFL cornerback Darrelle Revis, to the point that Joe Haden also involved himself in the conversation, claiming that he was the number 2 cornerback in the league, behind Revis and ahead of Sherman. Sherman has also been involved in controversies with Trent Williams and Roddy White.
2013 season
Sherman was one of the leaders of the Legion of Boom secondary (so called for the unit's hard-hitting style) that allowed the fewest passing yards in the league and anchored the top overall defense in the NFL en route to the first Super Bowl win in franchise history. He completed a successful 2013 campaign, where his 8 interceptions led the league, which led to him being named to the 2014 Pro Bowl as the top vote getter among defensive players and his 2nd consecutive year as an Associated Press NFL All-Pro First Team.
During the 2014 NFL playoffs, Sherman played a critical role in helping Seattle get to and win Super Bowl XLVIII. During the last play of the NFC Championship game against the San Francisco 49ers, Sherman was targeted by 49ers QB Colin Kaepernick in the end zone. As Seattle was only winning by six, conceding a touchdown would have been all but fatal to Seattle's hopes of advancing to the Super Bowl. Instead, Sherman successfully got in the way of the pass Kaepernick threw to Michael Crabtree, deflecting it to teammate Malcolm Smith for the game-saving interception. The play was later dubbed "the Immaculate Deflection" (as an homage to the Immaculate Reception), and would later be voted by Seahawks fans to be the most significant play in Seattle Seahawks history. In the aftermath of the play, Sherman ran over to Crabtree and mockingly offered a handshake, but Crabtree responded by giving Sherman a shove to the facemask. Sherman proceeded to make a choke sign towards Kaepernick. Sherman was then immediately penalized by the officials for unsportsmanlike conduct. Moments later, during a live post-game interview with Fox Sports' Erin Andrews, Sherman emotionally shouted, "Well, I'm the best corner in the game! When you try me with a sorry receiver like Crabtree, that's the result you gonna get! Don't you ever talk about me!" He then looked into the camera and yelled, "Don't you open your mouth about the best, or y'know I'm gonna shut it for you real quick! L.O.B.!" When asked by Andrews, Sherman said the former remark was directed at Crabtree; Andrews later stated that she knew Sherman was referring to Crabtree and asked the question to allow him to tell this to a largely oblivious TV audience.
Sherman would later be fined $7,875 by the NFL for taunting. The fine was directed at his on-field actions towards both Kaepernick and Crabtree, the latter of which was described as "mocking". The NFL specifically stated that the fine was not related to his post-game interview. Sherman later blamed Crabtree's shove for fueling his post-game rant, though he also said he regretted his attack and was dismayed by the negative response from the public. In response to the word "thug" being widely used to criticize Sherman following the incident, Sherman said "The reason it bothers me is because it seems like it's an accepted way of calling somebody the N-word now."
Sherman and the rest of Seattle's defense then had a brilliant showing in their final game of the season, shutting down the record-setting Denver Broncos offense in a 43–8 Super Bowl rout in which Sherman had three tackles and held Broncos wide receiver Eric Decker to one catch for six yards. This concluded the postseason in which Sherman was targeted on a mere six throws.
2014 season
On May 7, 2014, the Seahawks and Sherman agreed to a 4-year, $57.4 million contract extension. On June 6, he was named the cover athlete for Madden 15. Topping off a great year for Sherman, he then was nominated for an ESPY award, in the category of "Best Breakthrough Athlete." In Week 13, Sherman had two interceptions against Colin Kaepernick and two tackles in the Seahawks' 19-3 win at San Francisco during the Thanksgiving Day game, earning the NFC Defensive Player of Week award. Sherman finished the season with 57 tackles and 4 interceptions and 8 passes defensed. The Seahawks finished the season as the number 1 seed with a 12-4 record. In the divisional round against the Carolina Panthers, Sherman recorded 3 tackles and an interception as the Seahawks won by a score of 31-17. In the NFC Championship game against the Green Bay Packers, he recorded 4 tackles and an interception after not being targeted once in the season opener. The Seahawks won 28-22 and advanced to the Super Bowl for the second straight season. In Super Bowl XLIX, Sherman recorded 3 tackles, but the Seahawks lost 28-24 to the New England Patriots as they failed to repeat as champions. The day after the Super Bowl, the Seahawks announced Sherman would need Tommy John surgery to repair a torn ligament in his left elbow. Following the conclusion of the NFL season, the Pro Football Writers Association selected Sherman to win the PFWA Good Guy Award for his willingness to work with and provide insightful information to the media. He was the second consecutive Seahawk to win the award, as quarterback Russell Wilson was the previous recipient.
2015 season
Sherman was named to his third straight Pro Bowl in 2015 and was named second-team All-Pro. He was ranked 20th on the NFL Top 100 Players of 2016.
2016 season
Sherman was named to his fourth straight Pro Bowl appearance in 2016. In the second quarter of the 2016 Pro Bowl, he intercepted an Andy Dalton pass that was intended for Denver Broncos wide receiver Emmanuel Sanders down the right sideline. After the season, it was revealed that Sherman was battling a sprained MCL in his right knee, an injury that hampered him during the second half of the year. The Seahawks were suspected to have failed to disclose this injury, which prompted the NFL to investigate. If the injury was not disclosed in time, the Seahawks could have faced a heavy fine as well as a forfeiting a second-round pick in the 2017 Draft. Ultimately, the Seahawks were not penalized.
Statistics
The following regular-season stats were retrieved from NFL.com.
Personal life
Sherman's outspoken personality, tendency for making big plays, and his frequent trash-talk have seen him become one of the NFL's most well known players. His trash-talking personality is what has brought him into the spotlight. In January 2014, he garnered national attention with a post-game interview made immediately after his tipped pass ensured the Seahawks a victory over the San Francisco 49ers in the 2013 NFC Championship game, in which he labeled himself the "best corner in the game" and called San Francisco wide receiver Michael Crabtree, to whom the decisive pass had been thrown, a "sorry" receiver. Sherman was featured on the cover of Madden NFL 15. Sherman also actively writes for The Players' Tribune.
Sherman has his own charity called Blanket Coverage – The Richard Sherman Family Foundation. In 2013, Sherman started his charity to help kids in low-income communities by providing them with school supplies and clothing. His foundation was formed to help kids across the country achieve academic success.
On February 5, 2015, four days after Super Bowl XLIX, Sherman's girlfriend Ashley Moss gave birth to their first son, Rayden Sherman. Moss and Sherman were engaged in June 2015. The couple welcomed their second child, daughter Avery, on April 16, 2016.
References
Richard Sherman (American football) Wikipedia
(Text) CC BY-SA