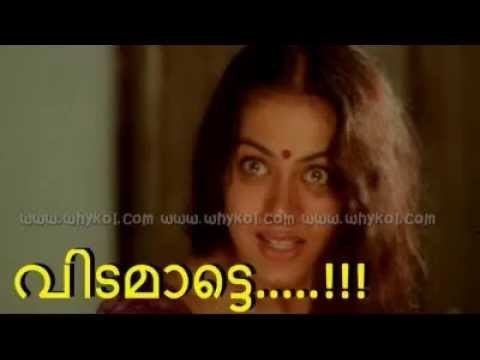 A young couple, Ganga (Shobana) and Nakulan (Suresh Gopi), arrives at the Nakulan's ancestral home tharavadu called Madampalli. Hailing from a family that follows tradition and superstitions, Nakulan's uncle Thampi (Nedumudi Venu) objects to the couple's idea of moving into the allegedly haunted mansion , which Nakulan ignores. The couple moves in, following which seemingly supernatural events begin to happen.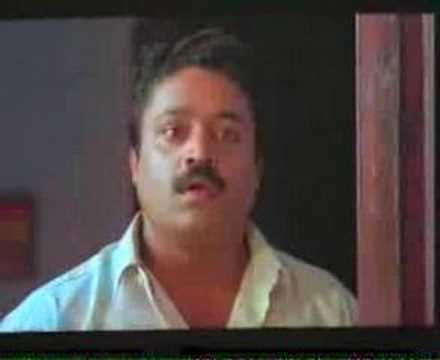 The mansion was occupied in ancient times by Sankaran Thampi, a feudal lord of the province who was also the karanavar (head) of the tharavadu. In his heyday, he had brought in a dancer, Nagavalli, from Tamil Nadu as his concubine. But she was already in love with a man named Ramanathan, a dancer who came along with her secretly and settled in a house near to the mansion. Learning of their affair and their plan to elope, Sanakaran Thampi murders Nagavalli in her room at the mansion. Legend has it that on the eighth day of Navaratri, on Durgashtami night(an annual Hindu celebration), Nagavalli returned as a blood-thirsty spirit, intent on killing the chieftain and to drink his blood, but he was saved by chanting some mantras. With the aid of some sorcerers, Thampi somehow escaped from the wrath of Nagavalli. Her spirit was locked up in a southern section at the mansion (Thekkini) by putting the talisman over the lock. Later Sankaran Thampi committed suicide and his spirit is locked up in the same Thekkini, by means of an ornate enchanted lock called Manichitrathazhu.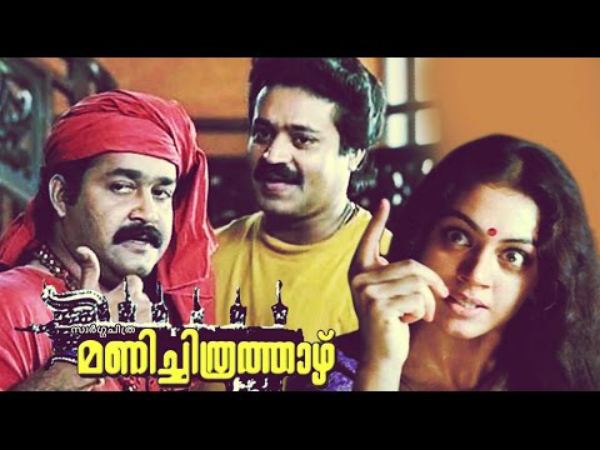 Ganga manages to unlock the Thekkini, only to find ancient valuables such as jewellery, musical instruments etc. Upon learning about the unlocking of the Thekkini, fearing the spirits are on the loose, Nakulan's uncle Thampi and family move into the mansion to try and re-seal the Thekkini lock, while also looking out for Nakulan and Ganga. However, various unclear sightings of a woman are witnessed around the mansion, along with attempted attacks on various people at the mansion, including Nakulan's cousin Alli and Ganga. While most of the family including Thampi believe that Nagavalli's ghost roams the mansion, Nakulan, disapproving of supernatural theories, suspects Sreedevi, daughter of Thampi, of being mentally ill, hence orchestrating the incidents at the mansion. Hearing of this, Thampi and the family fear that Sreedevi might be possessed by Nagavalli's spirit.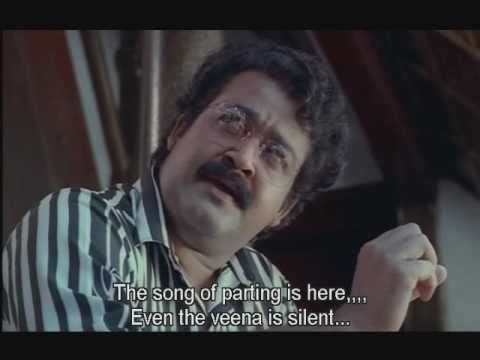 Sreedevi (Vinaya Prasad), Nakulan's cousin and Thampi's daughter, according to tradition, was to be married to Nakulan; however, after finding that Sreedevi had an ominous horoscope, Nakulan's mother withdrew from this proposal, and got Nakulan married to Ganga; later, Sreedevi entered a marriage which was short-lived. Sreedevi's tragic history, along with her perceived gloominess, and her being the only person present during an attack on Ganga, lays cause for suspicion of her.
Dr. Sunny Joseph (Mohanlal), a brilliant yet frolicsome Psychiatrist and Nakulan's close friend is called from the USA to investigate. Soon enough Dr. Sunny finds out that Nakulan's conclusions are not as obvious and he uncovers a plan to commit a murder during the upcoming Durgashtami Festival. Sunny's trained psychiatric mind begins to suspect that Ganga could well be the mental patient of Madampilly. He investigates Ganga's childhood and past. Ganga grew up in a highly superstitious family and had partaken in various religious rituals as a child. Her parents had left her to her grandmother as a 3 year old and never bothered about her due to their busy lifestyle. This made her sensitive as an individual; so when she came to know that her parents were moving her to Calcutta she was unable to come to grips with it. She had become very close to her grandmother and didn't want to leave her village and her ancestral home. It was a period of great emotional and psychological turmoil for her, and she became afflicted with multiple personality disorder. Madampilly with its share of superstitions and dark tales evokes memories of the childhood days in her, and she slowly develops the personality of Nagavalli after having sympathised with her.
Meanwhile, Nakulan's uncle, Thampi, having lost faith in Dr.Sunny, calls in a renowned tantric expert Pullattuparambil Brahmadattan Namboothiripad (Thilakan) to rid his family of the supernatural menace. As fate has it, both the Namboothirippad and Dr.Sunny are old acquaintances and mutually admire each other's expertise in their respective fields. At his own risk, Sunny reveals the secret to Nakulan though he hides some of facts which he observed from Ganga's alter ego behaviour.
When Ganga transforms into Nagavali, her alter ego assumes the man staying in old Ramanathan's house as Ramanathan which unforunately was Mahadevan who was fiance of Alii. So as she assumes Nakulan to be the cruel Karnavar- Sankaran Thampi, thereby waits till Durgastami night to take revenge on him. These kind of associating mysteical codes, Ganga's alter-ego picked from the tales and family connections of the house.
In one of the more memorable scenes of the movie, Ganga also gets to know about her illness during a manifestation of her hidden personality, that of Nagavalli. Sunny, with help of the Namboothirippad, plans an elaborate Tantric ceremony to invoke Ganga's Nagavalli persona and make it believe that it will finally be able to kill Sankaran Thampi. The plan is put into action and in a fiery climax, the blood thirsty Nagavalli exacts revenge on the cruel Karanavar, Sankaran Thampi.
Ganga wakes up from her hypnotic sleep and learns that she is completely cured of the illness. Sunny expresses his intent to marry Sridevi, and they all drive off happily.
Shobhana as Ganga / Nagavalli ( Voice dubbed by Bhagyalakshmi and Durga )
Suresh Gopi as Nakulan / Shankaran Thampi
Mohanlal as Dr. Sunny Joseph
Nedumudi Venu as Thampy, Nakulan

's

maternal uncle
Vinaya Prasad as Sreedevi, Thampy

's

daughter ( Voice dubbed by Anandavally )
Shridhar as Mahadevan, a college lecturer and poet, fiance of Alli
Sudheesh as Chanthu, Thampy

's

son
Innocent as Unnithan, Bhasura

's

husband
K. P. A. C. Lalitha as Bhasura, Thampy

's

sister
Thilakan as Brahmadattan Nampoothirippaad
Kuthiravattam Pappu as Kattuparamban
K. B. Ganesh Kumar as Dasappan Kutty
Rudra as Alli, daughter of Unnithan and Bhasura ( Voice dubbed by Ambili )
Vyjayanthi — Jayasri, younger daughter of Thampy
Kuttyedathi Vilasini, Thampy

's

wife
Shobana's voice was dubbed by two dubbing artistes—Bhagyalakshmi and Durga. Bhagyalakshmi dubbed Shobana for her voice for Ganga, while Durga gave voice to the character's alter-ego, Nagavalli. Nagavalli's voice is heard only in the minor part of the film when compared to Ganga's. Though Durga was not credited in the film or any of its publicity material; until 2016, for long 23 years since the film release, it was believed that Bhagyalakshmi solely voiced Shobana for both Ganga and Nagavalli.
In January 2016, in an article Ormapookkal for Manorama Weekly published by Malayala Manorama, Fazil said, initially Bhagyalakshmi dubbed for both Ganga and Nagavalli. But during post-production, some of the crew including editor Shekar had a feeling that the voices for both the characters sounded somewhat similar, although Bhagyalakshmi altered her voice for Nagavalli. Since Nagavalli speaks in Tamil language, Fazil hired a Tamil dubbing artiste Durga for dubbing for her part. But Fazil forgot to inform it to Bhagyalakshmi, hence she was also unaware of it for a long time. Fazil did not credit Durga in the film credits; according to him it was a difficult job to make changes in the titles at that time, and her portion in the film was minor. The film was released with the already prepared titles which shows Bhagyalakshmi as the dubbing artiste for Shobana. Other dubbing artistes were Anandavally and Ambili, who dubbed for Vinaya Prasad and Rudra.
Major parts of the film and the climax scenes were filmed in Padmanabhapuram Palace and Hill Palace, Tripunithura.
The soundtrack for the film was composed by M. G. Radhakrishnan which went on to become one of the most popular film album in Malayalam. The album consists of eight tracks. The lyrics sung are in Malayalam and Tamil written by Bichu Thirumala and Madhu Muttam for Malayalam and Vaali for Tamil.
Rating the film 5 out of 5, film website Shvoong.com wrote that "Manichitrathazhu is probably one of the best Psycho-thrillers [sic] produced in India. Fazil has done a great job in creating a fantastic movie which keeps the viewers glued to their seats."
Film blog Varnachitram.com, in its review, wrote, "In this movie, the script by Madhu Mattom is the hero and Shobhana is the heroine. For a movie which is a psycho-thriller, it has excellent comedy provided by Innocent, Lalitha and Mohanlal. There are no unnecessary scenes in this movie and each scene in the screenplay sustains the interest in the story. M.G.Radhakrishnan has provided some memorable music for this movie."
Indian entertainment website Oneindia.in gives the film a full scale rating of 5 out of 5.
Manichitrathazhu broke all the records in Malayalam cinema history till then and was also the highest-grossing Malayalam film of the year. It ran for more than 365 days in 3 center Ernakulam Savitha, Thiruvananthapuram Sreekumar and Kattappana Sagara. The film grossed a distributor's share of more than ₹50 million, a large sum then.
Manichitrathazhu is hailed as one of the best films ever made in Malayalam cinema. The film has consistently fetched maximum ratings for its television screenings. Even twenty years after its release it has been screened more than 12 times a year on an average on Kerala's leading TV channel, Asianet. The film has received the maximum TRP rating on every screening; TRP ratings have increased every year, a rare record for a film produced in Kerala.
In a 2013 online poll by IBN Live, Manichitrathazhu was listed second in India's Greatest Film of All Time. The poll was conducted as part of the celebration of Indian cinema completing 100 years. The poll constituted a list of 100 films from different Indian languages. As per the statistics of 2015, Manichitrathazhu is the most reviewed horror film ever in IMDb, surpassing Alfred Hitchcock's Psycho (1960) with 2517 reviews.
Manichithrathazhu later inspired remakes and sequels in other languages, such as Apthamitra and its sequel Aptharakshaka in Kannada starring Vishnuvardhan, Chandramukhi in Tamil and Telugu (dubbed) starring Rajinikanth and its sequel in Telugu titled Nagavalli starring Venkatesh, Bhool Bhulaiyaa in Hindi and Rajmohol in Bengali.
The central character played by Shobhana is named Ganga in the all the remakes except Bhool Bhulaiya and Rajmohol. In Hindi, the character is named Avni, played by Vidya Balan whereas in Bengali, the character is named Deboshree, played by Anu Choudhury.
All three South Indian versions (Malayalam, Kannada and Tamil) earned the actresses playing the central character (Shobhana, Soundarya, Jyothika, respectively) the state awards for Best Actress of the respective states (Kerala, Karnataka and Tamil Nadu).
In Apthamitra (the Kannada version) the character of psychiatrist, played by Vishnuvardhan, is given more screen time. The Tamil version, Chandramukhi, followed the same pattern. Both films were directed by P. Vasu. However, the Hindi version (Bhool Bhulaiyaa, directed by Priyadarshan) and the Bengali version (Rajmohol directed by Swapan Saha)stuck to the original script.
The story was not credited to Madhu Muttam in Apthamitra and Chandramukhi, in which the story was credited to the director P. Vasu himself. However, in Bhool Bhulaiyaa the story was credited to Madhu Muttam, following a Kerala High Court verdict in a case filed by him.
Long before Telugu version Chandramukhi was dubbed, Manichithrathazhu was dubbed into Telugu as Aathmaragam.
Apthamitra's sequel, Aptharakshaka starring Vishnuvardhan was written and directed by P. Vasu and went on to become a huge success in Kannada.
P. Vasu also planned to remake it in Tamil as Chandramukhi 2. But as Rajnikanth wasn't available, he approached Ajith Kumar for the film. But the Tamil version could never make it to the sets and finally Telugu Producer Bellankonda Suresh bought the movie rights and the movie was released as Nagavalli in Telugu starring Daggubati Venkatesh.
A spin-off titled Geethanjali was released on 14 November 2013.