Full name

Alexandra Caroline Grey

Nickname(s)

LexieFastballLexipediaThreeLittle GreyLexSweet N' Low

First appearance

"Testing 1-2-3", 3x24, May 10, 2007

Last appearance

"Flight", 8x24, May 17, 2012

Similar
George o malley and lexie grey i reject your rejection funny scene grey s anatomy 5x06
Alexandra Caroline "Lexie" Grey, M.D. is a fictional character from the medical drama television series Grey's Anatomy, which airs on ABC in the United States. The character was created by series' producer Shonda Rhimes and was portrayed by actress Chyler Leigh from the third through eighth seasons. She was introduced as a Surgical intern in season three. Serving as Meredith Grey (Ellen Pompeo)'s half sister, she transferred to the fictional Seattle Grace Hospital, after her mother's sudden death. Eventually named a surgical resident, the character was originally contracted to appear for a multi-episode story arc, but received star billing in the fourth season.
Contents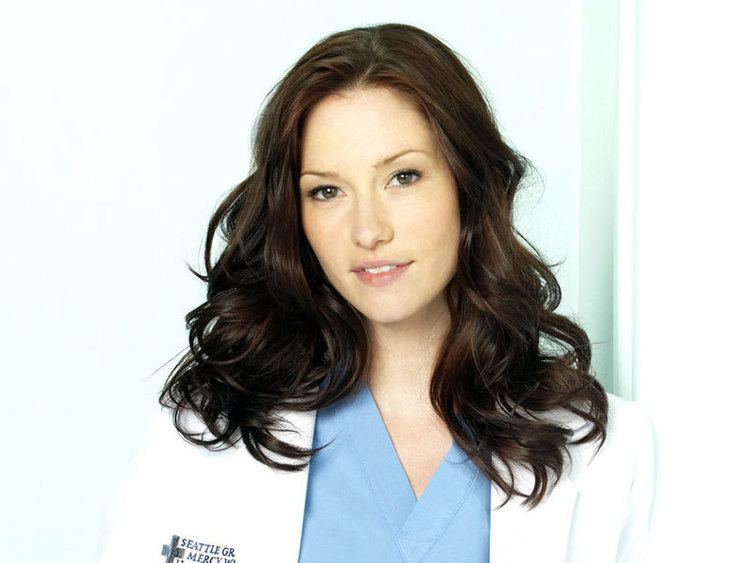 The character's focal storyline involved a romantic relationship with plastic surgeon Mark Sloan (Eric Dane). She sustained life-threatening injuries after an aviation accident, in the eighth-season finale, which ultimately ended in her death. The character's death resulted in mixed critical feedback and the reason given for the departure was Leigh's desire to spend more time with her family. Rhimes has characterized Lexie as being a dork, as well as having issues with saying how she feels. Leigh has been moderately well received by critics, and was among the cast to receive a Screen Actors Guild Award nomination for Outstanding Performance by an Ensemble in a Drama Series in 2007.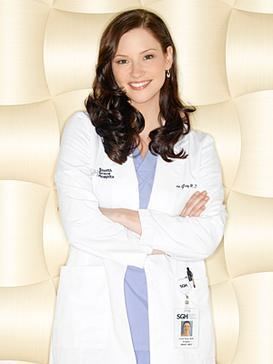 Background
Lexie Grey is the daughter of Thatcher Grey (Jeff Perry) and his second wife, Susan Grey (Mare Winningham). She grew up with her younger sister, Molly Grey-Thompson (Mandy Siegfried) and throughout her childhood was kept unaware that she also had an older half-sister, Meredith Grey (Ellen Pompeo), born to Thatcher and his first wife, Ellis Grey (Kate Burton). Lexie is first mentioned when Molly is admitted to Seattle Grace Hospital, with Susan informing Meredith that Lexie is a student at Harvard Medical School. At some subsequent point, Lexie learns of Meredith's existence. She graduates from medical school and is accepted to take her surgical internship at Mass General hospital, but following her mother's sudden death from complications stemming from the hiccups, Lexie instead opts to move back to Seattle to be closer to her father, taking up an internship at Seattle Grace Hospital, one year behind Meredith who is due to begin her residency.
Lexie has an eidetic memory, which is often used as a valuable resource and earns Lexie the nickname "Lexipedia."
In contrast to Meredith, Lexie came from a loving home with a happy upbringing. Meredith once said of her: "She was raised right. With parents and rules and smiley face posters on her wall." Her idealistic upbringing leaves her unprepared to deal with the many hardships she faces during the course of the show, and she often has difficulties understanding and accepting the darker side of human emotions.
While Lexie can be sympathetic, she is not empathetic, and tends to lash out and react childishly at perceived slights, or when faced with behavior she does not like or understand.
Season 4
The night before her internship begins, Lexie meets Derek Shepherd (Patrick Dempsey) at Joe's Bar, mirroring his initial meeting with Meredith. The pair flirt, but Derek makes his excuses and leaves. On her arrival at the hospital, Lexie meets George O'Malley (T.R. Knight) who quickly realizes her identity. Lexie promises to keep George's secret that he is repeating his internship after failing his intern exam and the pair strike up a friendship. Lexie is assigned to be Cristina Yang's (Sandra Oh) intern, and is dubbed "three" by Cristina, who doesn't take the time to learn her name. Lexie is eager to get to know her half-sister Meredith, but receives a hostile response when she introduces herself, and her later frequent attempts to bond with Meredith are similarly rebuffed. Lexie begins a brief sexual relationship with Alex Karev (Justin Chambers), who discovers that Thatcher has descended into alcoholism following Susan's death. When Meredith scolds Lexie for not looking after Thatcher, she finally retaliates and decides to stop pursuing a relationship with Meredith. Lexie bonds with patient Nick Hanscom (Seth Green), and is present when his exposed artery blows, causing him to suffer massive blood loss. She manages to stop the bleeding, but is distraught when Nick later dies anyway. Feeling sympathy for Lexie, Cristina invites her to join her and Meredith in drinking and dancing, causing the sisters relationship to begin to thaw. The following morning, Meredith goes out of her way to make Lexie breakfast, which she politely eats despite an allergy to eggs, resulting in her having to be treated at the hospital. Lexie and George agree to move in together, but they can only afford a dilapidated apartment which Lexie attempts to improve by stealing decorations from the hospital. She begins to develop romantic feelings for George, and discovers that he had only failed his intern exam by one point, encouraging him to try and convince the Chief that he deserves a second chance.
Season 5
Lexie continues to harbor romantic feelings for George, oblivious to the fact that he doesn't see her in the same way. Their relationship is a mirror foil of George's previous infatuation with the oblivious Meredith. She prioritizes helping George study over taking part in a surgery with Mark Sloan (Eric Dane), but feels betrayed when George doesn't request that she become one of his interns after passing his exam. Finally realizing that he doesn't feel the same way, Lexie gives up on her feelings for George and the pair's friendship begins to fizzle out. She later begins a flirtation with Mark, and the pair begin an unlikely romantic relationship, though they are forced to keep it a secret when Meredith and Derek warn Mark away from Lexie. Lexie discovers that some of her fellow interns have secretly been performing simple procedures on each other and begins taking part to prove she's hardcore. Sadie Harris (Melissa George) joins the society, and seeking a more daring procedure, suggests removing her appendix. Though Lexie agrees, she quickly finds herself out of her depth, resulting in Meredith and Cristina having to intervene to save Sadie's life. Lexie and the other interns are put on probation. Derek finds Lexie distraught at the day's events, and allows her to move into the attic at his and Meredith's house. Mark comes clean to Derek about his relationship with Lexie, resulting in the two men getting into a fist fight. The pair continue to feud, resulting in Lexie beginning to stress eat until they eventually reconcile. Lexie is delighted when Meredith asks her to be a bridesmaid at her and Derek's wedding, though they eventually give the ceremony to Alex and cancer-stricken Izzie Stevens (Katherine Heigl). Mark decides to purchase a house and invites Lexie to move in with him, however she declines, concerned about how fast their relationship is progressing.
Season 6
Lexie feels guilt following George's death, having abandoned their friendship after he failed to reciprocate her romantic feelings towards him. Mark comforts her, and she eventually agrees to move into his new apartment with him. Thatcher is admitted into the hospital with liver failure stemming from his former alcoholism. When Lexie is found to not be a suitable transplant candidate, Meredith steps in and donates part of her liver, not to help Thatcher, but to spare Lexie the grief of losing her father and because Lexie inappropriately pulled Meredith's medical files and begged her to. Mark and Lexie receive a shock when a pregnant teenage girl named Sloan Riley shows up claiming to be Mark's daughter, and her parentage is soon confirmed. Mark quickly agrees to let her and the baby move in permanently without consulting Lexie, resulting in her ending their relationship when Mark asks her not to force him to choose between Lexie and his child and grandchild, because he'd have to choose them instead of her. She engages in a one-night stand with Alex, but feels guilty and confesses to Mark when he attempts to restart their relationship once his daughter leaves. Mark is furious with her, officially ending their relationship. Despite secretly suppressing her feelings for Mark, Lexie and Alex assume a casual relationship, that Lexie begins to take too seriously and flaunts to make Mark jealous. Lexie is able to use her eiditic memory to help Alex with several of his cases. Meanwhile, Mark and Lexie never seem to get their timing right, with Lexie disinterested and angry at Mark when he wishes to reconcile, or Mark being caught sleeping with a flavor of the day when Lexie wants to rekindle their relationship. Lexie takes part in a surgery on a patient named Alison Clark (Caroline Williams) and informs her husband Gary Clark (Michael O'Neill) that it was a success. However, moments later Alison suffers a stroke and falls into a coma that she is deemed unlikely to wake from. As Alison had signed a DNR form, Lexie is forced to turn off the machine keeping her alive, despite Gary begging her to stop. After failing in an attempt to sue the hospital, a grief-stricken Mr. Clark later returns to the hospital with a gun, seeking revenge on Lexie, Derek and Richard Webber (James Pickens, Jr.). After witnessing Mr. Clark shoot a nurse dead, Mark shields Lexie during the shooting and the pair attempt to save a critically wounded Alex. Seeking supplies, Lexie heads out into the hospital and comes face to face with Mr Clark who attempts to shoot her, but she is saved by a SWAT team member who wounds Clark at the last moment allowing her to escape. Lexie and Mark proceed to save Alex's life, but Lexie is disappointed and irritated when a delirious Alex calls for his ex-wife, Izzie, while nearly dying instead of Lexie. After a showdown with Richard, Gary Clark eventually commits suicide, having killed eleven People and wounding another seven, as well as causing Meredith to suffer a miscarriage.
Season 7
Lexie has a psychotic breakdown after the shooting. She is admitted to the hospital's psychiatric facility and is sedated for over fifty hours, with Meredith remaining by her side. Alex, on the other hand, breaks off his and Lexie's fling because he cannot handle having to care for an insane person after his personal and family history. Lexie retaliates with causal cruelty by mocking him for calling out for the wife who left him and snubbing him when he asks her to use her "Lexipedia" talents to help on cases. Lexie is paranoid and irritated that other's may view her as fragile and incompetent due to her melt down and works hard to repair her image. After both realize they continue to have feelings for each other, Lexie and Mark resume their relationship, but their brief happiness is ruined when Lexie discovers that during their breakup, Mark had impregnated his best friend Callie Torres (Sara Ramirez) and she again ends their relationship. Eager to win Lexie back, Mark recruits his protégé Jackson Avery (Jesse Williams) to try to bring him back into Lexie's favour, but his plan backfires when Jackson and Lexie develop romantic feelings for each other, resulting in them starting a relationship of their own. Mark is furious and tries to win Lexie back, but shortly after Callie is involved in a car accident and Lexie consoles Mark. The next episode, Lexie explains that she will go back to Mark if he continues to pursue her, but she believes they ultimately aren't suited and will be unhappy. Mark agrees to let her go, giving her and Jackson his blessing.
Season 8
Although initially happy in her relationship with Jackson, Lexie is distraught when she learns that Mark has begun a relationship with a woman named Julia. At a charity softball match, her jealousy gets the better of her, resulting in her throwing a ball at Julia. Sensing that Lexie is still in love with Mark, Jackson calls off their relationship. Lexie begins working with Derek's service and becomes increasingly proficient in neurosurgery, helping Derek with a set of "hopeless cases" - high risk surgeries for patients who had otherwise run out of options. During a surgery, Derek is called away on an emergency, leaving Lexie and Meredith to carry out the procedure on their own. Though Derek had instructed them to merely reduce the patient's brain tumour, Meredith allows Lexie to remove it completely, despite not being authorized by either the patient or Derek to due so. The sisters celebrate the successful surgery, but when the patient wakes up, Lexie is devastated to discover that the patient suffered severe brain damage, losing the ability to speak. Alex, Jackson and April Kepner (Sarah Drew) move out of Meredith's house without inviting Lexie to join them, and with Derek and Meredith settling down with baby Zola, Lexie begins to feel increasingly lonely and isolated. After being left babysitting Zola on Valentine's Day, she decides to try to salvage her relationship with Mark. However, after plucking up the courage to visit his apartment, she finds Mark studying with Jackson and loses her nerve, instead claiming that she was visiting to set up a play date for Zola and Sofia. When Mark confides in Derek that he and Julia have been discussing having a baby, Derek warns Lexie not to miss her chance again, resulting in her professing her love to a shell-shocked Mark, who merely thanks her for her candour. He later confesses to Derek that he feels the same way, but is unsure about how to go about things. Days later, Lexie is named as part of a team of surgeons that will be sent to Boise to separate conjoined twins, along with Mark, Meredith, Derek, Cristina and Arizona Robbins (Jessica Capshaw); however, while flying to their destination, the doctors' plane crashes in the wilderness. Lexie is crushed under debris from the plane, but manages to alert Mark and Cristina to help her. The pair try in vain to free Lexie, who realises that she is suffering from a hemothorax and is unlikely to survive. While Cristina tries to find an oxygen tank and water for to try and save Lexie, Mark takes Lexie by the hand and professes his love for her, telling her that they were "meant to be". While fantasizing about the future that she and Mark could have had together, Lexie succumbs to her injuries, and dies moments before Meredith arrives. The remaining doctors are left in the woods waiting for rescue, with Mark refusing to let go of Lexie's hand.
Season 9 onwards
The remaining surgeons are rescued from the woods days later, and Lexie's body is returned to Seattle. Weeks later, a traumatized Cristina reminisces to Owen Hunt (Kevin McKidd) about her time in the woods, telling him that she had fought with wild animals to keep them away from Lexie's body. Weeks after the crash, Meredith comes across a young girl presenting with injuries identical to Lexie's, and tirelessly works to save the girls life, with the experience eventually causing her to come to terms with her sister's death. Despite making it home from the woods, Mark later died from the injuries he sustained in the crash. When the survivors of the plane crash pool their compensation money to purchase the hospital, they agree to rename the hospital to "Grey Sloan Memorial Hospital" in tribute to Lexie and Mark.
Casting and creation
Leigh first appeared on the show during the last two episodes of the third season as Meredith's half-sister, Lexie Grey. Following Isaiah Washington's departure who portrayed Preston Burke, it was reported that show's executives were planning on adding new cast members, such as Lexie. She was officially upgraded to a series' regular on July 11, 2007, for the fourth season. On casting Chyler Leigh as Lexie, Grey's Anatomy creator Shonda Rhimes said: "We met with a lot of young actresses, but Chyler stood out—she had a quality that felt right and real to me. It felt like she could be Meredith's sister, but she had a depth that was very interesting."
In September 2011, Leigh requested an extended summer hiatus to spend more time with her family. This was granted by Rhimes, though the actress returned in M.D.October. Leigh's character died in the eighth-season finale. In May 2012, Rhimes revealed why she decided to have Lexie die: "I love Chyler and I love the character of Lexie Grey. She was an important member of my Grey's family. This was not an easy decision. But it was a decision that Chyler and I came to together. We had a lot of thoughtful discussion about it and ultimately we both decided this was the right time for her character's journey to end. As far as I'm concerned, Chyler will always remain a part of the Shondaland family and I can't wait to work with her again in the future." Following the death of her character, Leigh released a statement saying:
Characterization
Leigh's character has been called "reliable, trustworthy, timid, and apprehensive" by Grey's Anatomy executives. In her early appearances, it was learned that Lexie has a photographic memory, which she applied to her surgical career. This led her to being nicknamed "Lexipedia" by Alex Karev. The character has also been described as an "innocent young intern" by Alex Keen of The Trades.
Of the character, Leigh said: "She's a very vulnerable person from a very healthy background—she knows how to make good relationships but at this point [season four], she's coming into so much opposition she's trying to adjust to it." Debbie Chang of BuddyTV commented on Lexie's early characterization, including her sexual relationship with Karev:
Similarities have been established between Lexie and Meredith. Series writer, Stacy McKee, commented on this:
"Lexie's struggling to be hardcore herself. I don't know if I'd go so far as to say, perhaps, this kind of struggle must run in the family, but… Okay. Fine. It must run in the family – because Lexie, though she's very different from Meredith in many many ways, in this one way – they seem to be exactly alike. Meredith and Lexie both want to succeed. They want to be strong. They want to feel normal. They want, so much, to be whole. But it's a struggle – a genuine struggle for them. Being hardcore doesn't come naturally. Sometimes, they have to fake it."
Lexie entertained several relationships throughout her time on Grey's Anatomy. In her early appearances, she maintained a friendship with George O'Malley, until developing romantic feelings towards him. Rhimes offered the insight: "I love them as friends. They make good friends. We all have that friend we met in school or the gym or somewhere – we just hit it off right away. And right away there was no pretense or airs. Just pure honesty. That's Lexie and George. They're really good friends and I can see the friendship evolving into something even greater. At least, that's what Lexie is hoping. She is my kind of girl. The girl who likes the guy because he is a GOOD guy and that's what George is. He is a good guy and that's something that Lexie could use now. She's going through her own challenges what with Meredith and losing her own mother and trying to keep things afloat. I'm rooting for Lexie. She's my kind of girl and I hope that she gets what she deserves: love. And more kisses. There should always be that." Lexie's most significant relationship was with Mark Sloan. Following her death, Rhimes said:
Reception
Leigh has received mixed feedback for her role as Lexie Grey. People, less than impressed, criticized the way Leigh's character initially approached her sister, calling it "rude". Jennifer Armstrong of Entertainment Weekly was also critical of Leigh's early appearances, referring to her as "awkward". However, Armstrong later noted that the "sparkling" friendship development between Lexie and O'Malley "won her over". The character's transition from season four to five was positively reviewed, with Keen of The Trades writing: "Her presence and confidence have increased quite a bit since last season, and actress, Chyler Leigh, does a fantastic job of making this progression feel seamless. Since the series has defused the tension between Little Grey and Big Grey (aka Meredith), Lexie has clear sailing through the season and steals the show as one of the best current characters on the series."
Lexie was strongly criticized by Laura Burrows from IGN, being called "awful". Burrows also wrote: "Everything she says and does is obnoxious and does harm to someone. Lexie is an idiot and should be shot or drowned or exploded." The character's relationship with Sloan has been well received, with Chris Monfette of IGN writing: "Sloan's honest relationship with Lexie helped to make both characters infinitely more interesting and mature." Leigh served as a primary vocalist in "Song Beneath the Song", the Grey's Anatomy music event, and was well received, with the Boston Herald's Mark Perigard praising her performance. The character was listed in Wetpaint's "10 Hottest Female Doctors on TV". In 2007, at the 14th Screen Actors Guild Awards, Leigh and the rest of the cast of Grey's Anatomy, received a nomination for Outstanding Performance by an Ensemble in a Drama Series.
References
Lexie Grey Wikipedia
(Text) CC BY-SA