Years active

1995–present

Spouse

Chris Ivery (m. 2007)







Full Name

Ellen Kathleen Pompeo

Born

November 10, 1969 (age 46) (

1969-11-10

)

Children

Stella Luna Pompeo Ivery, Sienna May Pompeo Ivery

Movies and TV shows




Similar People

Chris Ivery, Patrick Dempsey, Sandra Oh, Justin Chambers, Stella Luna Pompeo Ivery




Profiles



Ellen pompeo makes a foot spa buddy on repeatafterme
Ellen Kathleen Pompeo (, born November 10, 1969) is an American actress and producer. Born in Everett, Massachusetts, Pompeo moved to New York City at 26 where she was discovered by a casting director who signed her for an advertisement campaign for L'Oreal. She made her screen debut with NBC's legal drama Law & Order, and then guest-starred in other television shows, including the comedy Strangers with Candy, the medical drama Strong Medicine and the sitcom Friends.
Contents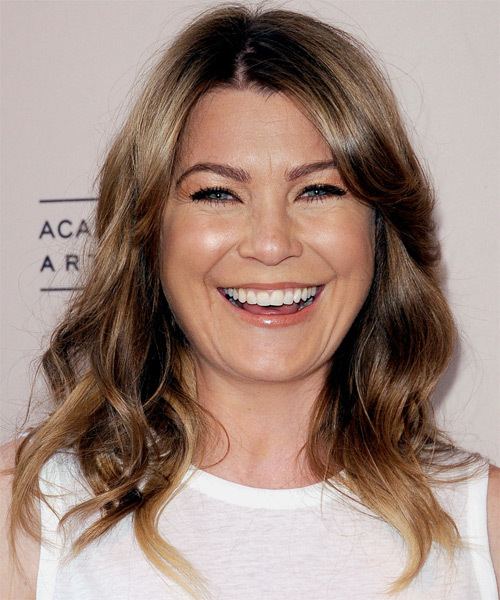 Pompeo made her feature film debut in 1999 with the romantic comedy Coming Soon, and went on to play minor roles in films like In the Weeds and Mambo Café but found little success initially. A turning point came in her career in 2002, when she gained wide recognition for her starring role in Brad Silberling's drama Moonlight Mile. Pompeo then starred in ABC's popular medical drama Grey's Anatomy (2005–present), and garnered worldwide recognition for her portrayal of the title character Dr. Meredith Grey. The role on the long running series earned her a Golden Globe Award for Best Actress – Television Series Drama nomination, and the Screen Actors Guild Award. The character became widely popular, making Pompeo one of the most popular television actresses.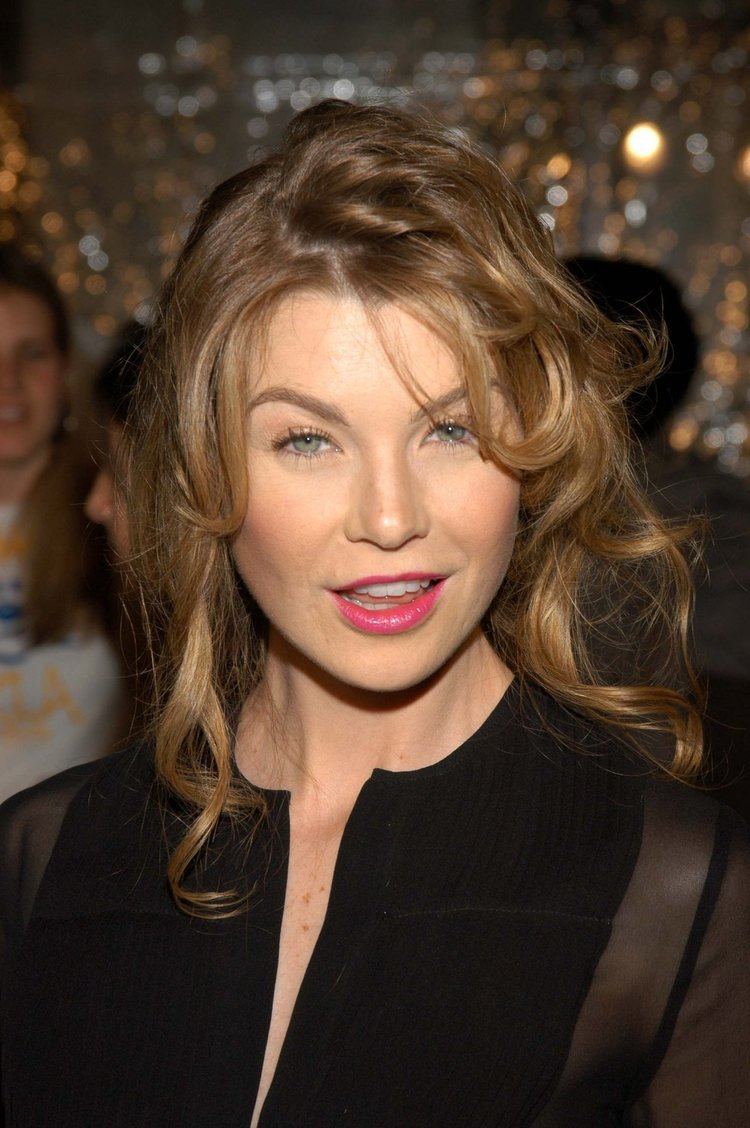 In 2015, Pompeo was ranked fourth in the list of highest paid TV actresses by Forbes, with the earnings of $11.5 million, a spot that she held on to the following year with the earnings of $14.5 million. Pompeo's other notable film roles include the comedy Old School (2003), the superhero film Daredevil (2003), the caper film Art Heist (2004), and the comedy drama Life of the Party (2005). In October 2007, she was honored with Special Achievement in Entertaining by the National Italian American Foundation for her achievement in the entertainment industry. Pompeo married producer Chris Ivery in 2007 and the couple have three children together.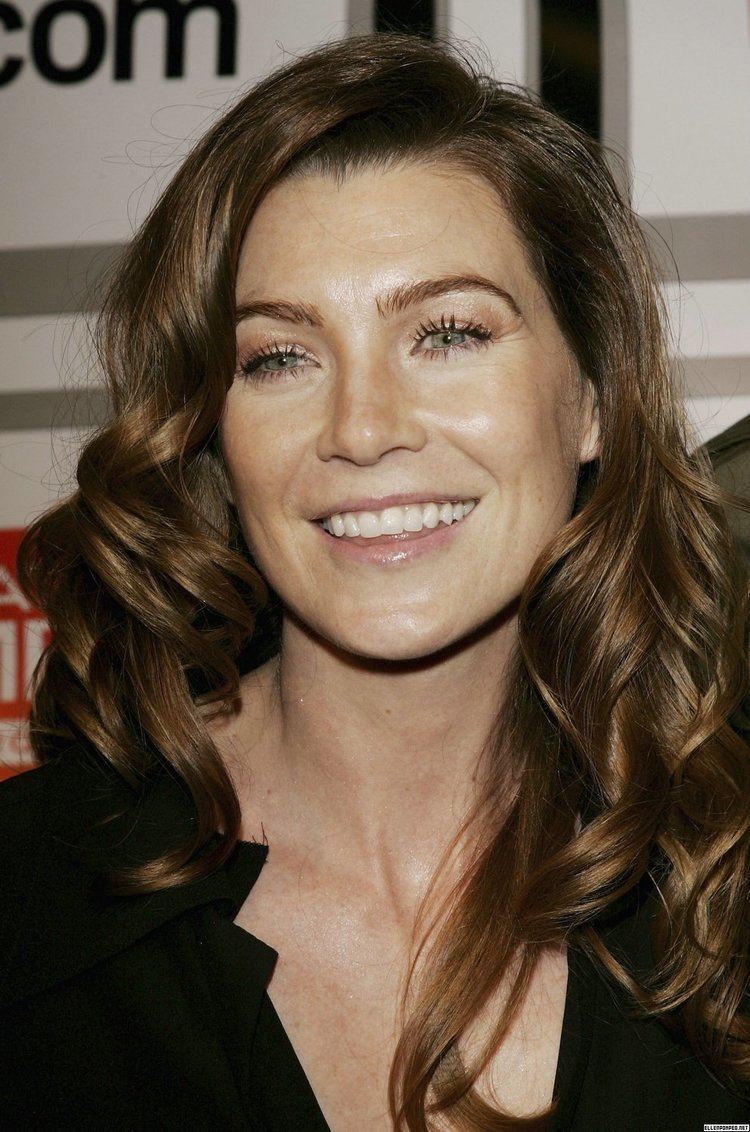 Ellen pompeo video biography
Early life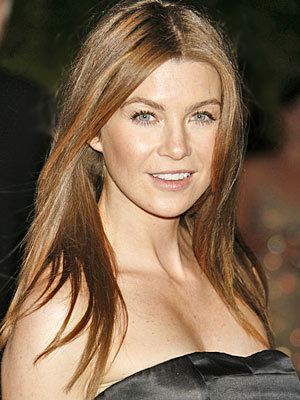 Ellen Kathleen Pompeo was born in Everett, Massachusetts, on November 10, 1969, the daughter of Kathleen B. (née O'Keefe) and Joseph E. Pompeo. Her father was of Italian, English, and Irish descent, while her mother was of Irish ancestry. She was raised Roman Catholic. Her mother died of a painkiller overdose when Ellen was five, and her father remarried soon after; he died on September 1, 2012. In 2006, Pompeo told Allure "I think having my mother die at such a very young age – when she was 33 – I appreciate life so much." She has five siblings: three sisters and two brothers. She was nicknamed "the pencil", and "stracciatella" (Italian Ice Cream flavor). Pompeo worked as a bartender in Miami when she started dating fashion photographer Andrew Rosenthal. Together, they moved to New York City in 1995 where she was approached by a casting director to appear in commercials for Citibank and L'Oreal.
Debut and further roles (1995–2004)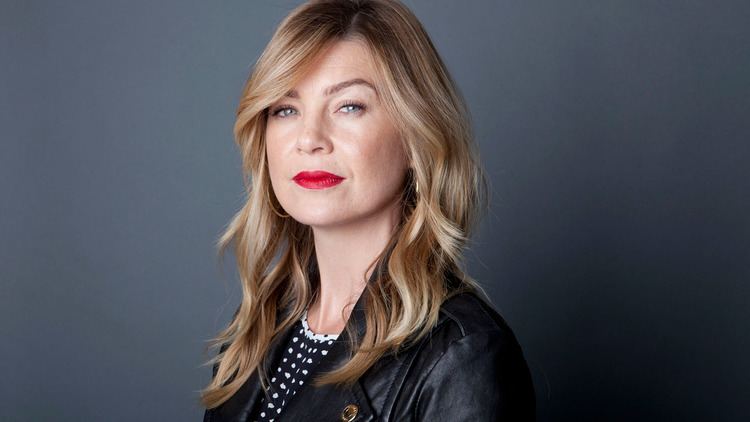 Pompeo's early work included commercials and small independent films. She made her television debut in 1996 by guest-starring in the NBC legal police drama, Law & Order. She made her feature film debut in Coming Soon (1999), playing a small part. She made her second appearance in Law & Order in 2000, and then guest-starred on Strangers with Candy, Strong Medicine and Friends. Pompeo then moved to Los Angeles in 2001. She participated in the movie Mambo Café with Thalía.
In 2002, Pompeo was selected by director Brad Silberling for a lead role in his film Moonlight Mile, playing Jake Gyllenhaal's character's sympathetic love interest. Jeff Vice of Deseret News while praising the cast made note of her "extremely appealing" performance. Her performance was also considered worthy of an Academy Award by several critics. Also in 2002, Pompeo appeared in the biographical crime drama film Catch Me If You Can and in 2003, she appeared in Old School as Luke Wilson's love interest. She portrayed Jim Carrey's ex-girlfriend, Naomi, in the 2004 film Eternal Sunshine of the Spotless Mind. Although her scenes were cut from that film, she felt grateful that director Michel Gondry selected her for his film. She played the role of Karen Page, in the 2003, Mark Steven Johnson Marvel Entertainment film Daredevil, based on the Marvel Comics character.
Grey's Anatomy and other works (2005–present)
Pompeo landed her first major role in 2005 on the ABC medical drama series Grey's Anatomy, created by Shonda Rhimes. She plays the title character and series' protagonist, Meredith Grey, a surgical intern at a prestigious hospital. In 2011, she was named the ninth highest paid TV actress, by Forbes, earning $7 million. Grey's Anatomy was a breakout hit in 2005, and was well received by television critics. At the time of the show's inception, Pompeo received positive feedback for her performance, with Newsday's Diane Werts writing, "star Ellen Pompeo's newly minted Dr. Grey conveys such substance that you simply can't stop watching."
Pompeo signed a new contract for Grey's Anatomy in 2011 that increased her salary to US$200,000 per episode, and renewed the contract for two more seasons in 2012. She was named the eighth highest paid TV actress in 2012, earning $9 million. She extended her contract for two more years, which would have her involved with the show until its 12th season. As of 2013, she earns $350,000 per episode plus millions from syndication. She was ranked fourth in the list of highest paid television actresses again in 2015, in the Forbes list, with the earnings of $11.5 million. Pompeo's contract with the company expired again at the end of the twelfth season along with the other original cast members, and she signed a new one with increased pay cheque. She held on the fourth spot in Forbes' list in 2016, bringing in $14 million, a 32% increase in the earnings from 2015.
With the increasing popularity of the show, Pompeo garnered world-wide reputation among television viewers, and her performance has garnered her five People's Choice Award nominations, with three wins. At the 37th People's Choice Awards, she was nominated against Dempsey and Oh in the Favorite TV Doctor category, and the following year, she garnered a nomination in the Favorite TV Drama Actress category, an award that she has won thrice at the 39th, 41st and the 42nd People's Choice Awards. Pompeo has been nominated for several other awards for her performances in the show. She and the Grey's Anatomy cast won Best Ensemble in a Television Series at the 2006 Satellite Awards. During the following year's ceremony, she was named Best Actress in a Television Drama Series. She was among the Grey's Anatomy cast members awarded the Outstanding Performance by an Ensemble in a Drama Series accolade at the 13th Screen Actors Guild Awards, and received nominations in the same category in 2006 and 2008. Pompeo received a Best Performance by an Actress in a Drama Series nomination at the 64th Golden Globe Awards – the program won Best Drama Series at the same ceremony. In 2007, Pompeo and the female cast and crew of Grey's Anatomy received the Women in Film Lucy Award, which honors those "whose work in television has positively influenced attitudes toward women."
In 2007, Pompeo was honored by the National Italian American Foundation for her achievement in entertainment at a black-tie gala in Washington, D.C. In the same year, show-business awards reporter Tom O'Neil commented that Pompeo was overdue for an Emmy Award nomination for her role in Grey's Anatomy. The view was echoed by later critcs, including McNamara of the Los Angeles Times who suggested that Pompeo, "who has worked very hard and against all narrative odds to make Meredith Grey an interesting character at last" should have received a nomination at the 61st Primetime Emmy Awards. During the twelfth season of the show Western Gazette's Alex Hawnkings gave Pompeo the credit for carrying the show and re-ittirated it was time for her to finally win an Emmy Award." Readers of O'Neil's awards website, The Envelope, included Pompeo in their 2009 nominations for Best Drama Actress in the site's Gold Derby TV Awards.
On October 27, 2011, Deadline.com reported that Pompeo had launched her own production company called Calamity Jane which sold its first project to ABC, an untitled show about female agents on the Secretary of State's security detail Pompeo appeared in the music video of Bad Blood, a song from the fifth studio album 1989 (2014) of her close friend American singer-songwriter Taylor Swift. The music video was directed by Joseph Kahn, and filmed in Los Angeles on April 12, 2015, but is set in London. The music video premiered on May 17, 2015, at the start of the Billboard Music Awards. Each actor chose their character's name. Swift plays Catastrophe who is training for her revenge against a close friend Arsyn, played by Selena Gomez. The other characters in the video are shown in succession, some in training with Catastrophe and Pompeo plays one of them named Luna.
Pompeo has expressed her lack of interest in acting after Grey's Anatomy ends its run. In an September 2011 interview, she said, "I definitely feel myself transitioning. I don't find acting terribly empowering." Since then, Pompeo has been involved in other projects as a producer and had also made her directorial debut with a Grey's Anatomy episode, from the thirteenth season. On August 2014, it was announced that Pompeo was developing two dramas with ABC Studios - adaptation of Rachel Carey's 2013 novel Debt for ABC Family, and an untitled female police drama for ABC. Pompeo is also involved with a Spanish thriller Motivos Personales with the London-based company, New Media Vision.
Personal life and off-screen work
Ellen Pompeo met Chris Ivery in a Los Angeles grocery store in 2003 and began dating and then got married in 2007, with then New York City mayor Michael Bloomberg as the legal witness to the ceremony. In 2009, Pompeo gave birth to her first child, daughter Stella. In 2014, she welcomed daughter Sienna with the help of a surrogate mother. On December 29, 2016 it was announced that they had welcomed their third child, a boy named Eli Christopher.
Pompeo suffers from several allergies and asthma. She owns two toy poodles with her husband because they don't shed: "I have asthma, so those are the only kinds of dogs I can have." Pompeo follows a healthy lifestyle, meditates twice a day for 20 minutes each, and does so inside her trailer in between takes as well. Pompeo heavily criticised media reports suggesting that she suffered from an eating disorder, calling the media irresponsible for promoting such rumours. In a 2007 issue of Los Angeles Confidential Magazine, she said that she was worried about the young girls who look up to her: "I don't want them to think I starve myself or don't eat, and that to be like me that's what they have to do."
Pompeo along with Shonda Rhimes, and the leads of Rhimes' ABC Thursday line-up shows Scandal, How to Get Away With Murder, Kerry Washington and Viola Davis, appeared in an ad campaign for the 2016 US election supporting Hillary Clinton, comparing her to the protagonists of those series. In the video, the actresses note that Olivia Pope, Annalise Keating and Meredith Grey are "brilliant" and "complex" women who fight for justice and give voice to the voiceless. Rhimes, Davis, Pompeo, and Washington each take turns speaking as they praise the presidential candidate and conclude: "Our characters are on television, the real world has Hillary Clinton." Clinton responded to the video with a tweet saying, "Talk about a power lineup. Thank you for being on this team!"
Filmography
Actress
-
Untitled Orphan Project (TV Mini Series) (pre-production)
as
Kristine
- Episode #1.7 - Kristine
- Episode #1.8 - Kristine
- Episode #1.4 - Kristine
- Episode #1.6 - Kristine
- Episode #1.3 - Kristine
- Episode #1.1 - Kristine
- Episode #1.5 - Kristine
- Episode #1.2 - Kristine
2005
Grey's Anatomy (TV Series)
as
Dr. Meredith Grey
- Happily Ever After? (2023) - Dr. Meredith Grey
- Wedding Bell Blues (2023) - Dr. Meredith Grey (voice)
- Ready to Run (2023) - Dr. Meredith Grey (voice)
- Come Fly With Me (2023) - Dr. Meredith Grey (voice)
- Gunpowder and Lead (2023) - Dr. Meredith Grey (voice)
- Mama Who Bore Me (2023) - Dr. Meredith Grey (credit only)
- Shadow of Your Love (2023) - Dr. Meredith Grey (voice)
- Cowgirls Don't Cry (2023) - Dr. Meredith Grey (voice)
- Pick Yourself Up (2023) - Dr. Meredith Grey
- Training Day (2023) - Dr. Meredith Grey
- Sisters Are Doin' It for Themselves (2023) - Dr. Meredith Grey (voice)
- Love Don't Cost a Thing (2023) - Dr. Meredith Grey (voice)
- All Star (2023) - Dr. Meredith Grey (voice)
- I'll Follow the Sun (2023) - Dr. Meredith Grey
- Thunderstruck (2022) - Dr. Meredith Grey
- When I Get to the Border (2022) - Dr. Meredith Grey
- Haunted (2022) - Dr. Meredith Grey
- Let's Talk About Sex (2022) - Dr. Meredith Grey
- Wasn't Expecting That (2022) - Dr. Meredith Grey
- Everything Has Changed (2022) - Dr. Meredith Grey
- You Are the Blood (2022) - Dr. Meredith Grey
- Out for Blood (2022) - Dr. Meredith Grey
- Stronger Than Hate (2022) - Dr. Meredith Grey
- I'll Cover You (2022) - Dr. Meredith Grey
- Should I Stay or Should I Go (2022) - Dr. Meredith Grey
- Put It to the Test (2022) - Dr. Meredith Grey
- Road Trippin' (2022) - Dr. Meredith Grey
- Put the Squeeze on Me (2022) - Dr. Meredith Grey
- The Makings of You (2022) - Dr. Meredith Grey
- Legacy (2022) - Dr. Meredith Grey
- Living in a House Divided (2022) - Dr. Meredith Grey
- No Time to Die (2022) - Dr. Meredith Grey
- It Came Upon a Midnight Clear (2021) - Dr. Meredith Grey
- Today Was a Fairytale (2021) - Dr. Meredith Grey
- Every Day Is a Holiday (With You) (2021) - Dr. Meredith Grey
- Bottle Up and Explode! (2021) - Dr. Meredith Grey
- With a Little Help from My Friends (2021) - Dr. Meredith Grey
- Hotter Than Hell (2021) - Dr. Meredith Grey
- Some Kind of Tomorrow (2021) - Dr. Meredith Grey
- Here Comes the Sun (2021) - Dr. Meredith Grey
- Someone Saved My Life Tonight (2021) - Dr. Meredith Grey
- I'm Still Standing (2021) - Dr. Meredith Grey
- Tradition (2021) - Dr. Meredith Grey
- Look Up Child (2021) - Dr. Meredith Grey (credit only)
- Good as Hell (2021) - Dr. Meredith Grey
- Sign O' the Times (2021) - Dr. Meredith Grey
- Sorry Doesn't Always Make It Right (2021) - Dr. Meredith Grey
- Breathe (2021) - Dr. Meredith Grey
- In My Life (2021) - Dr. Meredith Grey
- It's All Too Much (2021) - Dr. Meredith Grey
- Helplessly Hoping (2021) - Dr. Meredith Grey
- No Time for Despair (2020) - Dr. Meredith Grey
- Fight the Power (2020) - Dr. Meredith Grey
- You'll Never Walk Alone (2020) - Dr. Meredith Grey
- My Happy Ending (2020) - Dr. Meredith Grey
- The Center Won't Hold (2020) - Dr. Meredith Grey
- All Tomorrow's Parties (2020) - Dr. Meredith Grey
- Put on a Happy Face (2020) - Dr. Meredith Grey
- Sing It Again (2020) - Dr. Meredith Grey
- Love of My Life (2020) - Dr. Meredith Grey
- Give a Little Bit (2020) - Dr. Meredith Grey
- Life on Mars? (2020) - Dr. Meredith Grey
- Leave a Light On (2020) - Dr. Meredith Grey
- Snowblind (2020) - Dr. Meredith Grey
- A Diagnosis (2020) - Dr. Meredith Grey
- Save the Last Dance for Me (2020) - Dr. Meredith Grey
- The Last Supper (2020) - Dr. Meredith Grey (voice)
- A Hard Pill to Swallow (2020) - Dr. Meredith Grey
- Help Me Through the Night (2020) - Dr. Meredith Grey
- Let's All Go to the Bar (2019) - Dr. Meredith Grey
- My Shot (2019) - Dr. Meredith Grey
- Papa Don't Preach (2019) - Dr. Meredith Grey
- Whistlin' Past the Graveyard (2019) - Dr. Meredith Grey
- Breathe Again (2019) - Dr. Meredith Grey
- It's Raining Men (2019) - Dr. Meredith Grey
- Reunited (2019) - Dr. Meredith Grey
- Back in the Saddle (2019) - Dr. Meredith Grey
- Nothing Left to Cling To (2019) - Dr. Meredith Grey
- Jump Into the Fog (2019) - Dr. Meredith Grey
- Drawn to the Blood (2019) - Dr. Meredith Grey
- What I Did For Love (2019) - Dr. Meredith Grey
- Head Over High Heels (2019) - Dr. Meredith Grey
- Good Shepherd (2019) - Dr. Meredith Grey
- The Whole Package (2019) - Dr. Meredith Grey
- Silent All These Years (2019) - Dr. Meredith Grey
- Add It Up (2019) - Dr. Meredith Grey
- And Dream of Sheep (2019) - Dr. Meredith Grey
- Blood and Water (2019) - Dr. Meredith Grey
- We Didn't Start the Fire (2019) - Dr. Meredith Grey
- I Want a New Drug (2019) - Dr. Meredith Grey
- I Walk The Line (2019) - Dr. Meredith Grey
- Girlfriend in a Coma (2019) - Dr. Meredith Grey
- The Winner Takes It All (2019) - Dr. Meredith Grey
- Help, I'm Alive (2019) - Dr. Meredith Grey
- Shelter From the Storm (2019) - Dr. Meredith Grey
- Blowin' in the Wind (2018) - Dr. Meredith Grey
- Anybody Have a Map? (2018) - Dr. Meredith Grey
- Flowers Grow Out Of My Grave (2018) - Dr. Meredith Grey
- Everyday Angel (2018) - Dr. Meredith Grey
- Momma Knows Best (2018) - Dr. Meredith Grey
- Gut Feeling (2018) - Dr. Meredith Grey
- Broken Together (2018) - Dr. Meredith Grey
- With a Wonder and a Wild Desire (2018) - Dr. Meredith Grey
- All of Me (2018) - Dr. Meredith Grey
- Cold As Ice (2018) - Dr. Meredith Grey
- Fight For Your Mind (2018) - Dr. Meredith Grey
- Bad Reputation (2018) - Dr. Meredith Grey
- Judgment Day (2018) - Dr. Meredith Grey
- Beautiful Dreamer (2018) - Dr. Meredith Grey
- Hold Back The River (2018) - Dr. Meredith Grey
- One Day Like This (2018) - Dr. Meredith Grey
- Caught Somewhere in Time (2018) - Dr. Meredith Grey
- Old Scars, Future Hearts (2018) - Dr. Meredith Grey
- Games People Play (2018) - Dr. Meredith Grey
- You Really Got a Hold on Me (2018) - Dr. Meredith Grey
- Harder, Better, Faster, Stronger (2018) - Dr. Meredith Grey
- (Don't Fear) the Reaper (2018) - Dr. Meredith Grey (credit only)
- Personal Jesus (2018) - Dr. Meredith Grey
- 1-800-799-7233 (2018) - Dr. Meredith Grey
- Out of Nowhere (2017) - Dr. Meredith Grey
- Who Lives, Who Dies, Who Tells Your Story (2017) - Dr. Meredith Grey
- Come on Down to My Boat, Baby (2017) - Dr. Meredith Grey
- Danger Zone (2017) - Dr. Meredith Grey
- Ain't That a Kick in the Head (2017) - Dr. Meredith Grey
- Go Big or Go Home (2017) - Dr. Meredith Grey
- Get Off on the Pain (2017) - Dr. Meredith Grey
- Break Down the House (2017) - Dr. Meredith Grey
- Ring of Fire (2017) - Dr. Meredith Grey
- True Colors (2017) - Dr. Meredith Grey
- Leave It Inside (2017) - Dr. Meredith Grey
- Don't Stop Me Now (2017) - Dr. Meredith Grey
- In the Air Tonight (2017) - Dr. Meredith Grey
- What's Inside (2017) - Dr. Meredith Grey
- Be Still, My Soul (2017) - Dr. Meredith Grey
- 'Till I Hear It from You (2017) - Dr. Meredith Grey
- Who Is He (And What Is He to You)? (2017) - Dr. Meredith Grey (credit only)
- Civil War (2017) - Dr. Meredith Grey
- Back Where You Belong (2017) - Dr. Meredith Grey
- It Only Gets Much Worse (2017) - Dr. Meredith Grey (voice)
- None of Your Business (2017) - Dr. Meredith Grey
- Jukebox Hero (2017) - Dr. Meredith Grey
- You Can Look (But You'd Better Not Touch) (2017) - Dr. Meredith Grey (voice)
- You Haven't Done Nothin' (2016) - Dr. Meredith Grey
- The Room Where It Happens (2016) - Dr. Meredith Grey
- Why Try to Change Me Now (2016) - Dr. Meredith Grey
- Roar (2016) - Dr. Meredith Grey
- Both Sides Now (2016) - Dr. Meredith Grey
- Falling Slowly (2016) - Dr. Meredith Grey
- I Ain't No Miracle Worker (2016) - Dr. Meredith Grey
- Catastrophe and the Cure (2016) - Dr. Meredith Grey
- Undo (2016) - Dr. Meredith Grey
- Family Affair (2016) - Dr. Meredith Grey
- At Last (2016) - Dr. Meredith Grey
- Mama Tried (2016) - Dr. Meredith Grey
- You're Gonna Need Someone on Your Side (2016) - Dr. Meredith Grey
- Trigger Happy (2016) - Dr. Meredith Grey
- There's a Fine, Fine Line (2016) - Dr. Meredith Grey
- It's Alright, Ma (I'm Only Bleeding) (2016) - Dr. Meredith Grey
- I Wear the Face (2016) - Dr. Meredith Grey
- When It Hurts So Bad (2016) - Dr. Meredith Grey
- I Am Not Waiting Anymore (2016) - Dr. Meredith Grey
- Odd Man Out (2016) - Dr. Meredith Grey
- All Eyez on Me (2016) - Dr. Meredith Grey
- My Next Life (2016) - Dr. Meredith Grey
- Unbreak My Heart (2016) - Dr. Meredith Grey
- All I Want Is You (2016) - Dr. Meredith Grey
- The Sound of Silence (2016) - Dr. Meredith Grey
- Things We Lost in the Fire (2015) - Dr. Meredith Grey
- Something Against You (2015) - Dr. Meredith Grey
- The Me Nobody Knows (2015) - Dr. Meredith Grey
- Guess Who's Coming to Dinner (2015) - Dr. Meredith Grey
- Old Time Rock and Roll (2015) - Dr. Meredith Grey
- I Choose You (2015) - Dr. Meredith Grey
- Walking Tall (2015) - Dr. Meredith Grey
- Sledgehammer (2015) - Dr. Meredith Grey
- You're My Home (2015) - Dr. Meredith Grey
- Time Stops (2015) - Dr. Meredith Grey
- She's Leaving Home: Part 2 (2015) - Dr. Meredith Grey
- She's Leaving Home: Part 1 (2015) - Dr. Meredith Grey
- How to Save a Life (2015) - Dr. Meredith Grey
- One Flight Down (2015) - Dr. Meredith Grey
- Crazy Love (2015) - Dr. Meredith Grey
- When I Grow Up (2015) - Dr. Meredith Grey
- With or Without You (2015) - Dr. Meredith Grey
- Don't Dream It's Over (2015) - Dr. Meredith Grey
- I Feel the Earth Move (2015) - Dr. Meredith Grey
- The Distance (2015) - Dr. Meredith Grey
- Staring at the End (2015) - Dr. Meredith Grey
- The Great Pretender (2015) - Dr. Meredith Grey
- All I Could Do Was Cry (2015) - Dr. Meredith Grey
- The Bed's Too Big Without You (2015) - Dr. Meredith Grey
- Where Do We Go From Here? (2015) - Dr. Meredith Grey
- Risk (2014) - Dr. Meredith Grey
- Could We Start Again, Please? (2014) - Dr. Meredith Grey
- Don't Let's Start (2014) - Dr. Meredith Grey
- Bend & Break (2014) - Dr. Meredith Grey
- Only Mama Knows (2014) - Dr. Meredith Grey
- Got to Be Real (2014) - Dr. Meredith Grey
- Puzzle with a Piece Missing (2014) - Dr. Meredith Grey
- I Must Have Lost It on the Wind (2014) - Dr. Meredith Grey
- Fear (of the Unknown) (2014) - Dr. Meredith Grey
- Everything I Try to Do, Nothing Seems to Turn Out Right (2014) - Dr. Meredith Grey
- We Are Never Ever Getting Back Together (2014) - Dr. Meredith Grey
- Change of Heart (2014) - Dr. Meredith Grey
- Go It Alone (2014) - Dr. Meredith Grey
- I'm Winning (2014) - Dr. Meredith Grey
- You Be Illin' (2014) - Dr. Meredith Grey
- Do You Know? (2014) - Dr. Meredith Grey
- We Gotta Get Out of This Place (2014) - Dr. Meredith Grey
- Throwing It All Away (2014) - Dr. Meredith Grey
- You've Got to Hide Your Love Away (2014) - Dr. Meredith Grey
- Take It Back (2014) - Dr. Meredith Grey
- Get Up, Stand Up (2013) - Dr. Meredith Grey
- Man on the Moon (2013) - Dr. Meredith Grey
- Somebody That I Used to Know (2013) - Dr. Meredith Grey
- Sorry Seems to Be the Hardest Word (2013) - Dr. Meredith Grey
- Two Against One (2013) - Dr. Meredith Grey
- Thriller (2013) - Dr. Meredith Grey
- Map of You (2013) - Dr. Meredith Grey
- I Bet It Stung (2013) - Dr. Meredith Grey
- Puttin' on the Ritz (2013) - Dr. Meredith Grey
- Everybody's Crying Mercy (2013) - Dr. Meredith Grey
- I Want You with Me (2013) - Dr. Meredith Grey
- Seal Our Fate (2013) - Dr. Meredith Grey
- Perfect Storm (2013) - Dr. Meredith Grey
- Readiness Is All (2013) - Dr. Meredith Grey
- Do You Believe in Magic (2013) - Dr. Meredith Grey
- Sleeping Monster (2013) - Dr. Meredith Grey
- She's Killing Me (2013) - Dr. Meredith Grey
- Can't Fight This Feeling (2013) - Dr. Meredith Grey
- Idle Hands (2013) - Dr. Meredith Grey
- Transplant Wasteland (2013) - Dr. Meredith Grey
- This Is Why We Fight (2013) - Dr. Meredith Grey
- Hard Bargain (2013) - Dr. Meredith Grey
- The Face of Change (2013) - Dr. Meredith Grey
- Bad Blood (2013) - Dr. Meredith Grey
- Walking on a Dream (2013) - Dr. Meredith Grey
- The End Is the Beginning Is the End (2013) - Dr. Meredith Grey
- Things We Said Today (2013) - Dr. Meredith Grey
- Run, Baby, Run (2012) - Dr. Meredith Grey
- Love Turns You Upside Down (2012) - Dr. Meredith Grey
- I Was Made for Lovin' You (2012) - Dr. Meredith Grey
- Second Opinion (2012) - Dr. Meredith Grey
- Beautiful Doom (2012) - Dr. Meredith Grey
- I Saw Her Standing There (2012) - Dr. Meredith Grey
- Love the One You're With (2012) - Dr. Meredith Grey
- Remember the Time (2012) - Dr. Meredith Grey
- Going, Going, Gone (2012) - Dr. Meredith Grey
- Flight (2012) - Dr. Meredith Grey
- Migration (2012) - Dr. Meredith Grey
- Let the Bad Times Roll (2012) - Dr. Meredith Grey
- Moment of Truth (2012) - Dr. Meredith Grey
- The Girl with No Name (2012) - Dr. Meredith Grey
- Support System (2012) - Dr. Meredith Grey
- The Lion Sleeps Tonight (2012) - Dr. Meredith Grey
- One Step Too Far (2012) - Dr. Meredith Grey
- If Only You Were Lonely (2012) - Dr. Meredith Grey
- Have You Seen Me Lately? (2012) - Dr. Meredith Grey
- All You Need Is Love (2012) - Dr. Meredith Grey
- If/Then (2012) - Dr. Meredith Grey
- Hope for the Hopeless (2012) - Dr. Meredith Grey
- This Magic Moment (2012) - Dr. Meredith Grey
- Suddenly (2012) - Dr. Meredith Grey
- Dark Was the Night (2011) - Dr. Meredith Grey
- Heart-Shaped Box (2011) - Dr. Meredith Grey
- Put Me in, Coach (2011) - Dr. Meredith Grey
- Poker Face (2011) - Dr. Meredith Grey
- Love, Loss and Legacy (2011) - Dr. Meredith Grey
- What Is It About Men (2011) - Dr. Meredith Grey
- Take the Lead (2011) - Dr. Meredith Grey
- She's Gone (2011) - Dr. Meredith Grey
- Free Falling (2011) - Dr. Meredith Grey
- Unaccompanied Minor (2011) - Dr. Meredith Grey
- I Will Survive (2011) - Dr. Meredith Grey
- White Wedding (2011) - Dr. Meredith Grey
- It's a Long Way Back (2011) - Dr. Meredith Grey
- Song Beneath the Song (2011) - Dr. Meredith Grey
- This Is How We Do It (2011) - Dr. Meredith Grey
- Not Responsible (2011) - Dr. Meredith Grey
- Golden Hour (2011) - Dr. Meredith Grey
- P.Y.T. (Pretty Young Thing) (2011) - Dr. Meredith Grey
- Don't Deceive Me (Please Don't Go) (2011) - Dr. Meredith Grey
- Start Me Up (2011) - Dr. Meredith Grey
- Disarm (2011) - Dr. Meredith Grey
- Adrift and at Peace (2010) - Dr. Meredith Grey
- Slow Night, So Long (2010) - Dr. Meredith Grey
- Something's Gotta Give (2010) - Dr. Meredith Grey
- That's Me Trying (2010) - Dr. Meredith Grey
- These Arms of Mine (2010) - Dr. Meredith Grey
- Almost Grown (2010) - Dr. Meredith Grey
- Can't Fight Biology (2010) - Dr. Meredith Grey
- Superfreak (2010) - Dr. Meredith Grey
- Shock to the System (2010) - Dr. Meredith Grey
- With You I'm Born Again (2010) - Dr. Meredith Grey
- Sanctuary (2010) - Dr. Meredith Grey
- Death and All His Friends (2010) - Dr. Meredith Grey
- Shiny Happy People (2010) - Dr. Meredith Grey
- How Insensitive (2010) - Dr. Meredith Grey
- Hook, Line and Sinner (2010) - Dr. Meredith Grey
- Sympathy for the Parents (2010) - Dr. Meredith Grey
- Suicide Is Painless (2010) - Dr. Meredith Grey
- Push (2010) - Dr. Meredith Grey
- Perfect Little Accident (2010) - Dr. Meredith Grey
- The Time Warp (2010) - Dr. Meredith Grey
- Valentine's Day Massacre (2010) - Dr. Meredith Grey
- State of Love and Trust (2010) - Dr. Meredith Grey
- I Like You So Much Better When You're Naked (2010) - Dr. Meredith Grey
- Blink (2010) - Dr. Meredith Grey
- Holidaze (2009) - Dr. Meredith Grey
- New History (2009) - Dr. Meredith Grey
- Invest in Love (2009) - Dr. Meredith Grey
- Give Peace a Chance (2009) - Dr. Meredith Grey
- I Saw What I Saw (2009) - Dr. Meredith Grey
- Invasion (2009) - Dr. Meredith Grey
- Tainted Obligation (2009) - Dr. Meredith Grey
- I Always Feel Like Somebody's Watchin' Me (2009) - Dr. Meredith Grey
- Goodbye (2009) - Dr. Meredith Grey
- Good Mourning (2009) - Dr. Meredith Grey
- Now or Never (2009) - Dr. Meredith Grey
- Here's to Future Days (2009) - Dr. Meredith Grey
- What a Difference a Day Makes (2009) - Dr. Meredith Grey
- No Good at Saying Sorry (One More Chance) (2009) - Dr. Meredith Grey
- Sweet Surrender (2009) - Dr. Meredith Grey
- Elevator Love Letter (2009) - Dr. Meredith Grey
- Stand by Me (2009) - Dr. Meredith Grey
- I Will Follow You Into the Dark (2009) - Dr. Meredith Grey
- An Honest Mistake (2009) - Dr. Meredith Grey
- Before and After (2009) - Dr. Meredith Grey
- Beat Your Heart Out (2009) - Dr. Meredith Grey
- Stairway to Heaven (2009) - Dr. Meredith Grey
- Sympathy for the Devil (2009) - Dr. Meredith Grey
- Wish You Were Here (2009) - Dr. Meredith Grey
- All by Myself (2008) - Dr. Meredith Grey
- In the Midnight Hour (2008) - Dr. Meredith Grey
- These Ties That Bind (2008) - Dr. Meredith Grey
- Rise Up (2008) - Dr. Meredith Grey
- Life During Wartime (2008) - Dr. Meredith Grey
- There's No 'I' in Team (2008) - Dr. Meredith Grey
- Brave New World (2008) - Dr. Meredith Grey
- Here Comes the Flood (2008) - Dr. Meredith Grey
- Dream a Little Dream of Me: Part 2 (2008) - Dr. Meredith Grey
- Dream a Little Dream of Me: Part 1 (2008) - Dr. Meredith Grey
- Freedom: Part 2 (2008) - Dr. Meredith Grey
- Freedom: Part 1 (2008) - Dr. Meredith Grey
- Losing My Mind (2008) - Dr. Meredith Grey
- The Becoming (2008) - Dr. Meredith Grey
- Piece of My Heart (2008) - Dr. Meredith Grey
- Where the Wild Things Are (2008) - Dr. Meredith Grey
- Lay Your Hands on Me (2008) - Dr. Meredith Grey
- Crash Into Me: Part 2 (2007) - Dr. Meredith Grey
- Crash Into Me: Part 1 (2007) - Dr. Meredith Grey
- Forever Young (2007) - Dr. Meredith Grey
- Physical Attraction- Chemical Reaction (2007) - Dr. Meredith Grey
- Kung Fu Fighting (2007) - Dr. Meredith Grey
- Haunt You Every Day (2007) - Dr. Meredith Grey
- The Heart of the Matter (2007) - Dr. Meredith Grey
- Let the Truth Sting (2007) - Dr. Meredith Grey
- Love/Addiction (2007) - Dr. Meredith Grey
- A Change Is Gonna Come (2007) - Dr. Meredith Grey
- Didn't We Almost Have It All? (2007) - Dr. Meredith Grey
- Testing 1-2-3 (2007) - Dr. Meredith Grey
- The Other Side of This Life, Part 2 (2007) - Dr. Meredith Grey
- The Other Side of This Life, Part 1 (2007) - Dr. Meredith Grey
- Desire (2007) - Dr. Meredith Grey
- Time After Time (2007) - Dr. Meredith Grey
- My Favorite Mistake (2007) - Dr. Meredith Grey
- Scars and Souvenirs (2007) - Dr. Meredith Grey
- Some Kind of Miracle (2007) - Dr. Meredith Grey
- Drowning on Dry Land (2007) - Dr. Meredith Grey
- Walk on Water (2007) - Dr. Meredith Grey
- Wishin' and Hopin' (2007) - Dr. Meredith Grey
- Great Expectations (2007) - Dr. Meredith Grey
- Six Days: Part 2 (2007) - Dr. Meredith Grey
- Six Days: Part 1 (2007) - Dr. Meredith Grey
- Don't Stand So Close to Me (2006) - Dr. Meredith Grey
- From a Whisper to a Scream (2006) - Dr. Meredith Grey
- Staring at the Sun (2006) - Dr. Meredith Grey
- Where the Boys Are (2006) - Dr. Meredith Grey
- Let the Angels Commit (2006) - Dr. Meredith Grey
- Oh, the Guilt (2006) - Dr. Meredith Grey
- What I Am (2006) - Dr. Meredith Grey
- Sometimes a Fantasy (2006) - Dr. Meredith Grey
- I Am a Tree (2006) - Dr. Meredith Grey
- Time Has Come Today (2006) - Dr. Meredith Grey
- Losing My Religion (2006) - Dr. Meredith Grey
- Deterioration of the Fight or Flight Response (2006) - Dr. Meredith Grey
- 17 Seconds (2006) - Dr. Meredith Grey
- Damage Case (2006) - Dr. Meredith Grey
- Blues for Sister Someone (2006) - Dr. Meredith Grey
- The Name of the Game (2006) - Dr. Meredith Grey
- Superstition (2006) - Dr. Meredith Grey
- Band-Aid Covers the Bullet Hole (2006) - Dr. Meredith Grey
- What Have I Done to Deserve This? (2006) - Dr. Meredith Grey
- Yesterday (2006) - Dr. Meredith Grey
- As We Know It (2006) - Dr. Meredith Grey
- It's the End of the World (2006) - Dr. Meredith Grey
- Break on Through (2006) - Dr. Meredith Grey
- Tell Me Sweet Little Lies (2006) - Dr. Meredith Grey
- Begin the Begin (2006) - Dr. Meredith Grey
- Grandma Got Run Over by a Reindeer (2005) - Dr. Meredith Grey
- Owner of a Lonely Heart (2005) - Dr. Meredith Grey
- Much Too Much (2005) - Dr. Meredith Grey
- Thanks for the Memories (2005) - Dr. Meredith Grey
- Let It Be (2005) - Dr. Meredith Grey
- Something to Talk About (2005) - Dr. Meredith Grey
- Into You Like a Train (2005) - Dr. Meredith Grey
- Bring the Pain (2005) - Dr. Meredith Grey
- Deny, Deny, Deny (2005) - Dr. Meredith Grey
- Make Me Lose Control (2005) - Dr. Meredith Grey
- Enough Is Enough (2005) - Dr. Meredith Grey
- Raindrops Keep Falling on My Head (2005) - Dr. Meredith Grey
- Who's Zoomin' Who? (2005) - Dr. Meredith Grey
- Save Me (2005) - Dr. Meredith Grey
- The Self-Destruct Button (2005) - Dr. Meredith Grey
- If Tomorrow Never Comes (2005) - Dr. Meredith Grey
- Shake Your Groove Thing (2005) - Dr. Meredith Grey
- No Man's Land (2005) - Dr. Meredith Grey
- Winning a Battle, Losing the War (2005) - Dr. Meredith Grey
- The First Cut Is the Deepest (2005) - Dr. Meredith Grey
- A Hard Day's Night (2005) - Dr. Meredith Grey
2018
Station 19 (TV Series)
as
Dr. Meredith Grey
- We Build Then We Break (2023) - Dr. Meredith Grey
- Louder Than a Bomb (2020) - Dr. Meredith Grey
- Stuck (2018) - Dr. Meredith Grey
2017
Doc McStuffins (TV Series)
as
Willow
- Toy Hospital: Camille Gets Over the Hump/Willow's Wonky Whiskers (2017) - Willow (voice)
2015
Taylor Swift: Bad Blood (Music Video short)
as
Luna
2005
Life of the Party
as
Phoebe Elgin
2004
Art Heist
as
Sandra Walker
2004
Friends (TV Series)
as
Missy Goldberg
- The One Where the Stripper Cries (2004) - Missy Goldberg
2004
Nobody's Perfect (Short)
as
Veronica
2002
Catch Me If You Can
as
Marci
2002
Moonlight Mile
as
Bertie Knox
2001
The Job (TV Series)
as
Sue
- Anger (2001) - Sue
2001
Strong Medicine (TV Series)
as
Quincy Dunne
- Wednesday Night Fever (2001) - Quincy Dunne
2000
Eventual Wife (Short)
as
Beth
2000
Get Real (TV Series)
as
Nina Adler
- History Lessons (2000) - Nina Adler
1996
Law & Order (TV Series)
as
Laura Kendrick / Jenna Weber
- Fools for Love (2000) - Laura Kendrick
- Savior (1996) - Jenna Weber
1999
8 1/2 x 11 (Short)
as
Human Resources Woman
1999
Strangers with Candy (TV Series)
as
Lizzie Abrams
- Feather in the Storm (1999) - Lizzie Abrams
1999
Coming Soon
as
Upset Girl
1995
Do You Have the Time (Short)
Producer
-
Untitled Orphan Project (TV Mini Series) (executive producer) (pre-production)
-
Deeds (TV Series) (executive producer - 1 episode) (announced)
- Episode #1.1 - (executive producer)
-
Grey's Anatomy (TV Series) (producer - 81 episodes, 2017 - 2021) (co-executive producer - 20 episodes, 2021 - 2022) (executive producer - 14 episodes, 2022 - 2023)
- Mama Who Bore Me (2023) - (executive producer)
- Cowgirls Don't Cry (2023) - (executive producer)
- Pick Yourself Up (2023) - (executive producer)
- Training Day (2023) - (executive producer)
- Sisters Are Doin' It for Themselves (2023) - (executive producer)
- Love Don't Cost a Thing (2023) - (executive producer)
- All Star (2023) - (executive producer)
- I'll Follow the Sun (2023) - (executive producer)
- Thunderstruck (2022) - (executive producer)
- When I Get to the Border (2022) - (executive producer)
- Haunted (2022) - (executive producer)
- Let's Talk About Sex (2022) - (executive producer)
- Wasn't Expecting That (2022) - (executive producer)
- Everything Has Changed (2022) - (executive producer)
- You Are the Blood (2022) - (co-executive producer)
- Out for Blood (2022) - (co-executive producer)
- Stronger Than Hate (2022) - (co-executive producer)
- I'll Cover You (2022) - (co-executive producer)
- Should I Stay or Should I Go (2022) - (co-executive producer)
- Put It to the Test (2022) - (co-executive producer)
- Road Trippin' (2022) - (co-executive producer)
- Put the Squeeze on Me (2022) - (co-executive producer)
- The Makings of You (2022) - (co-executive producer)
- Legacy (2022) - (co-executive producer)
- Living in a House Divided (2022) - (co-executive producer)
- No Time to Die (2022) - (co-executive producer)
- It Came Upon a Midnight Clear (2021) - (co-executive producer)
- Today Was a Fairytale (2021) - (co-executive producer)
- Every Day Is a Holiday (With You) (2021) - (co-executive producer)
- Bottle Up and Explode! (2021) - (co-executive producer)
- With a Little Help from My Friends (2021) - (co-executive producer)
- Hotter Than Hell (2021) - (co-executive producer)
- Some Kind of Tomorrow (2021) - (co-executive producer)
- Here Comes the Sun (2021) - (co-executive producer)
- Someone Saved My Life Tonight (2021) - (producer)
- I'm Still Standing (2021) - (producer)
- Tradition (2021) - (producer)
- Look Up Child (2021) - (producer)
- Good as Hell (2021) - (producer)
- Sign O' the Times (2021) - (producer)
- Sorry Doesn't Always Make It Right (2021) - (producer)
- Breathe (2021) - (producer)
- In My Life (2021) - (producer)
- It's All Too Much (2021) - (producer)
- Helplessly Hoping (2021) - (producer)
- No Time for Despair (2020) - (producer)
- Fight the Power (2020) - (producer)
- You'll Never Walk Alone (2020) - (producer)
- My Happy Ending (2020) - (producer)
- The Center Won't Hold (2020) - (producer)
- All Tomorrow's Parties (2020) - (producer)
- Put on a Happy Face (2020) - (producer)
- Sing It Again (2020) - (producer)
- Love of My Life (2020) - (producer)
- Give a Little Bit (2020) - (producer)
- Life on Mars? (2020) - (producer)
- Leave a Light On (2020) - (producer)
- Snowblind (2020) - (producer)
- A Diagnosis (2020) - (producer)
- Save the Last Dance for Me (2020) - (producer)
- The Last Supper (2020) - (producer)
- A Hard Pill to Swallow (2020) - (producer)
- Help Me Through the Night (2020) - (producer)
- Let's All Go to the Bar (2019) - (producer)
- My Shot (2019) - (producer)
- Papa Don't Preach (2019) - (producer)
- Whistlin' Past the Graveyard (2019) - (producer)
- Breathe Again (2019) - (producer)
- It's Raining Men (2019) - (producer)
- Reunited (2019) - (producer)
- Back in the Saddle (2019) - (producer)
- Nothing Left to Cling To (2019) - (producer)
- Jump Into the Fog (2019) - (producer)
- Drawn to the Blood (2019) - (producer)
- What I Did For Love (2019) - (producer)
- Head Over High Heels (2019) - (producer)
- Good Shepherd (2019) - (producer)
- The Whole Package (2019) - (producer)
- Silent All These Years (2019) - (producer)
- Add It Up (2019) - (producer)
- And Dream of Sheep (2019) - (producer)
- Blood and Water (2019) - (producer)
- We Didn't Start the Fire (2019) - (producer)
- I Want a New Drug (2019) - (producer)
- I Walk The Line (2019) - (producer)
- Girlfriend in a Coma (2019) - (producer)
- The Winner Takes It All (2019) - (producer)
- Help, I'm Alive (2019) - (producer)
- Shelter From the Storm (2019) - (producer)
- Blowin' in the Wind (2018) - (producer)
- Anybody Have a Map? (2018) - (producer)
- Flowers Grow Out Of My Grave (2018) - (producer)
- Everyday Angel (2018) - (producer)
- Momma Knows Best (2018) - (producer)
- Gut Feeling (2018) - (producer)
- Broken Together (2018) - (producer)
- With a Wonder and a Wild Desire (2018) - (producer)
- All of Me (2018) - (producer)
- Cold As Ice (2018) - (producer)
- Fight For Your Mind (2018) - (producer)
- Bad Reputation (2018) - (producer)
- Judgment Day (2018) - (producer)
- Beautiful Dreamer (2018) - (producer)
- Hold Back The River (2018) - (producer)
- One Day Like This (2018) - (producer)
- Caught Somewhere in Time (2018) - (producer)
- Old Scars, Future Hearts (2018) - (producer)
- Games People Play (2018) - (producer)
- You Really Got a Hold on Me (2018) - (producer)
- Harder, Better, Faster, Stronger (2018) - (producer)
- (Don't Fear) the Reaper (2018) - (producer)
- Personal Jesus (2018) - (producer)
- 1-800-799-7233 (2018) - (producer)
- Out of Nowhere (2017) - (producer)
- Who Lives, Who Dies, Who Tells Your Story (2017) - (producer)
2018
Station 19 (TV Series) (co-executive producer - 47 episodes)
- Can't Feel My Face (2021) - (co-executive producer)
- Phoenix from the Flame (2021) - (co-executive producer)
- Get Up, Stand Up (2021) - (co-executive producer)
- Nothing Seems the Same (2020) - (co-executive producer)
- Louder Than a Bomb (2020) - (co-executive producer)
- Bad Guy (2020) - (co-executive producer)
- The Ghosts That Haunt Me (2020) - (co-executive producer)
- Dream a Little Dream of Me (2020) - (co-executive producer)
- I'll Be Seeing You (2020) - (co-executive producer)
- No Days Off (2020) - (co-executive producer)
- Something About What Happens When We Talk (2020) - (co-executive producer)
- Poor Wandering One (2020) - (co-executive producer)
- Born to Run (2020) - (co-executive producer)
- Satellite of Love (2020) - (co-executive producer)
- Ice Ice Baby (2020) - (co-executive producer)
- Into the Woods (2020) - (co-executive producer)
- House Where Nobody Lives (2020) - (co-executive producer)
- Eulogy (2020) - (co-executive producer)
- Indoor Fireworks (2020) - (co-executive producer)
- I Know This Bar (2020) - (co-executive producer)
- Into the Wildfire (2019) - (co-executive producer)
- For Whom the Bell Tolls (2019) - (co-executive producer)
- Always Ready (2019) - (co-executive producer)
- Friendly Fire (2019) - (co-executive producer)
- The Dark Night (2019) - (co-executive producer)
- When It Rains, It Pours! (2019) - (co-executive producer)
- Baby Boom (2019) - (co-executive producer)
- Crazy Train (2019) - (co-executive producer)
- I Fought the Law (2019) - (co-executive producer)
- Crash and Burn (2019) - (co-executive producer)
- Weather the Storm (2018) - (co-executive producer)
- Last Day on Earth (2018) - (co-executive producer)
- Do a Little Harm- (2018) - (co-executive producer)
- Lost and Found (2018) - (co-executive producer)
- Home to Hold Onto (2018) - (co-executive producer)
- Under the Surface (2018) - (co-executive producer)
- No Recovery (2018) - (co-executive producer)
- Not Your Hero (2018) - (co-executive producer)
- Hot Box (2018) - (co-executive producer)
- Every Second Counts (2018) - (co-executive producer)
- Let It Burn (2018) - (co-executive producer)
- Stronger Together (2018) - (co-executive producer)
- Shock to the System (2018) - (co-executive producer)
- Reignited (2018) - (co-executive producer)
- Contain the Flame (2018) - (co-executive producer)
- Invisible to Me (2018) - (co-executive producer)
- Stuck (2018) - (co-executive producer)
Director
2017
Grey's Anatomy (TV Series) (2 episodes)
- Old Scars, Future Hearts (2018)
- Be Still, My Soul (2017)
Soundtrack
2011
Grey's Anatomy (TV Series) (performer - 1 episode)
- Song Beneath the Song (2011) - (performer: "Running on Sunshine", "How To Save A Life" - uncredited)
Thanks
2014
Thank God It's Thursday on ABC (TV Movie) (thanks)
2006
Grey's Anatomy: Complications of the Heart (TV Movie) (special thanks)
2006
Grey's Anatomy: Straight to the Heart (TV Movie) (special thanks)
2004
Eternal Sunshine of the Spotless Mind (special thanks)
2002
Moonlight Mile: A Journey to Screen (TV Movie documentary) (special thanks)
Self
2019
Variety Studio: Actors on Actors (TV Series)
as
Self
- Sheryl Lee Ralph, Katherine Heigl, Ellen Pompeo and more (2023) - Self
- Julia Roberts and Amy Adams (2019) - Self
2016
Extra (TV Series)
as
Self
- Episode #29.146 (2023) - Self
- Episode #29.28 (2022) - Self
- Episode #28.223 (2022) - Self
- Episode #28.51 (2021) - Self
- Episode #27.79 (2020) - Self
- Episode #25.153 (2019) - Self
- Episode #23.46 (2016) - Self
- Episode #23.45 (2016) - Self
- Episode #23.22 (2016) - Self
- Episode #22.214 (2016) - Self
2006
Entertainment Tonight (TV Series)
as
Self
- CMA Biggest Moments! (2020) - Self
- Nikki and Brie Bella's Babies (2020) - Self
- Grey's Anatomy Milestone! (2019) - Self
- Hanging with the King of Carpool Karaoke! (2019) - Self
2022
The Drew Barrymore Show (TV Series)
as
Guest
- Ellen Pompeo/Meghan Trainor/Chef Sheri Jefferson (2022) - Guest
2022
The 48th Annual People's Choice Awards (TV Special)
as
Self - Winner
2017
Architectural Digest (TV Series documentary)
as
Self
- Inside Ellen Pompeo's Midcentury Malibu Beach House (2022)
- Inside Ellen Pompeo's Hamptons House in Sag Harbor (2017) - Self
2018
Access Hollywood (TV Series)
as
Self
- Episode #26.218 (2022) - Self
- Episode #25.52 (2020) - Self
- Episode #25.50 (2020) - Self
- Episode #23.34 (2018) - Self
2022
Dish Nation (TV Series)
as
Self
- Episode #10.165 (2022) - Self
2011
Good Morning America (TV Series)
as
Self - Guest / Self / Self - Grey's Anatomy
- Episode dated 27 January 2022 (2022) - Self - Guest
- Episode dated 13 November 2020 (2020) - Self - Guest
- Episode #44.43 (2019) - Self - Guest
- Episode dated 9 November 2017 (2017) - Self
- Episode dated 8 November 2017 (2017) - Self - Guest
- Episode dated 16 September 2016 (2016) - Self - Guest
- Episode dated 25 September 2014 (2014) - Self - Guest
- Episode dated 18 September 2014 (2014) - Self - Grey's Anatomy
- Episode dated 12 May 2011 (2011) - Self - Guest
2008
Jimmy Kimmel Live! (TV Series)
as
Self / Self - Guest
- Ellen Pompeo/Henry Winkler/Billy Idol (2021) - Self - Guest
- Ellen Pompeo/Chris Stapleton (2020) - Self
- Ellen Pompeo/Lauren Cohan/Zlatan Ibrahimovic/half-alive (2019) - Self
- Ellen Pompeo/Jay Pharaoh/Elise Trouw (2018) - Self
- Ellen Pompeo/Norman Reedus/Yo Gotti & Travis Barker (2016) - Self
- Ellen Pompeo/Norman Reedus/Disclosure & Mary J. Blige (2014) - Self - Guest
2021
Tell Me with Ellen Pompeo (Podcast Series)
as
Self - Host
2021
The 73rd Primetime Emmy Awards (TV Special)
as
Self - Presenter
2021
Martha Gets Down and Dirty (TV Series)
as
Self
- Flower Power (2021) - Self
2021
CBS News Sunday Morning (TV Series)
as
Self - Guest
- Episode #43.9 (2021) - Self - Guest
2020
The E! People's Choice Awards (TV Special)
as
Self - Winner
2020
Armchair Expert with Dax Shepard (Podcast Series)
as
Self
- Ellen Pompeo (2020) - Self
2020
Jemele Hill Is Unbothered (Podcast Series)
as
Self - Guest
- Ellen Pompeo - It's All in the Game (2020) - Self - Guest
2013
The View (TV Series)
as
Self
- Ellen Pompeo/Dr. Jake Deutsch/Dr. Elvis Francois/Dr. William Robinson (2020) - Self
- Martha Raddatz/Ellen Pompeo (2017) - Self
- Episode #17.11 (2013) - Self
2016
The Late Late Show with James Corden (TV Series)
as
Self
- Ellen Pompeo/Mike Colter/Loud Luxury/Bryce Vine (2019) - Self
- Kurt Russell/Ellen Pompeo/Kristen Bell/Banks & Steelz (2016) - Self
2019
RuPaul's Drag Race All Stars (TV Series)
as
Self - Guest Judge
- RuPaul's Best Judy's Race (2019) - Self - Guest Judge
2018
Red Table Talk (TV Series)
as
Self
- Interracial Marriage with Ellen Pompeo (2018) - Self
2005
The Ellen DeGeneres Show (TV Series)
as
Self
- Ellen Pompeo/Demetri Martin (2018) - Self
- Ellen Pompeo/Devin Dawson (2018) - Self
- Ellen Pompeo/Rachel Lindsay/Stephen 'tWitch' Boss (2017) - Self
- Ellen Pompeo/Jodie Sweetin & Keo Motsepe/Schuyler Bailar (2016) - Self
- Ellen Pompeo/Nick Jonas (2015) - Self
- Ellen Pompeo/Philip Phillps (2014) - Self
- Breast Cancer Awareness Show (2010) - Self
2018
This Changes Everything (Documentary)
as
Self
2018
The 42nd Annual Women in Film Crystal and Lucy Awards (TV Special)
as
Self - Presenter
2005
Live with Kelly and Mark (TV Series)
as
Self
- Kenneth Branagh/Ellen Pompeo/Daveed Diggs (2017) - Self
- Episode dated 1 March 2007 (2007) - Self
- Episode dated 9 December 2005 (2005) - Self
- Episode dated 8 June 2005 (2005) - Self
2017
The Chew (TV Series)
as
Self - Guest
- Winner, Winner, Turkey Dinner! (2017) - Self - Guest
2017
Late Night with Seth Meyers (TV Series)
as
Self
- Ellen Pompeo/John Leguizamo/Jhene Aiko (2017) - Self
2014
The Insider (TV Series)
as
Self / Self - Grey's Anatomy
- Episode #13.166 (2017) - Self
- Episode dated 17 September 2014 (2014) - Self - Grey's Anatomy
2016
TV Land Icon Awards 2016 (TV Special)
as
Self - Presenter
2016
The 42nd Annual People's Choice Awards (TV Special)
as
Self
2015
2015 Billboard Music Awards (TV Special)
as
Self - Presenter
2015
Repeat After Me (TV Series)
as
Self
- Episode #1.8 (2015) - Self
2015
The 41st Annual People's Choice Awards (TV Special)
as
Self - Winner
2014
Thank God It's Thursday on ABC (TV Movie)
as
Self
2013
The Queen Latifah Show (TV Series)
as
Self - Guest
- Ellen Pompeo and Kat Dennings. Plus, the Mom Who Fostered 90 Kids (2013) - Self - Guest
2013
Watch What Happens Live with Andy Cohen (TV Series)
as
Self - Guest
- Wendi McLendon-Covey & Ellen Pompeo (2013) - Self - Guest
2013
The 39th Annual People's Choice Awards (TV Special)
as
Self - Winner
2012
Chelsea Lately (TV Series)
as
Self - Guest
- Episode #6.34 (2012) - Self - Guest
2011
The Marriage Ref (TV Series)
as
Self - Contestant
- Kathy Griffin, Ellen Pompeo, Brian Regan (2011) - Self - Contestant
2011
13th Annual Young Hollywood Awards (TV Special)
as
Self - Award Presenter
2010
Late Night with Jimmy Fallon (TV Series)
as
Self
- Episode dated 4 May 2010 (2010) - Self
2005
Late Show with David Letterman (TV Series)
as
Self - Guest / Self
- Episode #16.92 (2009) - Self - Guest
- Episode #15.93 (2008) - Self - Guest
- Episode #12.159 (2005) - Self
2008
14th Annual Screen Actors Guild Awards (TV Special)
as
Self - Nominee & Presenter
2007
E! Live from the Red Carpet (TV Series)
as
Self
- The 2008 Screen Actors Guild Awards (2008) - Self
- The 2007 Golden Globe Awards (2007) - Self
2007
Anatomía Unplugged (TV Movie documentary)
as
Self
2007
13th Annual Screen Actors Guild Awards (TV Special)
as
Self - Winner
2007
The 64th Annual Golden Globe Awards (TV Special)
as
Self - Nominee
2007
The 33rd Annual People's Choice Awards (TV Special)
as
Self
2006
The Tonight Show with Jay Leno (TV Series)
as
Self
- Episode #14.211 (2006) - Self
2006
The Oprah Winfrey Show (TV Series)
as
Self
- On Location: Oprah on the Set of Grey's Anatomy (2006) - Self
- Episode dated 26 May 2006 (2006) - Self
2006
The 58th Annual Primetime Emmy Awards (TV Special)
as
Self - Presenter
2006
Celebrity Debut (TV Movie)
as
Self
2006
The Reichen Show (TV Series)
as
Self
- Episode dated 23 March 2006 (2006) - Self
2006
ABC News Nightline (TV Series)
as
Self
- Episode dated 20 March 2006 (2006) - Self
2006
The 63rd Annual Golden Globe Awards 2006 (TV Special)
as
Self - Audience Member
2005
Punk'd (TV Series)
as
Self
- Episode #6.6 (2005) - Self
2005
The 57th Annual Primetime Emmy Awards (TV Special)
as
Self - Presenter
2003
'Old School' Orientation (Video short)
as
Self
2002
Moonlight Mile: A Journey to Screen (TV Movie documentary)
as
Self - 'Bertie Knox'
Archive Footage
2015
Entertainment Tonight (TV Series)
as
Self / Dr. Meredith Grey
- ET Premiere Week Emmy Blowout! (2021) - Self
- SNL New Season Secrets! (2020) - Self
- Marie (2019) - Self
- Red Carpet Premiere! (2018) - Self
2018
Ok! TV (TV Series)
as
Self
- Episode #3.230 (2018) - Self
- Episode #3.213 (2018) - Self
2016
Extra (TV Series)
as
Self
- Episode #24.118 (2018) - Self
- Episode #23.300 (2017) - Self
- Episode #23.234 (2017) - Self
- Episode #23.96 (2016) - Self
- Episode dated 7 May 2016 (2016) - Self
2017
Grey's Anatomy: Post-Op (TV Mini Series)
as
Dr. Meredith Grey
- Behind the Scenes - Part One (2017) - Dr. Meredith Grey (uncredited)
- Zoanne Clack and Fred Einesman (2017) - Dr. Meredith Grey (uncredited)
2016
From the Start! (TV Series)
as
Luna
- Taylor Swift (2016) - Luna
2008
Sexo en serie (TV Movie documentary)
as
Dr. Meredith Grey
2008
Reinventando Hollywood (TV Movie documentary)
as
Dr. Meredith Grey
2007
Come Rain or Come Shine: From Grey's Anatomy to Private Practice (TV Movie)
as
Dr. Meredith Grey
2007
Grey's Anatomy: Come Rain or Shine (TV Movie)
as
Dr. Meredith Grey
2007
Private Practice (TV Series)
as
Dr. Meredith Grey
- Come Rain or Come Shine: From Grey's Anatomy to Private Practice (2007) - Dr. Meredith Grey (uncredited)
2007
Grey's Anatomy: Every Moment Counts (TV Special)
as
Dr. Meredith Grey
2006
Grey's Anatomy: Complications of the Heart (TV Movie)
as
Dr. Meredith Grey
2006
Getting Into Grey's Anatomy (TV Movie)
as
Dr. Meredith Grey
2006
Grey's Anatomy: Under Pressure (TV Movie)
as
Dr. Meredith Grey
2006
Grey's Anatomy: Straight to the Heart (TV Movie)
as
Dr. Meredith Grey
References
Ellen Pompeo Wikipedia
(Text) CC BY-SA