Founded

November 1, 1966




Area

1,530 km2


District

Kurukshetra





Language spoken

Hindi


State

Haryana


Population

9,64,655







Colleges and Universities

Kurukshetra University, Kurukshetra, National Institute of Technology, Kurukshetra



Map of Kurukshetra
Kurukshetra ( pronunciation ) is a city in the state of Haryana, India. It is also known as Dharmakshetra ("Holy Place"). According to the Puranas, Kurukshetra is a region named after King Kuru, the ancestor of Kauravas and Pandavas, as depicted in epic Mahabharata. The importance of the place is attributed to the fact that the Kurukshetra War of the Mahabharata was fought on this land and the Bhagavad Gita was preached here during the war when Lord Krishna found Arjuna in a terrible dilemma. The population of Kurukshetra was 964,655 in 2016.
Contents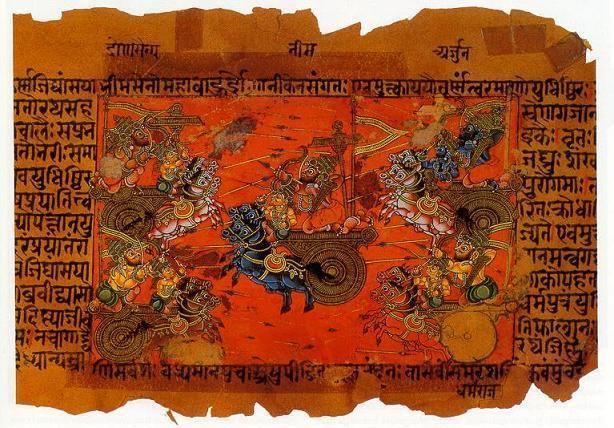 Before the establishment of a refugee camp named Kurukshetra in 1947, Thanesar was the name of the tehsil headquarters and the town. Thanesar or Sthaneswar is a historical town located adjacent to what is now the newly created Kurukshetra city. Thanesar derives its name from the word "Sthaneshwar", which means "God of The Place". The Sthaneshwar Mahadev Temple, whose presiding deity is Lord Shiva, is believed to be the oldest temple in the vicinity. Local hearsay identifies the legendary "Kurukshetra" with a place near Thanesar. A few kilometers from Kurukshetra is the village known as Amin, where there are remnants of a fort which is believed to be Abhimanyu's.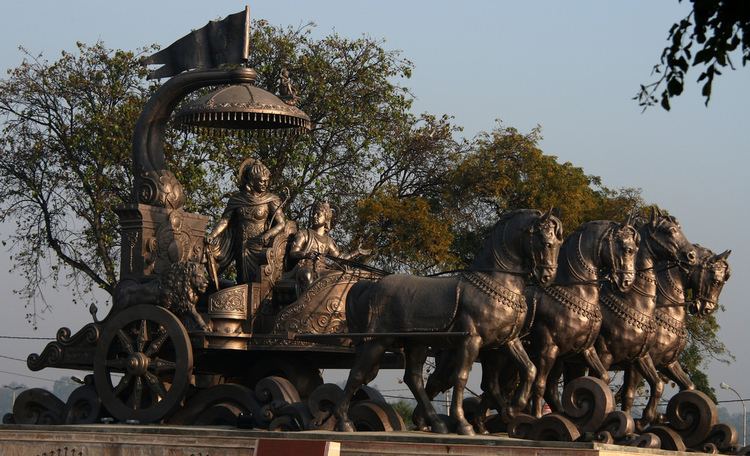 In most ancient Hindu texts, Kurukshetra is not a city but a region ("kshetra" meaning "region" in Sanskrit). The boundaries of Kurukshetra correspond roughly to the central and western parts of state of Haryana and southern Punjab. Thus according to the Taittiriya Aranyaka 5.1.1., the Kurukshetra region is south of Turghna (Srughna/Sugh in Sirhind, Punjab), north of Khandava (Delhi and Mewat region), east of Maru (desert) and west of Parin.
Kurukshetra lies at distance of 160 km from New Delhi and about 80 km from Chandigarh - city with the nearest airport.
In early July 2013 the Haryana Department of Archaeology and Museums announced that the earlier excavated remains of a Buddhist stupa in Kurukshetra were ready to be displayed for the public.
A short trip to kurukshetra harayana
Pipli to kurukshetra city driving pov haryana india
History
It is written in Puranas that Kurukshetra is named after King Kuru of the Bharata Dynasty, ancestor of Pandavas and Kauravas.
The Vamana Purana tells how King Kuru came to settle here. He chose this land at the banks of Sarasvati River (dried up before 1900 BCE) for embedding spirituality with eight virtues: austerity (tapas (Sanskrit)), truth (satya), forgiveness (kshama), kindness (daya), purity (Shudhdha|shuddha), charity (daana), yajna and brahmacharya. Lord Vishnu was impressed with the act of King Kuru and blessed him. God gave him two boons: one that this land forever will be known as a Holy Land after his name as Kurukshetra (the land of Kuru) and the other that anyone dying on this land will go to heaven. The land of Kurukshetra was situated between two rivers — the Sarasvati and the Drishadvati.
This land has been known as Uttarvedi, Brahmavedi, Dharamkshetra and Kurukshetra at different periods. When King Kuru came on this land it was called Uttarvedi. Over the period this land has been ruled by many empires. The Bharata Dynasty came and settled here.
According to the Hindu mythology, the Battle of Mahabharata was fought on this land, during which Lord Krishna preached Bhagavad Gita to Arjuna.
By the archaeological grounds it has been proved that Ashoka the Great made Kurukshetra a centre of learning for people from all over the world. It reached the zenith of its progress during the reign of King Harsha, during which Chinese scholar Xuanzang visited Thanesar.
Climate
The climate of the district is very much hot in summer (up to 47 °C) and very cold in winter (down to 1 °C) with rains in July and August.
Vegetarian status
In 2012, Kurukshetra banned the sale, possession and consumption of meat within the limits of the Municipal Corporation owing to its religious significance.
Hindu Religious Sites
Brahma Sarovar: Every year lakhs of people come to take a holy bath at Brahma Sarovar on the occasion of "Somavati Amavasya" (Sacred No-Moon Day that happens on a Monday) and on solar eclipse believing that a bath in holy sarovar frees all sins and cycle of birth-death. It is supposed to be the world's largest man-made pond. The world's largest chariot of bronze is placed in purushotam bagh in the center of Brahma Sarovar. It is believed that when Duryodhan lost Mahabharta war, he tried to hide in this lake. The Hindu genealogy registers at Kurukshetra, Haryana are kept here.
Sannihit Sarovar: This sarovar is believed to be the meeting point of seven sacred Saraswatis. The sarovar, according to popular belief, contains sacred water. Bathing in the waters of the tank on the day of Amavasya (night of complete darkness) or on the day of an eclipse bestows blessings equivalent to performing the ashvamedh yajna.
Jyotisar: The famous site where Bhagavad Gita was delivered to Arjuna under the tree. The tree of that time is the witness to Gita.
Shrikrishna Museum has some historical artifacts and paintings depicting the Mahabharata war.
Kurukshetra Panorama and Science Centre: A world-class panorama depicting the Mahabharata war with scientific explanations justifying every episode in the war. There are also several scientific exhibits designed to kindle a curiosity for science.
Jyotisar Light and Sound Show: A newly built tourist attraction which highlights some aspects of Geeta Saar through lights and sound.
Dharohar Museum: A must visit to know the tradition and culture of Haryana; located in Kurukshetra University.
Bhishma Kund at Naraktari: The place where Arjuna shot an arrow towards the earth to quench Bhishma Pitamah's thirst.. This is the place where Bhishma was lying on bed of arrows. This place is about 3 km before the Jyotisar.
Sthaneshwar Mahadev
Kamal Nabhi
Valmiki Ashram
Birla Mandir
Bhadrakali Temple: A temple that is one of the 52 Shakti Peethas. As per the story in Hindu mythology, the goddess Sati killed herself by entering the Yagna of Raja Daksha as a protest against the insult of Lord Shiva. Remorseful Lord Shiva wandered across the whole universe with the corpse of his beloved Sati on his shoulder. To bring him back to the original mood, it was necessary to destroy the corpse of Sati. Lord Vishnu cut the corpse in 52 pieces with his Sudarshana Chakra. The parts fell at different places where the temples of the goddess were later built by the devotees. One of them is in Kurukhsetra, where the ankle of the goddess fell.
Shree Radhe Suvikashram is a Hindu Temple in Sector -7, Kurukshetra, where people get their various problems solved by performing Yajanas, Satsang and using Beej Mantras. These solutions are provided as per astrological charts and ancient Indian culture and Science.
Shri Durga Devi Mandir, Pipli: This temple is in Pipli as entrance of Kurukshetra as name of Gita Dwar. Here is a world-famous temple that was founded in 1963 by late Pandit Shesh Mani Mishra after enlightenment by Goddess Shree Bala Sundari Devi Maa.
Nearby Towns
Shahabad Markanda
Shri Shiv Mandir, Near Partap Mandi, Shahabad Markanda
Other Religious/Historical Sites
Sheikh Chilli's Tomb: This monument is maintained by the Archaeological Survey of India. It was built during the Mughal era in remembrance of Sufi Saint Sheikh Chehli, believed to be the spiritual teacher of Mughal Prince Dara Shikoh. However, this is an erroneous belief, since the Prince's main 'Murshid' or 'Sheikh' (Spiritual Guide) is historically known to have been Hazrat Sheikh Mian Mir Sahib, of Lahore, although Sheikh Chehli might have been an additional/minor guide. There is another theory that the site of the supposed 'makbara' or tomb was one of the meditative 'Chillas' or sites of Hazrat Mian Mir Sahib, who might have visited the area during his wanderings. It is possible that a later caretaker, some disciple of the Hazrat/Sheikh lies buried here, at the place sanctified by his 'Chilla'.
Gurdwara Raj Ghat Patshahi Dasvin
Gurdwara Teesari Patshahi
Gurdwara Chhevin Patshahi
Gurdwara Siddh Bati Patshahi Pahili
General tourist Sites
Crocodile Breeding Centre, Kurukshetra
Chhilchhila Wildlife Sanctuary – 10 km on Ladwa road
Saraswati Wildlife Sanctuary – 40 km
Kessel Mall: A shopping mall cum three-screen multiplex at sector 17 for food, shopping and entertainment.
Kalpana Chawla Planetarium: The Kalpana Chawla Planetarium is situated in between Brahma Sarovar Lake and Jyotisar Lake. Kalpana Chawla was first woman of Indian origin in space when she flew on Space Shuttle Columbia in the year 1997. In the year 2003 she died during her second flight on Space Shuttle Columbia. Haryana Government honored the achievements of Kalpana Chawala by building a planetarium in her name. The planetarium runs a 30 min show which cost 60 INR and this show provides information related to space flight and the challenges faced by astronauts like how they bath in space, what they eat and how they troubleshoot the issues related to engine failure or other faults.
48 Kos Parikrama
Kurukshetra has immense importance as a Hindu pilgrimage. There are several pilgrimages around the city of kurukshetra and a complete parikrama means to visit all these pilgrimages. 48 kos parikrama is a hindi phrase meaning 48 miles circle around the holy city of Kurukshetra. The picture depicts the complete map of all these sites. For complete list, main page as mentioned above may be seen.
Educational Institutes
Kurukshetra University: one of the India's premier universities, established in 1956
University Institute of Engineering and Technology, Kurukshetra University
National Institute of Technology, Kurukshetra: Established as the Regional Engineering College, Kurukshetra in 1963. It is an Institute of National Importance and one of the top most engineering colleges in the country.
National Institute of Design, Kurukshetra
District administration
The Deputy Commissioner, an officer belonging to the Indian Administrative Service, is in charge of the General Administration in the district. He is assisted by a number of officers belonging to Haryana Civil Service and other Haryana state services.
The Superintendent of Police, an officer belonging to the Indian Police Service, is responsible for maintaining Law & Order and related issues in the district. He is assisted by the officers of the Haryana Police Service and other Haryana Police officials.
The Deputy Conservator of Forests, an officer belonging to the Indian Forest Service, is responsible for the management of the Forests, Environment and Wild-Life in the district. He is assisted by the officers of the Haryana Forest Service and other Haryana Forest officials and Haryana Wildlife officials.
Sectoral development is looked after by the district head/officer of each development department such as PWD, Health, Education, Agriculture, Animal Husbandry, Statistics etc. These officers are from various Haryana state services.
Shahbad, Ladwa, Pehowa, Ismailabad and Jhansa are other towns in the district with significant populations.
General information
Kurukshetra is well connected with NH1 and has much access by road, rail and air. The journey is comfortable with facilities provided in route.
By road: Buses of Haryana Roadways and other State Corporations ply through Kurukshetra and connect it to Delhi, Panipat, Ambala, Chandigarh, Ludhiana, Jammu, Amritsar and Shimla.
By air: The airports close to Kurukshetra are at Delhi and Chandigarh, which are well connected by road and rail. Taxi service as well as bus service is also available.
By rail: Kurukshetra railway station is a railway junction station, well connected with all important towns and cities of the country. The Shatabadi Express (not all) halts here. Dhoda Kheri, Dhirpur, Dhola Majra Shahabad Markanda and Mohri are the railway stations between Kurukshetra to Ambala of Indian railway route.
Kurukshetra in Popular Arts
Rashtrakavi Ramdhari Singh 'Dinkar' has written an epic poem by the title of Kurukshetra. It is a narrative poem based on the Santi Parva of the Mahabharata. It was written at a time when the memories of the Second World War were fresh on the mind of the poet.
Several films have been named Kurukshetra as it stands identified for the place of most deadly war in Indian history/mythology. A Bollywood film titled Kurukshetra in year 2000 directed by Mahesh Manjrekar is a famous example.
Notable Persons
Subhash sudha MLA
Sukhda Pritam
Sandeep Singh
Sanjay Chaudhary President HUM Foundation
Pawan Sonti President Yuva Majdoor Kisan Morcha, Journalist
Vinod Khurana President, Shri Radhey Suvikashram
Sumedha Kataria Deputy commissioner as of May, 2017
References
Kurukshetra Wikipedia
(Text) CC BY-SA