Occupation(s)

Producer Rapper




Name

Kung Vampire





Website

www.KungFuVampire.com




Years active

2001—present




Albums

Dead Sexy






Labels

Independent - Mad Insanity Records




Role

Rapper · kungfuvampire.com




Origin

San Jose, California, United States




Genres

Hip hop music, Hardcore hip hop, Gangsta rap, Horrorcore




Associated acts

Mars, Brother J, Wrekonize, Tech N9ne




Similar

Twiztid, Whitney Peyton, Blaze Ya Dead Homie, Potluck, Boondox




Profiles




Facebook

Myspace




Record label

Mad Insanity Records



Kung fu vampire icount official music video
Kung Fu Vampire is an American rapper from San Jose, California and the vocalist of the musical group of the same name. He has nationally toured with Twiztid, Tech N9ne, Locksmith, ICP, Brotha Lynch Hung, Wrekonize and more. In addition, KFV has collaborated with musicians such as Blue Note Records Jazz legend, Trumpeter Eddie Gale, Hopsin, Brother J of X Clan, Cougnut, Whitney Peyton and Spice 1.
Contents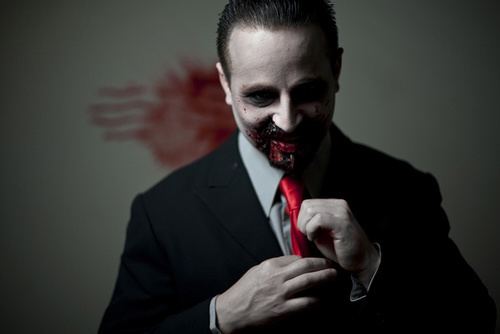 Kung fu vampire grinder official music video
History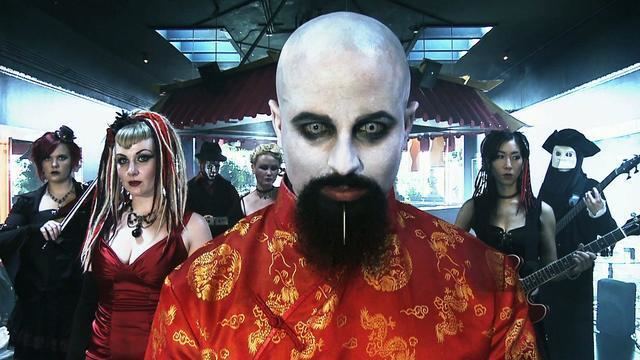 Kung Fu Vampire began breakdancing at the age of six, and taught himself how to rap and sing while playing Drums and Bass as a hobby. At the age of twelve, his aunt began taking him to see concert performances, and introduced him to a Gothic style of dress. At 14 years old he and 3 friends from his neighborhood formed a group infusing Classic Hip Hop with Funk and Electronica which at that time was very innovative and hard for the mainstream to grasp. In 2001, as a late teen he adopted the name "Kung Fu Vampire" during a conversation with his friends in which they discussed the idea of a martial arts film featuring vampires. Kung Fu Vampire formed a band based on the "Kung Fu Vampire" concept. Concepts from an unpublished novel he wrote also formed the basis for the group's stage act and beliefs centered around "Balance" KFV refers to it as the "Yin and Yang of Fang" .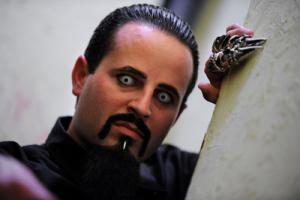 In 2006, the group was voted as the "Best Local Band" by Metro Silicon Valley readers. and went on to win the award 2 more times. Director Darren Lynn Bousman was impressed by Kung Fu Vampire's performance style, and pushed for the rapper to perform at the release party for Saw III as well as opting to do a Music Video. Kung Fu Vampire has also performed at The Playboy Mansion. Bousman's association with Kung Fu Vampire continued with performances at the release party for Repo! The Genetic Opera, and Bousman included Kung Fu Vampire's song "Dead Girls Don't Say No" in the film Mother's Day. In 2009, the Juggalo fan website Faygoluvers.net featured Kung Fu Vampire's music video "iCount" on the site, attracting the attention of Twiztid, who invited Kung Fu Vampire to perform as the duo's opening act during their 2010 "Slaughterhouse" tour. Since 2010, KFV has done 13 Nation Wide Tours including 2 tours in Canada and 4 appearances at the Gathering of the Juggalos in Cave-In-Rock, IL and Thornton, OH. Kung Fu Vampire is 100% Independently funded and has been offered 7 Record Label contracts throughout his career from Majors and Underground power houses but has yet to sign one. In 2012, Kung Fu Vampire appeared in the music video for E-40's song "Zombie" featuring Brotha Lynch Hung and Tech N9ne. In 2013, Kung Fu Vampire makes an appearance on the Reality Show "Oddities: San Francisco" on the History and Science Channel. In Late 2015 KFV release a synergetic Music video "Slice Of Life" crossing deep into the paranormal.- It's guaranteed to leave you with Goosebumps and is part 3 in a series of videos that have been released thus far. On October 16, 2015 KFV's song "Turnt Up" appears in the movie "Tales Of Halloween" which landed at #1 on iTunes for a month straight.
On January 1, 2017 KFV was invited to participate in the Juggalo March On Washington. He accepted on January 2, 2017 stating that The Juggalos have earned his respect and vice versa and would give a free day to them anytime.
Style and influences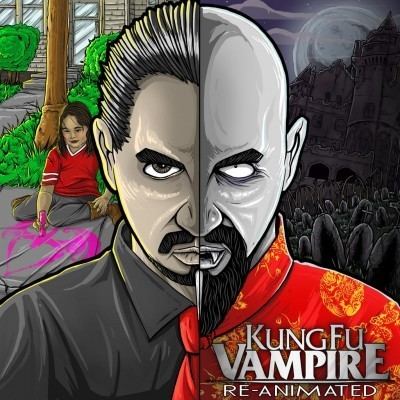 Kung Fu Vampire performs a style of Classic Hip Hop fusing goth, funk and electro. Kung Fu Vampire referred to this style as "gothic hip hop" and "goth hop" to describe the true sound and separate himself from generic genre labeling, but later learned that it was also similar to the preexisting style horrorcore.<!
Kung Fu Vampire avoids overly rapping about graphic violence, and makes little or no reference to campy horror films or smoking cannabis. His lyrics have spoken out against drug use in particular Meth and Alcohol, and advocated for healthy living.
Kung Fu Vampire was initially known for making appearances with a shaved head and pale face paint. Since 2011, Kung Fu Vampire grew his hair out and has stopped using face paint in his performances stating that he would rather spend that time connecting with fans at concert as opposed to preparation.
Live Band members
Current
Kung Fu Vampire — vocals
Jeremy Pollett — bass
Chris Paxton - drums
Production Team
Current
ProHoezak
• TunnA Beatz
Skytzo Beatz
• Subliminal Beats
Features
Twisted Insane track "Voices" featuring Kung Fu Vampire from the album The Insane Asylum (2013)
Twiztid track "Wasted Part 2" featuring Kung Fu Vampire, Chris Webby, RA The Rugged Man and Three Six Mafia from the album Get Twiztid (2014)
Bloodstepp track "Rave In My Grave" featuring Koshir and Kung Fu Vampire from the album Grand Theft Ufo: Floppy Disk Edition (2014)
Blaze Ya Dead Homie track "Ghost" featuring Kung Fu Vampire from the album Casket Factory (2016)
Whitney Peyton track "Word Of Mouth" featuring Kung Fu Vampire from the album Break The Frame (2016)
Gorilla Voltage track "Rocks For Brains" featuring Kung Fu Vampire from the album Ape-X (2017)
Gorilla Voltage track "Lit" featuring Kung Fu Vampire from the album Ape-X (2017)
When They Hear It (The R.O.C. ft. Kung Fu Vampire & Prozak) on the album Digital Voodoo (2017)
References
Kung Fu Vampire Wikipedia
(Text) CC BY-SA