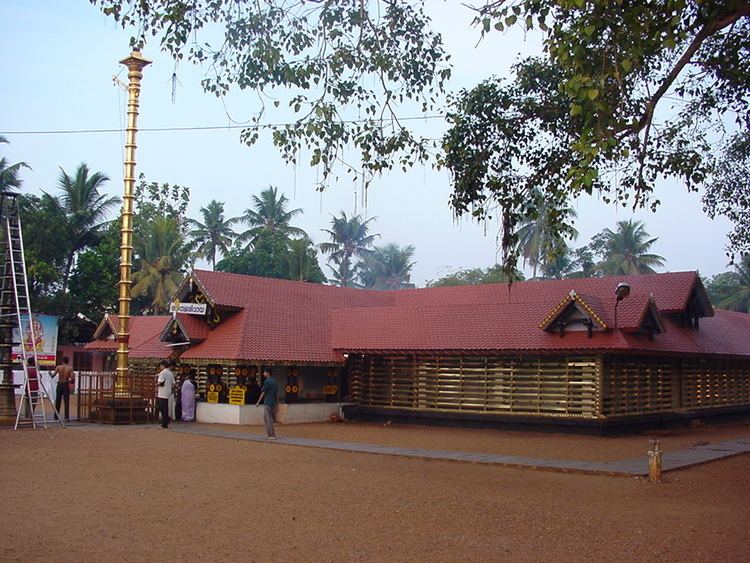 Kottarakkara, also known in the ancient days of the kings as the Elayadathu Swarupam, was a principality ruled by a branch of the Travancore Royal Family. It is the home of Kathakali, a well known dance drama which originated initially as Ramanattam created in the 17th century by Prince Kottarakkara Thampuran and later patronized by the Raja of Kottarakkara in the early 19th century absorbing other dance forms of Krishnattam with further innovations. Other historical places of interest include the Ganapathi Temple, Edakkidom Thettikkunil Maha Devi Temple and the more-than-700-year-old Mar Thomas Church. The Head Quarters and the mother church of EL-SHADDAI MINISTRY Jesus Is Alive worship centre (Lead by Pr.Tinu George) is situated in kottarakara. [1] Kottarakara consists of different other Christian fellowships churches.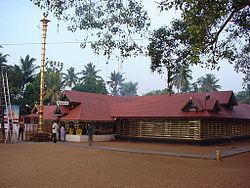 Kottarakkara, a compound word made up of the words Kottaram, meaning "palace", and kara meaning "land", literally means "land of palaces". The area which had several palaces was thus named "Kottarakkara."
Kottarakkara is a small principality close to Kollam. As a taluk headquarters, it has six panchayats and other small towns. It is surrounded by several other towns.
1. Pavithreswaram
2. Puthur
3. Ezhukone
4. Kareepra- Edakkidom
5. Neduvathur
6. Kulakkada
7. Kalayapuram
8. Mylam
9. Melila
10. Chakkuvarakkal
11. Vettikkavala
12. Kottarakkara
13. Ummannur
14. Valakom
15. Elamad
16. Odanavattom
17. Veliyam
18. Pooyappally
19. Velinallur
20. Nilamel
21. Chadayamangalam
22. Kottukkal
23. Ittiva
24. Kadakkal
25. Kummil
26. Mankode
27. Chithara
NH 208 (Kollam to Thirumangalam) meets the MC road (Thiruvananthapuram to Angamaly) at Kottarakkara. Kottarakkara is linked with Kollam (the district headquarters), both by road and rail, at a distance of 27 km. It is 72 km to the north of Thiruvananthapuram (the capital of Kerala) and 80 km to the south of Kottayam.
Kottarakara Assembly Constituency is part of the Mavelikkara (Lok Sabha constituency).
Aisha Potty -MLA of Kottarakara constituency has been representing Kottarakara in Kerala Legislative Assembly as CPI(M) Member for two consecutive terms.The constituency has returned the following candidates after the formation of Kerala State in 1956. 1957: E Chandrasekaran Nair (CPI) 1960: D.Damodaran Potti (PSP) 1965: R.Balakrishna Pillai (Kerala Congress) 1967: E.Chandrasekaran Nair (CPI) 1969 (Bye election):C.Achutha Menon (CPI), Chief Minister 1970: Kottara Gopalakrishnan (INC) 1977, 1980, 1982, 1987, 19991, 1996, 2001: R.Balakrishna Pillai (Kerala Congress - B)
The town contains many notable places of worship, including Sree Maha Ganapthy Temple (in the suburb of Kizhakkekara), dated to the 10th-11th century, shrine of Ganapathy, Mahadeva Temple (in the western suburb of Padinjattinkara), Kottarakkara Goshala and Kulasekharanellor Sree BhadraKali Temple, amongst many other temples.
Kottarakkara Sree Manikanteswara Mahadeva
Kottarakkara Sree Manikanteswara Mahadeva Temple is located near the "Althara", on the northern side. Shiva in the form of a fierce hunter is deified here. Another shrine next to it is a Durga temple, where the deity installed is known as Pazenadu Bhagavathy. Devi The idol of was carved out from the root of the jack tree by Perumthachan.
Edakkidom (ഇടയ്ക്കിടം) Thettikkunil Sree mahadevi temple near kottarakkara
Ambalapuram Shri Gauri Shankara Temple, Ambalapuram
Kottarakara has one of the Kerala's well connected KSRTC Hub, consist of various services across almost all the parts of kerala and interstate services. Local routes are connected by private bus services as well as State Transport. It is well connected to the capital city of Kerala, Thiruvananthapuram by KSRTC Fast Passenger, super fast, deluxe, a/c buses. Buses are also ply to the district headquarters of Kollam and Pathanamthitta and to towns in Tamil Nadu like Coimbatore, Tenkasi and Sengottai and Daily trips to Mookambika, Munnar, Bangalore, Kumali, Ooty, kanyakumari, nagercoil, thirunelveli, palani
Kottarakara railway station is located on the Kollam-Sengottai railway line. Kottarakara railway station, which currently connects to Kollam, Trivandrum, Ernakulam, Thrissur, Palakkad, Madurai, Nagercoil, Paravur, Tirunelveli, Guruvayur, Varkala and Punalur through the direct passenger, fast passenger and express train services. There are eight pairs of services right now and heard that many more services would be inducted in this route since the Punalur-Schengotta ghat section has been closed for Broad Gauge conversion. Once the conversion is over, this will serve as the shortest route from Kollam to Chennai and from Kollam Port & Cochin Port to Tuticorin Port. Further, a new line from Chengannur to Thiruvananthapuram via Kottarakkara and Pandalam is awaiting survey. Kottarakkara will become a junction once the new line materializes.
The nearest airport is Trivandrum International Airport in Thiruvananthapuram. A new green field airport has been proposed at Aranmula, 45 kilometres (28 mi) from Kottarakkara.
Salim Yusuf - Physician, world-renowned cardiologist and epidemiologist. He is one of the most cited scientists ever in the world.
Malayalam novelists Lalithambika Antharjanam and Kakkanadan
Kottarakara Sreedharan Nair (1922–1986), actor
Murali (actor) (1954–2009)
Veliyam Bhargavan, Sahavu, Former General Secretary, Communist Party of India
R. Balakrishna Pillai, Former Minister, MLA, MP and Panchayat President, Chairman of the Kerala Congress (B).
Bobby Kottarakkara, Malayalam actor
K. B. Ganesh Kumar, actor and politician --
Saikumar, Malayalam actor
Jawahar Navodaya Vidyalaya, Kottarakkara
St.Mary's Higher Secondary School, Kottarakara
Mar Baselios English Medium School, Kottapuram,
Carmel Residential Senior Secondary School, Kadalavila, Kottarakara
Mar Gregorios memorial residential public school, Mylom,
Sri Vidyadhiraja Memorial Model HSS, Vendar, Kottarakara.
Govt. Boys' Higher Secondary School, Kottarakara,
St. Gregorios High School, College Junction, Kottarakara,
St. Gregorios Higher Secondary School, College Junction, Kottarakara
Marthoma Girls' Higher Secondary School, Kottarakara
St. Gregorios College
University Institute of Technology (UIT)
IHRD College of Engineering, Thrikkannamangal
Mercy college of Nursing, Valakom
Vijaya Nursing College
Sree Sankara Sanskrit Vidhyapeedom, Edakkidam (ഇടയ്ക്കിടം)
Evhss neduvathoor