7.8

/

10

Alchetron

7.8

Rate This





Original language(s)

English

No. of episodes

118 (list of episodes)

Theme song

Kojak Theme Song




Country of origin

United States

First episode date

24 October 1973




Starring

Telly SavalasDan FrazerKevin DobsonGeorge SavalasMark RussellVince ContiAndre Braugher

Cast
Quincy jones music score from ironside the tv series 1967 1975 opening titles theme
Kojak was an American crime drama television series starring Telly Savalas as the title character, New York City Police Department Detective Lieutenant Theo Kojak. Taking the time slot of the popular Cannon series, it aired on CBS from 1973 to 1978. In 1999 TV Guide ranked Theo Kojak number 18 on its 50 Greatest TV Characters of All Time list.
Contents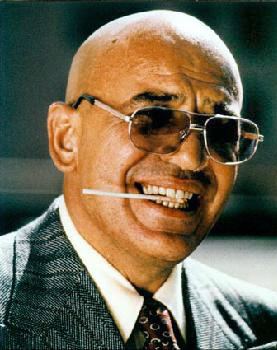 Production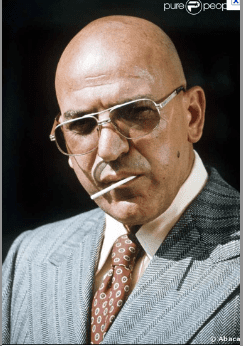 The show was created by Abby Mann, an Academy Award–winning film writer best known for his work on drama anthologies such as Robert Montgomery Presents and Playhouse 90. Universal Television approached him to do a story based on the 1963 Wylie-Hoffert Career Girls Murders, the brutal rape and murder of two young professional women in Manhattan.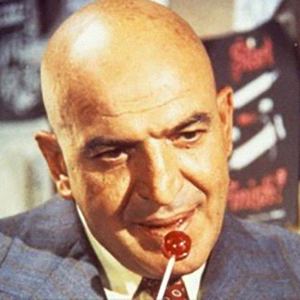 Owing to poor police work and the prevailing casual attitude toward suspects' civil rights, the crimes in the Wylie-Hoffert case were pinned on a young African-American man, George Whitmore, Jr., who had been arrested on a separate assault charge. After illegally obtaining a confession, the police had the suspect all but convicted until a second investigation by a different team of detectives exonerated the suspect and identified the real killer, a Puerto-Rican drug addict.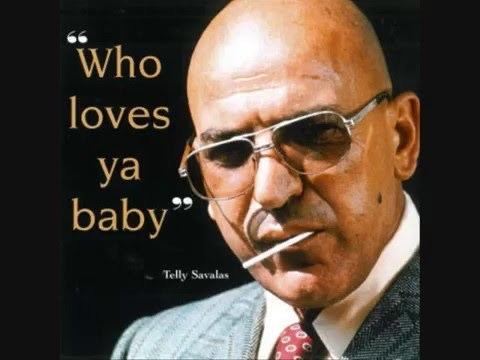 Mann developed the project as a gritty police procedural, but with a subtext focusing on institutionalized prejudice and the civil rights of suspects and witnesses. The result was the 1973 made-for-TV movie, The Marcus-Nelson Murders. The opening and closing titles of the film emphasized the point that it was a fictional account of the events that led to the creation of Miranda rights by the U.S. Supreme Court in 1966. Selwyn Raab's book Justice in the Back Room also provided Mann with some of his inspiration for the story of The Marcus-Nelson Murders, and the series subsequently included a credits reference to having been "suggested by a book by Selwyn Raab."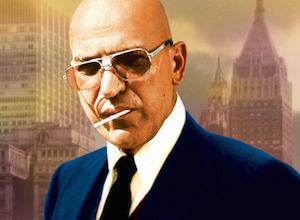 Telly Savalas starred in The Marcus-Nelson Murders as a police detective whose last name was spelled "Kojack." The film served as a pilot for the Kojak television series. Kojak himself was a composite character, based on a number of detectives, lawyers, and reporters who were involved in the Wylie-Hoffert murder case.
Plot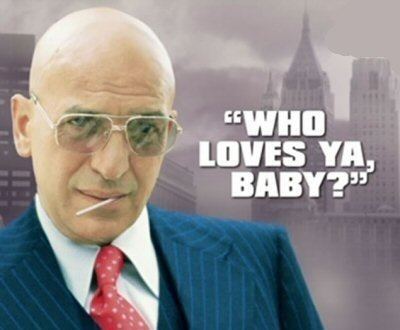 The series was set in the New York City Police Department's Eleventh Precinct (the building shown was actually Ninth Precinct), Manhattan South Patrol Borough. The show revolved around the efforts of the tough and incorruptible Lieutenant Theofilides ("Theo") Kojak (Telly Savalas), a bald, dapper, New York City policeman, who was fond of Tootsie Roll Pops and of using the catchphrases, "Who loves ya, baby?" and "Cootchie-coo!" Kojak was stubborn and tenacious in his investigation of crimes—and also displayed a dark, cynical wit, along with a tendency to bend the rules if it brought a criminal to justice. He frequently ribbed his subordinates, especially the rotund Stavros, whom he referred to as "Fatso". Foot chase scenes involving Stavros also brought on the same type of physical humor. However, Kojak was especially abusive toward criminals, often stretching the truth, one of whom Kojak said he witnessed them do something he did not actually witness (setting a bomb), to get them to talk. Kojak was so abusive, Mad Magazine carried a TV satire titled, "Kojerk". In the context of the script, Kojak's was seen as typical squad room humor, which would be picked up later in the TV drama Hill Street Blues. Savalas described Kojak as a "basically honest character, tough but with feelings—the kind of guy who might kick a hooker in the tail if he had to, but they'd understand each other because maybe they grew up on the same kind of block." Kojak's Greek American heritage, shared by actor Savalas, was featured prominently in the series.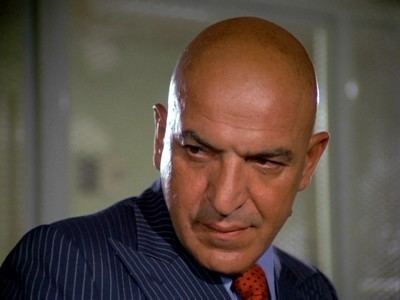 In the early episodes of the series, Kojak is often seen smoking cigarettes. Following the 1964 Surgeon General's Report on smoking, cigarette commercials were banned from American television in 1971, and trying to quit smoking became common in the 1970s. To cut down on his own habit, Kojak began using lollipops as a substitute. The lollipop made its debut in the Season 1 episode "Dark Sunday", broadcast on December 12, 1973; Kojak lights a cigarette as he begins questioning a witness, but thinks better of it and sticks a lollipop (specifically, a Tootsie Pop) in his mouth instead. Later in the episode, Kevin Dobson's character Crocker asks about the lollipop and Kojak replies, "I'm looking to close the generation gap." Although Kojak continued to smoke, as he was frequently seen lighting a cigarillo, the lollipop eventually became his identifying characteristic; in fact, when the series debuted a new opening montage in season five, Kojak is seen both lighting a cigarillo and popping a lollipop into his mouth.
His longtime supervisor was Capt. Frank McNeil (Dan Frazer). Later in the series, McNeil was promoted to Chief of Detectives in Manhattan. Kojak is the commander of the Manhattan South Precinct's detective squad. His squad includes one of his favorite employees: young plainclothes officer, Det. Bobby Crocker (Kevin Dobson). Detective Stavros (played by Telly's real-life brother George Savalas, who originally used the name "Demosthenes" as his screen credit; under his real name, Savalas also received a Production Associate credit during the early seasons), Detective Saperstein (Mark Russell), and Detective Rizzo (Vince Conti), all gave Kojak support. Roger Robinson appeared in 12 episodes as Detective Gil Weaver.
Among the guest stars in the series' original run were F. Murray Abraham, Maud Adams, Patrick Adiarte, Danny Aiello, Paul Anka, Armand Assante, Eileen Brennan, Blair Brown, Dabney Coleman, Jackie Cooper, Scatman Crothers, Héctor Elizondo, Richard Gere, Ruth Gordon, Gloria Grahame, Robert Ito, Harvey Keitel, Sally Kirkland, Zohra Lampert (who won an Emmy for her 1975 guest appearance on the show), Tina Louise, Carol Lynley, Sheree North, Geraldine Page, Kathleen Quinlan, Lynn Redgrave, John Ritter, Sylvester Stallone, Danny Thomas, Forrest Tucker, Christopher Walken, Eli Wallach, Shelley Winters and James Woods.
Although the show primarily focused on Kojak's police work, it occasionally veered into other areas of the character's lives, such as the first season episode "Knockover" which included a subplot involving Kojak romancing a (much younger) female police officer.
In 1976, acclaimed crime writer Joe Gores received an Edgar Award from the Mystery Writers of America for Best Episode in a TV Series Teleplay for the third-season episode "No Immunity for Murder" (first aired November 23, 1975).
The show was cancelled after five seasons in 1978, due to falling ratings. Reruns of Kojak became successful in syndication and TV Land. Years after the series ended, Savalas reprised the role in two TV movies, The Belarus File (1985) (an adaptation of the John Loftus book The Belarus Secret) and The Price of Justice (1987) (based on Dorothy Uhnak's novel The Investigation). Kojak is not a character in either book.
For the 1989–90 television season, Kojak was revived for a series of five telefilms that aired on ABC. These films saw now-Inspector Kojak lead the NYPD's Major Crimes Squad. Andre Braugher was cast as a young detective assigned to Kojak's command.
Telly Savalas is the only cast member to appear in every episode of the original series, and stayed throughout its entire run.
Police slang
Kojak used a red, magnetically mounted Federal Signal Fireball rotating emergency light atop his unmarked police vehicle (a bronze 1973 Buick Century Regal 455, and later, a copper 1975 version of the same car). This type of emergency light has popularly come to be known as a "Kojak Light" among police. During the series, Kojak's duty weapon was either a Smith & Wesson Model 15 .38 Special revolver with a two-inch barrel or a .38 Special snub nosed Smith & Wesson Bodyguard. The latter type of revolver was the kind typically carried by New York City Police Department detectives of that era. Kojak usually carried it in the front right pocket of his overcoat or suit jacket, or he carried it in his hand as he approached a scene where he was expecting danger. This became known as carrying a weapon "Kojak Style" or as the "Kojak Carry" by police.
Characters
Telly Savalas as Lieutenant Theofilides "Theo" Kojak
Dan Frazer as Captain Francis "Frank" McNeil, Kojak's boss
Kevin Dobson as Detective Robert "Bobby" Crocker
George Savalas (Demosthenes) as Detective Demosthenes "Curly" Stavros
Mark Russell as Detective Percy Saperstein
Vince Conti as Detective Lionel Rizzo
Music
The somewhat better-known first Kojak theme, in two distinct arrangements, is the work of Billy Goldenberg, who scored the early episodes. John Cacavas composed the third main title theme used throughout the show's fifth and final season. In addition, Cacavas composed the music score for most of the series.
Goldenberg's first Kojak theme had lyrics; though the identity of their writer was not widely known as March 2016 began, Sammy Davis Jr. performed them, as the song "We'll Make It This Time," on his album The Song And Dance Man.
Episodes
Kojak aired for five seasons on CBS, from 1973 to 1978. In the United Kingdom the series premiered in August 1974 on the ITV network. In 1985, seven years after the series ended, Telly Savalas returned to play Kojak in 7 TV movies beginning with The Belarus File. The latter 5 of them aired on ABC as part of their ABC Mystery Movie theme block which aired on Saturday nights. His character was promoted to the rank of Captain, and later Inspector. Andre Braugher co-starred as Det. Winston Blake, and for one two-hour episode, It's Always Something, Kevin Dobson returned as Bobby Crocker, now an assistant district attorney. Guest stars in these TV movies included Angie Dickinson, Marcia Gay Harden, Max von Sydow, Jerry Orbach and Suzanne Pleshette.
Esquire TV aired the series in multi-hour blocks Wednesdays from September to mid-October 2015. Kojak currently airs daily on MeTV as part of its late night lineup.
Remake
In March 2005, a new Kojak series debuted on the USA Network cable channel and on ITV4 in the UK. In this re-imagined version, actor Ving Rhames portrays the character. The series only lasted one season.
Film
Universal Pictures is planning to make a film version of Kojak, with Neal Purvis and Robert Wade to write the script for the film and Vin Diesel will star as Kojak and produced the film with Samantha Vincent. Philip Gawthorne will construct a new draft for the film and Scott Stuber And Dylan Clark will produce the film.
On June 19, 2015 it was reported in media outlets that playwright Philip Gawthorne is on board for the new Kojak movie being written for Universal. Kojak is being produced by Diesel's Universal-based One Race Films with Scott Stuber and Dylan Clark. Neal Purvis and Robert Wade, the writing team behind James Bond films including The World Is Not Enough and Skyfall, joined the project in 2012 to write a previous draft. Kristin Lowe and Jay Polidoro will oversee Kojak for the studio. Gawthorne is repped by CAA, 42 in the UK and Bloom Hergott.
Cultural impact
In the hit 1977 movie Smokey and the Bandit, Cledus Snow (Jerry Reed) referred to a police officer with a radar gun as a "Kojak with a Kodak", reflecting contemporary CB slang. The phrase also appears in a subtitle in The Cannonball Run when the Japanese team in the Subaru GL encountered a radar-operating officer.
In the film Foul Play, Chevy Chase and Goldie Hawn commandeer a livery vehicle with two Asian tourists in the backseat. When the tourists become agitated at his high speed driving, Chase informs them that he is a policeman like Kojak. Even though the tourists know very little English, the name Kojak turns their chagrin to enthusiasm and they enjoy the high-speed pursuit. When the car stops and they are left in the backseat, the male tourist cracks a smile and yells "Kojak! BANG! BANG!"
In Canada, some Canadians were concerned that the show left an impression in Canadian youth that they had rights, such as to be informed of an offense, and that it depicted American police reading people their rights in accordance with the Miranda ruling. In his 1980 book Deference to Authority: The Case of Canada, American sociologist Edgar Fredenberg who came to Canada in the early 1970s to avoid the draft was concerned that Canadians were more upset over depictions of Americans practising their civil rights on a TV show dealing with civil rights issues than that they did not have those rights. In 1982, the right to be informed of a criminal offense and of one's rights was enumerated in the Canadian Charter of Rights and Freedoms.
In Brazil, the show was so successful that in the 1970s and 1980s the term "Kojak" became Brazilian slang for "bald man". In tribute, "Kojak" was a theme of Brazilian carnival-time music, a very rare honor. Telly Savalas also visited the country to do promotional work. In Rio de Janeiro, the expression: "I won't give a chance to Kojak" became popular among criminals, meaning the speaker would avoid leaving any clue that would lead the police to him or her. Later, this expression became popular among lay people. It would come to mean "I won't let anyone see my mistakes".
In Chile, the show was so successful that in the 1970s and 1980s the term "Kojak" became Chilean slang for "lollipop" until to this day. The same slang term can be found in many countries across the world (Algeria is an example).
In Hungary, a parody movie, titled Kojak Budapesten (Kojak in Budapest) was made in 1980, starring László Inke, Savalas' Hungarian dubbing voice in the titular role. In the film, Kojak is revealed to be not of Greek, but of Hungarian ancestry, visiting the capital of his former home country for a conference. Telly Savalas sold the rights for his likeness to the Hungarian filmmakers for $1. Also, the series was so popular in Hungary, that local tootsie pop makers started to call their product "Kojak nyalóka" ("Kojak lollypop").
In Maribor, Slovenia, the National Liberation Fight statue on the Liberty Square is called "Kojak" by the locals because of its shape.
The Mumbly Cartoon Show, in which starred a canine version of Peter Falk's Columbo, also featured a caricature of Kojak/Savalas called "Schnooker" as the title character's sidekick.
In Israel, a rotating police light beacon is to this day called a "Kojak", both because it is round and bald, and because of the relation to a police vehicle.
DVD releases
Universal Studios Home Entertainment released season 1 of Kojak on DVD in Regions 1, 2 and 4 in 2005–2006. Due to poor sales, no further seasons were released. This release has been discontinued and is now out of print.
On February 14, 2017, Universal Studios re-released season 1 on DVD in Region 1.
On May 25, 2011, it was announced that Shout! Factory had acquired the Region 1 DVD rights to the series. They have subsequently released the remaining 4 seasons on DVD as well as a complete movie collection.
In Region 2, Mediumrare Entertainment has released seasons 2-5 on DVD in the UK.
In Region 4, Shock Entertainment has released seasons 2–5 on DVD in Australia.
References
Kojak Wikipedia
(Text) CC BY-SA