7.8

/

10

Alchetron

7.8

Rate This





Starring

William Conrad


Original language(s)

English




No. of episodes

124 (list of episodes)


Final episode date

3 March 1976




Spin-off

Barnaby Jones






Developed by

Edward Hume


Country of origin

United States




No. of seasons

5




First episode date

14 September 1971




Network

CBS





Cast

William Conrad, Meg Wyllie


Similar

Barnaby Jones, Mannix, The Streets of San Francisco, The Rockford Files, Kojak
Cannon is a CBS detective television series produced by Quinn Martin which aired from 1971 to 1976. The primary protagonist is the title character, private detective Frank Cannon, played by William Conrad. He also appeared on two crossover episodes of Barnaby Jones.
Contents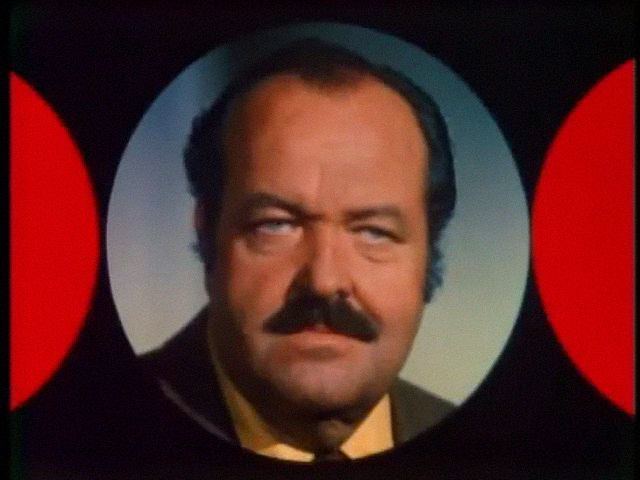 Cannon is the first Quinn Martin-produced series to be aired on a network other than ABC. A "revival" television film, The Return of Frank Cannon, was aired on November 1, 1980. In total, there were 124 episodes.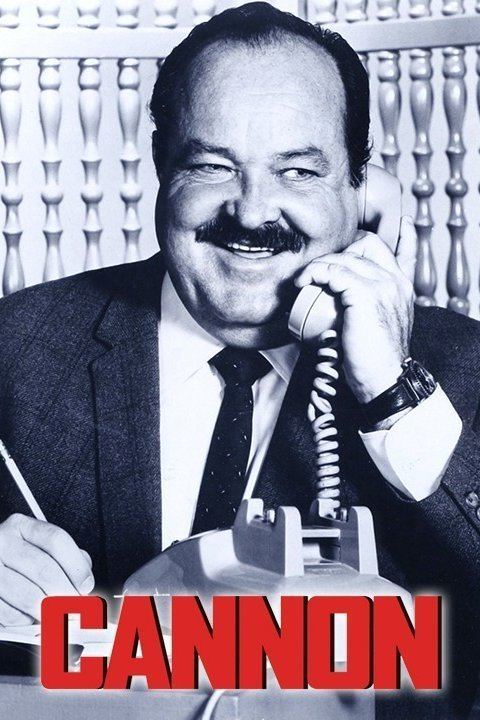 Plot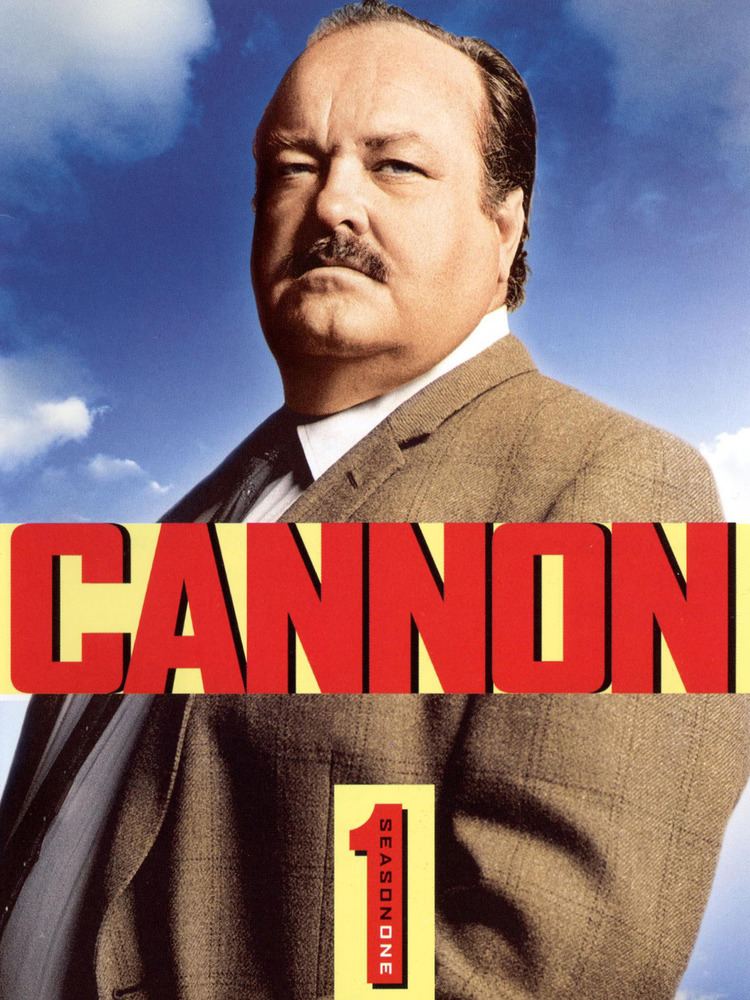 Frank Cannon was a detective with the Los Angeles Police Department, however he retired after the deaths of his wife and son in a car accident and later became a private detective. The series begins at the point where Cannon is just beginning this new career (the pilot film picks up after Cannon has just spent 2 1/2 months overseas on an investigation). The cause of death of Cannon's wife and child was not clear through the first four seasons of the show. However, the first episode of the fifth and final season revolves around Cannon's investigation of the deaths, and he finally finds out the reason they were killed.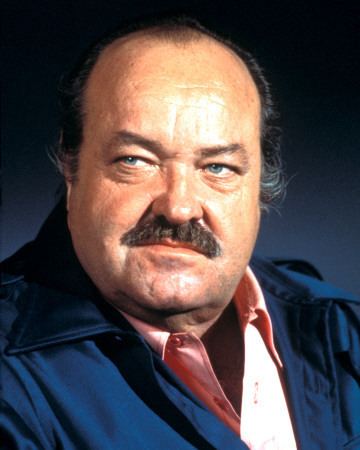 The noticeably overweight Frank Cannon had expensive tastes, especially in food and automobiles. His primary vehicle was an ice-blue '72 Lincoln Continental Mark IV, but over the course of the series' run, his ride would range from a Lincoln 1971 Mark III to a 1976 Mark IV in various color schemes, all dark over light blue exteriors, with interiors ranging from red velour to dark-blue leather. Cannon's investigations were mostly for clients in the Southern California area, although on occasion he was called in for investigations much farther away (e.g., New Mexico in the pilot).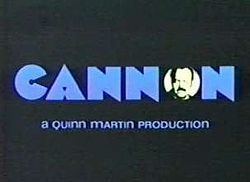 Cannon occasionally would get hurt (shot or beaten) and knocked unconscious (although not nearly as often as his television contemporary Joe Mannix). He carried a gun for self-defense, usually a snub-nosed .38 Special revolver (which appeared to be a Colt Detective Special). Sometimes he used other guns (Including an M1911 and a B.A.R). He was known to subdue suspects with karate chops, judo holds, and occasionally he would thrust and knock down adversaries with his huge abdomen.
In the first two seasons Cannon was a pipe smoker. In the third season, the pipe was seen occasionally; it was subsequently dropped altogether.
Barnaby Jones
Frank Cannon had his first meeting with Barnaby Jones (Buddy Ebsen), an aging veteran private investigator who had retired and turned over his agency to his son, Hal. However, Hal is killed. With the aid of Cannon and Hal's widow, Betty Jones (Lee Meriwether), they hunt down Hal's killer. Afterward, Jones decides to come out of retirement. The premiere episode of Barnaby Jones, "Requiem for a Son" was planned as a second-season Cannon episode so that Barnaby Jones could qualify as a spin-off of Cannon, but when Barnaby Jones was sold as a separate series, the script was reworked into the premiere of that show. William Conrad appeared as Cannon in the guise of a special guest star.
There was a second "crossover" between the series. The first part of the two-part episode, "The Deadly Conspiracy", was aired as the second episode of the fifth season of Cannon on September 17, 1975; the second part aired two nights later as the fourth season premiere of Barnaby Jones.
Parodies
In an episode of his Thames Television series, British comedian Benny Hill parodied 1970s American detective shows. In the skit, Hill played several staple characters of the genre: Frank Cannon, Robert Ironside, Theo Kojak, Sam McCloud (ironically, all bar the latter were airing on BBC1 at the time rather than on Hill's home of ITV) and, although he was not a part of the genre, Agatha Christie's Belgian detective, Hercule Poirot. A female cast member (Jenny Lee-Wright) played the role of Pepper Anderson.
The comedian Franklyn Ajaye does a routine where he mentions that it takes Frank Cannon so long to get out of his car 2-3 times a show that there is hardly time for anything else.
In Mystery Science Theater 3000, one of the more absurd inventions displayed by the Mad Scientists was a William Conrad Refrigerator Alert; it sounds off if William Conrad raids your refrigerator.
Impressionist Billy Howard included Cannon as one of the detectives parodied in his novelty hit record "King of the Cops".
Props
In an era before cell phone use, Cannon was using a "mobile phone" in his car, which was highly rare at the time. (TV detectives Richard Diamond and Peter Gunn each had one in the late '50s as did Mannix and Burke's Law in the '60s.) Cannon would begin by asking the mobile operator to dial a call for him. Phones of this type were precursors to modern cell phones. The phone prop itself, in his car, was a Motorola brand MTS mobile phone.
Cannon's pistol has been subject to discussion. Most agree that it is some variant of a Colt Detective Special in .38. At least one source claims the actual weapon to be a Colt Bankers Special in .22 LR but it is generally agreed that Cannon carries a .38.
Cast
Series star William Conrad was nominated for an Emmy Award in both 1973 and 1974 (Best Lead Actor in a Drama Series), but Richard Thomas won for The Waltons and in 1974 Telly Savalas won for Kojak.
Guest stars
In the first season, a young Martin Sheen appeared twice as ex-policeman Jerry Warton, but the character did not extend beyond the first year—in fact, in the third season, Sheen guest starred as a lawyer who murdered Cannon's client.
Other notable guest stars include: a young Willie Aames, Sharon Acker, Lou Antonio, Anne Baxter, Whitney Blake, Lloyd Bochner, Sorrell Booke, Brooke Bundy, Ahna Capri, Cathy Lee Crosby, William Daniels, Burr DeBenning, Severn Darden, former Monkee Micky Dolenz, Andrew Duggan, Shelley Duvall, Dana Elcar, Jason Evers, Mike Farrell, Joan Fontaine, Bert Freed, future Starsky and Hutch stars Paul Michael Glaser and David Soul, Dabbs Greer, Clu Gulager, Peter Haskell, Robert Hays, David Hedison, Rodolfo Hoyos, Jr., Kim Hunter, Vivi Jannis, David Janssen, Claudia Jennings, L.Q. Jones, Kate Keenan (Emmy nominee), Dan Kemp, Sondra Locke, Robert Loggia, Tina Louise, Barbara Luna, George Maharis, Robert Mandan, Nora Marlowe, Vera Miles, Donna Mills, Leslie Nielsen (Emmy nominee), Nick Nolte, Sheree North, Lee Paul, Steve Pendleton, John M. Pickard, Stefanie Powers (Emmy nominee), Judson Pratt, Denver Pyle, Dack Rambo, Wayne Rogers, John Rubinstein (Emmy nominee), Tom Skerritt (Emmy nominee), Peter Strauss (Emmy nominee), Vic Tayback, Ronne Troup, Joan Van Ark, a young Vincent Van Patten, John Vernon, Jessica Walter (Emmy nominee), future soap opera star Jess Walton (multiple Daytime Emmy Award winner), Cindy Williams, William Windom, Dana Wynter, and Anthony Zerbe (Emmy Award winner in 1976—Best Supporting Actor).
DVD releases
CBS DVD (distributed by Paramount) has released the first two seasons of Cannon on DVD in Region 1. Season 3 was released on January 10, 2013 via Amazon.com's CreateSpace program. This is a Manufacture-on-Demand (MOD) release, available exclusively through Amazon.com.
On May 4, 2015, it was announced that Visual Entertainment had acquired the rights to the series in Region 1. It was subsequently announced that VEI would release Cannon - The Complete Collection on September 2, 2015.
On March 18, 2016, VEI re-released the first season on DVD and on April 1, 2016, they re-released the second season.
In Region 4, Shock Entertainment has released the first two seasons on DVD in Australia.
Awards and nominations
Cannon received three Emmy Award nominations, for Outstanding Drama Series in 1973 and for William Conrad as Lead Actor in a Drama Series in 1973 and 1974.
The Hollywood Foreign Press Association nominated Cannon for three Golden Globe Awards, for Best Television Series - Drama in 1974 and for William Conrad in 1972 and 1973 as Best Actor in a Drama Television Series.
Nielsen ratings
1971-72: #29
1972-73: #14
1973-74: #10
1974-75: #21
1975-76: Not in top 30
Novels
A series of nine tie-in novels were published in the 1970s by Lancer/Magnum in the United States and Triphammer/Corgi in the United Kingdom.
#1 Murder by Gemini by Richard Gallagher
#2 The Stewardess Strangler by Richard Gallagher
#3 The Golden Bullet by Paul Denver (pseudonym of Douglas Enefer)
#4 The Deadly Chance by Paul Denver (pseudonym of Douglas Enefer)
#5 I've Got You Covered by Paul Denver (pseudonym of Douglas Enefer)
#6 The Falling Blonde by Paul Denver (pseudonym of Douglas Enefer)
#7 It's Lonely on the Sidewalk by Paul Denver (pseudonym of Douglas Enefer)
#8 Farewell, Little Sister by Douglas Enefer
#9 Shoot-Out! by Douglas Enefer
References
Cannon (TV series) Wikipedia
(Text) CC BY-SA