Created by

Mario Puzo




Gender

Female




Family

Corleone family




Spouse

Michael Corleone




First appearance

The Godfather




Portrayed by

Diane Keaton




Occupation

teacher




Played by

Diane Keaton




Creator

Mario Puzo






Last appearance

The Godfather's Revenge




Children

Mary Corleone, Anthony Corleone




Movies and TV shows

The Godfather, The Godfather Part II, The Godfather Part III, The Godfather Saga




Similar

Michael Corleone, Connie Corleone, Tom Hagen, Fredo Corleone, Sonny Corleone
Katherine "Kay" Corleone (née Adams) (born 1924) is a fictional character in Mario Puzo's The Godfather. She was portrayed by Diane Keaton in Francis Ford Coppola's trilogy of films based on the novel.
Contents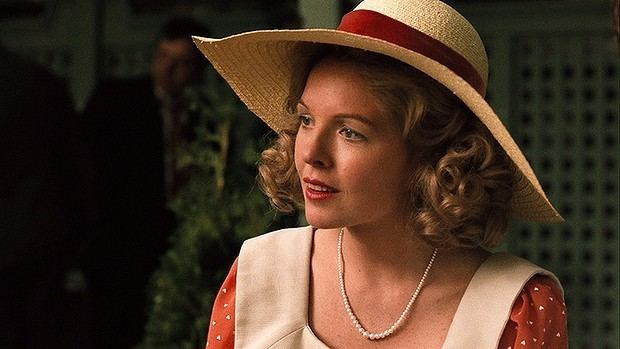 Fictional biography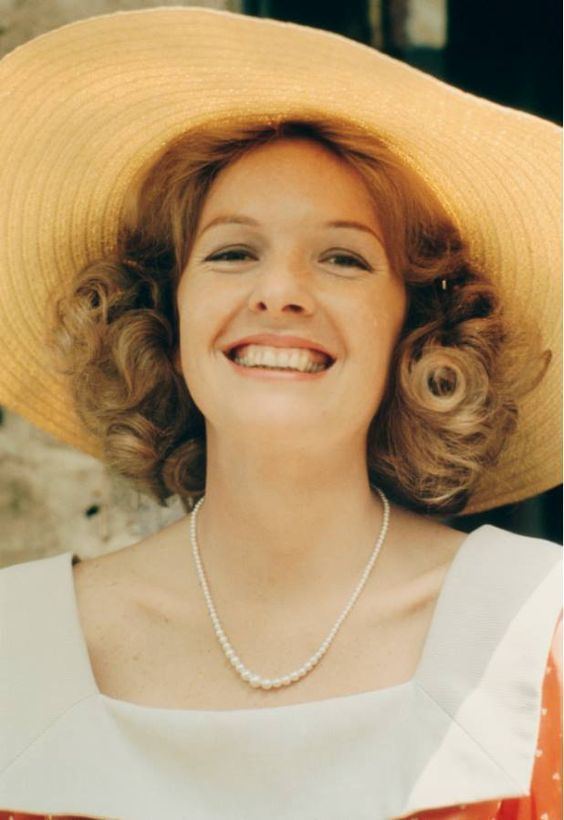 Kay is a native of Hanover, New Hampshire, and the only child of a Baptist minister and his wife. She is the longtime girlfriend and eventual second wife of Michael Corleone (Al Pacino), the youngest son of Don Vito Corleone (Marlon Brando), the head of the Corleone crime family.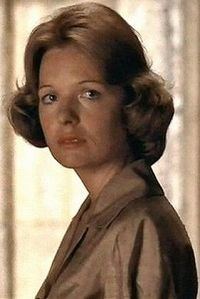 In 1945, while attending Dartmouth College, Kay met and fell in love with Michael, also a student there. As a non-Italian, she is an outsider to the Corleones' world, and symbolizes Michael's initial desire to live a more Americanized and honest life, separate from his family's. When she and Michael attend his sister, Connie's (Talia Shire) wedding, they sit at a table away from the family. In the book, the other guests notice how Kay's manner is freer than expected from an unmarried woman.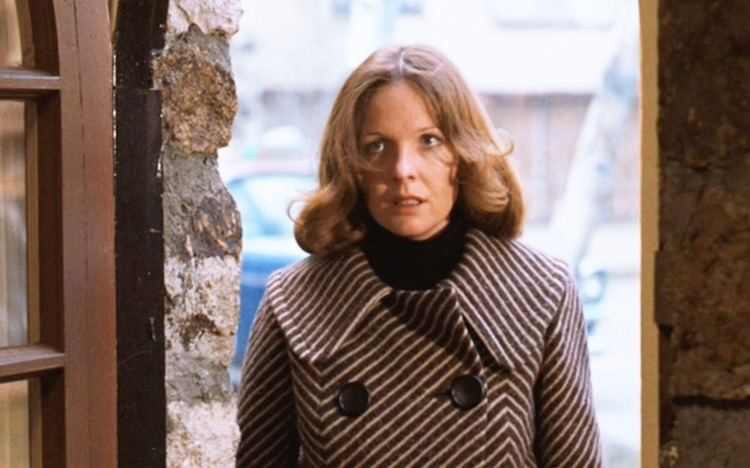 Kay is initially unaware that the Corleones are a powerful Mafia family. In the novel, Michael at first attempts to explain his father to her by depicting him as a somewhat unethical business man. When the famous singer Johnny Fontane (Al Martino) arrives at Connie's wedding reception, Kay, a fan, is surprised that Michael knows him, then stunned when he relates how his father "helped" his godson Johnny's early career by threatening to kill his manager unless he released Fontane from his contract.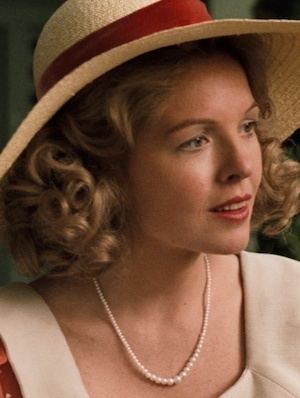 After a failed assassination attempt on his father, Michael murders Virgil Sollozzo (Al Lettieri) and Captain Marc McCluskey (Sterling Hayden) a corrupt NYPD cop on Sollozzo's payroll. Michael flees to Sicily. While hiding there, Michael falls in love with and marries a young local woman, Apollonia (Simonetta Stefanelli). Kay has no knowledge of Michael's whereabouts or his marriage and eventually returns to her hometown to work as a teacher. She asks Corleone family consigliere Tom Hagen (Robert Duvall) to deliver a letter to Michael, but Hagen refuses lest it be used in court proceedings as proof the family had "knowledge of his whereabouts". During this time, Kay develops a close relationship with Michael's mother, Carmela (Morgana King).
Apollonia is killed in a car bombing targeting Michael. After recovering from his injuries, he returns to the United States. More than a year following his return, Michael seeks out Kay, wanting them to reunite, although she is dismayed that he now works for his father. They marry after he promises the Corleone family will be completely legitimate within five years. In the novel, Kay and Michael reunite after Kay phones Carmela Corleone. Carmela informs Kay that Michael has returned home and invites Kay to the Corleone house to see him. Michael wants to marry her, but explains that until the family becomes fully legitimate, he cannot share anything about his business with her. At the time, it appears that Kay knows nothing about Michael's previous marriage. In the novel, he admits to being with one other woman since their separation.
Kay and Michael marry and have two children, Anthony and Mary. They are born within two years of each other, leading Michael to joke that Kay is "more Italian than Yankee." Kay retorts that Michael is "more Yankee than Italian" because he always takes his work home with him. In the novel, they have two boys.
In 1955, when Michael becomes Don after Vito's death, he executes their joint plan to wipe out the Dons of the other Five Families. When a distraught Connie accuses Michael of orchestrating the wave of murders — including her abusive husband, Carlo Rizzi (Gianni Russo) — Kay asks Michael if it is true. Michael denies any involvement. However, immediately after, Kay observes Michael receiving his caporegimes. One of them, Peter Clemenza, (Richard Castellano) respectfully greets him as the new Don. Kay realizes Connie was telling the truth, and that Michael has become his father's successor in every way. In the novel, Kay flees to New Hampshire with their children, despite Connie recanting her accusations. Hagen, at Michael's request, persuades her to return. Hagen risks his own life by revealing to Kay some Corleone family secrets and "hypothetical" reasons for Michael's actions.
Kay converts to Catholicism, attending Mass daily to pray for her husband's soul (just as Mama Corleone had done for Vito). An early draft of the film's script ended with Kay lighting candles for Michael.
The Godfather Part II
At the beginning of The Godfather Part II (set in 1958-60), Kay, who is pregnant with the couple's third child, implores Michael to fulfill his promise to legitimize the family business. Michael continues making a genuine effort to eliminate the family's criminal ties. However, his escalating war with rival Hyman Roth (Lee Strasberg) keeps him trapped in the criminal underworld and makes him even more ruthless than before. On the night after Anthony's First Communion, assassins machine-gun Michael and Kay's bedroom; they barely escape unharmed. Not long after, Kay suffers an apparent miscarriage.
Kay grows increasingly disgusted with Michael's criminal life and how it has increasingly stripped him of his humanity. In particular, she is appalled that Michael's button men are Anthony's closest companions. Kay becomes convinced that if her child turns out to be another son, it will tie Michael to the Mafia forever. She decides to leave Michael and take Anthony and Mary with her, and secretly has her child aborted. During the U.S. Senate hearing on organized crime that is being held in Washington D.C., Kay tells Michael she is leaving him and taking the children. During the ensuing argument, she reveals that she had an abortion to avoid bringing another son into Michael's criminal world. Enraged, Michael hits Kay and banishes her from the family; the two divorce soon after.
Michael initially prevents Kay from seeing their children. When she secretly visits them (with Connie's help), Michael coldly closes the door on her.
The Godfather Part III
By the time of The Godfather Part III (set in 1979-80), Kay is remarried to a prosecutor named Douglas Michelson; Michael had granted Kay custody of Anthony (Franc D'Ambrosio) and Mary (Sofia Coppola). Michael and Kay, who have had no contact since 1971, have an uneasy reunion at a family gathering. Anthony informs Michael he wants to quit law school to become an opera singer. Kay supports his decision, but Michael wants his son to finish his studies or go into the "family business". An argument ensues, in which Kay tells Michael that both she and Anthony know about Michael having his brother Fredo (John Cazale) murdered twenty years earlier. She says she "dreads" him, but they reach a truce after Michael agrees Anthony can leave school.
Michael and Kay are further reconciled when Kay travels to Sicily for Anthony's operatic debut. Michael asks Kay's forgiveness and says he had a different destiny planned for them; he regrets losing her and confesses he still loves her. Kay admits she will always love him. They attend Anthony's operatic debut, Cavalleria Rusticana, together in Palermo. After the performance, their daughter Mary is killed in an assassination attempt on Michael. He and Kay sob over Mary's body. It is unknown if Kay is still living when Michael dies in 1997.
Sequel novels
Kay appears as a supporting character in The Godfather Returns (2004) and The Godfather's Revenge (2006), Mark Winegardner's two sequels to Puzo's original novel. The novels expand upon the early days of her relationship with Michael, her gradual estrangement from him, and her life after their divorce.
References
Kay Adams-Corleone Wikipedia
(Text) CC BY-SA