Santino "Sonny" Corleone is a fictional character in Mario Puzo's 1969 novel The Godfather and its 1972 film adaptation. The character also appears in various flashback sequences in the film's 1974 sequel, The Godfather Part II.
Contents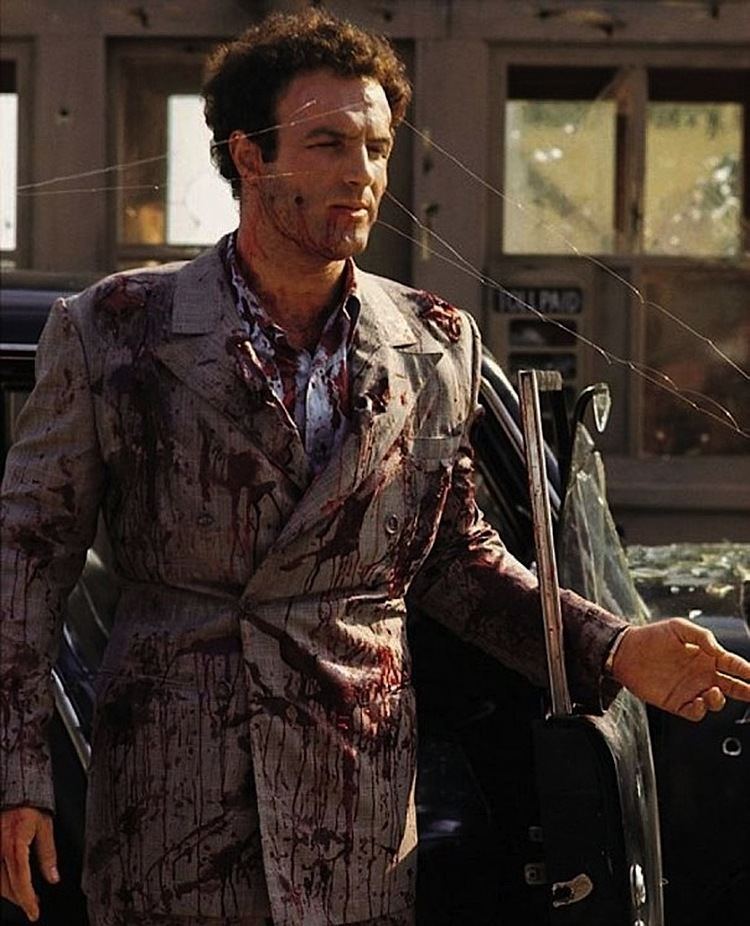 In the novel and film, he is the oldest son of the mafia don Vito Corleone and Carmela Corleone. He has two brothers, Fredo and Michael, a sister, Connie, and an adopted brother, Tom Hagen. In the film, Sonny was portrayed by James Caan, who reprised his role for a flashback scene in Part II. Director Francis Ford Coppola's son Roman Coppola played Sonny as a boy in the 1920s scene of that film.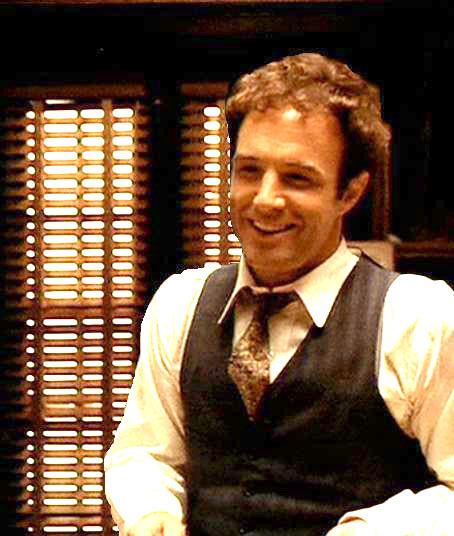 Novel and film biography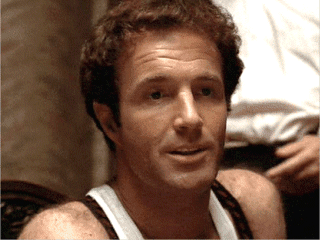 In both the novel and the movie, Sonny is the eldest of Vito Corleone's four children (born in 1916), and depicted as the most volatile and confrontational. He is heavily involved in his father's crime family. At age 16, Sonny committed a robbery. When Sonny's godfather, Peter Clemenza informed Vito about it, Vito demanded his son explain himself. Sonny said he had witnessed Vito murder the feared "Black Hand" gangster Don Fanucci. He now wants to sell olive oil like his father. Vito, understanding that Sonny wanted to join the Corleone crime family, sent him to Clemenza for training.
Sonny "made his bones" when he was 19. By his mid-20s, he was promoted to a caporegime in the Corleone family. By the end of World War II, he is his father's underboss and heir apparent, respected and feared as a merciless killer with a fiery temper. Sonny also possesses a more patient side; at age 11, he brought home a homeless boy, Tom Hagen, demanding he be allowed to live with the family. Hagen eventually rises through the ranks to become Vito's consigliere. As the eldest child, Sonny acts as protector to his younger siblings and has a close relationship with his youngest brother, Michael and only sister, Connie. The novel shows he is unable to harm women, children, or anyone unable to defend themselves. This trait probably saved Connie's abusive husband, Carlo Rizzi, from being fatally beaten by Sonny when Carlo refuses to fight back.
Sonny is married to Sandra with whom he has four children, but he has several mistresses, including Lucy Mancini, who was Connie's bridesmaid. In the novel, Sandra ignores his infidelities because she is unable to tolerate his enormous penis.
Sonny's life is upturned in 1945, when Virgil "The Turk" Sollozzo, backed by the Tattaglia family, approaches Vito with an offer to enter the narcotics trade. During the meeting, Sonny spontaneously speaks out-of-turn, expressing an interest in the deal that Vito had declined. Vito later reprimands Sonny for revealing his thoughts to an outsider. Sollozzo later attempts to have Vito assassinated, believing Sonny, as his father's successor, will bring the Corleone family into the drug trade.
The failed assassination attempt leaves Vito near death, making Sonny acting boss of the Corleone family. Sonny orders Clemenza to execute Vito's traitorous bodyguard Paulie Gatto. Sollozzo mounts a second assassination attempt on Vito at the hospital that Sonny's youngest brother Michael thwarts. Sonny then orders Bruno Tattaglia, son and underboss of Sollozzo's ally Philip Tattaglia, to be murdered. Sollozzo proposes that Michael to be sent to hear a truce proposition. Sonny, believing it is a trick, refuses and demands that the other Mafia families hand over Sollozzo to the Corleone family or else face war. Tom successfully convinces Sonny to wait because Captain Mark McCluskey, a corrupt NYPD captain on Sollozzo's payroll, has agreed to be Sollozzo's bodyguard. Tom warns Sonny that killing McCluskey would violate a long-standing Mafia rule not to kill members of law enforcement: the backlash from rival Mafia families and law enforcement would be severe. Michael advises Sonny that Sollozzo will never honor the deal and will likely make another assassination attempt on their father to remove Vito's opposition to the drug trade. Clemenza agrees with Michael's theory.
Michael, who distanced himself from the family's criminal activity, volunteers to kill Sollozzo and McCluskey, arguing that McCluskey is fair game because he is a corrupt cop mixed up in the drug trade. Sonny, amused by Michael's proposal but also impressed by his family loyalty and bravery, initially doubts that his "nice college boy" brother is capable of murder. Ultimately he approves the hit. Michael meets with Sollozzo and McCluskey at an Italian restaurant in the Bronx where he fatally shoots both men. This ignites the New York underworld's first Mafia war in a decade. Sonny had arranged for Michael to flee to Sicily under the protection of Vito's friend and partner Don Tommasino.
The war between the Five Families drags on, and Sonny, unable to break the stalemate, orders bloody raids that earn him a legendary reputation. Sonny had considered wiping out all of the Five Families' Dons in one stroke. Emilio Barzini had to resort to an elaborate scheme to lure Sonny into the open. He enlists Sonny's brother-in-law, Carlo, to help set a trap. Earlier, Sonny had severely beaten up Carlo upon learning that he had been physically abusing Connie. To draw Sonny out into the open, Carlo provokes Connie into an argument before savagely beating her. Weeping and injured, she telephones the Corleone compound asking Sonny for help. Furious, Sonny speeds towards Connie's apartment in Hell's Kitchen ahead of his bodyguards. At the Long Beach Causeway toll plaza, rival mobsters emerge with tommy guns and fatally ambush Sonny.
During a meeting with the Dons of the other crime families to establish peace, Vito realizes that Barzini masterminded Sonny's murder. After Michael returns from Sicily, he takes Sonny's place as Vito's heir apparent. Vito and Michael secretly plot to wipe out the other New York Dons to avenge Sonny's death. The plan is successfully executed in 1955, after Vito's death from natural causes. Michael informs Carlo that the rival Dons have been killed and coerces Carlo's confession for his part in arranging Sonny's murder. Carlo admits Barzini was the mastermind. On Michael's orders, Clemenza strangles Carlo with a wire. In a single strike, the Corleones become the most powerful crime family in the country.
Role in Godfather sequels
As well as appearing in the original film, The Godfather, Sonny features in the sequel, The Godfather Part II. In this film, he briefly appears in some flashback scenes as an infant and as a young child. He makes a final appearance at the end of the story, in a scene that portrays Vito's birthday celebration in 1941. Michael announces that he has dropped out of college and enlisted to fight in World War II. Sonny is furious at the decision, and he berates his brother for risking his life "for a bunch of strangers." This flashback also reveals that Sonny introduced Carlo to Connie, and the rest of the family, which led to their marriage.
In The Godfather Part III, Vincent Corleone is introduced as Sonny's illegitimate son with Lucy Mancini. Vincent succeeds Michael as head of the Corleone family at the end of the film. Vincent's existence in the film contradicts the literary universe, as Puzo's original novel stated that Lucy never bore a child with Sonny.
Family
Vito Corleone— father; played by Marlon Brando and by Robert De Niro as young adult Vito Corleone
Carmela Corleone— mother; played by Morgana King
Sandra Corleone— wife; played by Julie Gregg
Tom Hagen— adoptive brother; played by Robert Duvall
Fredo Corleone— brother; played by John Cazale
Michael Corleone— brother; played by Al Pacino
Constanzia "Connie" Corleone —sister; played by Talia Shire
Mary Corleone— niece; played by Sofia Coppola
Anthony Corleone—nephew; played by Anthony Gounaris (The Godfather); played by James Gounaris (The Godfather Part II); played by Franc D'Ambrosio in The Godfather Part III
Francesca Corleone—daughter, born 1937
Kathryn Corleone—daughter, born 1937
Frank Corleone—son, born 1940
Santino Corleone Jr. — son, born 1945
Vincent Corleone— son with Lucy Mancini born 1948, played by Andy García
Behind the scenes
Coppola staged Sonny's death scene in The Godfather to be reminiscent of the final death scene of Clyde Barrow (Warren Beatty) and Bonnie Parker (Faye Dunaway) in Bonnie and Clyde.
Coppola had the car radio play the broadcast of the baseball playoff game won by Bobby Thomson hitting the Shot Heard Round the World. This would place Sonny's death on October 3, 1951, contradicting the novel by several years.
Among the actors auditioning for the role of Michael during casting for The Godfather, one unknown off-Broadway actor named Robert De Niro also read for Sonny's part, as well as Michael's and Carlo's, without success. Raw footage of him in the scene where Paulie Gatto offers to kill Rizzi can be seen on the DVD. Eventually, Coppola cast Caan in the role and gave De Niro the part of Paulie, but he "traded" him to the film The Gang That Couldn't Shoot Straight for Al Pacino, who soon got the part of Michael. Anthony Perkins not only auditioned for Sonny, but also for Tom Hagen.
Originally Caan was to be cast as the main character Michael Corleone (Sonny's youngest brother), while Carmine Caridi was signed as Sonny. However Coppola demanded that the role of Michael be played by Al Pacino instead. The studio agreed to Pacino but insisted on having Caan be cast as Sonny, so he remained in the production.
Caan was nominated for an Academy Award for Best Supporting Actor for his performance in the film, competing with co-stars Pacino and Robert Duvall, giving the movie three entries in that category.
References
Sonny Corleone Wikipedia
(Text) CC BY-SA