Preceded by

Robert Duffy




Preceded by

David Swarts




Preceded by

Chris Lee




Succeeded by

Christopher Jacobs





Succeeded by

Brian Higgins




Name

Kathy Hochul




Deputy

John Crangle




Party

Democratic Party






Role

Lieutenant Governor of New York




Previous office

Representative (NY 26th District) 2011–2013




Spouse

William J. Hochul, Jr. (m. 1984)




Children

Caitlin Hochul, William Hochul




Education

Columbus School of Law, Syracuse University, Catholic University of America




Similar People

Andrew Cuomo, William J Hochul - Jr, Brian Higgins, Chris Lee, Maurice Hinchey




Profiles




Twitter
Lieutenant governor kathy hochul
Kathleen Courtney "Kathy" Hochul (pronounced HOKE-ul; born August 27, 1958) is an American politician who is the current Lieutenant Governor of the State of New York. She served previously as U.S. Representative for New York's 26th congressional district from June 1, 2011 to January 3, 2013. She prevailed in the four-candidate special election of May 24, 2011, to fill the seat left vacant by the resignation of Republican Chris Lee, and was the first Democrat to represent the district in 40 years.
Contents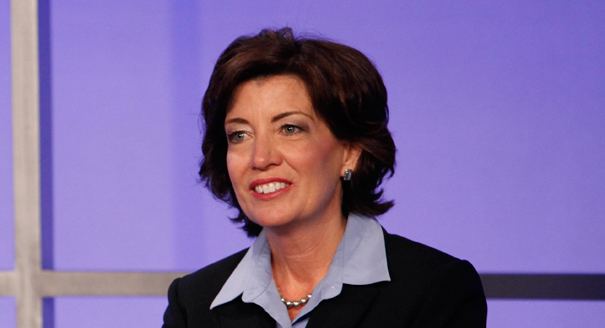 Hochul served as the County Clerk of Erie County, New York from 2007 until 2011, when she assumed her seat in Congress. Previously, she was a deputy county clerk, a member of the Hamburg town board, a practicing attorney, and a legislative aide.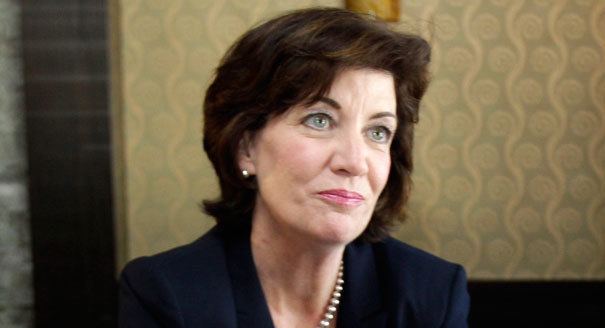 Hochul was defeated for re-election to Congress by Republican former Erie County Executive Chris Collins, after being redistricted to the 27th district. She also worked as a government relations specialist with Buffalo-based M&T Bank.
New york state lieutenant governor kathy hochul stands with planned parenthood
Early life, education, and pre-congressional career
Hochul was born Kathleen Courtney, the second oldest of the six children of John P. "Jack" Courtney, then a college student and clerical worker, and Pat Courtney, a homemaker. Hochul's family struggled financially during her early years and for a time lived in a trailer near a steel plant. By the time Hochul was in college, however, her father was working for the information technology company which he later headed.
Hochul became politically active during her college years at Syracuse University, leading a boycott of the student bookstore over high prices and an unsuccessful effort to name the university stadium after running back Ernie Davis, an alumnus, instead of the Carrier Corporation. She received her B.A. degree from Syracuse in 1980 and her law degree from the Columbus School of Law at Catholic University in Washington, D.C. in 1984.
After graduating from law school, Hochul began working for a high-powered Washington D.C. law firm, but found the work unsatisfying. She then worked on Capitol Hill as a legal counsel-legislative assistant to U.S. Representative John LaFalce and U.S. Senator Daniel Moynihan, and for the New York State Assembly, before seeking elected office.
She became involved in local issues as a booster of small businesses who tried to counteract the effect of Walmart stores. She was elected as the Democratic and Conservative Party candidate to the Hamburg Town Board in November 1994. She served on the town board until 2007. While on the board, she led efforts to remove toll booths on parts of the New York State Thruway system.
In May 2003, Erie County Clerk David Swarts appointed Hochul as his deputy. When Swarts left office in 2007, Governor Eliot Spitzer appointed Hochul to fill the post. Though she had been appointed by Spitzer, she opposed Spitzer's proposal to allow illegal immigrants to apply for a driver's license without producing a social security card. She said that if the proposal went into effect, she would call the sheriff's office to bring such applicants in for questioning. She was elected later in 2007 to fill the remainder of Swarts' term. She ran for reelection on four ballot lines: Democratic, Conservative, Independence and Working Families Party, defeating Republican Clifton Bergfeld in November 2010 with 80 percent of the vote.
2011 special election
Hochul ran in the four-way special election race of May 24, 2011 to fill the seat in New York's 26th congressional district left vacant by the resignation of Republican Chris Lee. She was the Democratic Party and Working Families Party nominee. Hochul's residence in Hamburg, just outside the 26th district, became an issue during her campaign, though it did not legally disqualify her from seeking the seat. One month after her victory, she moved into the district, fulfilling a campaign promise.
The Republican and Conservative Party candidate, state legislator Jane Corwin, was at first strongly favored to win in the Republican-leaning district which had sent a Republican to Congress for the previous four decades. A late April poll had Corwin leading Hochul 36-31 percent; independent Tea Party candidate Jack Davis trailed at 23 percent. An early May poll however, gave Hochul a narrow 35–31 lead, and shortly thereafter the non-partisan Rothenberg Political Report called the race a "toss-up". Additional polling in the days immediately preceding the election had Hochul leading by four and six point margins.
In a Washington Post article, it was noted that in the face of a possible upset victory but Hochul, there was already a "full blown spin war" about the meaning of the results. The article went on to say that, for Democrats, the close race was a result of "House Republicans' budget plan authored by Wisconsin Rep. Paul Ryan — and, in particular, his proposal to turn Medicare into a voucher program." For Republicans, it was the result of millionaire Jack Davis, who spent "millions to pull votes away from Republican Jane Corwin." The article also stated that something being overlooked was that Hochul was "simply a stronger candidate than Republican Jane Corwin."
Hochul's strength stemmed from starting her career as an aide to Senator Daniel Moynihan, who was "one of the most admired politicians in New York history." She has been described as sweet and earnest. She was described as a successful campaigner, but as someone who can do that by "being not the least bit slick." Hochul was linked to tangible local accomplishments, like when she "broke with then Gov. Eliot Spitzer (D) on license plates for illegal immigrants — and got a write-up in the New York Times for it."
The seat was viewed as a difficult one to obtain for a Democrat, and "only a really solid campaigner could make it happen."
Hochul's victory was almost universally viewed as astonishing, given that the district is heavily Republican and that Corwin outspent her almost 2-1.
The campaign featured a number of negative television ads, with nonpartisan FactCheck accusing both sides of "taking liberties with the facts." In particular, FactCheck criticized the Democrats' ads for claiming that the Republican candidate would "essentially end Medicare", even though the plan would leave Medicare intact for current beneficiaries. The organization also faulted the Republicans' for ads portraying Hochul as a puppet of former U.S. House Speaker Pelosi, and for claiming that Hochul planned to cut Social Security and Medicare benefits.
Campaign funding
Hochul was endorsed by EMILY's List, a political action committee that supports pro-choice Democratic women candidates. She was the fifth largest recipient of EMILY's List funds in 2011, receiving more than $27,000 in bundled donations from the organization. The Democrat and Chronicle endorsed Hochul "for her tenacity and independence", while The Buffalo News endorsed her for her positions on preserving Medicare and her record of streamlining government.
Victory
Hochul defeated Corwin 47 to 43 percent in the special election held on May 24, with Jack Davis receiving 9 percent, and Green Party candidate Ian Murphy receiving 1 percent of the vote.
On the day of the election, it was reported that Hochul's impending victory would be "a serious blow to the GOP agenda, and, more specifically, Paul Ryan's budget plan that would end Medicare as we know it."
It was also noted that when Democratic strategists were not considering Hochul a serious candidate, "It was Emily's List and the Working Families Party, a union-backed grassroots party, that kept talking up Hochul—who ran on the third party's ballot line, taking advantage of New York's fusion law, which allows crossendorsements." Hochul achieved success widely due to her efforts in battling the Republican budget, which aimed to makes cuts to Medicaid and privatize Social Security.
2012 election
In the 2012 election, Hochul's district was renumbered as the 27th District. She lost her re-election bid to Collins by a 51% to 49% margin. She was endorsed by the National Rifle Association.
Tenure
Because her victory came in a special election and because it was an upset win that turned on a major issue, Hochul received major national and even international coverage. She has reportedly already established herself as an important player in Congress.
In Hochul's first few weeks in office, she co-sponsored bills with Brian Higgins to streamline the passport acquisition process. She also met with the President about the economy and job creation and introduced a motion in the House to restore the Republican cuts to the Commodity Futures Trading Commission. She also looked for ways to reduce the federal budget deficit, open to reducing Medicaid spending as long as it wasn't in the form of block grants offered to states, as proposed in the GOP budget blueprint. She also spoke with President Obama about ending tax breaks for oil companies and protecting small businesses.
While campaigning for Congress, Hochul defined herself as an "independent Democrat". In an interview with the Lockport Union-Sun & Journal, she cited as examples of her independence her opposition to Spitzer's drivers' license program for illegal immigrants and her opposition to Governor David Paterson's proposal in 2010 to raise revenue by requiring all vehicle owners to buy new license plates.
Kathy Hochul was one of 17 Democrats who joined with Republicans in supporting a resolution finding Attorney General Eric Holder in contempt of Congress relating to the ATF gunwalking scandal, a vote on which the National Rifle Association, which supported the resolution, announced it would be scoring lawmakers. Later in 2012, Hochul "trumpeted" her endorsement from the NRA and noted that she was just one of two New York Democrats to receive the NRA's support.
Trade
On September 17, 2011, Robert J. McCarthy noted that Hochul and her election opponent Jack Davis agreed on their opposition to free trade. "We saw what happened with NAFTA; the promises never materialized," she said of the North American Free Trade Agreement. "If I have to stand up to my own party on this, I'm willing to do so."
Energy
During her congressional campaign, Hochul favored offering incentives to develop alternative energy.
In June 2011, Hochul opposed legislation that would cut funding for the Commodity Futures Trading Commission (CFTC) by 44 percent, on the ground that the CFTC curbs speculation in oil and the resulting layoffs of CFTC personnel would "make it easier for Big Oil companies and speculators to take advantage of ... consumers".
Fiscal issues
While running for the U.S. House, Hochul supported raising taxes on those making more than $500,000 per year. She opposed the new free trade agreements that were then under consideration, saying, "We don't need to look any further than Western New York to see that these policies do not work." She believes that free trade agreements such as NAFTA and CAFTA have suppressed U.S. wages and benefits and caused job loss in the U.S.
Hochul called the summer 2011 debt ceiling issue "a distraction" to which the American people should not be subjected.
Hochul acknowledged during her campaign that substantial cuts must be made in the federal budget, and said she would consider cuts in all entitlement programs. However, she expressed opposition to the Republican plan that would re-form Medicare into a voucher system, saying it "would end Medicare as we know it". She said money could be saved in the Medicare program by eliminating waste and purchasing prescription drugs in bulk. She also said that the creation of more jobs would alleviate Medicare and Social Security budget shortfalls due to increased collections of payroll taxes.
On November 19, 2011, Brian Tumulty of WQRZ reported that Hochul had voted for a balanced budget amendment, which she called "a bipartisan solution.
Health care
On September 16, 2011, David Weigel quoted Hochul on lowering Medicare costs: "We need to cut the underlying costs of health care, which are making Medicare more expensive. Democrats are in agreement....We have to make sure that we get equity with respect to prescription drugs – the drug prices under Medicare are obscenely high. Why are veterans at VA hospitals paying less for prescription drugs than people who are under Medicare Part D? That's an area we should go after. Medicare fraud is getting out of control....I think we should have Medicare cover home health care. Look at the savings we'd have if we covered home health care and tele-health services. Instead, people in rural areas have to go hospitals at the dead of the night. If we look at this holistically, we can cut the underlying costs."
Hochul expressed support for the 2010 health care reform legislation passed by the 111th Congress and said during her campaign that she would not vote to repeal it. In response to a constituent's question during a town-hall meeting in February 2012, she was booed for saying that the federal government was ''not looking to the Constitution'' under the Obama administration requirement that non-religious employers provide their workers with insurance coverage for birth control. A spokesman later stated that she'd misspoken, but did not clarify her answer.
Social issues
Hochul has said she is pro-choice on abortion. She supports civil marriage for same-sex couples, with no requirements on religious institutions.
Committee assignments
Committee on Armed Services
Committee on Homeland Security
Subcommittee on Counterterrorism and Intelligence
Subcommittee on Emergency Preparedness, Response, and Communications
Community activities
Hochul is a founder and a member of the Board of Directors of Kathleen Mary House, a transitional home for women and children who are victims of domestic violence. She was also co-founder of the Village Action Coalition, and a member of the Board of Trustees at Immaculata Academy in Hamburg.
Personal life
She is married to William Hochul, the former United States Attorney for the Western District of New York, and current general counsel for Delaware North. They reside in Buffalo, New York, and are the parents of two children, William III and Caitlin.
On the Constitution
At a town hall meeting in Lancaster, New York, Kathy Hochul told the crowd that the federal government was "not looking to the Constitution" when mandating that religious organizations provide birth control to their employees. Video of her comment went viral.
County Clerk Backlog
Following Kathy Hochul's departure as County Clerk, a back log of mail was discovered by newly elected County Clerk, Chris Jacobs. Millions of dollars were stored in boxes in unopened envelopes. As County Clerk, Kathy Hochul was in the process of implementing a new system, when she left to run in the special election and then to assume office. Thousands of dollars were spent in overtime to deposit checks and file unopened documents. However none of the un-cashed checks dated to Hochul's term as clerk.
Campaign and Election
Robert Duffy announced in 2014 that he would not be a candidate for reelection as Lieutenant Governor. Andrew Cuomo, the incumbent Governor, was running for a second term. After Duffy's announcement, Cuomo named Hochul as his choice for the Lieutenant Governor nomination. On May 22, 2014 the delegates to the state Democratic convention formally endorsed Hochul for Lieutenant Governor.
In September Cuomo and Hochul won their Democratic primary elections. Cuomo and Hochul were also the nominees of the Working Families Party. (In New York, candidates for Governor and Lieutenant Governor are nominated separately, but run as a ticket in the general election.) In November the Cuomo/Hochul ticket won the general election. Hochul was sworn in as Lieutenant Governor on January 1, 2015.
Tenure as Lieutenant Governor
Hochul was tasked by Governor Cuomo to chair the 10 regional economic development councils which are the centerpiece of the administration's economic development plan. The goal of the councils is to build upon the unique strengths of each region to develop individualized long-term strategic plans.
Governor Cuomo appointed Lieutenant Governor Hochul to chair the Task Force on Heroin and Opioid Abuse and Addiction. In this capacity, she convened eight outreach sessions across New York State to hear from experts and community members in search of answers to the heroin crisis and works to develop a comprehensive strategy for New York.
Hochul spearheaded Governor Cuomo's Enough is Enough campaign to combat sexual assault on college campuses beginning in 2015 hosting and attending more than 25 events. As the highest ranking female elected official in New York State, she continues to be a champion for women and families across the state. In March 2016, Governor Cuomo named her to the New York State Women's Suffrage 100th Anniversary Commemoration Commission.
Representing Governor Cuomo across the state, Hochul tours main streets, meets local business owners, visits college campuses and meets regularly with mayors, supervisors and other community leaders. The Lieutenant Governor builds support for the Governor's initiatives including the minimum wage increase, paid family leave, ethics reform and infrastructure investment.
As Lieutenant Governor, Hochul is liaison to New York's federal representatives in Washington, D.C.
References
Kathy Hochul Wikipedia
(Text) CC BY-SA