Native name

सोनाली बेंद्रे

Occupation

Model, actress




Spouse

Goldie Behl (m. 2002)




Born

1 January 1975 (age 43) (

1975-01-01

)

Mumbai, Maharashtra, India

Years active

1994–2004, 2009–present

Movies

Sarfarosh, Kadhalar Dhinam, Takkar, Murari, Hum Saath ‑ Saath Hain




Similar People
How I Beat Cancer And What It Taught Me : Sonali Bendre Exclusive At India Today Conclave 2019
Sonali Bendre (born 1 January 1975) is an Indian film actress and model who predominantly worked in Hindi films. She has also appeared in Telugu, Tamil, Marathi and Kannada films.
Contents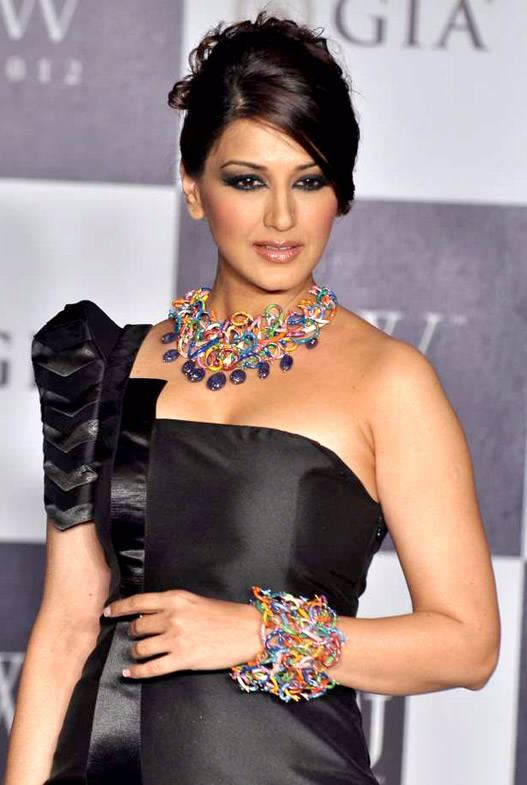 Sonali bendre wik biography husband bollywood actress actress sonali bendre
Personal life and education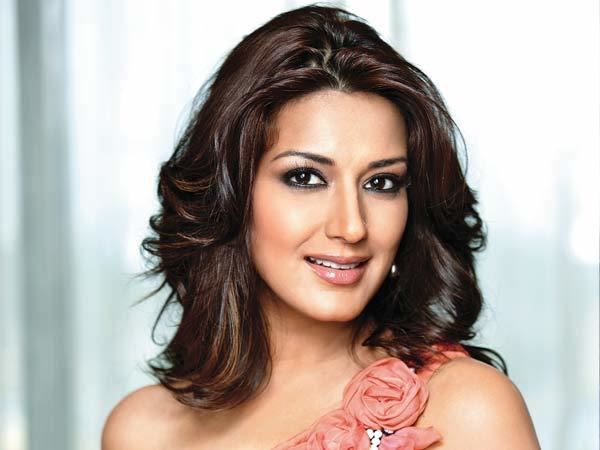 Sonali was born in Mumbai. She studied in Kendriya Vidyalaya Malleswaram, Bangalore and Holy Cross Convent High School, Thane. Thereafter she went to Welham Girls School, Dehradun. She married film director Goldie Behl on 12 November 2002. On 11 August 2005, she gave birth to a son, Ranveer, at the Breach Candy Hospital.She gave birth to a daughter on 9 November 2007. In an interview she said that her favourite language was Tamil.
Career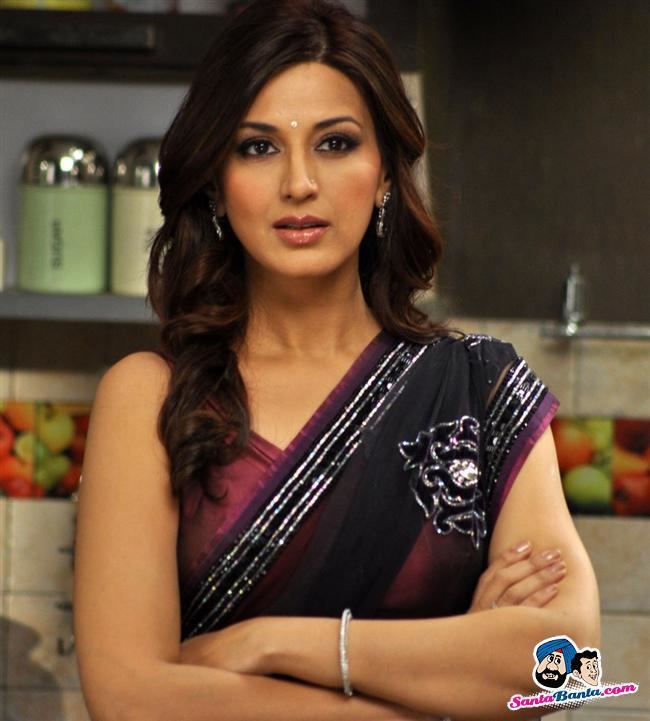 Bendre started out as a model before being selected for the "Star Dust Talent Search". She was invited to Mumbai and received training from a variety of top actors and performers of the Indian film industry. Her first role was in Aag (1994) opposite Govinda.The movie flopped,but she got noticed. And she got two awards for Filmfare Award for Lux New Face of the Year and Star Screen Awards Most Promising Newcomer Though, she initially struggled to be a successful actress, she was eventually given critical acclaim for her performances in Diljale in 1996, followed by Bhai (1997), Sarfarosh, Zakhm, Duplicate, Kadhalar Dhinam (Tamil film), Hum Saath-Saath Hain: We Stand United (1999), Tera Mera Saath Rahen (2001) and Anahat (2003) among others. She is also known for being one of the few actresses who acted opposite all top four Khans (Salman, Aamir, Shahrukh and Saif). She has also starred opposite Bollywood actors such as Akshay Kumar, Sunil Shetty and Ajay Devgn. She also starred opposite Telugu matinee idol Chiranjeevi in films such as Indra and Shankar Dada M.B.B.S..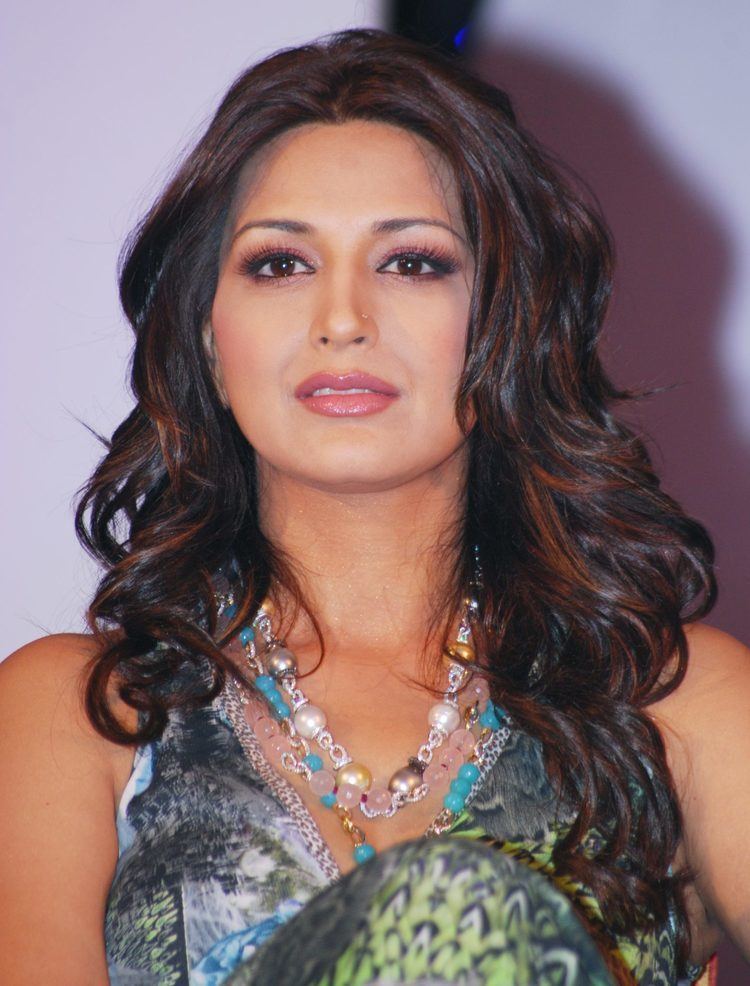 In addition to her acting performances, she was also recognized as a graceful dancer through films such as Gaddar, Sapoot, Bombay, Lajja and Major Saab. In 2003, she made a special appearance as Shahrukh Khan's doctor named Dr. Priya in Kal Ho Naa Ho (produced by Karan Johar), which also starred Saif Ali Khan and Preity Zinta. Bendre also starred in the theatre in a play called, Aap Ki Soniya. She had also welcomed Michael Jackson on his arrival In India in traditional Maharashtrian nauvari sari and she performed aarti for Jackson on November 1, 1996.
Television career
She also hosted a dance show on television named Kya Masti Kya Dhoom....! and was one of the judges of Indian Idol on Sony Entertainment television. She also hosted the 50th Filmfare Awards with Saif Ali Khan and Farida Jalal on 26 February 2005. She was a judge on Mr & Mrs Television, Indian Idol 4 and India's Got Talent. In 2012, she also appeared as a judge on reality dance series, Hindustan Ke Hunarbaaz, on Life OK, along with choreographer Terence Lewis.
She also appeared as a judge in India's Best Dramebaaz on Zee TV. She is next appearing as narrator in the TV Show Mission Sapne to be aired on Colors in March–April 2014. Sonali has been finalized to play the lead role in Star Life OK's television serial Ajeeb Dastaan Hai Yeh. The serial started airing in October 2014. She plays the main character called Shoba Sachdev.
Bollywood comeback
At the end of June 2012, Sonali Bendre was rumoured to quit judging India's Got Talent 4. She was said to be likely replaced by Ritesh Deshmukh. However, later, it turned out she opted out of the show in order to give her dates for her comeback vehicle, Once Upon a Time in Mumbai Dobaara!, for some period, the channel hasn't spoken to Bendre. Later, at the beginning of July, Sonali Bendre announced she will be making her comeback by portraying a character connected to the one played by Akshay Kumar in the movie. Her part was described by the director Milan Luthria: "Sonali's character is called Mumtaz. The name spells enigma and is very crucial to the plot of the film. The character doesn't fit into the usual mould of a mother or a sister or bhabhi but has an identity of its own. That is what makes it special. And that's why Sonali agreed to be a part of the film." She took a sabbatical from movies after 2004, then after giving birth to her son she started doing television. She refused to star in many movies, saying she wants to focus on her family, especially her son. But after she was offered Once Upon a Time in Mumbaai Dobara, she said yes because of her friendship with Ekta and Shobha Kapoor and the fact she worked with both Luthria (Chori Chori) and Kumar (Tarazu, Sapoot, Angaaray, Keemat) before.
Filmography
Actress
-
Rashna: The Ray of Light (pre-production)
as
Avantika Thakkar
-2022
The Broken News (TV Series)
as
Amina Qureshi
- Satyagraha (2022) - Amina Qureshi
- Operation Umbrella (2022) - Amina Qureshi
- Ulti Ganga (2022) - Amina Qureshi
- Apne Dum Par (2022) - Amina Qureshi
- The Akhil Kapoor Scandal (2022) - Amina Qureshi
- Gagged (2022) - Amina Qureshi
- Facts Vs. Accusations (2022) - Amina Qureshi
- Happy Birthday (2022) - Amina Qureshi
- Episode #2.1
2014
Ajeeb Daastaan Hai Ye (TV Series)
as
Shobha Sachdev
2013
Once Upon a Time in Mumbaai Dobara
as
Mumtaz Khan (as Sonali Bendre Behl)
2004
Aga Bai Arecha
as
Item girl
2004
Shankar Dada MBBS
as
Sunitha / Chitti
2003
Pyaar Kiya Nahin Jaata..
as
Disha
2003
Kal Ho Naa Ho
as
Dr. Priya
2003
Anaahat
as
Queen Sheelavati
2003
Palnati Brahmanayudu
as
Siva Nageswari
2001
Tera Mera Saath Rahen
as
Madhuri
2001
Lajja
as
Dancer - 'Mujhe Saajan Ke Ghar Jaana Hai'
2001
Love Ke Liye Kuch Bhi Karega
as
Sapna Chopra
2001
Love You Hamesha
as
Shivani
2000
Dhaai Akshar Prem Ke
as
Nisha (special appearance)
2000
Jis Desh Mein Ganga Rehta Hain
as
Saawni
2000
Hamara Dil Aapke Paas Hai
as
Khushi Malhotra
2000
Chal Mere Bhai
as
Vicky's beloved (Special Appearance)
1999
Dahek: A Burning Passion
as
Sabina Bahkshi / Neelima Bahkshi
1999
Hum Saath-Saath Hain
as
Dr. Preeti Shukla
1999
Kannodu Kanbathellam
as
Kalyani
1998
Humse Badhkar Kaun: The Entertainer
as
Anu
1998
Keemat: They Are Back
as
Mansi
1996
Apne Dam Par
as
Special appearance
1996
Rakshak
as
Dr. Pooja Malhotra
1996
English Babu Desi Mem
as
Bijuriya
1996
Asha Bhosle: Piya Tu Ab to Aaja (Short)
1995
Bombay
as
Dancer in the song 'Humma Humma'
Self
2023
India's Best Dancer (TV Series)
as
Self - Judge
- Episode #3.4 (2023) - Self - Judge
- Episode #3.3 (2023) - Self - Judge
- Episode #3.2 (2023) - Self - Judge
- Episode #3.1 (2023) - Self - Judge
2023
The Kapil Sharma Show (TV Series)
as
Self
- India's Best Dancer Ka Tadka (2023) - Self
2022
Dance India Dance: Li'l Masters (TV Series)
as
Self - Judge
- Skipper Vaibhav is Praised by the Judges (2022) - Self - Judge (as Sonali)
- A Special Performance for Helen and Bindu (2022) - Self - Judge (as Sonali)
- Fantastic 10 (2022) - Self - Judge (as Sonali)
- The Special Wedding Performances (2022) - Self - Judge (as Sonali)
- The Kids' Special Performances on Mother's Day (2022) - Self - Judge (as Sonali)
- Ranveer Singh and the Kids Have Fun (2022) - Self - Judge (as Sonali)
- The Children Fulfil Kumar Sanu's Wishes (2022) - Self - Judge (as Sonali)
- The Contestants' Performances Astonish Govinda (2022) - Self - Judge (as Sonali)
- Dedicated to Lata Mangeshkar (2022) - Self - Judge (as Sonali)
- The Contestants Dance to Kishore Kumar's Songs (2022) - Self - Judge (as Sonali)
- Tiger Shroff Graces the Show (2022) - Self - Judge (as Sonali)
- Shahid Kapoor and Mrunal Thakur on the Show (2022) - Self - Judge (as Sonali)
- Bollywood Queens Special' with Aruna Irani (2022) - Self - Judge (as Sonali)
- Remo, Geeta and Terrence's DID Journey (2022) - Self - Judge (as Sonali)
- Terence and Geeta Attend the Show (2022) - Self - Judge (as Sonali)
- The Mega Audition Begins (2022) - Self - Judge (as Sonali)
- The Li'l Masters Leave Everyone in Awe (2022) - Self - Judge (as Sonali)
2022
Real No Preservatives (Video short)
as
Self
2019
BFF's with Vogue (TV Series)
as
Self - Guest
- Episode #3.2 (2019) - Self - Guest
2018
Baali Hair Oil TVC ft. Sonali Bendre (TV Special)
as
Self
2013
India's Best Dramebaaz (TV Series)
as
Self - Judge
- Episode #3.2 (2018) - Self - Judge
- Season 3: Episode 1 (2018) - Self - Judge
- Episode #2.2 (2015) - Self - Judge
- Episode #2.1 (2015) - Self - Judge
- Episode #1.1 (2013) - Self - Judge
2018
63rd Filmfare Awards (TV Special)
as
Self - award presenter
2017
62nd Filmfare Awards (TV Special)
as
Self - award presenter
2014
Mission Sapne (TV Series)
as
Self - Host
- Alia Bhatt turns saleswoman for Ankur (2016) - Self - Host
- The boot polisher (2016) - Self - Host
- Sonakshi Sinha with MISSION SAPNE (2016) - Self - Host
- Bhavna's Dream (2016) - Self - Host
- Sonali is the host with Manish Paul as guest (2016) - Self - Host
- The ambition of Sonia, a victim of an acid attack (2016) - Self - Host
- Jimmy Shergill supports a State Level Boxer (2016) - Self - Host
- Akshay serves sugarcane juice (2016) - Self - Host
- Vidya Balan fulfills Manju Devi's dream (2016) - Self - Host
- Bhajji sells snacks for a cause (2014) - Self - Host
- Ronit Roy turns shopkeeper for a day (2014) - Self - Host
- Salman is Kurbaan's bhai in need (2014) - Self - Host
- Good samaritan Karan Johar (2014) - Self - Host
- Need help? Drashti is a phone call away (2014) - Self - Host
- Ram Kapoor cabs it for a day (2014) - Self - Host
- Varun Dhawan is porter for a day (2014) - Self - Host
- Mika's chai pe charcha (2014) - Self - Host
- Ranbir sells vada pav (2014) - Self - Host
- Sonu Nigam helps HIV positive patient Raju (2014) - Self - Host
2016
61st Filmfare Awards (TV Special)
as
Self - award presenter
2015
Commercial: Fun Foods - Burger ban gaya Le Burgerette (Video short)
as
Self
2015
60th Filmfare Awards (TV Special)
as
Self - award presenter
2014
India's Best Cinestars Ki Khoj (TV Series)
as
Self - Judge
- Episode #3.1 (2014) - Self - Judge
2013
58th Filmfare Awards (TV Special)
as
Self - award presenter
2009
India's Got Talent (TV Series)
as
Self - Judge
- Grand Finale (2009) - Self - Judge
- Semifinal 2 (2009) - Self - Judge
- Semifinal 1 (Independence Day Special) (2009) - Self - Judge
2005
50th Filmfare Awards (TV Special)
as
Self - Host
2001
Kya Masti Kya Dhum (TV Series)
as
Host
2000
Kaun Banega Crorepati? (TV Series)
- The Diwali Special
2000
1st IIFA Awards (2000) (TV Special)
as
Self
Archive Footage
2013
Koffee with Karan (TV Series)
as
Self
- Aamir Khan and Kiran Rao (2013) - Self
References
Sonali Bendre Wikipedia
(Text) CC BY-SA