Website

Kaifi Azmi Website




Spouse

Shaukat Kaifi




Died

May 10, 2002, Mumbai





Role

Poet




Name

Kaifi Azmi




Children

Shabana Azmi, Baba Azmi







Born

14 January 1919 (

1919-01-14

)

Azamgarh, United Provinces, British India (now in Uttar Pradesh, India)




Occupation

poet, lyricist, songwriter




Awards

National Film Award for Best Lyrics




Movies

Heer Raanjha, Garm Hava, Naseem, Naina, Chhoti Bahu




Similar People

Shabana Azmi, Daagh Dehlvi, Mohammed Zahur Khayyam, Shaukat Kaifi, Madan Mohan
Kaifi Azmi | Rare Recording From All India Mushaira
Sayyid Akhtar Hussein Rizvi, known as Kaifi Azmi (14 January 1919 – 10 May 2002) was an Indian Urdu poet. He is remembered as the one who brought Urdu literature to Indian motion pictures. Together with Pirzada Qasim, Jon Elia and others he participated in the most memorable mushairas of the twentieth century.
Contents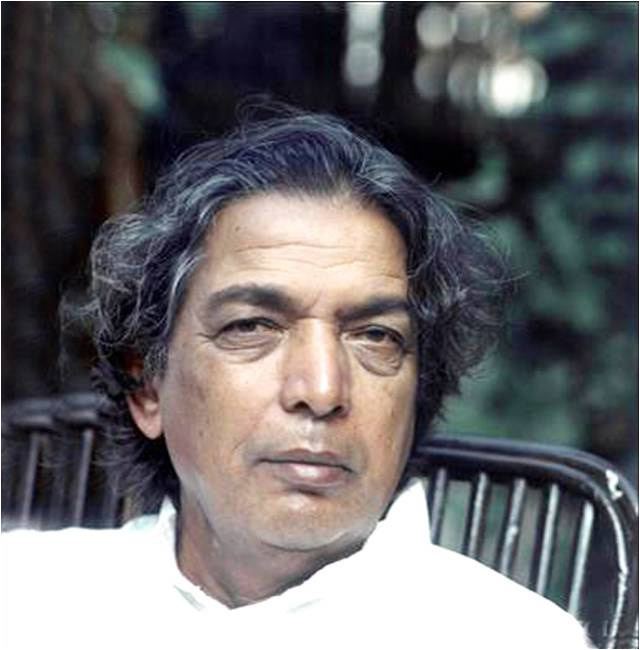 Early life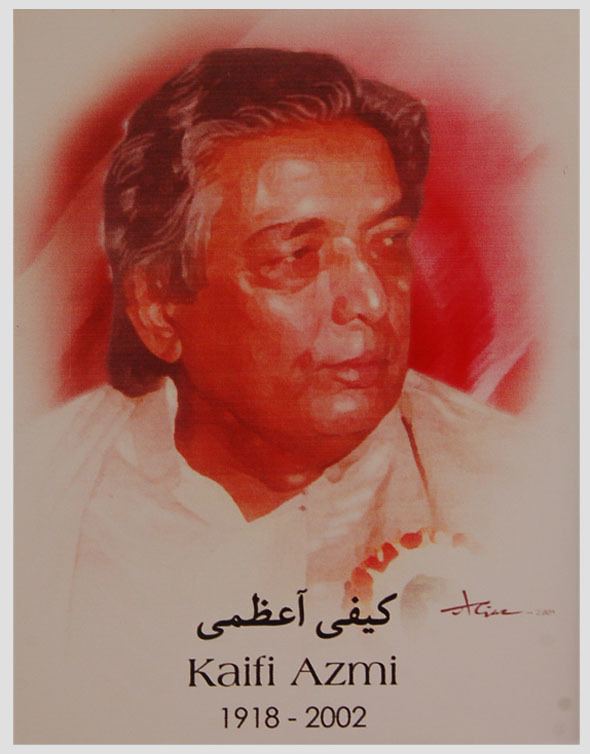 Azmi was born into a shia Muslim family in the village of Mizwaa(n) in Azamgarh district, Uttar Pradesh, India.
Family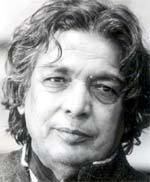 Azmi was married to Shaukhat Azmi. They have a daughter, Shabana Azmi (An Indian Actress of film, television and theatre) and a son, Baba Azmi (Indian Cinematographer).
Writings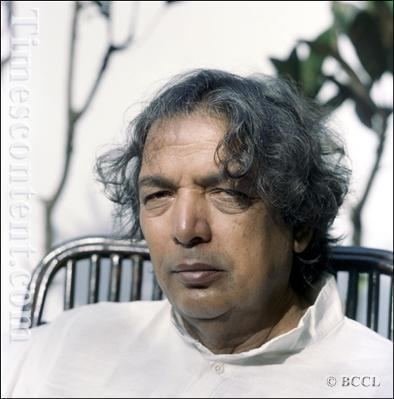 At age eleven, Azmi wrote his first ghazal Itna To Zindagi Mein Kisi Ki Khalal Pade and somehow managed to get himself invited to a mushaira and over there, he recited a ghazal, rather a couplet of the ghazal which was very much appreciated by the president of the mushaira, Mani Jaisi, but most of the people, including his father, thought he recited his elder brother's ghazal. When his elder brother denied it, his father and his clerk decided to test his poetic talent. They gave him one of the lines of a couplet and asked him to write a ghazal in the same meter and rhyme. Azmi accepted the challenge and completed a ghazal. This particular ghazal was to become a rage in undivided India and it was immortalised as it was sung by legendary ghazal singer, Begum Akhtar. Azmi abandoned his studies of Persian and Urdu during the Quit India agitations in 1942 and shortly thereafter became a full-time Marxist when he accepted membership of the Communist Party of India in 1943. During this period, the leading progressive writers of Lucknow noticed him. They were very impressed by his leadership qualities. They also saw in him a budding poet and extended all possible encouragement towards him. Consequently, Azmi started to win great acclaim as a poet and became a member of Progressive Writers' Movement of India. At the age of twenty-four, he started activities in the textile mill areas of Kanpur. As a full-time worker, he left his life of comfort, though he was the son of a zamindar. He was asked to shift his base to Bombay, work amongst the workers and start party work with a lot of zeal and enthusiasm and at the same time would attend mushairas in different parts of India. In Bombay, he joined Ali Sardar Jafri in writing for the party's paper, Qaumi Jung. In 1947, he visited Hyderabad to participate in a mushaira. There he met, fell in love with and married a woman named Shaukat Azmi. She later became a renowned actress in theatre and films. They had two children together, Shabana Azmi (b. 1950), a renowned actress of Indian cinema and Baba Azmi, a noted cameraman.
Poetry
Like most of the Urdu poets, Azmi began as a ghazal writer, cramming his poetry with the repeated themes of love and romance in a style that was replete with clichés and metaphors. However, his association with the Progressive Writers' Movement and Communist Party made him embark on the path of socially conscious poetry. In his poetry, he highlights the exploitation of the subaltern masses and through them he conveys a message of the creation of a just social order by dismantling the existing one. Yet, his poetry cannot be called plain propaganda. It has its own merits; intensity of emotions, in particular, and the spirit of sympathy and compassion towards the disadvantaged section of society, are the hallmark of his poetry. His poems are also notable for their rich imagery and in this respect, his contribution to Urdu poetry can hardly be overstated. Azmi's first collection of poems, Jhankar was published in 1943. His important works including anthologies of poetry, were Aakhir-e-Shab, Sarmaya, Awaara Sajde, Kaifiyaat, Nai Gulistan, an anthology of articles he wrote for Urdu Blitz, Meri Awaaz Suno, a selection of his film lyrics, and the script of Heer Ranjha in Devanagari.
His best known poems are Aurat, Makaan,Daaera,Saanp, and Bahuroopni.
Films
Azmi's work in films includes working as a lyricist, writer and actor. Azmi wrote his first lyrics for the film Buzdil, directed by Shaheed Latif and music by SD Burman, released in 1951. His early work as a writer was mainly for Nanubhai Vakil's films like Yahudi Ki Beti (1956), Parvin (1957), Miss Punjab Mail (1958) and Id Ka Chand (1958). While directors like Khwaja Ahmad Abbas and Bimal Roy strove to create the "New Cinema", writers like Sahir Ludhianvi, Jan Nisar Akhtar, Majrooh Sultanpuri, and Kaifi changed the tenor and vocabulary of the Hindi film song, creating a fresh new wave in Hindi film lyrics that lasted many years. [1] His greatest feat as a writer was Chetan Anand's Heer Raanjha (1970) wherein the entire dialogue of the film was in verse. It was a tremendous achievement and one of the greatest feats of Hindi film writing. Azmi also won great critical accolades for the script, dialogues and lyrics of M.S. Sathyu's Garam Hawa (1973), based on a story by Ismat Chughtai. Azmi also wrote the dialogues for Shyam Benegal's Manthan (1976) and Sathyu's Kanneshwara Rama (1977). As a lyricist and songwriter, though he wrote for numerous films, he will always be remembered for Guru Dutt's Kaagaz Ke Phool (1959) and Chetan Anand's Haqeeqat (1964), India's greatest war film. Some notables films for which he wrote lyrics include Kohra (1964), Anupama (1966), Uski Kahani (1966), Saat Hindustani (1969), Shola Aur Shabnam, Parwana (1971), Bawarchi (1972), Pakeezah (1972), Hanste Zakhm (1973), Arth (1982) and Razia Sultan (1983). For Naunihal (1967), he wrote the song "Meri Aawaz Suno Pyar ka Raaz Suno" (Hear my voice, hear the secret of love) sung by Mohammad Rafi. The song is picturised over the funeral procession of Prime Minister of India, Jawahar Lal Nehru. Years later, after Azmi's own death his daughter, Shabana Azmi mentioned finding comfort in verses from the song. He also played a memorable role of Naseem's grandfather in Naseem (1995). Azmi died on 10 May 2002 at around the age of eighty three. He was survived by his wife, daughter and son. His autobiography is included in a collection of his works, Aaj Ke Prashid Shayar: Kaifi Azmi.
In media
Azmi was the subject of a documentary film called Diksha (2015), directed by Raman Kumar. In 1997, he recited his own poems for Kaifiyaat, an audio book on his collected works.
Kaifi Aur Mein, a play based on his life, his works and the memoir of his wife, Shaukat Azmi – Yadon Ki Rahguzar (Down Memory Lane), was written and performed by Javed Akhtar and Shabana Azmi, and performed in India as well as abroad in 2006.[2] Another play, directed by Rani Balbir, Waqt Ne Kiya Kya Hasin Sitam, based Kaifi Azmi's life and writings was staged in 2005, and received rave reviews.[3]
Awards
He was the recipient of Padma Shri, India's fourth highest civilian award. Besides he was awarded the Uttar Pradesh Urdu Academy Award and the Sahitya Akademi Award for Urdu for his collection Awaara Sajde, Special Award of Maharashtra Urdu Academy, Soviet Land Nehru Award, Lotus Award from the Afro-Asian Writers' Association, and President's Award for national integration. In 1998, Government of Maharashtra conferred the Jyaneshwara Award on him. He was also honoured with the prestigious Sahitya Akademi Fellowship for lifetime achievement.
In 2000, he was conferred the first Millennium Award by the Government of Delhi and the Delhi Urdu Academy. He has also been honoured with a doctorate from Vishva Bharati University, Santiniketan. [4]
Sahitya Akademi Award
1975: Sahitya Akademi Award: Awara Sajde
2002: Sahitya Akademi Fellowship (Immortals of Literature)
National Film Awards
1970: National Film Award for Best Lyrics: Saat Hindustani
Famous Hindi film songs:
1. Jeet hi lenge baazi hum tum----------Shola Aur Shabnam
2. Jane kya dhoondti raheti hai---------Shola Aur Shabnam
3. Waqt ne kiya kya haseen sitam--------Kaagaz Ke Phool
4. Dekhi zamaane ki yaari---------------Kaagaz Ke Phool
5. Jhoom jhoom dhalti raat--------------Kohra
6. Ye nain dare dare--------------------Kohra
7. O beqaraar dil-----------------------Kohra
8. Zara si aahat hoti hai to------------Haqeeqat
9. Kar chale hum fida-------------------Haqeeqat
10. Maye ye soch kar us ke dar se-------Haqeeqat
11. Pyaasi hirni ban ban----------------Do Dil
12. Saara mora kajra--------------------Do Dil
13. Tera husn rahe mera ishq rahe-------Do Dil
14. Kuchh dil ne kaha-------------------Anupama
15. Dheere dheere machal----------------Anupama
16. Ya dil ki suno duniyawaalon---------Anupama
17. Bahaaron mera jeevan bhi------------Aakhri Khat
18. Aur kuchh der thaher----------------Aakhri Khat
19. Mile na phool to kaanto se----------Anokhi Raat
20. Meri awaaz suno---------------------Naunihal
21. Tumhari zulf ke saaye me------------Naunihal
22. Tum se bichhad ke chain kahan-------Maharaja
23. Tum bin jeevan kaisa jeevan---------Bawarchi
24. Ye duniya ye mehfil-----------------Heer Ranjha
25. Do dil toote do dil haare-----------Heer Ranjha
26. Milo na tum to hum ghabraaye--------Heer Ranjha
27. Meri duniya me tum aai--------------Heer Ranjha
28. Simti si sharmaai si----------------Parwana
29. Jis din se maine tum ko dekha-------Parwana
30. Ye raat hai pyaasi pyaasi-----------Chhoti Bahu
31. Aaj socha to aansoo bhar aaye-------Haanste Zakham
32. Betaab dil ki tamanna---------------Haanste Zakham
33. Tum jo mil gaye ho------------------Haanste Zakham
34. Hai tere saath meri wafa------------Hindustan Ki Kasam
35. Har taraf ab ye hi afsaane hai------Hindustan Ki Kasam
36. Hone lagi hai raat jawaan-----------Naina
37. Jalta hai badan---------------------Razia Sultan
38. Tum itna jo muskura rahe ho---------Arth
39. Jhuki jhuki si nazar----------------Arth
40. Koi ye kaise bataaye----------------Arth
References
Kaifi Azmi Wikipedia
(Text) CC BY-SA