He was described as "one of the most influential guitarists of his generation" and he was also considered "the new wave Jimmy Page". In 1996, he was listed by Mojo in their "100 Greatest Guitarists of All Time" for his work on the Siouxsie and the Banshees song "Spellbound".
McGeoch was born and brought up in Greenock, Renfrewshire, Scotland, and acquired his first guitar when he was 12. He first learned to play guitar learning blues songs, including the repertoire of Hendrix and Clapton. In 1970 he played in a local band called the Slugband. In 1971 he moved to London with his family, and in 1975 he began to attend Manchester Polytechnic, where he studied art.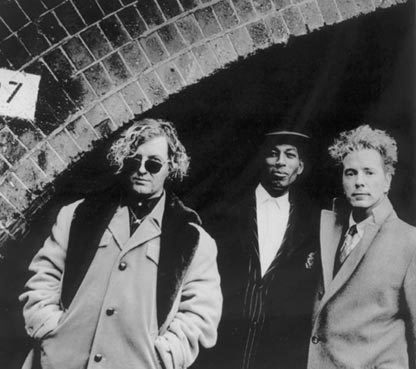 McGeoch had a degree in fine art and an ongoing interest in photography, painting and drawing. He provided some of the cover art for his future band the Armoury Show, years later.
In April 1977, McGeoch's flatmate Malcolm Garrett introduced him to Howard Devoto, who had recently left Buzzcocks and was looking for a guitarist to form a band which would transcend the limitations of three-chord punk. Devoto found what he was looking for in McGeoch and the pair formed Magazine, along with Barry Adamson, Bob Dickinson and Martin Jackson.
Magazine released their debut single, "Shot by Both Sides", in January 1978. The music was written by Pete Shelley with new Devoto lyrics (the Buzzcocks version was titled "Lipstick"), and the single reached No. 41 on the UK singles chart. The same year, McGeoch graduated from university.
McGeoch played on Magazine's first three albums, Real Life (1978), Secondhand Daylight (1979) and The Correct Use of Soap (1980). He left the band in 1980, shortly after the release of the latter album, frustrated about their lack of commercial success despite being very popular with music critics.
In 1979, while still a member of Magazine, McGeoch joined Steve Strange's electronic group Visage along with erstwhile Magazine bandmates Adamson and Dave Formula, recording songs for their first single, "Tar" and later, in 1980, for the ensemble's eponymous album, Visage, playing guitar and saxophone.
Although he saw Visage as a joke, the band provided McGeoch with the success he craved, however brief. The band's single "Fade to Grey" went to No. 1 in a number of European countries. McGeoch did not participate in recording the group's second album, The Anvil, because he was unable to be present as Visage were recording in London.
While still a member of Magazine and Visage, McGeoch had played with other bands such as Gen X, for some songs from the Kiss Me Deadly album, and Skids, for a late 1980 Peel Session, replacing Stuart Adamson, who was ill. During that time period, he left Magazine.
He also collaborated with ex-Magazine drummer John Doyle on Ken Lockie's "The Impossible" album (1981).
After joining Siouxsie and the Banshees in 1980, McGeoch entered a period of both creative and commercial success. During his first session with the Banshees, he began a new way of playing. He later commented: "I was going through a picky phase, as opposed to strumming. "Happy House" was lighter and had more musicality in it. They invited me to join. I was sad leaving Magazine but the Banshees were so interesting and it felt like a good move".
He played guitar on the Banshees albums Kaleidoscope (1980), Juju (1981) and A Kiss in the Dreamhouse (1982). The Banshees' hit singles of this era featured some of McGeoch's most acclaimed work, particularly 1980's "Happy House", "Christine" and "Israel", and 1981's "Spellbound" and "Arabian Knights". McGeoch's contribution to the band was important in terms of sounds and style. Singer Siouxsie Sioux later honoured him:
However, McGeoch suffered a nervous breakdown due to the stresses of touring and drinking, and collapsed on stage at a Madrid concert. This marked the end of his membership in Siouxsie and the Banshees.
Following three years in the Armoury Show (which included Richard Jobson and Russell Webb, both ex-Skids members, and Doyle from Magazine), McGeoch joined Public Image Ltd in 1986, a decision which may have been partly motivated by financial difficulties incurred during his time with the Armoury Show. McGeoch had been a great admirer of PiL, particularly John Lydon's lyrics, yet had reportedly turned down an invitation to join the band in 1984 due to prior commitments.
Despite being hit in the face with a bottle during one of his first concerts with the band, McGeoch remained with PiL until they disbanded in 1992, making him the longest-serving member apart from Lydon. He worked on the albums Happy?, 9 and That What Is Not.
McGeoch married Denise Dakin on 14 September 1988. The couple had a daughter in 1989, Emily Jean McGeoch, who later set up tribute websites to her father on Myspace and Facebook.
In 1992, McGeoch was invited by Björk's Icelandic band, the Sugarcubes, to play guitar on the track "Gold" on their Stick Around for Joy album. After PiL split up, he formed projects with Glenn Gregory of Heaven 17 and songwriter/producer Keith Lowndes. With John Keeble of Spandau Ballet and vocalist Clive Farrington of When in Rome, he formed the short-lived project Pacific (not the band who recorded an album called "Inference" for Creation Records in 1990).
McGeoch trained as a nurse in 1995, although before his death he had been writing some music for television. He was reported to have died in his sleep, in Launceston, Cornwall, England.
Key characteristics of his playing style included inventive arpeggio, string harmonics, the use of flanger and an occasional disregard for conventional scales.
During his Magazine days, he played a Yamaha SG1000 guitar with a stand-mounted MXR M117R flanger. He bought his first model in 1977 (or 1976, as he also declared), by the time Magazine got their first recording deal.
With Siouxsie and the Banshees, he created his own setup. He had an MXR flanger mounted on a mic stand which allowed him to hit a chord and sweep the flange knob in real time.
When he was in the Armoury Show, he also used a Squier 1957 Stratocaster and an Ibanez AE410BK.
During his last days with PiL and during his time with Pacific, he played a solid wood Carvin electric guitar. He also used a Washburn Tour 24 guitar for touring during 1988.
McGeoch has been cited by many artists as a major influence.
Johnny Marr from the Smiths stated on BBC Radio 2 in February 2008 that he rated McGeoch very highly for his work with Magazine and Siouxsie and the Banshees (especially on the Banshees' "Spellbound"). Marr said about that song:
Radiohead were inspired by him to record "There There". They explained that they were "in heaven" when their producer Nigel Godrich made Jonny Greenwood sound like Siouxsie and the Banshees-era McGeoch for that session. The Edge of U2 often cited McGeoch as one of his influences. U2 selected the Siouxsie and the Banshees song "Christine" from the Kaleidoscope album for a compilation made for Mojo.
Other guitarists also mentioned him. Dave Navarro of Jane's Addiction said that he learned guitar by listening to the albums McGeoch recorded with Siouxsie and the Banshees. John Frusciante of Red Hot Chili Peppers likewise said that he taught himself to play "learning all John McGeoch's stuff in Magazine and Siouxsie and the Banshees".
In the early 1980s, McGeoch also ventured into music production, producing Swedish punk-funk band Zzzang Tumb's debut album in 1983.
In 2008, the BBC aired an hour-long radio documentary on McGeoch's life and work, titled Spellbound: The John McGeoch Story.
Magazine
Real Life (1978)
Secondhand Daylight (1979)
The Correct Use of Soap (1980)
Visage
Visage (1980)
Gen X
Kiss Me Deadly (1981)
Siouxsie and the Banshees
Kaleidoscope (1980)
Juju (1981)
A Kiss in the Dreamhouse (1982)
The Armoury Show
Waiting for the Floods (1985)
Public Image Ltd
Happy? (1987)
9 (1989)
That What Is Not (1992)
The Sugarcubes
Stick Around for Joy (1992)